Hahn: Rodon's recovery remains on track
White Sox lefty won't return until completely healthy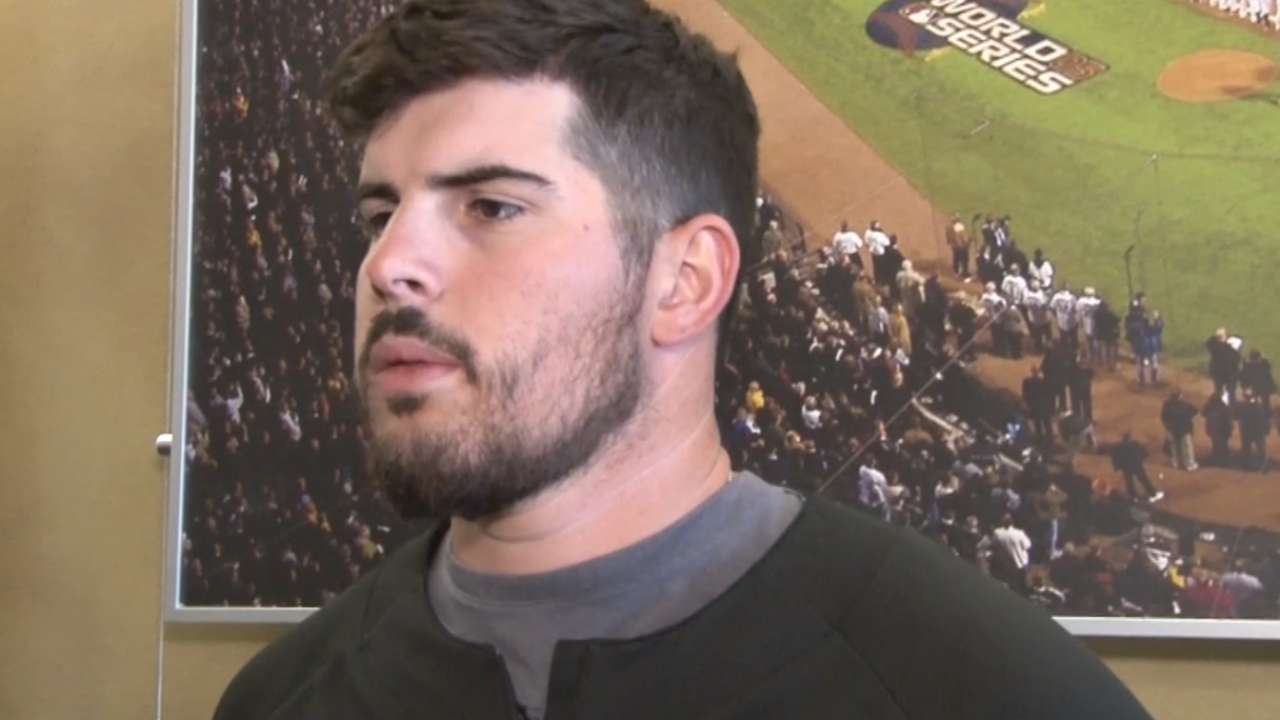 CHICAGO -- When the tightness in Carlos Rodon's left shoulder area first began, White Sox general manager Rick Hahn informed Rodon that he expected him to start the 2017 season on the disabled list.
Rodon, who was brought along gradually at the start of Spring Training to maximize his 2017 performance, didn't like the sound of that idea, even if it was the right decision going forward. Then, when Rodon came back from getting a second opinion from Dr. Neal ElAttrache in Los Angeles, Hahn informed Rodon that he could miss two or three starts or six or seven due to biceps tendon bursitis.
• Rodon, two others on DL as Sox set roster
"He said 'Six or seven? It's not going to be six or seven,'" Hahn told reporters before Monday's season opener against the Tigers, which was rained out. "He's going to fight us every step of the way. But he knows and his representatives know we're doing what's best for Carlos."
The end of Rodon's two-week throwing program is set for April 10. He is throwing off flat ground and feels good, according to Hahn. If he continues on the current positive path, Rodon will start throwing off the mound around that date within a specific program, including a rehab assignment.
In some ways, Rodon's situation is representative of the whole White Sox rebuilding process. If the team had its druthers -- a phrase Hahn should copyright due to the frequent usage -- Rodon would play an important part of the team's rotation from the season's outset.
If Hahn had his druthers, the team would have made three or four moves following the Chris Sale and Adam Eaton deals executed at the Winter Meetings. But the White Sox won't rush the process and get less than what they feel as fitting for any of their players in this talent accumulation process, just as the club won't rush Rodon back in less than the projected absence of five or six weeks if he's not every bit of 100 percent ready.
"Knock on wood, health permitting, I don't necessarily see it taking the full six, like a normal Spring Training," said Hahn, mentioning Rodon was up to 60 pitches during his lone Cactus League start in Tempe, Ariz. "But again, we're going to take our time on this one. If there's the least bit of discomfort or any stuff like that, we're going to take a step back and start this thing over. As I told Carlos directly, there's zero reason for us to rush through this."
Taking their time in regard to trades has been made easier for the White Sox by knowing nothing has been presented to them in the past few months where they feel it's something they should do.
"Again, we have to be strong and keep that sort of long-term focus," Hahn said. "That's where the fruit of these labors will pay off because of patience and waiting until the time is right to make these transactions."
Scott Merkin has covered the White Sox for MLB.com since 2003. Read his blog, Merk's Works, follow him on Twitter @scottmerkin, on Facebook and listen to his podcast. This story was not subject to the approval of Major League Baseball or its clubs.