Inconsistent Puig 8th as LA shakes up lineup
Toles leads off vs. righty, Forsythe bats 5th
LOS ANGELES -- Yasiel Puig's continued offensive inconsistency in Spring Training led to the dropping of Logan Forsythe into the middle of the Dodgers' batting order to start the season, manager Dave Roberts said before Monday's Opening Day game against the Padres.
"We're looking for Yasiel to be consistent," said Roberts. "The at-bat quality needs to be consistent against right- and left-[handed pitching], and I really didn't see that during the spring."
When the Dodgers obtained Forsythe from the Rays, Roberts wanted him to bat at or near the top of the order, in part because his splits are nearly identical whether facing right-handed or left-handed pitchers -- .778 OPS vs. righties, .775 OPS vs. lefties last year.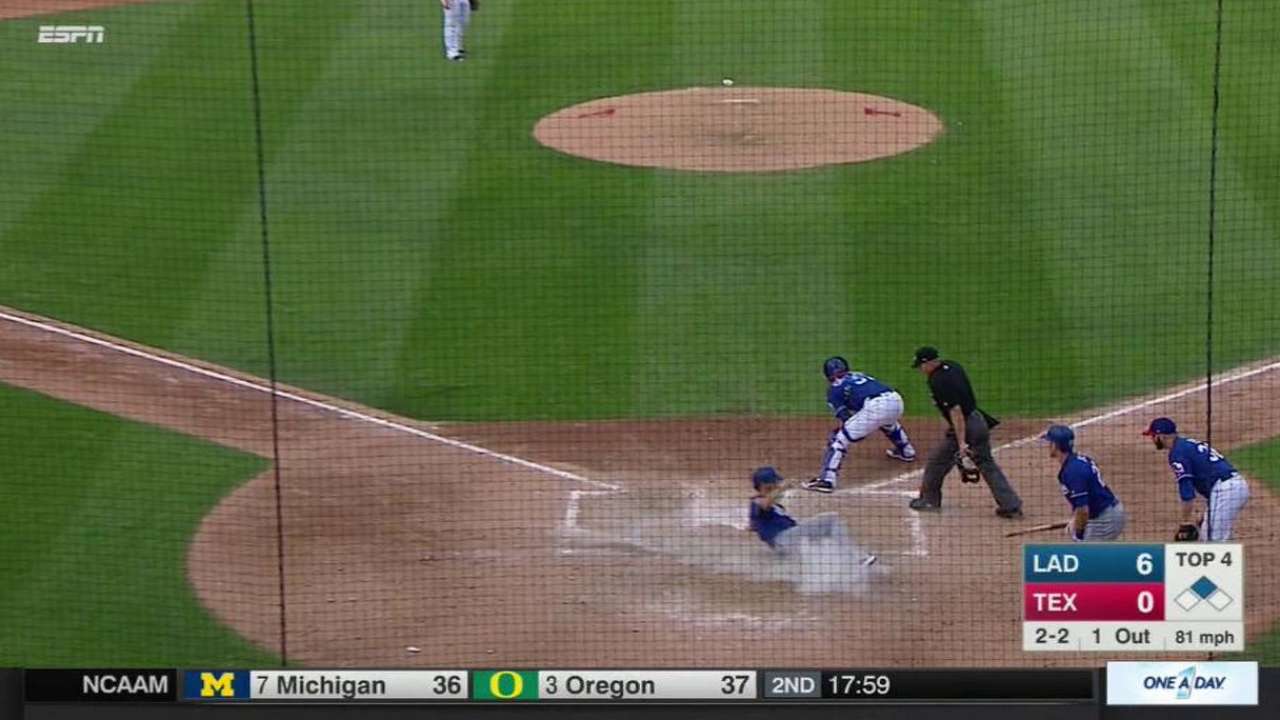 But that was with the belief that Puig could regain his middle-of-the-order production. When that didn't happen (he hit .232 in Cactus League play), it triggered a chain reaction throughout Roberts' batting-order plan. Puig has been dropped to eighth, Forsythe is fifth to replace Puig, and by default, the speedy Andrew Toles is the leadoff hitter against right-handed pitching. Based on Spring Training lineups, Forsythe is likely to bat leadoff against left-handed pitching.
"With Andrew against right-handed pitching, I like the at-bat quality, and I like the same with Logan," Roberts said.
The manager said he wanted a right-handed hitter to break up lefties Corey Seager, Adrian Gonzalez, Joc Pederson and switch-hitter Yasmani Grandal. That would have been Puig, and ideally, still could be.
"With Adrian, Joc and Yasmani, there are a lot of similarities there, and to have a right-handed grinder at-bat in the middle, strategically, it's a benefit for us," said Roberts. "It puts the onus on the opposing manager to make a decision. With Yasiel eighth, it makes our lineup tough to navigate through.
"I hope Yasiel makes it tough on me to hit him down there. If he plays to what we all know he can, it could change the construction of the lineup."
Toles made the club as a platoon left fielder, although he might not have made the Opening Day roster had Andre Ethier been healthy.
Roberts also said he is hopeful that reliever Pedro Baez, on the 10-day disabled list because of a bruised thumb, could rejoin the club in the second week of the season.
Ken Gurnick has covered the Dodgers since 1989, and for MLB.com since 2001. This story was not subject to the approval of Major League Baseball or its clubs.