Elder statesman CarGo focused solely on '17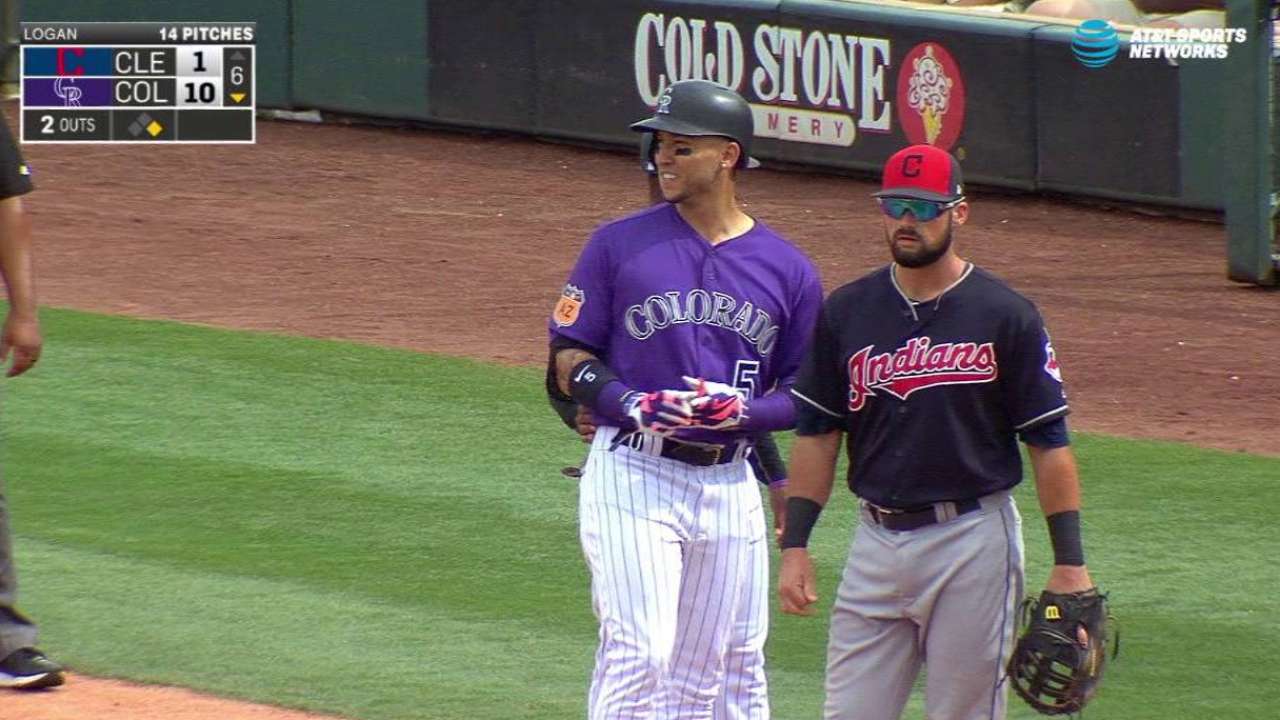 MILWAUKEE -- Remember when Rockies right fielder Carlos Gonzalez was "Little Pony?" His curly hair reminded former teammate Brad Hawpe of his little girl's toy, and a nickname was born. But now Gonzalez's stylishly trimmed hair is dotted with gray.
"That's crazy -- that's what happens when you've got three kids," said Gonzalez, 31, before a 7-5 victory over the Brewers on an Opening Day that might or might not be his last in purple pinstripes.
Gonzalez is still in Colorado after years of trade rumors. There were rumblings of a contract extension during the winter, but no move toward one. Unlike Cardinals catcher Yadier Molina, whose new deal came just before an Opening Day deadline, neither Gonzalez nor the Rockies made much progress toward a deal, and it's no big issue.
This pony's mind is on riding with the Rockies toward where this season takes them, not riding out of town.
Gonzalez has no problem with Molina's approach. Gonzalez plans to take care of himself by staying healthy and, he hopes, continuing a swing that saw him pound 65 home runs and amass 197 RBIs between 2015 and '16, and deal with the contract later. If not prompted about the contract, Gonzalez frames himself as a guy needing those around him.
"If you want to be good, it takes more than you," Gonzalez said. "If you want to drive in runs, you've got to pray for the guy in front of you to get on. If you want to be a champion, you've got to pray for everybody to do well.
"We have some talent. It's not a secret. We feel good about ourselves. It's important for everyone on the club to understand our responsibilities. It takes more than a few guys to get where you want to be. You've got to be on the lucky side with some injuries. But it's not about the 25 guys in this room. It's about the coaches, the front office and the guys down in the Minor Leagues. It's an organization thing, and we're going in the right direction."
Rockies general manager Jeff Bridich had little interest in discussing the contact issue -- especially on Opening Day -- when he believes the Rockies are talented enough to weather the season and be a contender. But he delights in discussing what Gonzalez, the only player on the club who has played a postseason game with the Rockies (2009), means to a club that has suffered and now wants to thrive.
"I can speak for a lot of people in this organization," Bridich said. "His attitude, his approach to his life in this game, his approach to his teammates is to be respected -- 99.99 percent of the time, he is a positive force in this clubhouse. He's a great guy to have around."
New manager Bud Black likes having Gonzalez's bat around. He hit .342 in Spring Training, and .342 with four doubles for Venezuela in the World Baseball Classic. It's a bat Black wants around for 162 games, at least.
"He is in a really good spot, physically, mentally -- this last week he has had good at-bats," Black said. "Even the pregame [Sunday's workout at Miller Park], he put on a display of power and hitting. We feel good about where CarGo is."
Worth noting
• Black said playing on the first 14 days of the season is "weird … you don't see that often." He noted that if center fielder and leadoff man Charlie Blackmon sits, Gerardo Parra -- after a strong spring -- could hit leadoff, and he or Alexi Amarista can play center.
• The Rockies' Opening Day victory was Black's first with the Rockies, and the 650th of his career. He managed the Padres from 2007-15.
Thomas Harding has covered the Rockies since 2000, and for MLB.com since 2002. Follow him on Twitter @harding_at_mlb, listen to podcasts and like his Facebook page. Adam McCalvy contributed to this story. This story was not subject to the approval of Major League Baseball or its clubs.