Victory extra sweet for Grichuk, J. Martinez
ST. LOUIS -- Moments after he had scaled the Cardinals' dugout railing, thinking that teammate Jose Martinez had just sealed an Opening Day victory with a walk-off hit, Randal Grichuk found himself up at the plate trying to deliver one himself.
He ensured that the celebration would be only momentarily delayed, blasting a 1-1 fastball off the wall to complete a celebratory Sunday at Busch Stadium with a 4-3 victory. It was his second career walk-off hit; both have buried the Cubs.
"Every win is meaningful, but not making the playoffs last year, seeing them win, it put a little sour taste in our mouth," Grichuk said. "It's good to get any W, [but] definitely Opening Day against them is a little sweeter."
Grichuk's fingerprints all over this win. Batting in the eight-hole after a spring of subpar results, he connected for a two-run, opposite-field homer to put the Cardinals ahead, 3-0, in the eighth. That became necessary insurance, too, when Chicago's Willson Contreras answered with a three-run blast in the ninth.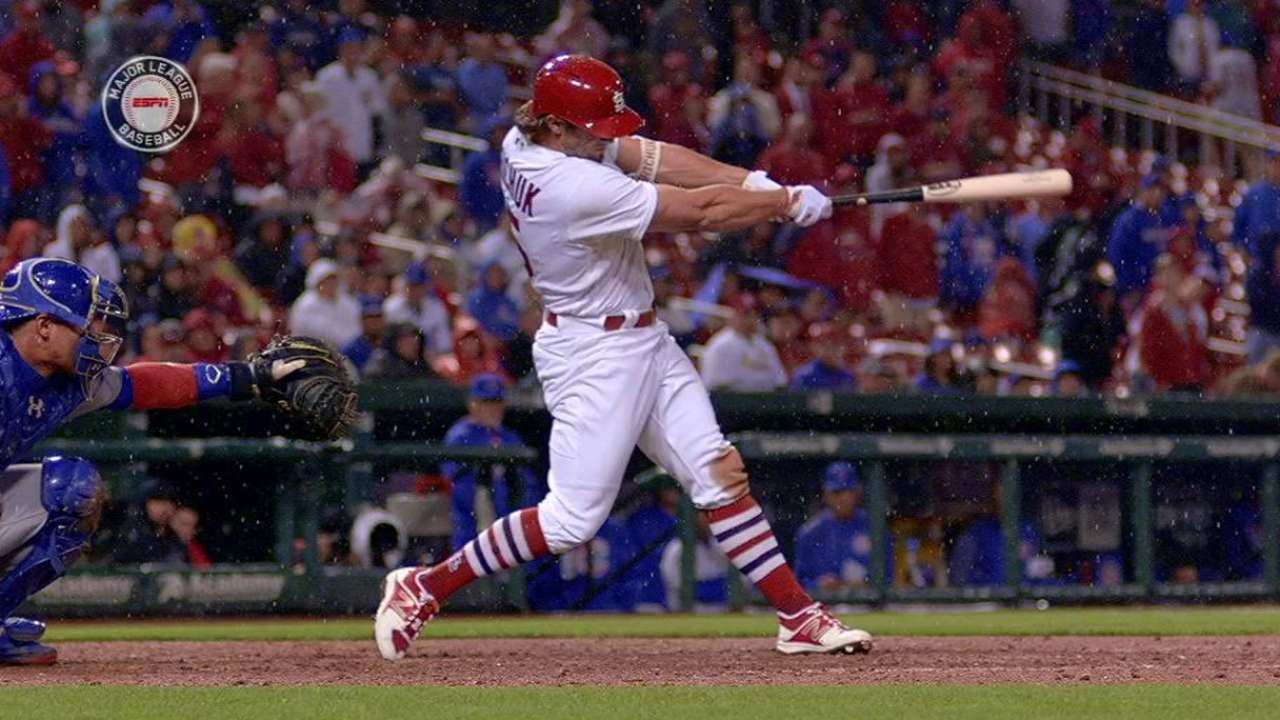 But before Grichuk could produce his second highlight of the night, the moment found Martinez. Ten years toiling in the Minors built up to this at-bat for Martinez, on an Opening Day roster for the first time. He nearly penned the storybook ending, too, when he crushed a Mike Montgomery cutter 397 feet to right-center.
Teammates started pouring onto the field, and Martinez readied for a celebration. Everyone then had to quickly retreat when the ball caromed off the wall.
Martinez settled for the pinch-hit double, which, following a pair of walks, positioned him to score the game-winning run when Grichuk clobbered a pitch 390 feet to left field. He registered an exit velocity of 109.3 mph upon contact.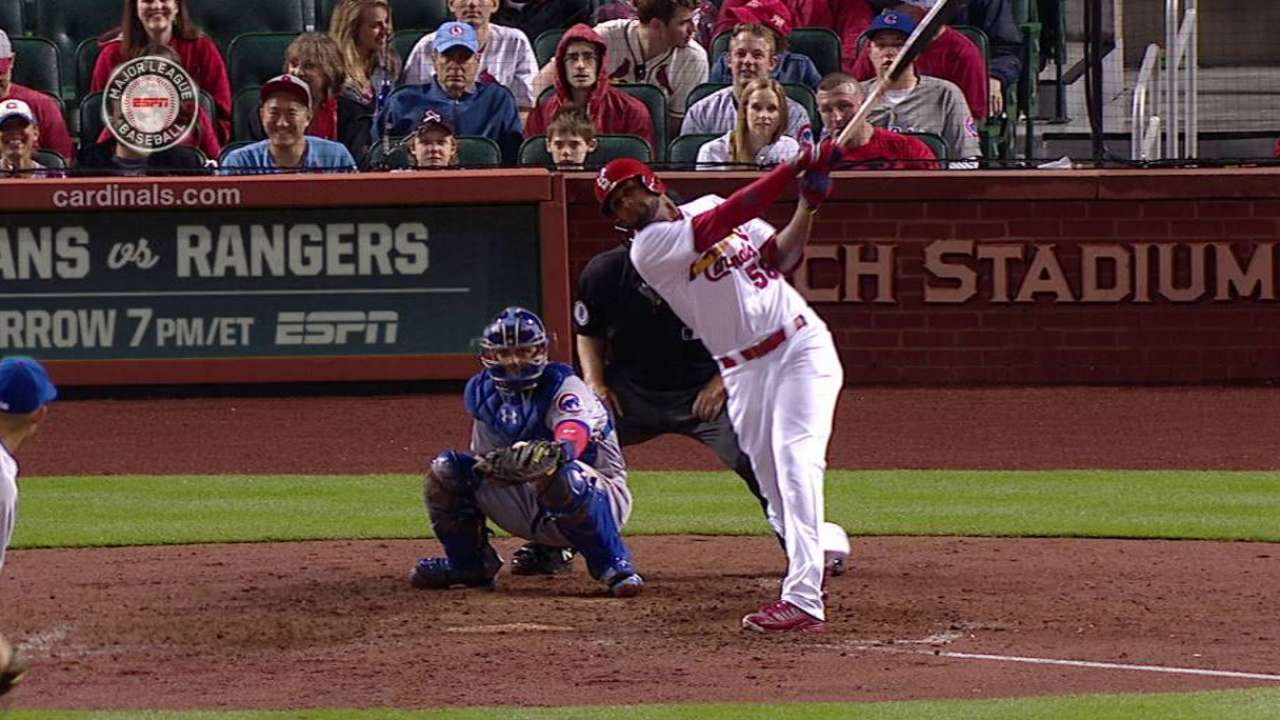 "This day for me is one of the best days of my life," said Martinez, now 5-for-7 in his small sample size of pinch-hit opportunities. "I'm going to remember this game for the rest of my career."
For Grichuk, the results of his final two at-bats offered the sort of positive reinforcement he didn't get much of in spring. He had more strikeouts (15) than hits (13) in 55 Grapefruit League at-bats, and ended his time in Florida by taking a pitch off his right hand.
The limited production led the Cardinals to open the season with Grichuk as their eight-hole hitter. He'll certainly climb in the order, however, if Sunday was an indication of what is to come.
"To be able to come out and start good can definitely boost the confidence," Grichuk said. "I definitely felt like there was room for improvement. Obviously, the outcome of those [at-bats] in those last few [spring] games wasn't great, but I felt good. It's still a work in progress."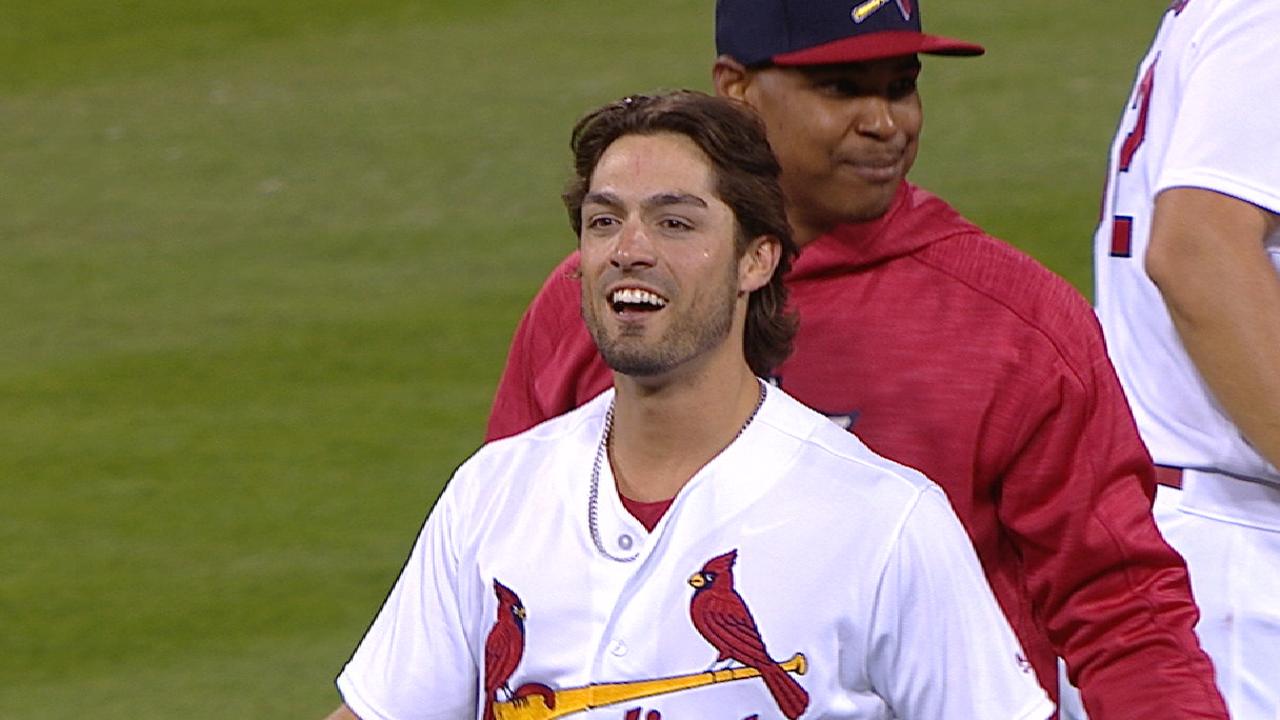 Jenifer Langosch has covered the Cardinals for MLB.com since 2012, and previously covered the Pirates from 2007-11. Follow her on Twitter, like her Facebook page and listen to her podcast. This story was not subject to the approval of Major League Baseball or its clubs.