Where does Yadi extension leave Kelly?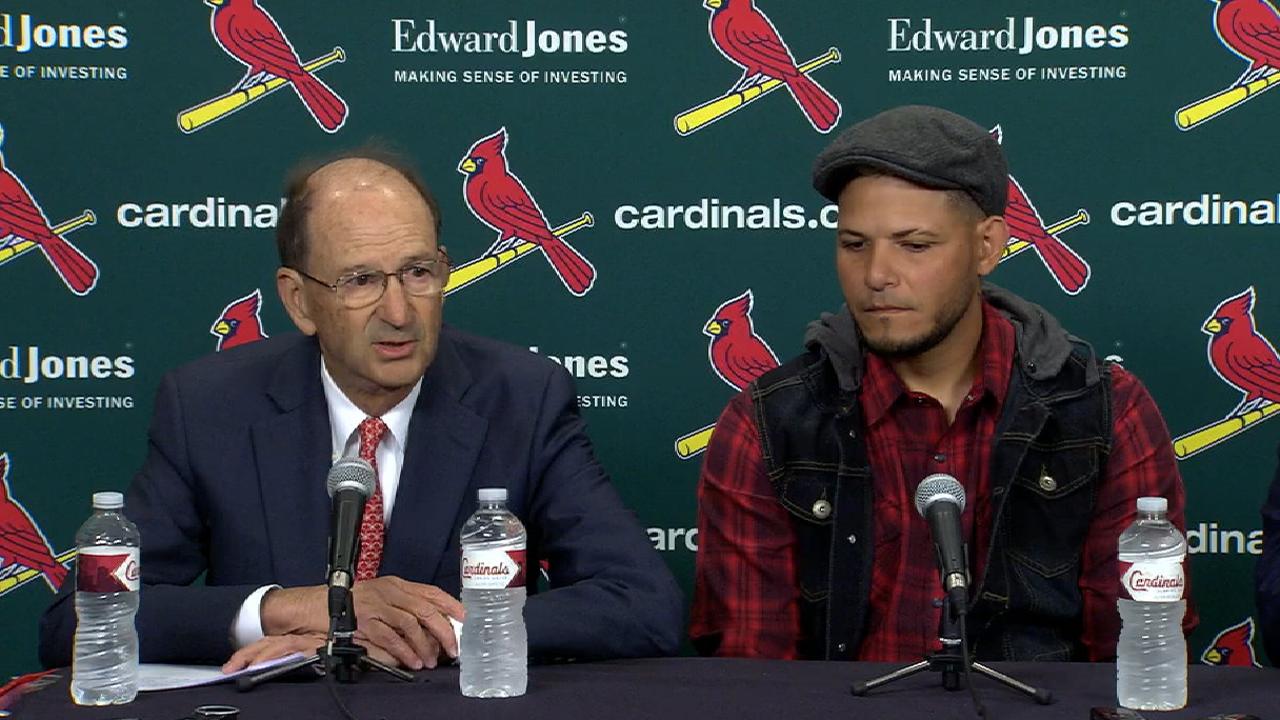 ST. LOUIS -- Although Yadier Molina's contract extension sealed his fit with the Cardinals for the next four seasons, it also cast uncertainty over where prospect Carson Kelly will find his.
The Cardinals have been grooming Kelly, 22, to be Molina's successor since converting the former second-round pick to a catcher in 2014. Kelly is ranked by MLBPipeline.com as the organization's No. 2 prospect, and he has already had a taste of the Majors after earning a callup last season.
But barring injury or a dramatic regression in production, Molina is slated to be the team's primary catcher through 2020. Kelly will be 26 by the time Molina's contract expires.
• Cardinals, Molina finalize 3-year extension
"The way I see it is, at some point, Carson will get his opportunity to be here," general manager John Mozeliak said. "But in a lot of ways, he's going to have a great mentor when that time comes. So I don't really see any downside in that at all. Clearly, had this deal not worked out, maybe there would have been different dynamics there. But he's still growing as a catcher, as a player. Now he can learn from one of the best."
Kelly may have been thrust into consideration for the team's starting job next season had Molina not returned. Now, however, there's a strong chance he'll spend multiple years backing up the best catcher in franchise history. When Kelly will be summoned to the Majors and how he'll split time with Molina will be determined by the performance of each.
"We're not forced with having to try to push [Kelly] faster than we have to," Mozeliak said. "You could argue, 'Does this slow down his push to the big leagues?' That's something we're just going to have to try to navigate as we go. I think that's fair to say that he won't have the robust role of an everyday catcher, especially in those first couple of years. That doesn't mean you can't continue to develop."
Worth noting
• Manager Mike Matheny announced on Sunday that Lance Lynn will start the third game of this opening series against the Cubs (Wednesday). Mike Leake will make his season debut against the Reds on Friday, and Michael Wacha will follow with his first start on Saturday.
• Major League Commissioner Rob Manfred was among those to visit Busch Stadium for Opening Night in St. Louis. The Cardinals also welcomed back their Hall of Famers for Sunday's pregame ceremonies. Ingrid Berry, the daughter of the late Chuck Berry, sang the national anthem.
Jenifer Langosch has covered the Cardinals for MLB.com since 2012, and previously covered the Pirates from 2007-11. Follow her on Twitter, like her Facebook page and listen to her podcast. This story was not subject to the approval of Major League Baseball or its clubs.