Pirates inspired by Montreal, ready for OD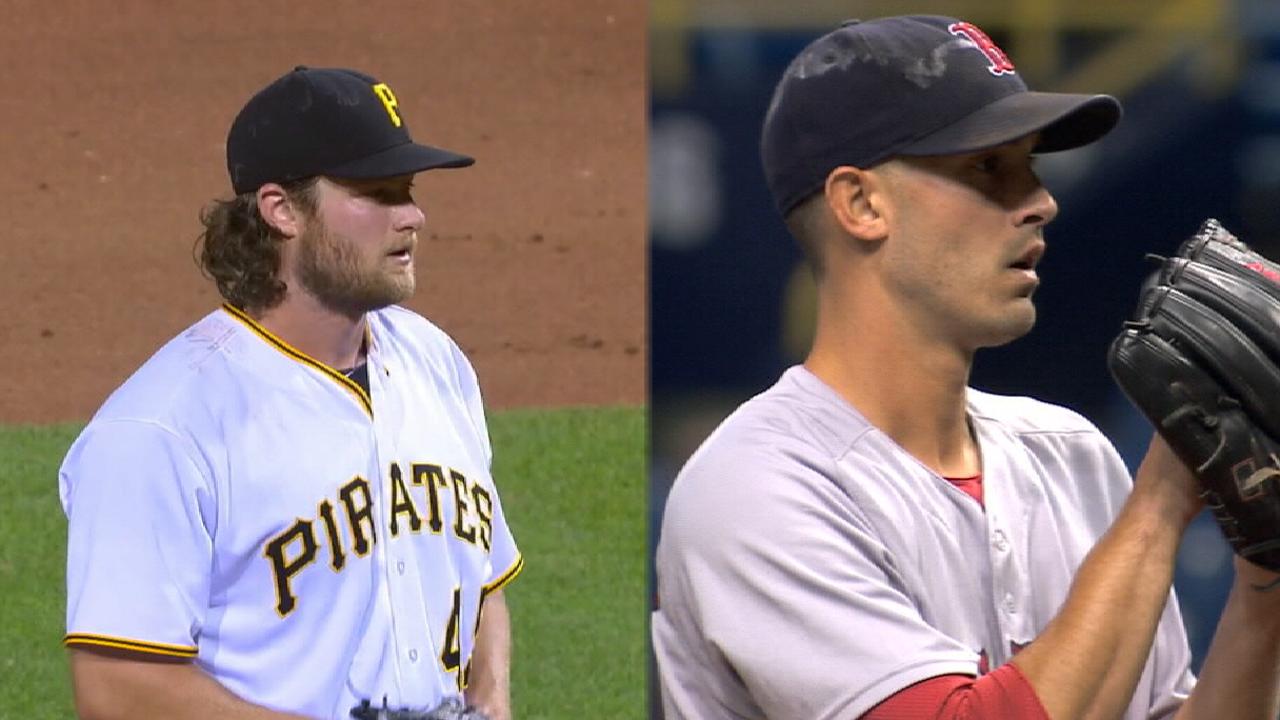 MONTREAL, QC -- The Pirates left Olympic Stadium on Saturday ready for the real thing -- regular-season baseball -- but also impressed by their brief stay north of the border.
After his start Friday, Jameson Taillon said the Pirates' games against the Blue Jays "felt real," offering a more game-like atmosphere than a typical Spring Training exhibition. It was a welcome change of pace after a month of Grapefruit League games in Florida, a warmup lap before the 162-game race begins Monday afternoon at Fenway Park.
"It's nice to see these guys, be out of that Spring Training mode and see a bunch of fans," right-hander Chad Kuhl said. "Really cool."
Kuhl, making the first international trip of his life, was one of many to lament the "in-and-out" nature of their stay. The Pirates arrived Thursday night in time for dinner, played Friday night and Saturday afternoon then immediately departed for Boston.
Still, the crowds at Olympic Stadium -- totaling 95,382 over two days -- left an impression on the Pirates, particularly when they were cheering for hometown favorite Russell Martin, banging on their seats or recognizing Expos legends.
"I know we were all really impressed by it. Loud fans, big turnout," Taillon said. "Obviously you have to do it for 81 games in the regular season, but I'm blown away."
Manager Clint Hurdle enjoyed the opportunity to reminisce on what used to be a regular stop in the National League.
"It was really cool. I was fortunate enough to play here when the Expos were really good and the place was packed and it was loud," Hurdle said. "To be able to come back and revisit, I think, is healthy for the fan base here. Where it goes, I don't know. I'm just thankful we get to come back for our players to see [and hear] some of the stories that were told."
Final spots TBD
Hurdle declined to announce the Pirates' final roster decisions after Saturday's 6-4 loss to the Blue Jays. The Bucs finalized their pitching staff Friday night, informing Tyler Glasnow he would join the rotation while putting Trevor Williams and Wade LeBlanc in the bullpen.
As currently constructed, the Pirates have three candidates for the final two spots on the bench: Phil Gosselin, Alen Hanson and Jose Osuna. After a postgame meeting in Hurdle's office, Hanson -- who is out of Minor League options -- walked into the clubhouse smiling and pumping his fist.
The Pirates could be awaiting final clearance on a pair of injured players: Left fielder Gregory Polanco (left shoulder discomfort) and Chris Stewart (left groin discomfort).
Time well spent
Nearly seven weeks have passed since pitchers and catchers officially reported to Pirate City for Spring Training. After two weeks of workouts, the Bucs played 34 games, including two in Montreal and an exhibition against the Dominican Republic at LECOM Park. Hurdle believes the Pirates made the most of their longer-than-usual spring.
"That's a full plate," Hurdle said. "Happy with all the work, the energy, the competition on the field, the attention to small details, the group cohesion, the team-bonding exercises we put in. We put a lot of time and effort into scheduling and coordinating this Spring Training.
"I think we did a very good job of paying attention to the areas we needed to improve upon, getting the people in competition opportunities to compete, then getting the lineup out there, the men out there that are going to start the season and be the nucleus of the club playing and ready to go and healthy."
Adam Berry has covered the Pirates for MLB.com since 2015. Follow him on Twitter and Facebook, read his blog and listen to his podcast. This story was not subject to the approval of Major League Baseball or its clubs.