Pirates unveil ballpark enhancements, new food items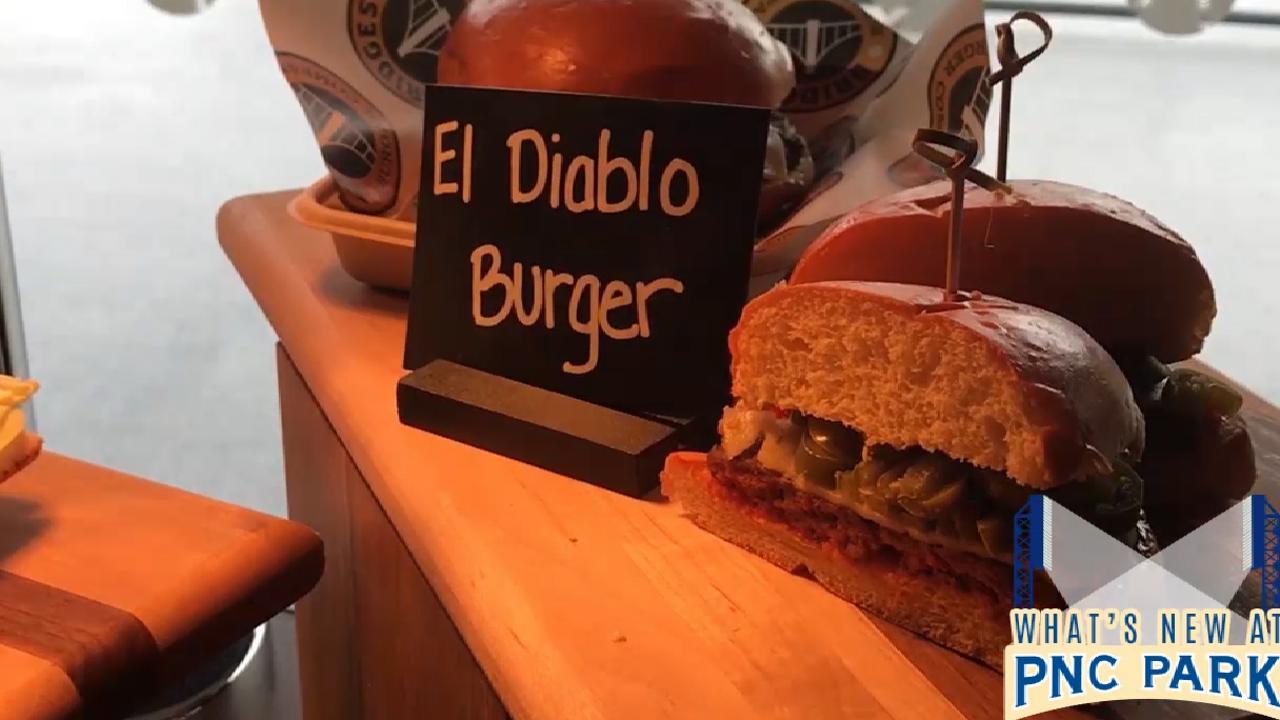 PITTSBURGH -- The Pirates hosted their annual "What's New at PNC Park" event for members of the media on Thursday, and those covering the tour could have filled an entire steno pad recording the enhancements to the ballpark and creative new food items.
Highlights of the former include new field lights, a new playing surface, a new out-of-town scoreboard, new and extended netting to protect the fans, and a major makeover for 34 high-demand luxury suites and the Lexus Club.
The latter -- offered by concessionaires Levy Restaurants and Aramark -- includes intriguing and tasty options such as Housemade Bavarian Soft Pretzels, Honey Grilled Watermelon Caprese Salad, Smoked Kielbasa Sliders, Slow-Cooked Short Rib Mac and Cheese, Buffalo'd Cauliflower and a Toasted Tofu Sandwich.
Heck, the Pirates even introduced a new participant for their popular Great Pittsburgh Pierogy Race -- Pizza Penny.
"We've made a lot of improvements to the ballpark this offseason," Pirates president Frank Coonelly said. "Our commitment is to continue to maintain PNC Park as the best ballpark in America, and that takes quite a bit of commitment in terms of investment of dollars, energy and forethought. What you see here today is a reflection of all of that."
The 646 new bulbs on PNC Park's seven light towers will enhance visibility for players and fans via a new LED light color that more closely resembles daytime conditions. Another advantage is that the new lights can be turned on/off or dimmed in an instant. Unlike the old-style mercury lights, these won't need 10 or 15 minutes to heat up.
The new out-of-town scoreboard, which is 11 feet high, 136 feet long and located on the Clemente Wall in right field, is a blend of nostalgia and modern technology. While the game is in progress, scores from around the Majors will be displayed, and the board will maintain the traditional look of its predecessor. During breaks in the action, it can offer a more dynamic display in coordination with the main scoreboard, because it also is a full LED video board.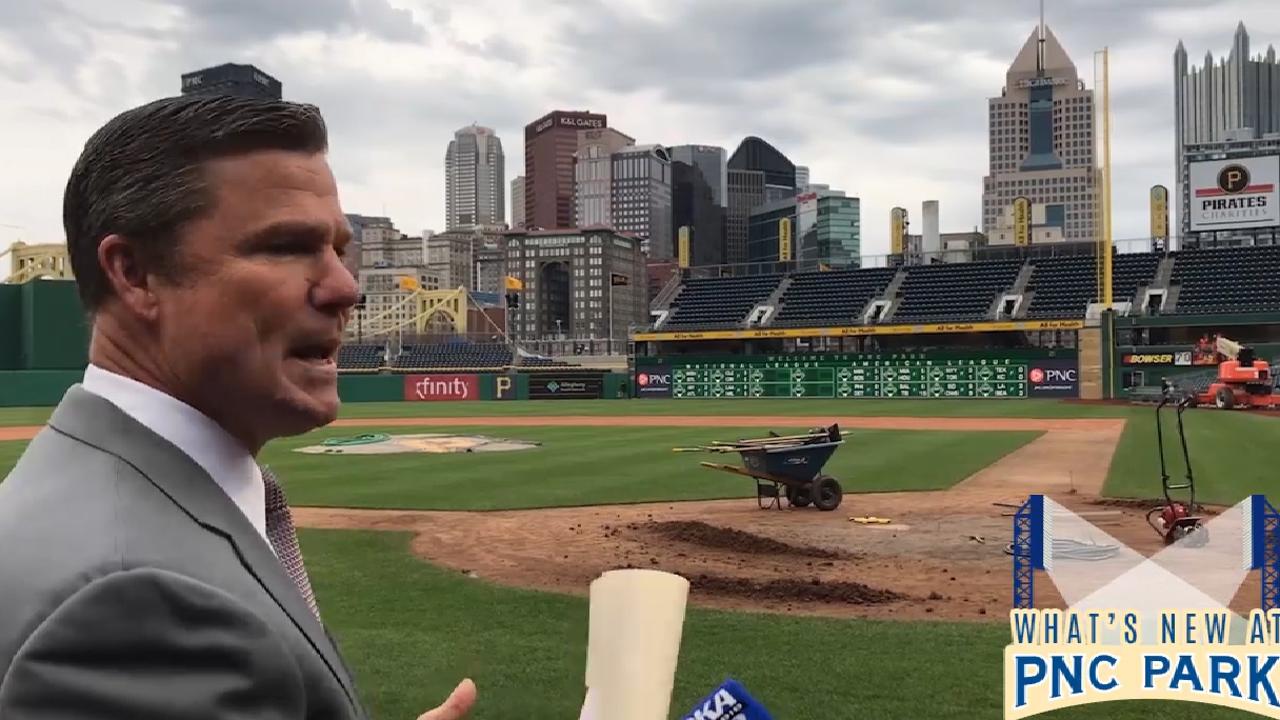 After discussions with season ticket holders and internal debate, the Pirates replaced the existing netting behind home plate with new netting that extends to the far end of each dugout. Coonelly admitted it wasn't an easy decision, but the team felt that providing fans with additional protection from foul balls and flying bats was the way to go.
"Some season ticket holders did not prefer the extended netting, but others were very excited about it," he said. "We're convinced that it's the right decision for the right reason -- for our fans' safety. Plus, it's the newest and most transparent product out on the market."
The taste-testing portion of the media tour always comes at the end -- and never disappoints. Each year, the food items available at PNC Park become more creative, sophisticated and varied.
Is there pressure to keep up with other ballparks around the country and maybe get a little crazy?
"I don't like crazy," Levy Restaurants executive chef Adam Holt said. "I like food to be approachable for people and not scare them off.
"It's definitely fun though, to see what other teams are doing, and we certainly get inspiration from them. We definitely want to challenge each other to do bigger and better every year."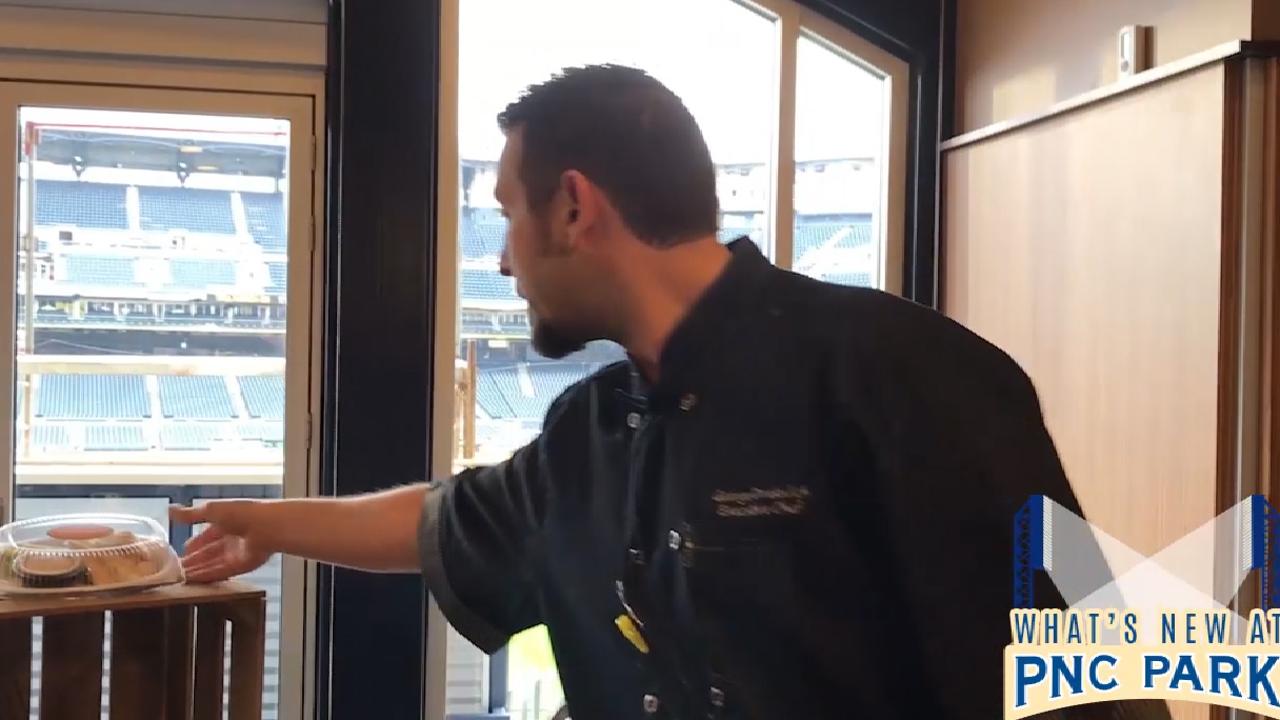 This year, part of being bigger and better will include an increased selection of vegan and vegetarian items. Examples are the Marinated Kale Salad and the Hummus, Veggies and Pita Plate at The Market on the main concourse, the Buffalo'd Cauliflower and Ultimate Vegan Burger at The Rivertowne Brewing Hall of Fame Club, and the Toasted Tofu Sandwich and Gluten Free Corn Chips and Cheese at the Just4U stand.
"Those items are appealing to others, not just vegans and vegetarians," said Steve Musciano, general manager for Aramark at PNC Park. "It's not geared just for those folks. It's healthier options for everyone."
In this new world where the Toasted Tofu Sandwich is cranked a few notches by sriracha mayo, sticky mint cabbage slaw and citrus-tamari marinated tofu, you can still enjoy a good, old-fashioned hot dog at the ballpark.
"You always have to have that staple, the hot dog," Holt said. "You can't go wrong with a hot dog. But for those people who are a little more adventurous and willing, there are definitely some very interesting things in the ballpark to check out food-wise."
Jim Lachimia is a contributor to MLB.com. This story was not subject to the approval of Major League Baseball or its clubs.