Bethancourt makes Padres in unique utility role
Third catcher can also play outfield, but his primary spot will be pitcher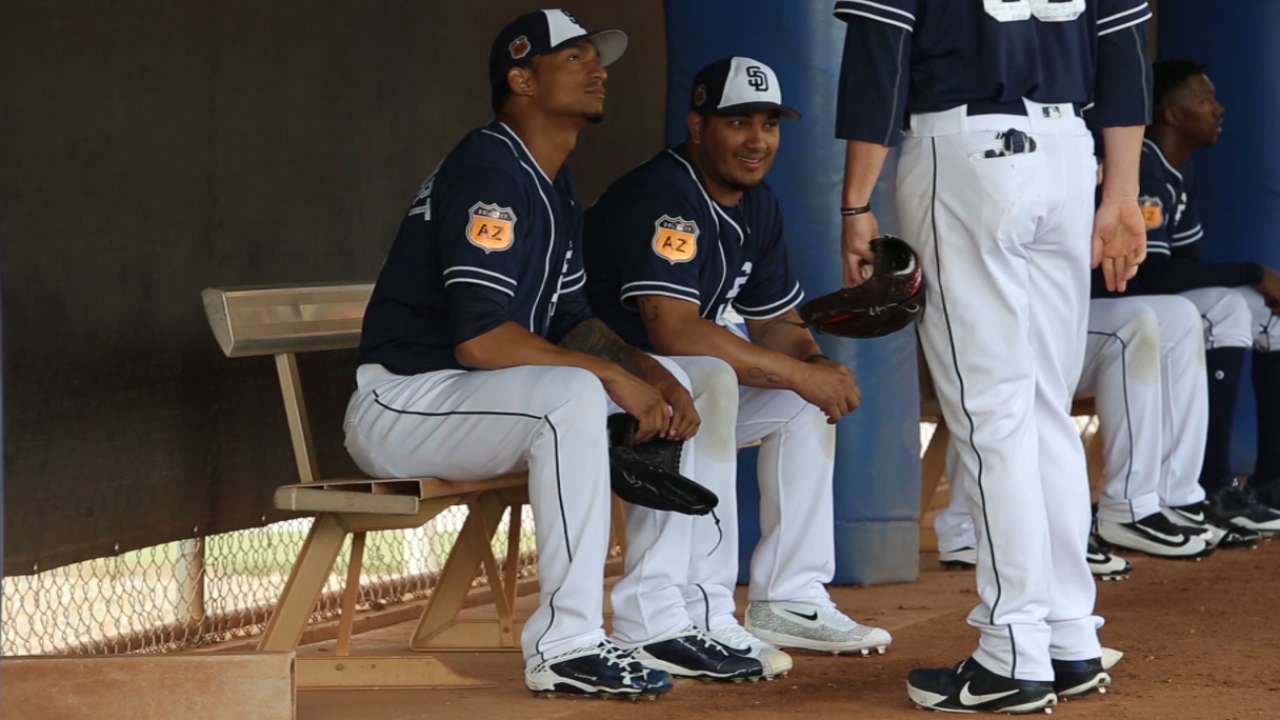 LAKE ELSINORE, Calif. -- The "Christian Bethancourt Experiment" is no longer an experiment.
For the Padres, who hatched a plan last summer to turn a lifelong catcher into baseball's ultimate utility man, it's very much a reality.
Bethancourt was named to the Padres' Opening Day roster on Saturday. He's going to catch. He's going to play the outfield. He's going to serve as a pinch-hitter against lefties. But when asked for Bethancourt's primary position, manager Andy Green didn't hesitate.
"Pitcher," Green said firmly. "That's the way we're looking at him primarily right now. ... The eighth bullpen arm, which, when you look at our schedule, is incredibly necessary. He gives us a flexibility that no other bullpen arm can do, which is pinch-hit capabilities, and cover the field capability."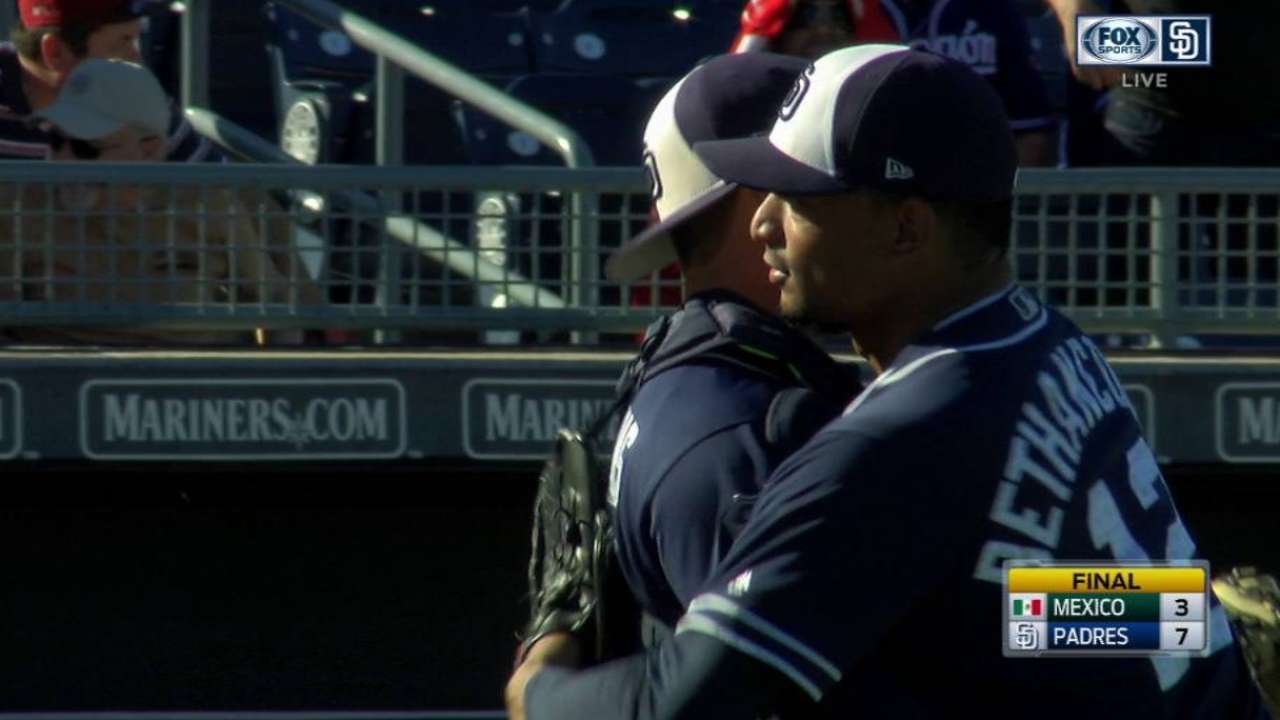 Bethancourt's ability to serve in four different roles could present the Padres' coaching staff with some incredibly unique substitution decisions. Green posited one on Saturday, noting that Bethancourt is an option to pinch-hit on Opening Day against Dodgers southpaw Clayton Kershaw -- and then possibly appear out of the bullpen in the following inning.
How exactly would Bethancourt get loose in the 'pen in that scenario?
"That's been part of the coaching staff's discussion," said Padres general manager A.J. Preller. "That's obviously not something you've been through really at any level, definitely the big league level. I've encouraged the staff to sit down, think about different scenarios where you're going to want to utilize him ... and then factor in what that means for him getting ready to come into the game as a pitcher."
Bethancourt will be baseball's first position player/pitcher hybrid since Brooks Kieschnick for Milwaukee in 2004. But his ability to catch makes his situation even more unique, evoking memories of Double Duty Radcliffe of the Negro Leagues. In Major League history, no player has ever played more than five games at catcher and five at pitcher in the same season.
"You've got to be ready for any situation at any time," Bethancourt said. "I've known since last year my role was going to be different -- pitching, catching, playing the outfield, pinch-hitter. So I see myself just trying to be ready and prepared for anything, anytime."
Bethancourt spent nine professional seasons -- the first eight in the Braves' organization -- as a catcher. He made his first appearance on the mound in mop-up duty for the Padres last season during a loss to Seattle. Then, he made another against Miami.
He hit 96 mph on the radar gun, and threw 1 2/3 scoreless frames. Shortly thereafter, the Padres approached him with the idea of pitching.
The experiment began with seven relief innings during the offseason in Panama. Then, he allowed two runs on four hits and four walks in 9 2/3 spring innings.
"I'm as comfortable as I can be," said Bethancourt, whose arsenal consists of a fastball, slider and changeup. "I feel pretty confident in my stuff. I've still got more to learn and get more confident pitching in the Major Leagues. But it's not like I've never been there. It's just at a different position, a different perspective. I'm not going to be nervous. It's not like I've never been in the Major Leagues."
Are 16 2/3 innings enough to prepare a lifelong position player to pitch regularly in the Majors? Even the Padres admit they'd like more time to work with Bethancourt on the transition, but he's out of options.
Bethancourt's usage is not merely some gimmick without a purpose either. Roster space is tight. The club would like to carry three Rule 5 Draft selections. But they also need to navigate the first two months with an iffy rotation and limited days off.
"As far as I'm concerned, the first two months of our schedule are as tough a two months of a schedule as I've ever seen in baseball," Green said. "... Two days off from April 3 to May 20, so you need bullpen arms. Christian gives us the ability to navigate that.
"He's got to throw the ball well, and he's got to perform. But up till now, there's been a lot of things to like."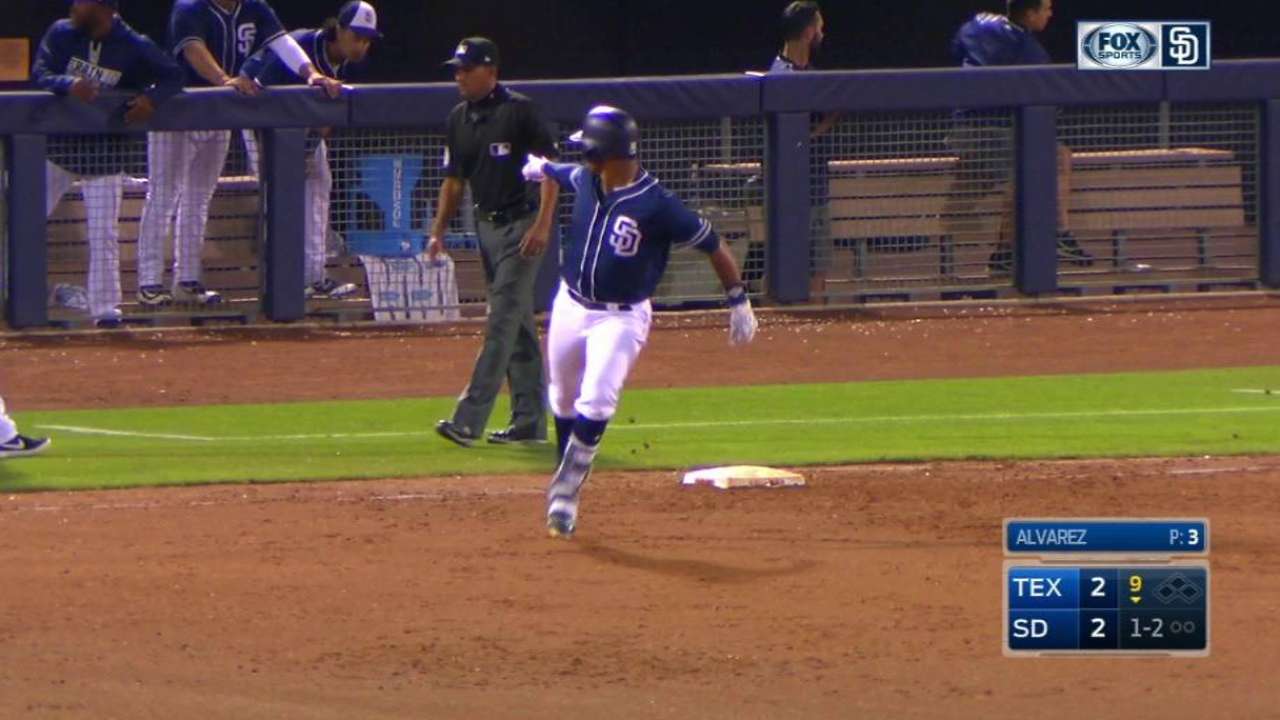 AJ Cassavell covers the Padres for MLB.com. Follow him on Twitter @ajcassavell. This story was not subject to the approval of Major League Baseball or its clubs.