5 Statcast storylines for '17 D-backs
As the 2017 season begins, so does the third season of Statcast™, the state-of-the-art technology that has tracked every play in every Major League ballpark since Opening Day 2015. And with two full seasons of data now collected, plus advances in applying that data, Statcast™ is better than ever. New metrics, such as Catch Probability and Hit Probability, will provide a deeper layer of analysis and further our understanding of the game.
With that in mind, here are five Statcast™ storylines to know about the D-backs heading into the 2017 season.
1. Can Zack bounce back?
Zack Greinke had a tough debut season in the desert. The former American League Cy Young Award winner saw his ERA spike by nearly three runs in 2016, and Statcast™ metrics reveal that Greinke allowed much harder contact.
2015
Barrel/batted ball event: 4.7%
Avg. Launch Angle: 11 degrees
2016
Barrel/BBE: 8.4%
Avg. Launch Angle: 14 degrees
Greinke also had a drastic change in the defense around him. In 2015, Greinke gained 27 runs from catcher framing, mostly attributed to the Dodgers' Yasmani Grandal. In '16, that number dropped all the way to -3.4 runs while working primarily with now-Oriole Welington Castillo. Greinke also saw an increase in the number of line drives and fly balls that fell for hits in the outfield, from 37.3% with L.A. in '15 to 48.1% with Arizona in '16.
2015
Runs gained from catcher framing: +27 (T-1st with Chris Sale)
Non-HR line drives/fly balls for hits in outfield: 37.3%
2016
Runs gained from catcher framing: -3.4
Non-HR line drives/fly balls for hits in outfield: 48.1%
2. Coming out swinging
Pitchers should be cautious when attacking Jake Lamb on the first pitch. The D-backs' third baseman hit six home runs and posted a .581 ISO (slugging percentage minus batting average) when putting the first pitch of an at-bat in play last season. That was good for third in the Majors among hitters who had at least 30 at-bats end on the first offering.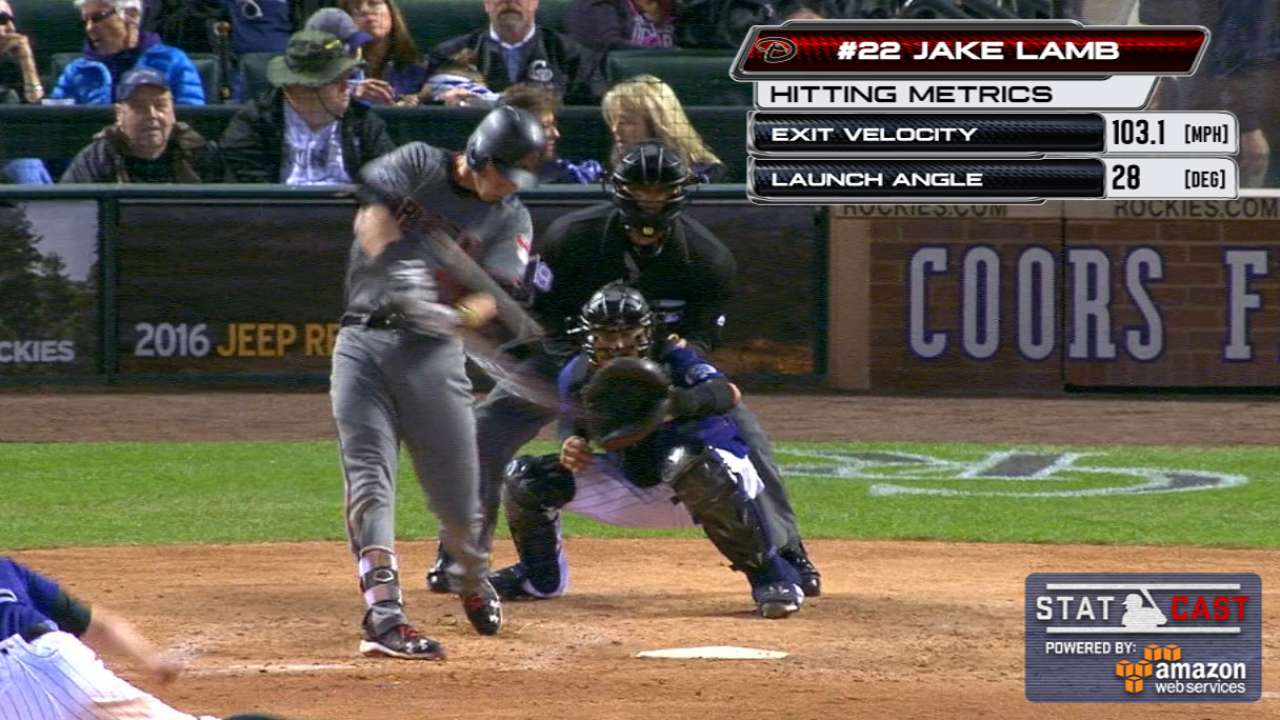 Highest ISO on first-pitch balls in play in 2016 (minimum 30 at-bats)
1. Mike Napoli: .638
2. Giancarlo Stanton: .600
3. Jake Lamb: .581
4. Chris Davis: .576
5. Miguel Sano: .571
3. Hidden talents
Statcast™ metrics show that offseason additions Jorge De La Rosa and Fernando Rodney may still have something to offer.
Though Rodney's 2016 was a tale of two halves (0.31 ERA with Padres; 5.89 with Marlins), the closer allowed an average 85.8 mph exit velocity over the past two seasons, fourth-lowest among relievers. De La Rosa, who is expected to begin 2017 in the D-backs bullpen, also struggled to a 5.51 ERA pitching for the Rockies in 2016. At the same time, however, De La Rosa allowed an average exit velocity of just 87 mph -- good for the 10th-softest contact allowed by any qualified starter.
Lowest average exit velocity in the Statcast™ Era (2015-16) (minimum of 100 batted balls in both seasons)
1. Mark Melancon: 85.5 mph
2. Dellin Betances: 85.8 mph
3. Jose Alvarez: 85.8 mph
4. Fernando Rodney: 85.8 mph
5. Robbie Ross Jr.: 85.9 mph
Lowest average exit velocity against in 2016 (minimum 250 balls in play)
1. Jake Arrieta: 85.4 mph
2. Clayton Kershaw: 86.0 mph
3. Dallas Keuchel: 86.1 mph
4. Chris Sale: 86.1 mph
5. Francisco Liriano: 86.1 mph
6. Noah Syndergaard: 86.3 mph
7. Tanner Roark: 86.4 mph
8. Collin McHugh: 86.5 mph
9. Josh Collmenter: 86.6 mph
10. Jorge De La Rosa: 87.0 mph
4. Power outage
Last season was an off-year for Paul Goldschmidt, and a look at Statcast™ metrics shows that Goldschmidt's power dip went beyond his .489 slugging percentage (his lowest since 2012) and .192 ISO (a career low). Goldschmidt saw his average exit velocity, launch angle and barrel rate all decline from 2015 to '16, while seeing a bump in his ground-ball rate.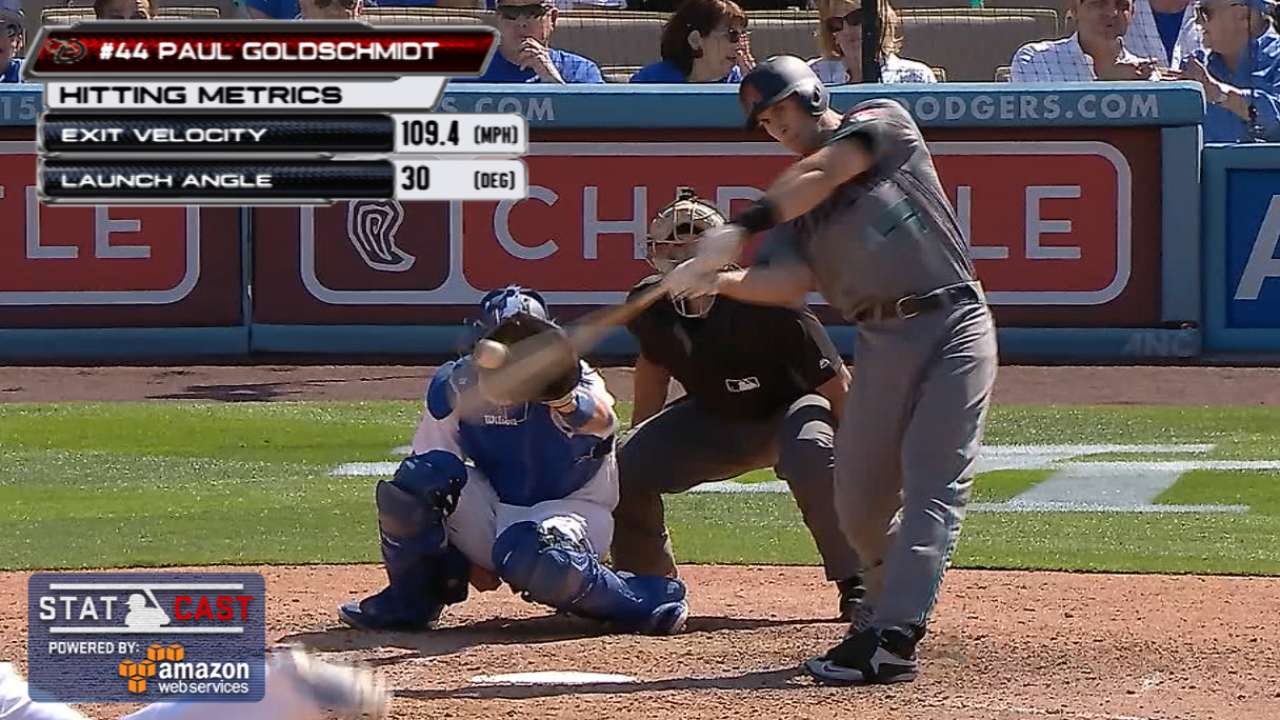 2015
Average exit velocity: 93.1 mph
Average launch angle: 14 degrees
Barrels/PA: 7.5%
Ground ball rate: 42.7%
2016
Average exit velocity: 92.4 mph
Launch angle: 12 degrees
Barrels/PA: 4.4%
Ground ball rate: 47.4%
5. Hit and miss
Robbie Ray got hitters to swing and miss on 12.4 percent of his pitches, which tied Madison Bumgarner for 14th among starters who threw a minimum of 2,500 pitches. But Ray also gave up the third-highest rate of barrels among starting pitchers (teammate Patrick Corbin ranked second) and he had the 10th-highest average exit velocity on batted balls hit against him.
Highest barrel/batted ball rate in 2016 (minimum 300 BBE)
1. Marcus Stroman: 30.5%
2. Patrick Corbin: 30.2%
3. Robbie Ray: 29.8%
4. Dallas Keuchel: 29.0%
5. Aaron Sanchez: 28.8%
Highest average exit velocity allowed in 2016 (minimum 300 BBE)
1. Matt Andriese: 92.2 mph
2. Danny Salazar: 91.9 mph
3. Ivan Nova: 91.3 mph
4. Marcus Stroman: 91.1 mph
5. James Paxton: 91.0 mph
6. Andrew Cashner: 90.9 mph
7-T. Tyler Duffey: 90.8 mph
7-T. Sonny Gray: 90.8 mph
7-T. Jason Hammel: 90.8 mph
10-T. Robbie Ray: 90.7 mph
*Four others tied for 10th
Matt Kelly is a reporter for MLB.com based in New York. Follow him on Twitter at @mattkellyMLB. This story was not subject to the approval of Major League Baseball or its clubs.