5 Statcast storylines for '17 Yankees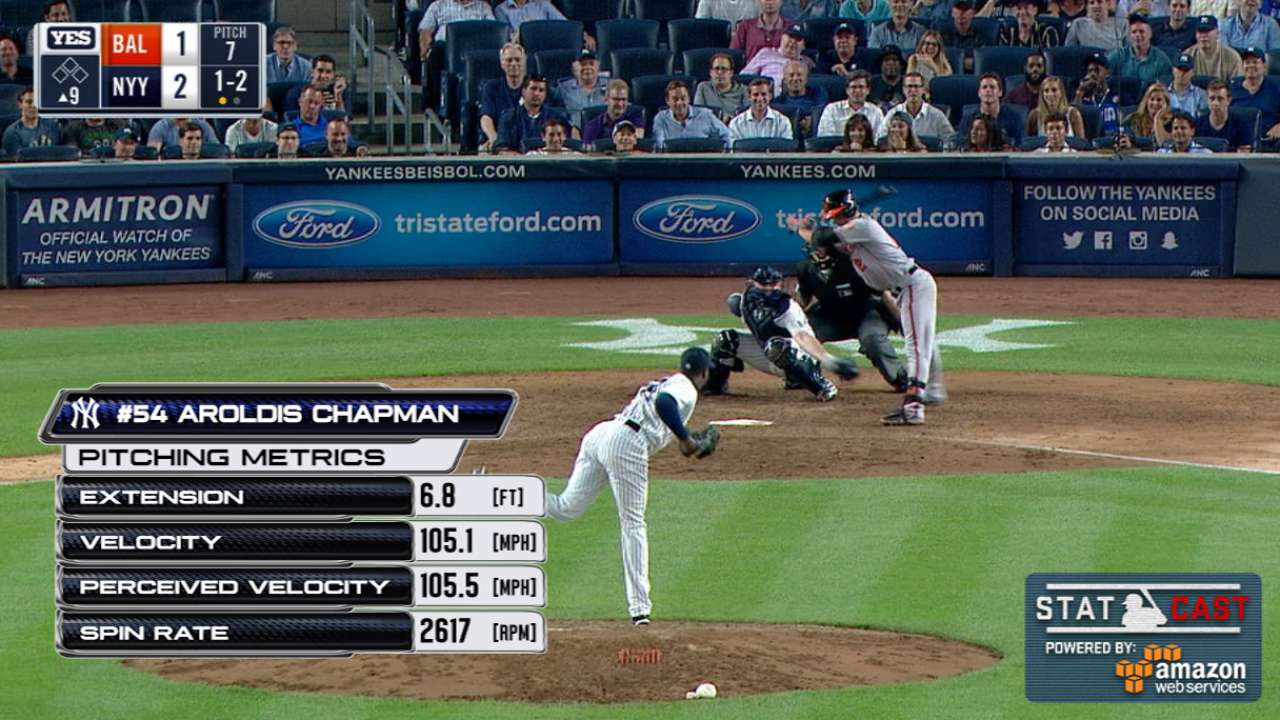 As the 2017 season begins, so does the third season of Statcast™, the state-of-the-art technology that has tracked every play in every Major League ballpark since Opening Day 2015. And with two full seasons of data now collected, plus advances in applying that data, Statcast™ is better than ever. New metrics, such as Catch Probability and Hit Probability, will provide a deeper layer of analysis and further our understanding of the game.
With that in mind, here are five Statcast™ facts to know about the Yankees heading into the 2017 season.
1. Unmatched heat
When Aroldis Chapman is on the mound, expect the radar gun to be spitting out lots of triple-digit readings. Not surprisingly, the lanky left-hander led the Majors with an average four-seam fastball velocity of 100.9 mph in 2016. But to truly grasp how his velo sets him apart, consider how many times he has crossed the 100-mph threshold during Statcast™'s two seasons. Chapman's 991 triple-digit pitches account for a whopping 42.5 percent of the MLB total during that span.
Most pitches 100-plus mph in Statcast™ Era
1. Aroldis Chapman: 991
2. Mauricio Cabrera: 344
3. Arquimedes Caminero: 145
4. Nathan Eovaldi: 111
5. Noah Syndergaard: 97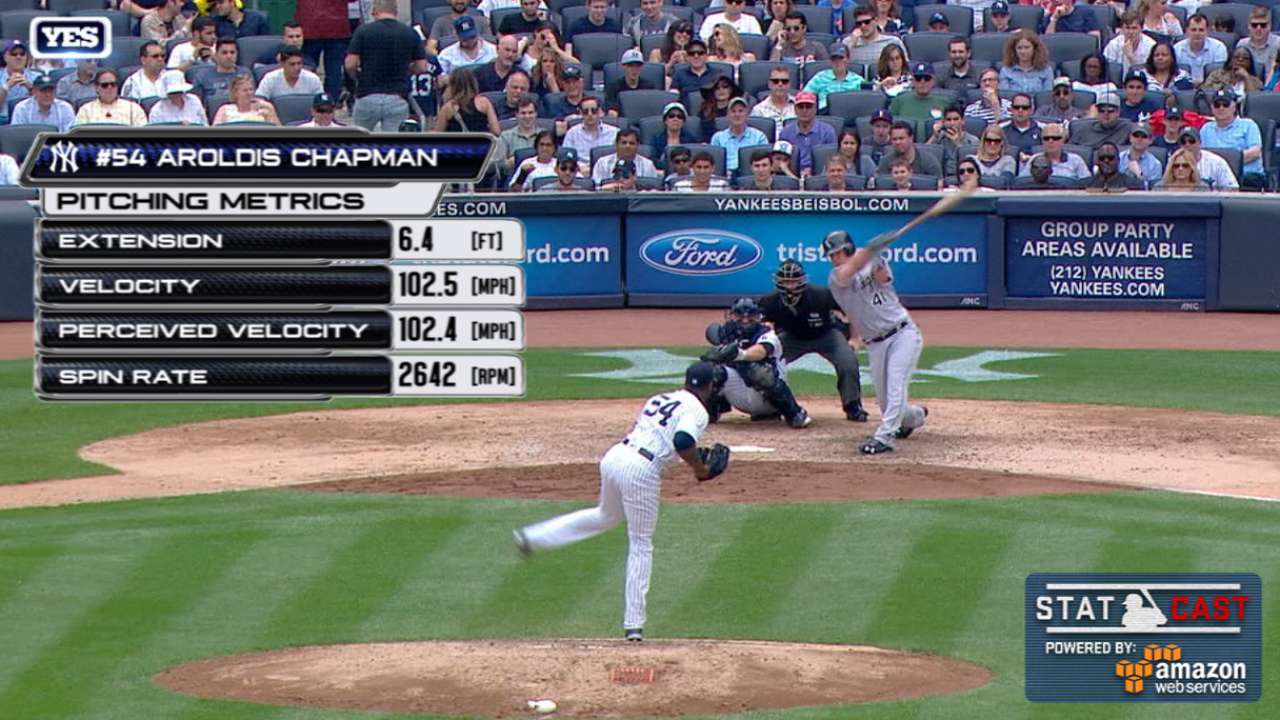 2. Barrels aplenty
A barrel is a Statcast™ term used to describe a batted ball with a combination of exit velocity and launch angle that historically has produced at least a .500 batting average and 1.500 slugging percentage. In other words, it's the sort of contact that tends to do the most damage. As a rookie, Gary Sanchez was among the best very hitters at producing them with the opportunities he had, ranking third in barrels-per-plate-appearance rate.
Highest rate of barrels per plate appearance in 2016
Minimum 100 balls in play
1. Khris Davis: 10.7 percent
2. Miguel Cabrera: 10.6 percent
3. Gary Sanchez: 10.5 percent
4. Nelson Cruz: 10.2 percent
5. Mark Trumbo: 10.0 percent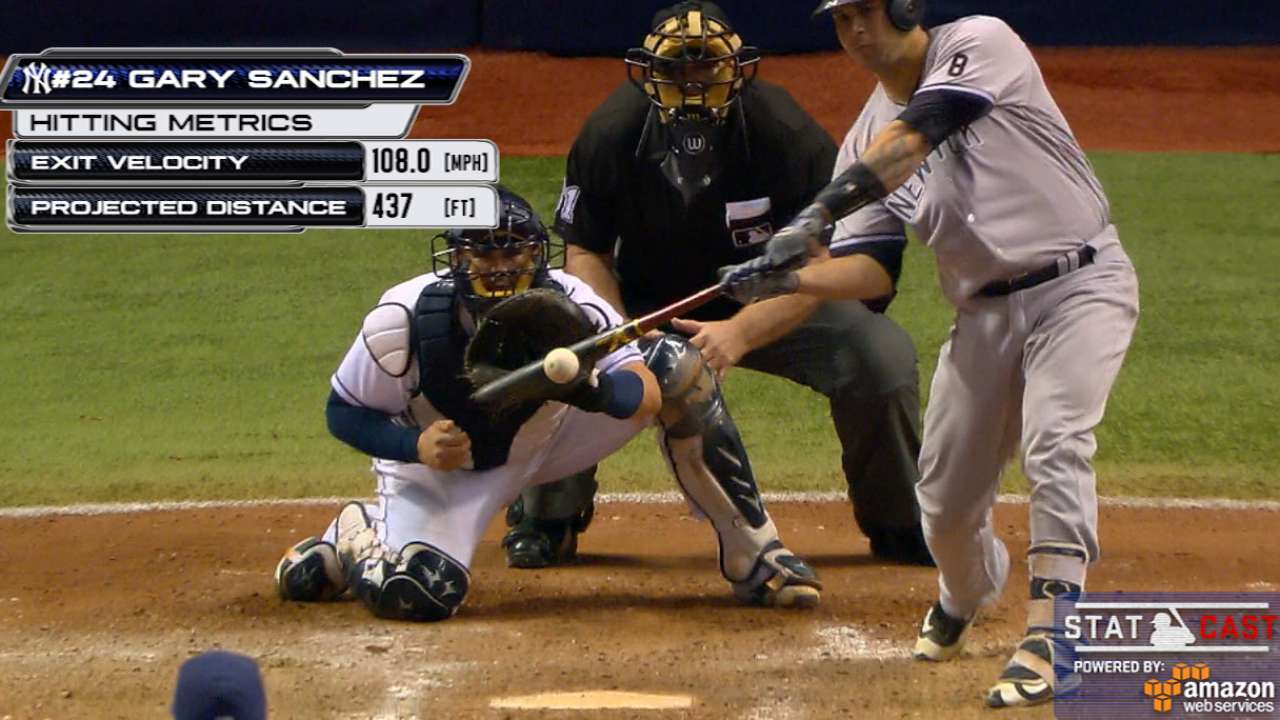 3. Give 'em the hook
At 2,801 rpm, Dellin Betances' knuckle-curveball ranked seventh in average spin rate among pitchers who threw at least 500 curves or knuckle-curves last season. Compared favorably with the MLB average of 2,462 rpm, that spin rate helped make the pitch extremely difficult to hit. Opponents batted only .128 and slugged .180 against it, both among MLB's lowest marks. When they took a cut at Betances' knuckle-curve, they came up empty nearly half the time.
Highest missed-swing rate on curves/knuckle-curves in 2016
Minimum 150 swings
1. Jon Lester: 52.5 percent
2. Corey Kluber: 51.0 percent
3. Cody Allen: 50.3 percent
4. Dellin Betances: 49.6 percent
5. Jose Fernandez: 49.3 percent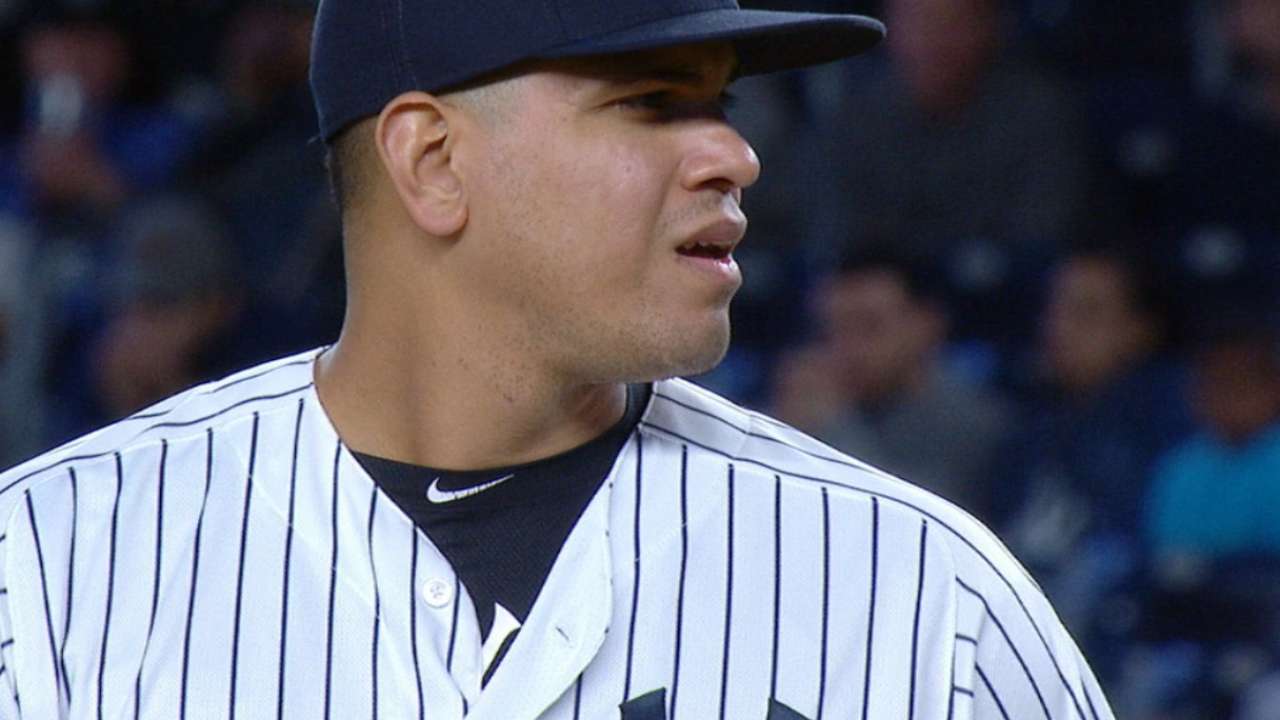 4. Hicks' heaves
Last April 20 against the A's in the Bronx, Aaron Hicks made Statcast™ history with a record 105.5-mph throw. Not only was it the hardest the system had ever recorded, but it also nabbed Oakland's Danny Valencia at the plate to complete a double play. Thanks in part to that impressive feat, Hicks led all outfielders in average "max-effort" arm strength, which measures only throws harder than a player's 90th percentile.
Highest average max-effort arm strength for outfielder in 2016
Minimum 75 tracked throws from OF
1. Aaron Hicks: 99.4 mph
2. Starling Marte: 97.0 mph
3. Danny Santana: 96.8 mph
4. Carlos Gomez: 95.8 mph
5. Jake Marisnick: 95.7 mph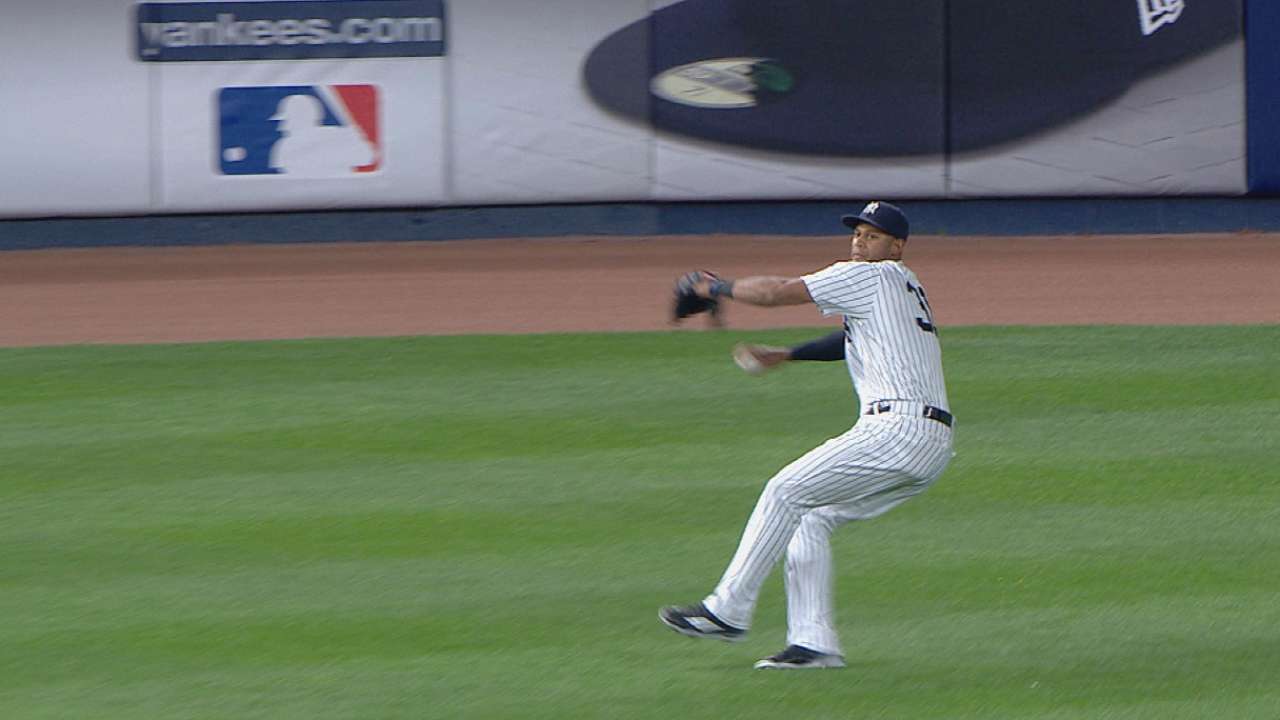 5. Loud contact
In a brief 27-game debut with the Yankees late last season, Aaron Judge scuffled at the plate. Matt Holliday left St. Louis for New York in the offseason, after posting the lowest OPS (.782) of his 13-year career. Yet both right-handed sluggers hit the ball hard when they connected. Judge only recorded 42 batted balls -- matching his strikeout total -- but with a minimum of 30 last season, only Nelson Cruz topped Judge's average exit velocity of 95.5 mph. Holliday wasn't far behind.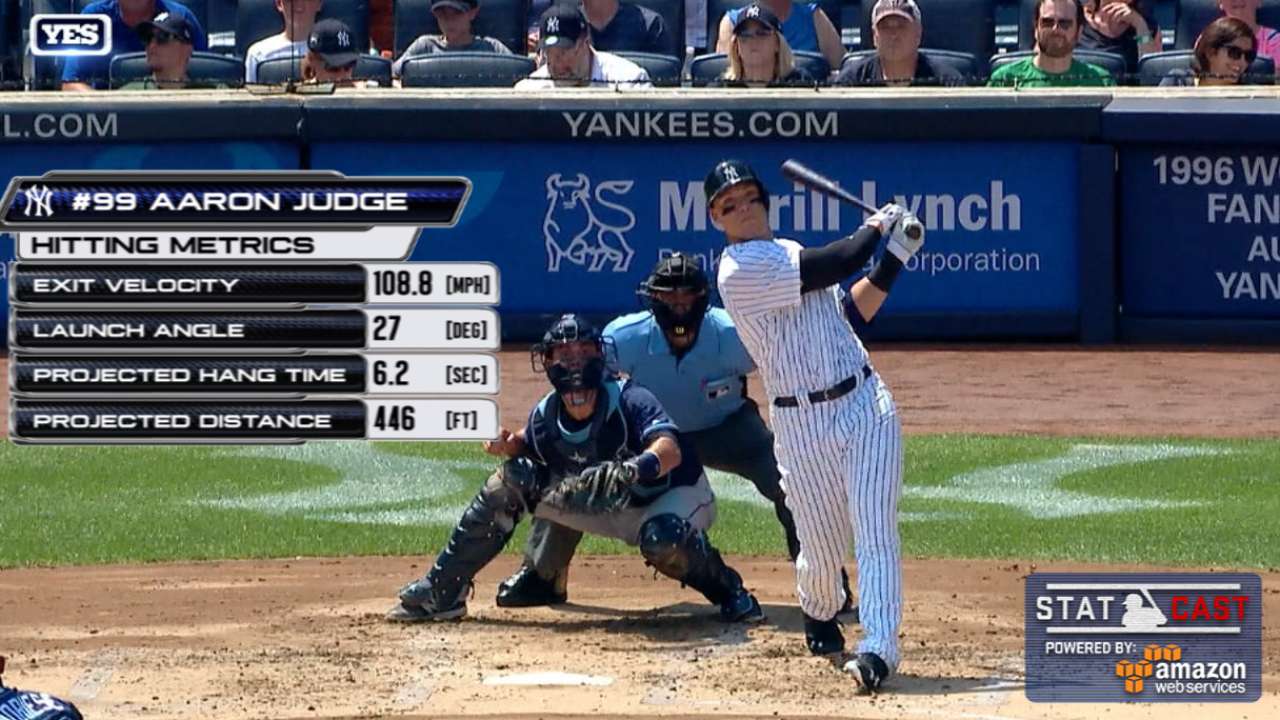 Highest average exit velocity, 2016
Minimum 30 batted balls
1. Nelson Cruz: 95.9 mph
2. Aaron Judge: 95.5 mph
3. Giancarlo Stanton: 95.1 mph
4. Keon Broxton: 95.0 mph
5. Matt Holliday: 94.7 mph
Andrew Simon is a research analyst for MLB.com. Follow him on Twitter @AndrewSimonMLB. This story was not subject to the approval of Major League Baseball or its clubs.