MLB.com Columnist
Anthony Castrovince
Position-by-position breakdown: USA vs. PR
Top clubs set to square off tonight at 9 ET on MLB Network, MLB.TV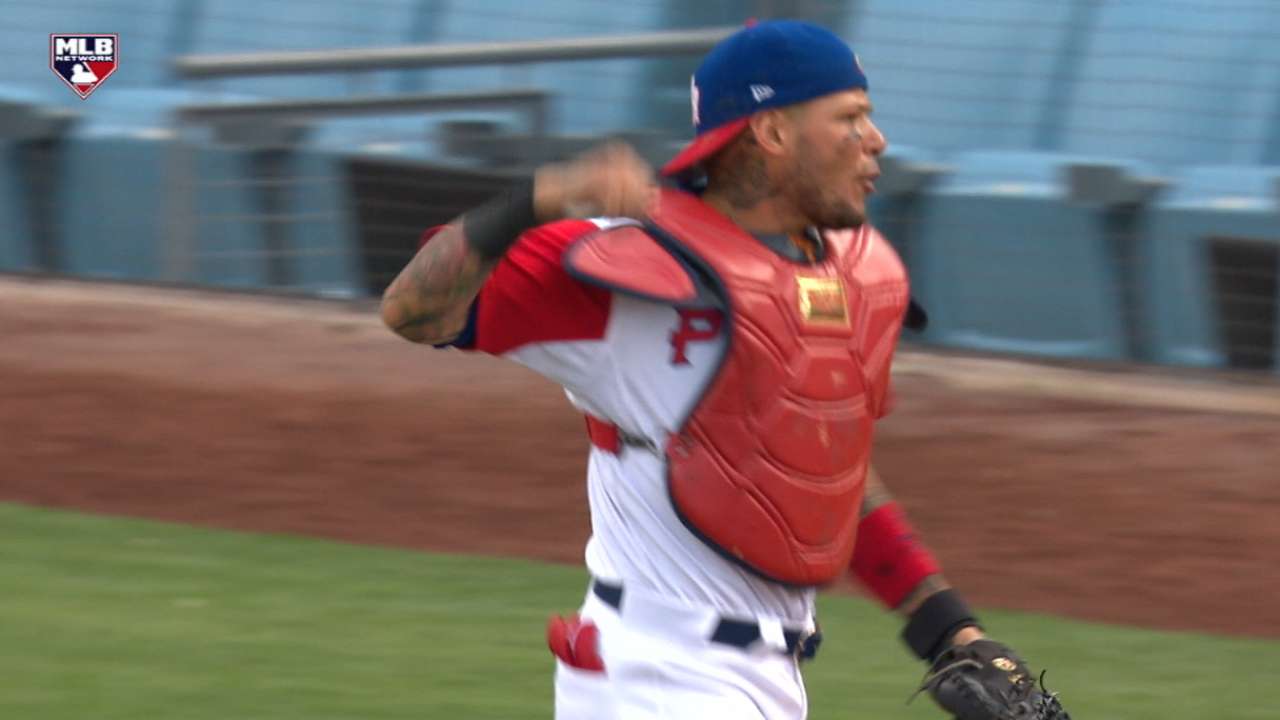 The United States' reward for reaching the World Baseball Classic final for the first time? A date with an energetic, upbeat and (so far) impossible to beat Puerto Rican squad. If the Americans are going to claim the crown, they're going to earn it, because Team P.R. has been one cohesive, competitive ballclub.
In advance of tonight's championship game at Dodger Stadium (9 p.m. ET on MLB Network and MLB.TV), here's a position-by-position breakdown of how these two world-class clubs stack up against each other. Please note that exact starting lineups are not yet known, so we'll do the best we can.
Catcher
For Team Puerto Rico, it's Yadier Molina behind the dish. For Team USA, Jim Leyland has alternated between Buster Posey and Jonathan Lucroy in his backstop slot throughout this tournament, but he started Lucroy in the grand finale. If we're talking about projected performance in the 2017 season, you might go with the younger Lucroy (30 to Molina's 34) here, but Yadi has simply been in his element in this event, contributing a .333/.333/.619 slash line in 21 at-bats, nabbing would-be basestealers and playing with more emotion than ever.
Advantage: Puerto Rico
First base
Puerto Rico's manager Edwin Rodriguez has primarily gone with T.J. Rivera here, though he's hit just .192 in the tournament, and Rene Rivera and Kennys Vargas have also seen time at the position. Whatever Rodriguez's choice, the pure potential does not compare to what Leyland can trot out there in Paul Goldschmidt and Eric Hosmer. Goldy's limited playing time in deference to Hosmer has sparked plenty of Twitter chatter, but Hosmer has had a great tournament. Either way, it's U.S.A. all the way here.
Big advantage: U.S.
Second base
Ian Kinsler, the reigning American League Gold Glove Award winner at second base, coming off one of the best seasons of his career, started the final. Leyland had other options in Daniel Murphy and Josh Harrison, both of whom got a rare start against Puerto Rico's starter for the final, Seth Lugo, in the previous round (Murphy at designated hitter, Harrison at second base). That's strong depth overall, but this is another one where you can't watch this tournament and come away with anything other than profound appreciation for the way Javier Baez is playing right now. He's hitting .333 with a homer, five RBIs and four stolen bases and, of course, he had an instantly iconic no-look celebratory tag at second.
Small advantage: Puerto Rico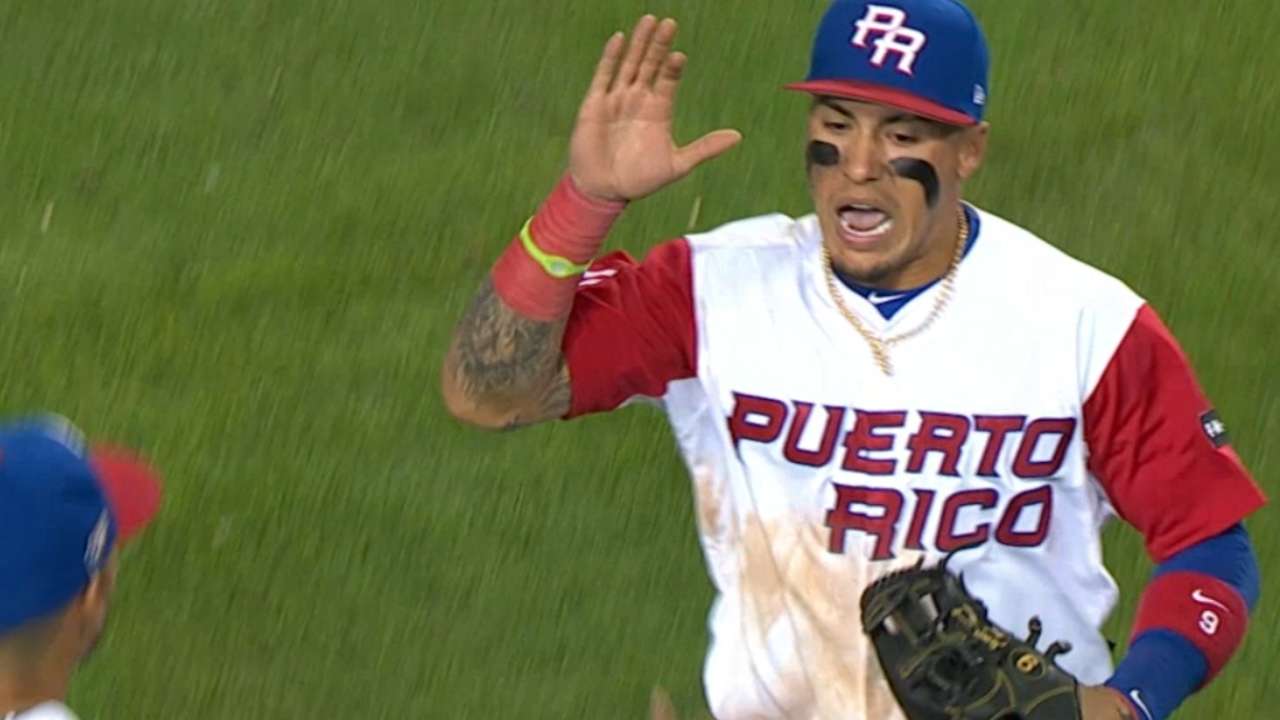 Shortstop
Brandon Crawford is awesome -- a game-changing defender with a good bat that has more than delivered in this event (1.222 OPS). His backup, Alex Bregman, is one of the game's most exciting sophomores. And yet, neither one is Francisco Lindor, whose .435/.481/.739 slash line in 23 at-bats in the Classic is yet another window into his embrace of the big stage.
Advantage: Puerto Rico
Third base
Hot hand here. Carlos Correa is undoubtedly that. He's hit three homers and a double and driven in nine runs in this Classic. It's enough to make you wonder if the 22-year-old Correa is on the cusp of the kind of MVP-level year forecast for him. More importantly, for this exercise, it's enough to give him the edge even over an amazing two-way talent like Nolan Arenado (or his backup, Bregman).
Advantage: Puerto Rico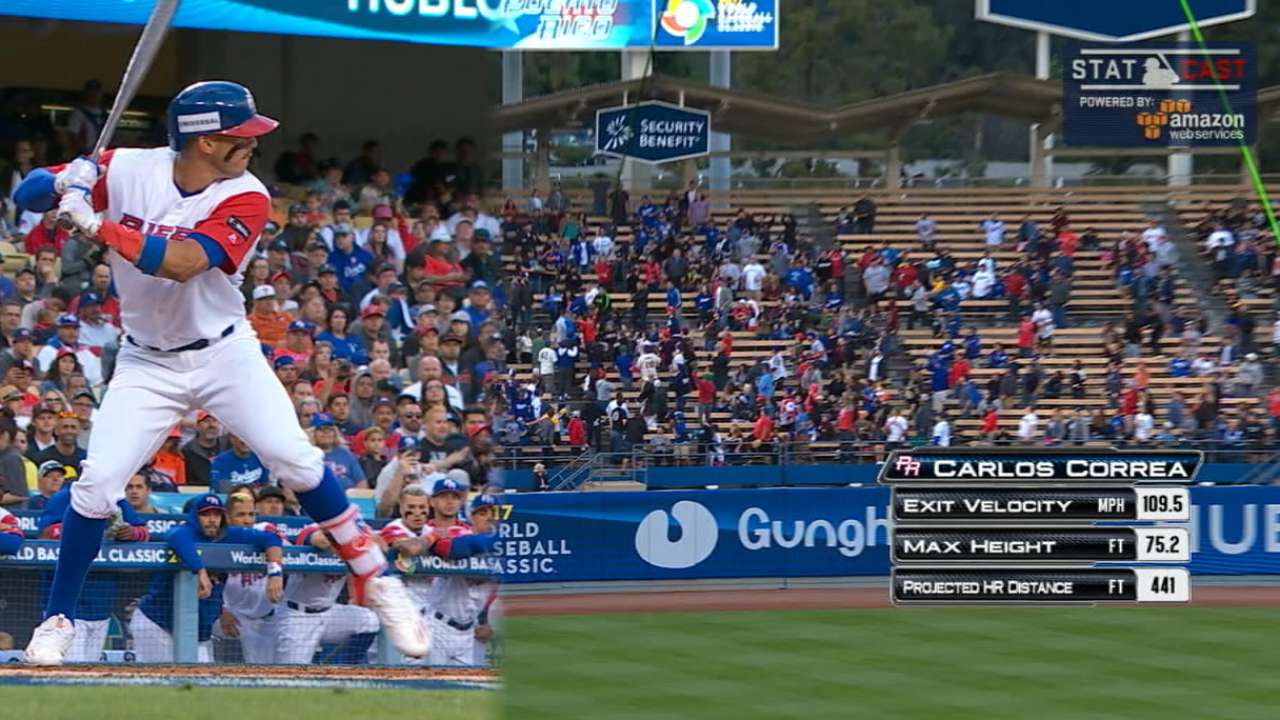 Left field
The Classic has hopefully exposed a wider audience to Christian Yelich, whose sweet swing and improved power were a highlight of the Marlins' 2016 season. He's 7-for-24 with three doubles. Puerto Rico counters here with the 35-year-old free agent Angel Pagan, who is hoping his Classic appearance sparks interest from a big league ballclub.
Advantage: U.S.
Center field
Adam Jones is a modest 7-for-31 overall, but his imprint has been all over this event, driving in the winning run multiple times and making one of the great homer-robbing catches of our time. Puerto Rico's Reymond Fuentes is 2-for-16 with seven strikeouts.
Big advantage: U.S.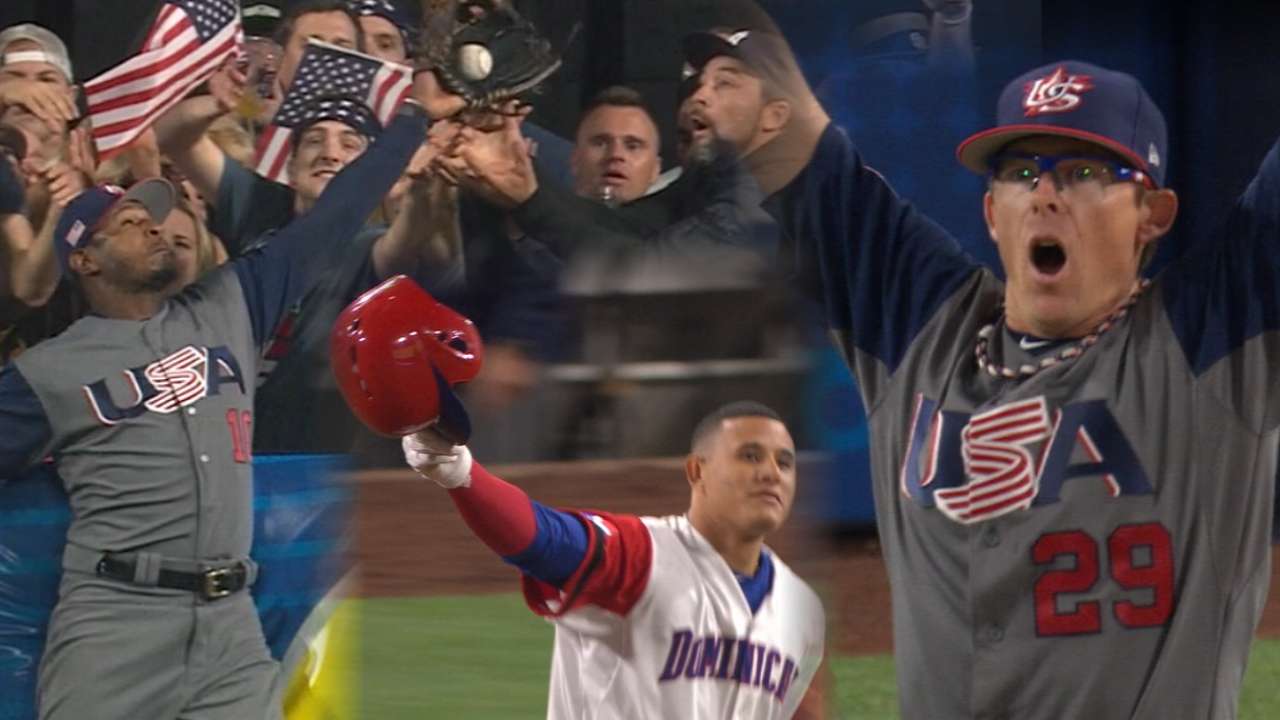 Right field
Eddie Rosario has soaked up the majority of at-bats for Puerto Rico in right, and his 6-for-17 showing at the plate (with three extra-base hits and the game-winning sac fly in the semis) combine with his defensive ability to show why he's an underrated asset for the Twins. But do you take that over Giancarlo Stanton's ability to hit one to the San Gabriel Mountains or the former National League MVP Award winner Andrew McCutchen (either of whom could start Wednesday). We'll take overall track record here.
Slight edge: U.S.
Designated hitter
Carlos Beltran is a certainty for the Puerto Rican lineup, and though we're not exactly sure if that blonde beard suits him, the 10-for-21 showing at the plate definitely does. Leyland can handle his DH spot a lot of different ways, with Stanton, Posey, Goldschmidt and Murphy among the many options. But no matter who it is, Beltran has done enough on the big stage in his life (remember, he has a 1.078 OPS in 55 career postseason games) to earn this edge.
Advantage: Puerto Rico
Starting pitcher
When Lugo and Stroman opposed each other on St. Patrick's Day in Pool F play, Stroman blinked first in a four-run first inning sparked by six straight singles. Stroman settled in and got 12 straight outs at one point, but Lugo, with three runs allowed on five hits in 5 2/3 innings, was simply better that night. Lugo's elite spin rate is a strength, and he's got a 2.45 ERA in 11 innings in this tournament. Stroman got singled to death that night, but he was masterful in the opening round against that ridiculous Dominican Republic lineup (4 2/3 scoreless).
Slight edge: U.S.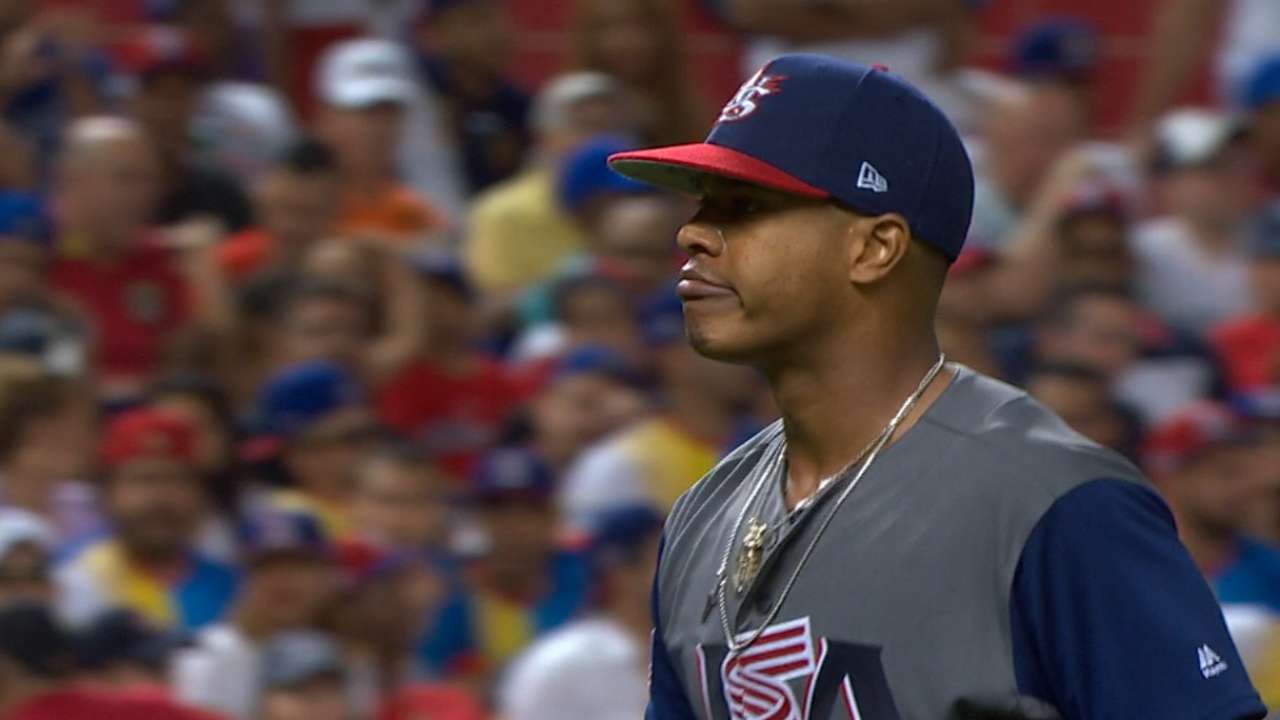 Bullpen
Without knowing the exact availabilities on the U.S. squad given the back-to-back days, it's hard to know which way to lean here. But the schedule itself is an obvious advantage to a more-rested Puerto Rico squad, and closer Edwin Diaz will be available to Rodriguez despite pitching two innings against the Netherlands on Monday night.
Slight edge: Puerto Rico
The World Baseball Classic ends tonight. In the U.S., games air live exclusively in English on MLB Network and on an authenticated basis via MLBNetwork.com/watch, while ESPN Deportes and WatchESPN provide the exclusive Spanish-language coverage. MLB.TV Premium subscribers in the U.S. have access to watch every tournament game live on any of the streaming service's 400-plus supported devices. The tournament is being distributed internationally across all forms of television, internet, mobile and radio in territories excluding the U.S., Puerto Rico and Japan. Get tickets for the Championship Round at Dodger Stadium, while complete coverage -- including schedules, video, stats and gear -- is available at WorldBaseballClassic.com.
Anthony Castrovince has been a reporter for MLB.com since 2004. Read his columns and follow him on Twitter at @Castrovince. This story was not subject to the approval of Major League Baseball or its clubs.