Diaz douses Netherlands' offense in extras
Puerto Rico closer works 10th, 11th innings to earn win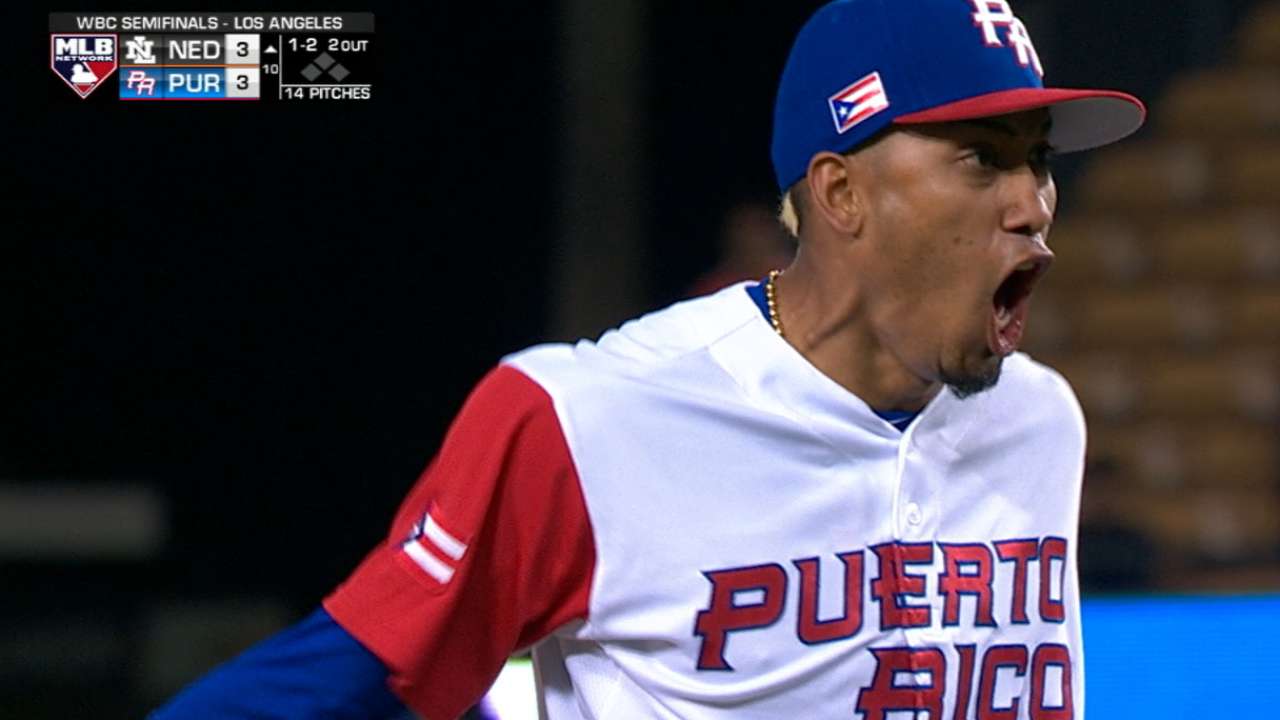 LOS ANGELES -- Mariners manager Scott Servais said recently from Arizona that he enjoyed watching his closer, Edwin Diaz, displaying emotion as the ninth-inning man for Puerto Rico's World Baseball Classic team.
Servais must have had a great time Monday night, taking in the tour de force that Diaz supplied in Puerto Rico's 4-3 victory in a Classic semifinal matchup with the Netherlands at Dodger Stadium.
Diaz, the electric, 22-year-old right-hander who struck out 88 batters in 51 2/3 innings as a Seattle rookie in 2016, was called upon by Puerto Rico manager Edwin Rodriguez to pitch the top of the 10th inning in a 3-3 tie and keep three of the Netherlands' best hitters at bay.
He did that and a little more, too. His two innings of brilliant work nailed down the game for Puerto Rico, which is now moving on to the final against the winner of Tuesday's semifinal between the United States and Japan.
"I gave everything," Diaz said. "I want to give everything for my country, give them joy. I [saw] this game like it was the last game. Being able to represent my country is an honor. It's a pride. When I was younger, I saw the games, but now I'm living them."
And he lived it on the edge Monday night. After striking out Jurickson Profar of the Texas Rangers, Diaz faced Wladimir Balentien, who had already homered, doubled and singled in the game. Diaz threw a pitch up and in to Balentien, who barked disapproval and motioned with his hands at Diaz. Diaz stood on the mound with no reaction, but both benches emptied around him in response to Balentien's brief outburst.
"I know it was not on purpose," Balentien said after the game. "It's part of the game. You know, both teams want to win, so it's things that happen when you really play hard and you put your heart in everything. Sometimes those kinds of plays just go like the way it went, but I never thought he tried to hit me."
And no punches were thrown, but once both teams returned to their dugouts, Diaz returned to being filthy.
He struck out Balentien looking and leapt off the mound, joyously pumping his fists. He then finished off a dominant frame by striking out Baltimore Orioles slugger Jonathan Schoop and celebrated even more loudly as he strutted back to his teammates.
Diaz was then brought out for the 11th, when extra-inning rules went into effect and he had to start the inning with runners on first and second.
No problem yet again.
After a sacrifice bunt and an intentional walk, Diaz got Curt Smith to ground into a 4-6-3 double play to end the threat.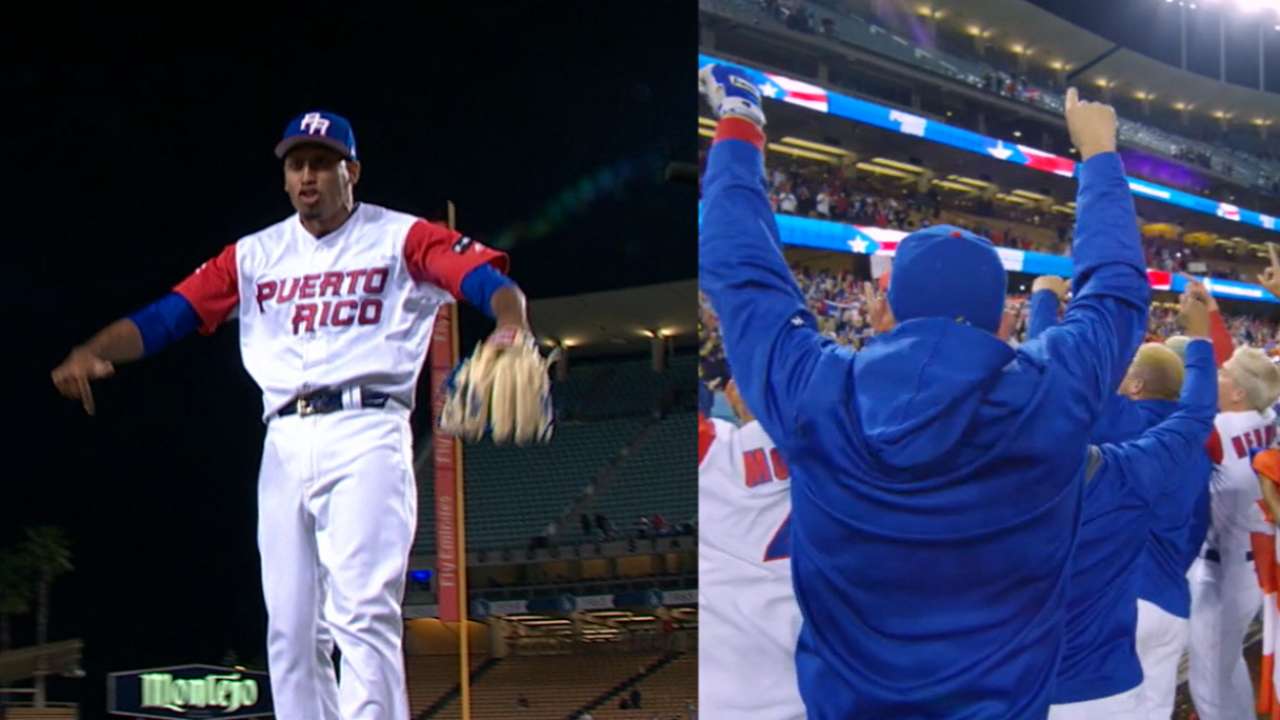 "Wow," Rodriguez said. "That's why he's a big league closer."
Puerto Rico will face the winner of Tuesday's USA-Japan game at 9 p.m. ET in the final. You can watch all Championship Round games live on MLB.TV and MLB Network. Puerto Rico would be the home team if it were to face the U.S., but if it meets Japan, the home-road teams will be determined by a coin flip.
The World Baseball Classic runs through Wednesday. In the U.S., games air live exclusively in English on MLB Network and on an authenticated basis via MLBNetwork.com/watch, while ESPN Deportes and WatchESPN provide the exclusive Spanish-language coverage. MLB.TV Premium subscribers in the U.S. have access to watch every tournament game live on any of the streaming service's 400-plus supported devices. The tournament is being distributed internationally across all forms of television, internet, mobile and radio in territories excluding the U.S., Puerto Rico and Japan. Get tickets for the Championship Round at Dodger Stadium, while complete coverage -- including schedules, video, stats and gear -- is available at WorldBaseballClassic.com.
Doug Miller is a reporter for MLB.com. Follow him on Twitter @DougMillerMLB. This story was not subject to the approval of Major League Baseball or its clubs.