Skaggs 'strong' and 'happy' after Minors start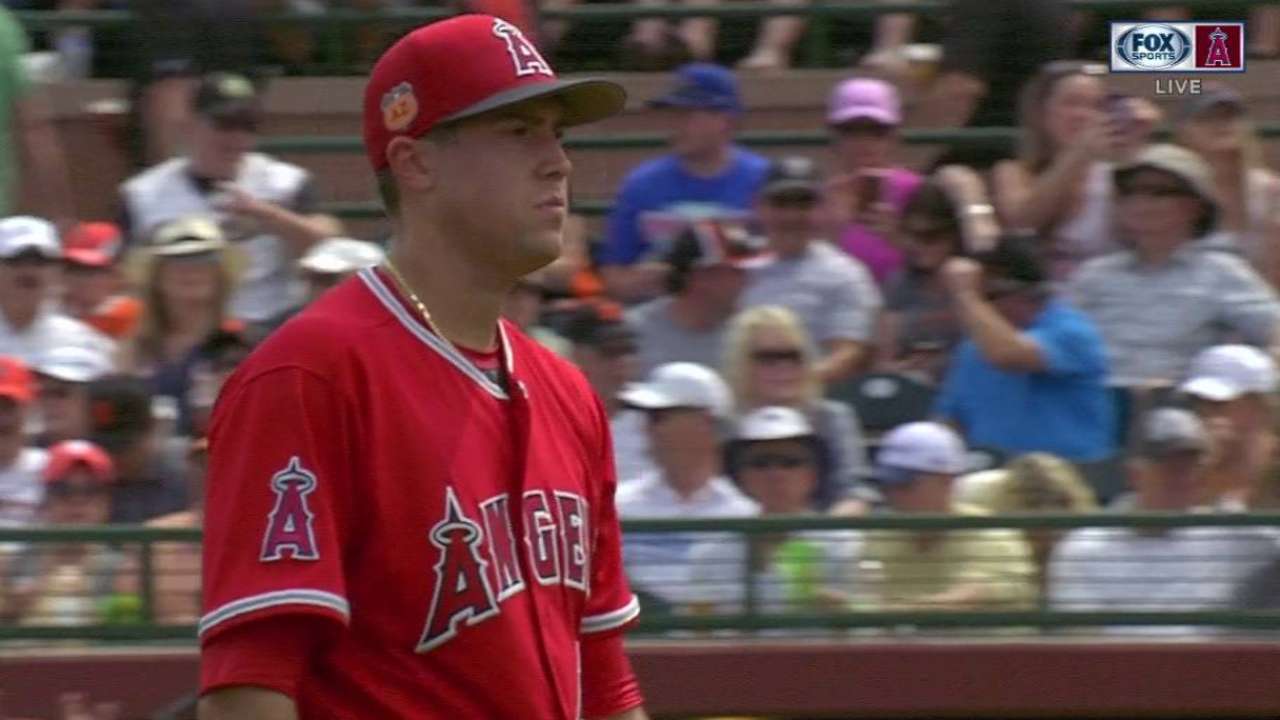 TEMPE, Ariz. -- Left-hander Tyler Skaggs struck out five over four scoreless innings in his Minor League start against the Brewers on Monday night at Tempe Diablo Stadium.
Skaggs walked one and allowed two hits -- a triple in the second and an infield single in the fourth that could have been ruled an error. He threw 50 pitches, with his fastball hovering between 90-94 mph.
"I felt good," Skaggs said. "I felt strong. My mechanics were finally there, so I'm really happy about it."
• Spring Training: Information | Tickets | Schedule | Gear
Skaggs was particularly pleased with the effectiveness of his curveball, which he frequently deployed against the Milwaukee farmhands.
"It's just something that I've been trying to work on," he said. "It hasn't been coming out like I liked it, and today was the day where something finally clicked and the curveball was there, so I decided to throw a good amount."
Skaggs was scheduled to go three innings and throw 45 pitches, but he successfully lobbied for a fourth frame after he finished the third with his pitch count at 41.
"Of course I pushed for the fourth, and I'm happy they obliged," he said. "It was one of those games where you want to get your work in now, because come Saturday, the next time I pitch, I'll be ready to go."
Skaggs was scratched from his second Cactus League start because of weakness in his shoulder, and he remains a little behind the other Angels starters, who are all throwing five innings and 75 pitches this time through the rotation. Still, Skaggs believes he still has enough time to stretch out and be ready for the first week of the regular season.
Asked if he thinks he can go five innings in his next scheduled start, against the D-backs on Saturday, Skaggs said, "I'm not the boss, but I definitely felt strong enough today."
Skaggs will be entering his first full season back from Tommy John surgery. He missed nearly two years while rehabbing, but he returned to the Angels' rotation in July and logged a 4.17 ERA over 49 2/3 innings in 2016.
Maria Guardado covers the Angels for MLB.com. This story was not subject to the approval of Major League Baseball or its clubs.