Classic a great experience for Rangers' Perez
Friendship with King Felix, pitching for Venezuela a boon for lefty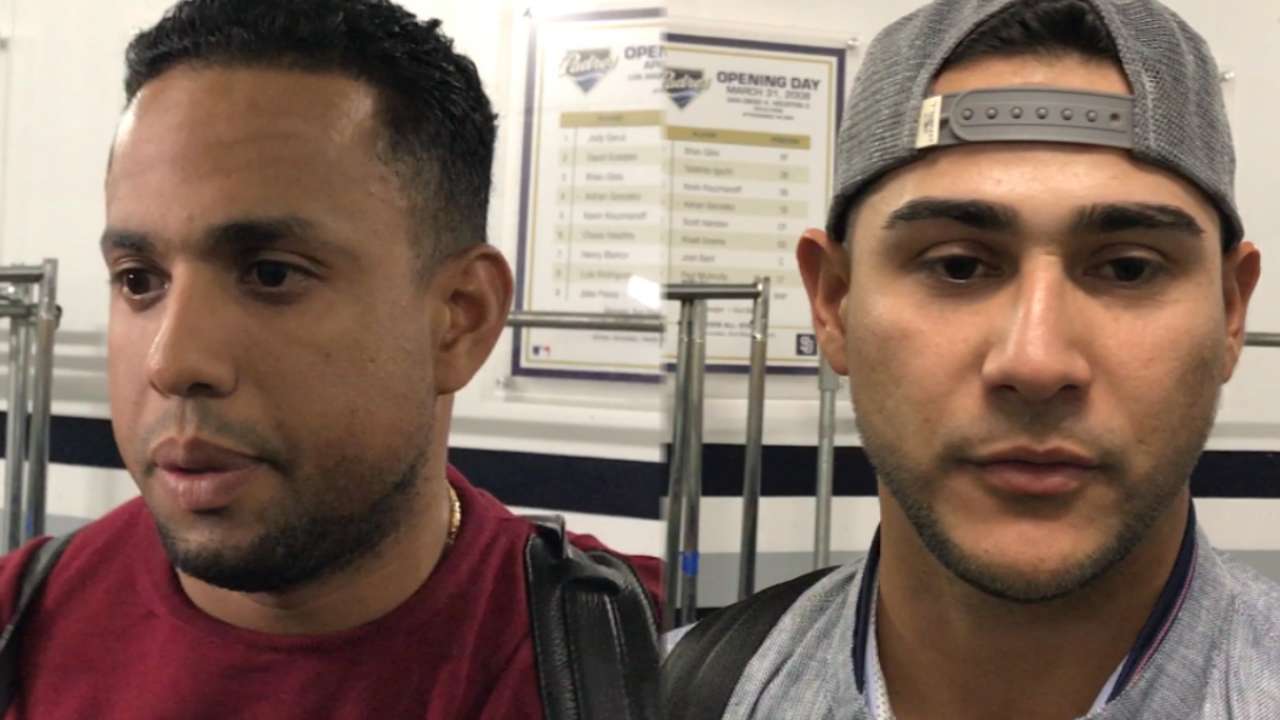 SURPRISE, Ariz. -- Martin Perez has a new best friend and it's a pitcher on one of the Rangers' biggest rivals.
Perez returned to the Rangers from the World Baseball Classic on Monday and said the highlight of the experience was being able to spend time with Mariners All-Star pitcher Felix Hernandez. The Rangers left-hander, expected to be their No. 3 starter going into the season, said he and Hernandez talked about everything.
"Life, baseball, family, you name it," Perez said. "We talked about game situations, what do you throw in this count or what do you throw in that count. He had a lot of questions for me.
"We talked about my sinker. He said it's my best pitch, it's nasty, don't lose it, you've got to use it. Believe in yourself and trust your stuff. Before I never really had a chance to talk to him like now. But we're really good friends now."
Perez and Hernandez pitched for Team Venezuela, which made it to the second round before getting knocked out. Perez made two starts in the tournament.
He pitched against Italy on March 11 and allowed four runs with six hits, a walk and three strikeouts in 3 1/3 innings, He threw 58 pitches. His second start was Saturday against Puerto Rico, and he allowed two runs, one earned, in 2 2/3 innings. He walked one, struck out three and threw 49 pitches.
"It was good, especially my last outing," Perez said. "I was able to use all my secondary pitches. I think those two starts helped get me ready for the season."
Perez said the atmosphere was just like postseason with the Rangers.
"Especially when you put Venezuela on the front of the jersey," Perez said. "Everybody is feeling the pressure. But at the same time I enjoyed it. It was one of the best experiences of my life."
Perez threw a bullpen session Monday and will again Wednesday. He is expected to make his next start Friday, either against the Padres in the Cactus League or a Minor League game. He will pitch one more game after that and should be ready to throw 90 to 100 pitches in his first regular-season start.
"I feel good," Perez said. "I'm ready for the season right now. The World Baseball Classic was really good for me. I know I am going to have a good season."
Second baseman Rougned Odor and catcher Robinson Chirinos also returned to the Rangers from Team Venezuela on Monday. Adrian Beltre, who played for the Dominican Republic, is expected back Tuesday.
T.R. Sullivan has covered the Rangers since 1989, and for MLB.com since 2006. Follow him on Twitter @Sullivan_Ranger and listen to his podcast. This story was not subject to the approval of Major League Baseball or its clubs.