MLB.com Columnist
Anthony Castrovince
Smooth return for Brantley soothes Tribe
Francona: Outfielder 'amazingly normal' in first spring game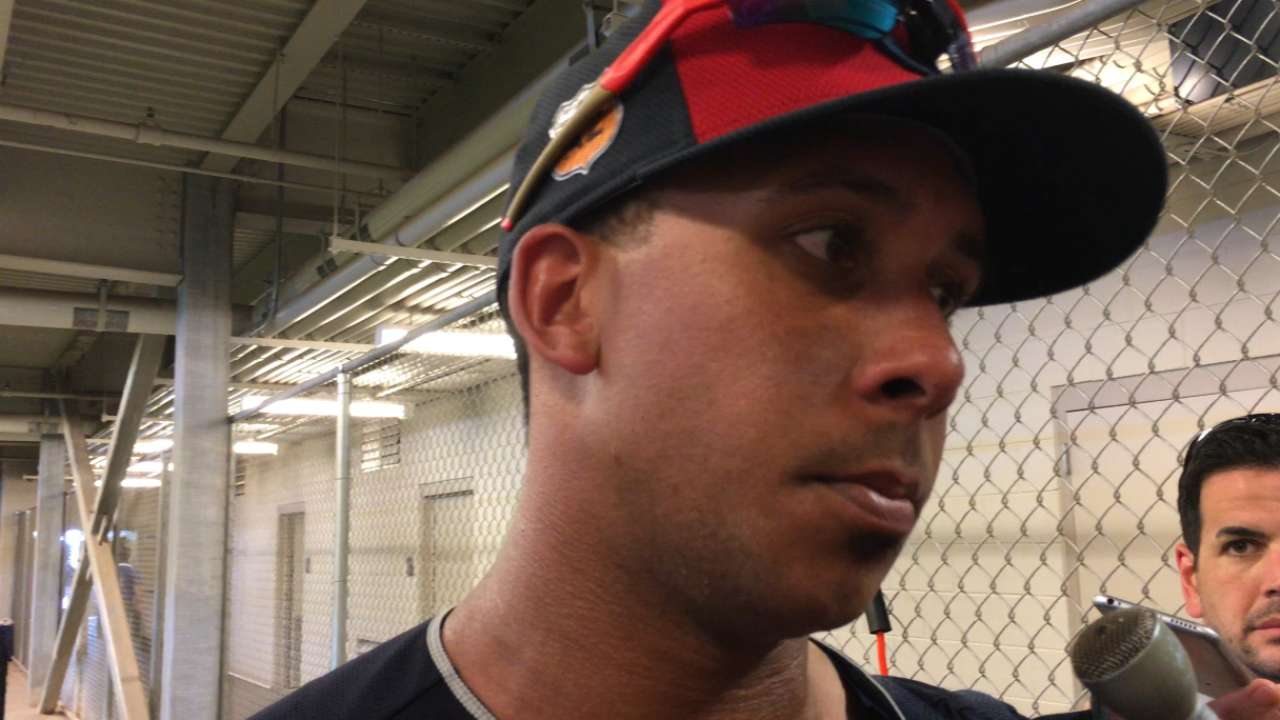 GOODYEAR, Ariz. -- To a somewhat turbulent Tribe camp arrived a much-appreciated Smooth day.
It was Dr. Smooth, otherwise known as Michael Brantley, out there in left field and in the second spot of the batting order against the Dodgers at Goodyear Ballpark on Monday. And the best compliment you can pay Brantley is that he looked very much like himself -- or, as manager Terry Francona put it, "amazingly normal" -- reaching base on all three trips to the plate, driving in and scoring a run in the Indians' 14-5 win.
"It's just good to be out there running the bases, using instincts," Brantley said. "Being out there with my teammates is the most important thing."
Yes, it is an important thing, and it's something the defending American League champs have not gotten to enjoy enough in this extended spring season.
Between the World Baseball Classic's roster ramifications (star shortstop Francisco Lindor, relievers Andrew Miller and Joseph Colon, and catcher Roberto Perez are still active in the event's semifinals) and the injury adversity that has hampered Jason Kipnis (shoulder inflammation) and Carlos Carrasco (elbow swelling), the Tribe's "World Series or bust" 2017 has begun with a bit of a busted-up camp.
It's hard to accurately assess your team when you've yet to actually see it in action.
"Our work on our fundamentals, we're going to end up doing a lot of them the last week of the season, which is kind of backwards," Francona said. "But we're going to need to do it because guys haven't been here."
So Francona's Indians will take Monday as a positive step. It wasn't just Brantley's splendid Arizona intro. It was also Carlos Santana returning to the clubhouse from the Classic after the Dominican Republic's ouster and Carrasco throwing a couple innings in a Triple-A game.
• Carrasco encouraged after 33-pitch outing
That doesn't put the Indians where they want to be, but at least the picture is getting a little clearer.
On Sunday, for instance, we finally were given an actual expected timetable for Kipnis' return: four to five weeks.
That was billed in some places as a "setback" and "bad news," and those reports upset the Tribe second baseman. Some people took "four to five weeks" as a "return to action" timetable, but Cleveland expects that to be when Kipnis will be ready to join the club in a real, live regular-season game.
"I found out the same way as everybody else did -- on Twitter," Kipnis said. "I had to go in [the trainer's room] and say, 'What the [heck]?' The second opinion was a good one. It was, 'You're good to go, start ramping it up.' It was actually a green light that I got. Four to five weeks was their timetable for me to be past [the shoulder injury]. There was no setback or anything."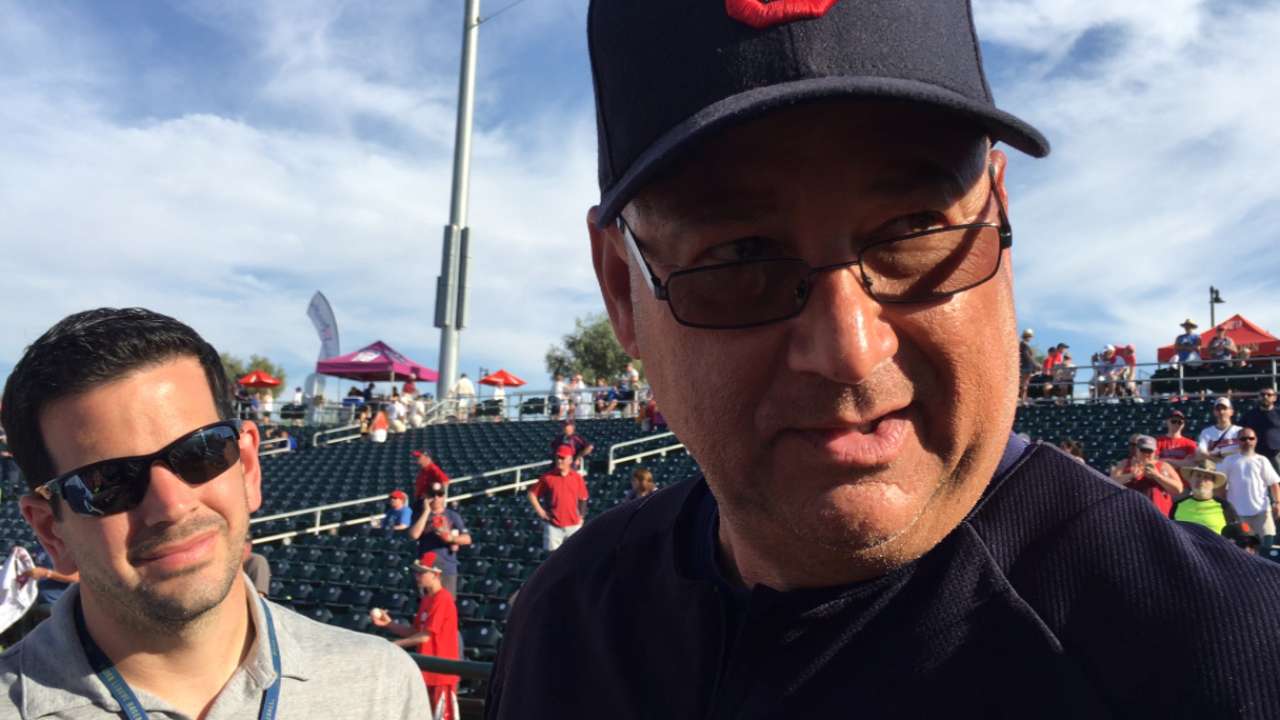 Kipnis jokingly tried to spin the whole thing into a positive.
"I don't hit well in April anyway," said the man with a .680 career OPS in the opening month.
If people are curious or concerned about Kipnis' shoulder recovery, it's a byproduct of the false optimism that emanated last spring, after the first of what would turn out to be two procedures on Brantley's lead shoulder.
So Monday's results will certainly be served with a side of salt. But if you're documenting the details, let the record show that Brantley's first official trip to the plate resulted in him reaching on an Ike Davis fielding error at first (a "Mike and Ike" that was sweet for one squad and sour for the other). In Brantley's second at-bat, he punched a single to shallow right off Brandon McCarthy to score a run. And in his third, after the Dodgers brought in lefty Adam Liberatore to face him, Dr. Smooth lofted another single to right and then called it a (good) day.
Having done this whole "Brantley progresses toward Major League readiness" dance before -- to famously frustrating results in his 11-game 2016 -- the Indians know better than to read too much into anything, especially until Brantley starts logging back-to-back appearances in big league ballgames (something he's expected to do Wednesday and Thursday).
But there has been genuine optimism about the way the shoulder has responded to each new hurdle this spring and also about the way Brantley's old self and old smile has shined through behind the scenes.
"Especially in January, as we got closer to Spring Training, the confidence and happiness was back, which made all of us feel better," general manager Mike Chernoff said. "It seemed like he was feeling stronger and progressing, and that's the biggest part of it is how he feels."
Brantley is obviously a big part of the Tribe's complex outfield picture, which, without him, would again revolve completely around platoons. And Kipnis' absence has partially uprooted the infield, where Jose Ramirez is now likely to begin the season at second base, with the fine-fielding-but-light-hitting Giovanny Urshela a strong candidate to temporarily man the hot corner (the 40-man roster and service-time hurdles in front of Yandy Diaz -- Cleveland's No. 10 prospect -- are subjects for another column).
With Kipnis out, and with the Indians likely to take advantage of early off-days in bringing Carrasco along slowly, the early season will be much like the spring season -- a bit disjointed.
For a team hopeful of another seven-month season, maybe the early instability won't matter. But the Indians will certainly take the Smooth days when they can get them.
Anthony Castrovince has been a reporter for MLB.com since 2004. Read his columns and follow him on Twitter at @Castrovince. This story was not subject to the approval of Major League Baseball or its clubs.