Cain more mentor than rival for young Blach
Veteran showing prospect the ropes while competing with him for SF's 5th-starter job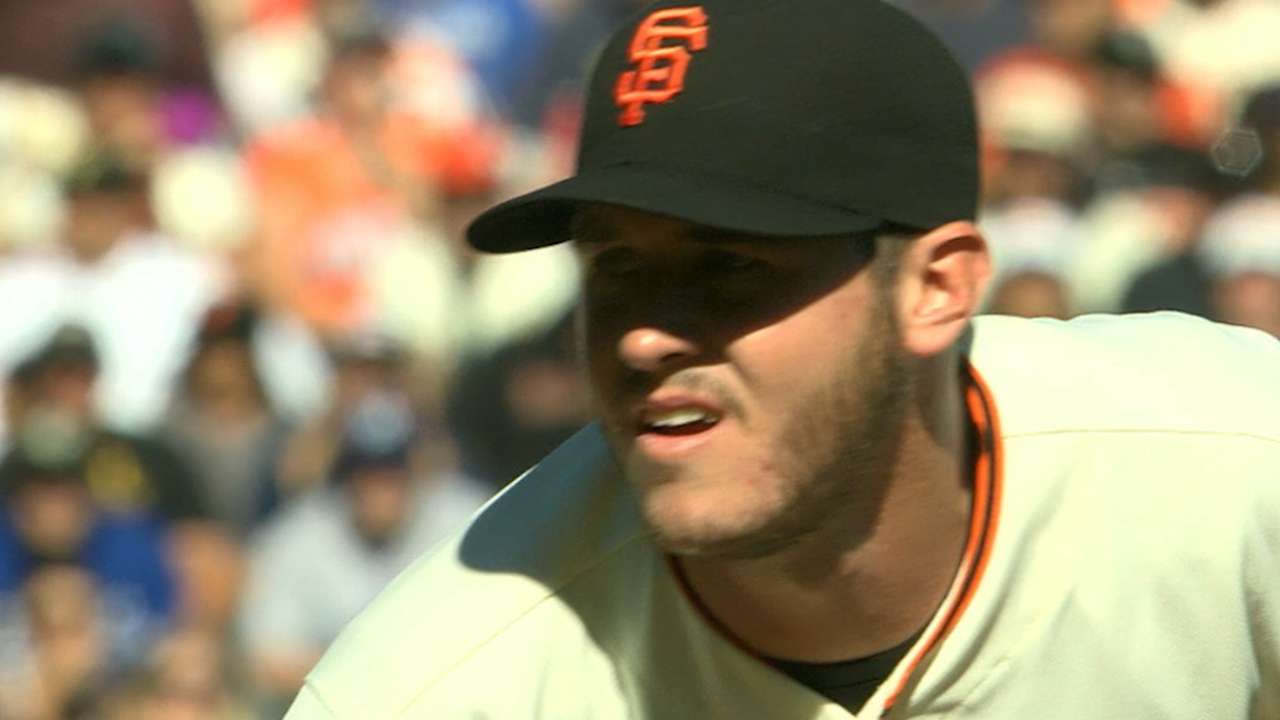 GLENDALE, Ariz. -- Matt Cain and Ty Blach have remained comrades more than challengers as they jointly pursue the Giants' fifth-starter's role. Their friendly rivalry is heavy on the friendliness and light on the rivalry. Their competition drives them but doesn't consume them.
Cain, the longest-tenured Giant who joined the team in August 2005, freely dispenses advice to Blach, the 26-year-old who maintains his rookie status. Never mind that Blach conceivably could adopt the lessons he learned from Cain and use them to eclipse his benefactor. Cain knows simply that he's doing the right thing by nurturing Blach, the Giants' 11th-ranked prospect according to MLBPipeline.com.
"I'd rather have those guys come up and have fun with it than be known as the salty old guy who was bitter," Cain said Monday.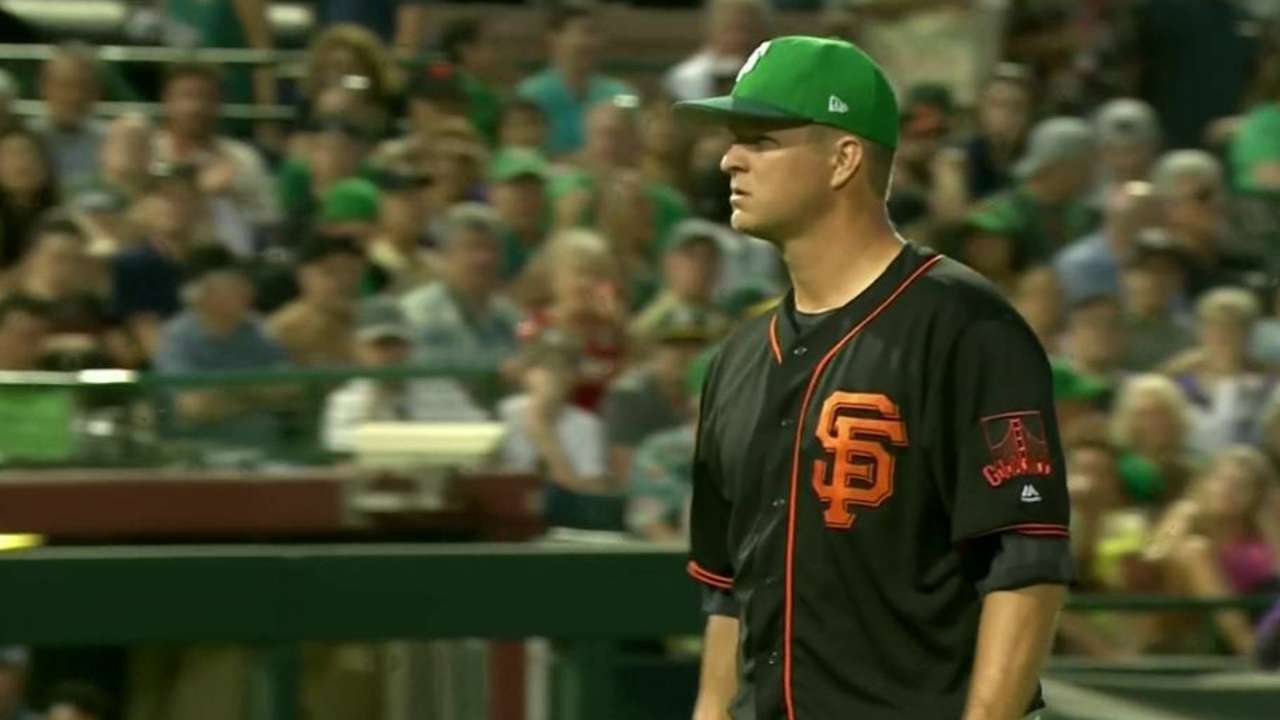 Blach sincerely appreciated Cain's benevolence.
"He's been such a great role model to me," said Blach, who's scheduled to appear in relief during Tuesday's Cactus League game against the Padres. "I wouldn't be where I am without him -- the advice he's given me, the way I watched him compete when I was growing up. He's meant a lot to me. There's a lot of respect there."
Cain downplayed his gracious tendencies.
"Honestly, [Blach] and I knew the situation coming into it, and other guys knew the situation -- [top prospect Tyler] Beede, [Clayton] Blackburn," Cain said. "I know that I haven't produced the way I wanted to in the past. So, hey, we were going to compete for a spot."
Currently, the race for that spot is inconclusive. Cain owns an inflated 8.40 ERA, compared to Blach's 5.56. Cain also has an impressive postseason resume, three National League All-Star selections and 101 career wins to stamp his legitimacy. Blach gained prominence among the Giants last Oct. 1 by blanking the Dodgers for eight innings and collecting two hits off Los Angeles ace Clayton Kershaw in San Francisco's 3-0 victory.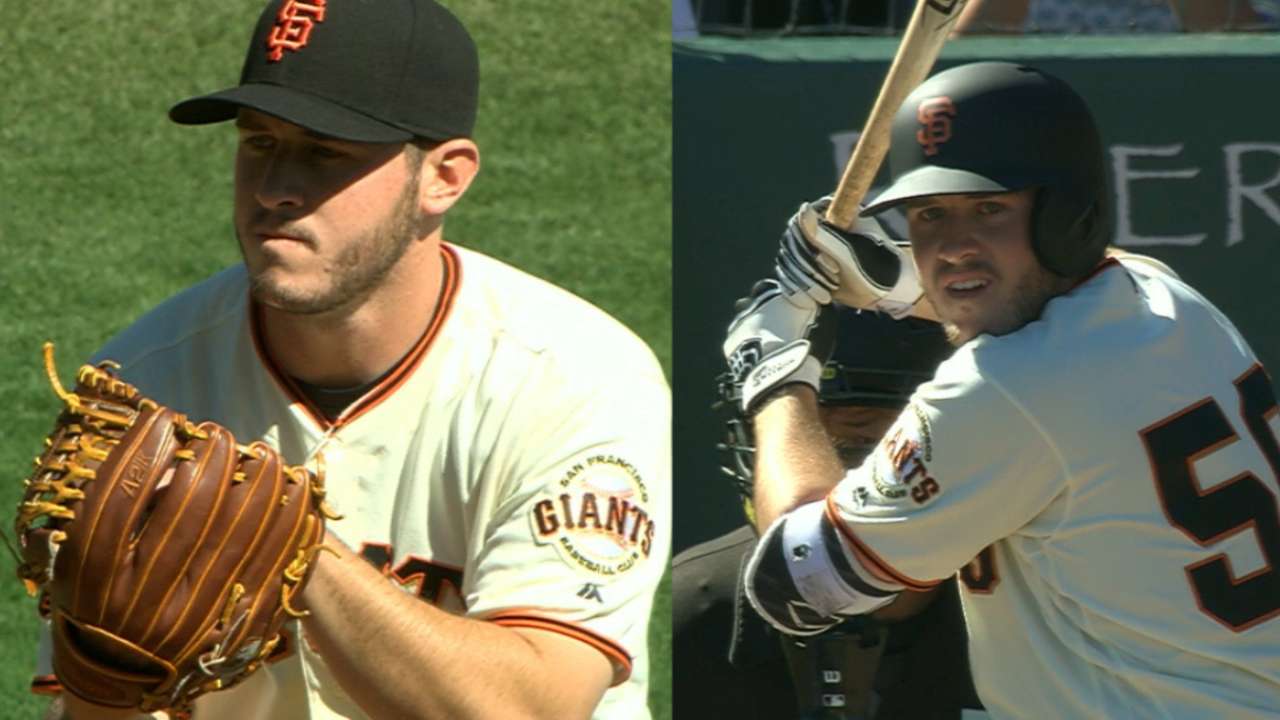 That game may forever remain a touchstone for Blach, who draws confidence from the experience.
"You're not living in the past. You're trying to use it to make yourself better for your future," Blach said.
That remark could apply to Blach's relationship with Cain, who's six years older. Blach grew up in Denver and naturally gravitated toward being a Rockies fan. But he studied pitchers from other teams and always admired Cain.
"I watched him for years," Blach said. "I was always impressed with his professionalism and how he went about his business."
Cain was somewhat amused upon hearing this.
"It's coming around, because I remember [saying] the same thing with [Braves third baseman] Chipper Jones," he said. "It's more of an honor, really, being able to stick around that long."
Among the tricks Cain tried to share with Blach involved one of the commandments of pitching: Thou shalt upset the hitters' timing.
"The other day, we were talking about trying to get guys on their front foot or their back foot, keeping them off-balance and being able to see what the hitter is trying to do," Cain said.
Ostensibly, Blach has nothing to prove at Triple-A Sacramento, where he finished 14-7 with a 3.43 ERA in 26 starts last year. But he sounded ready for anything.
"I'll be wherever I'm supposed to be," the rookie said.
Chris Haft has covered the Giants since 2005, and for MLB.com since 2007. Follow him on Twitter at @sfgiantsbeat and listen to his podcast. This story was not subject to the approval of Major League Baseball or its clubs.