Hendricks eyes first 200-innings campaign
Uehara celebrates K's with high-fives; Lester to pitch in Minors game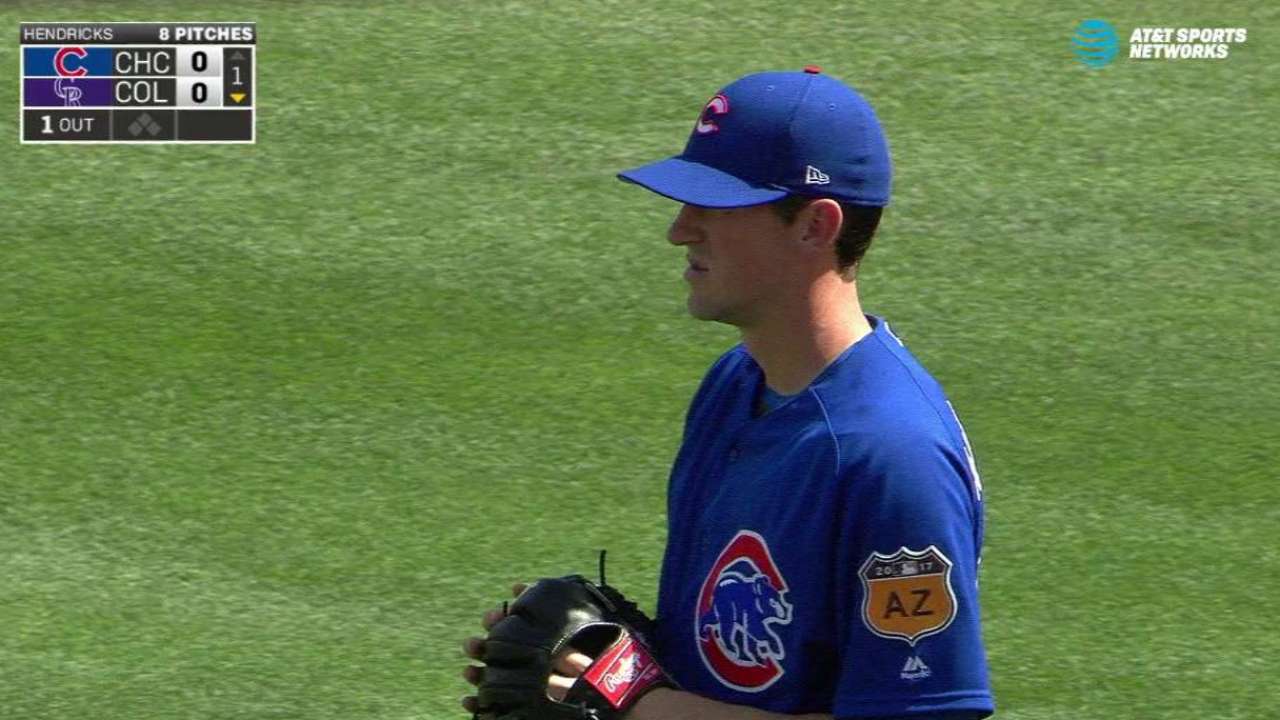 MESA, Ariz. -- Kyle Hendricks totaled a career-high 190 innings during the regular season last year. The Cubs right-hander would like to join the 200-innings club.
"Everybody holds each other accountable to go deep in games," Hendricks said of the Cubs' starting pitchers. "I definitely want to be on that bandwagon. That's a big goal of mine."
Other than that, he doesn't set goals regarding numbers. On Monday, Hendricks struck out four over 4 2/3 innings in the Cubs' 9-6 win over the Rockies, and felt good about the outing.
"[I focus] on the pitches I'm making and the numbers will come," he said. "Innings, I think you can focus on. Getting deep in games, you're obviously doing a lot of things right. Hopefully, I can get that [200] mark this year."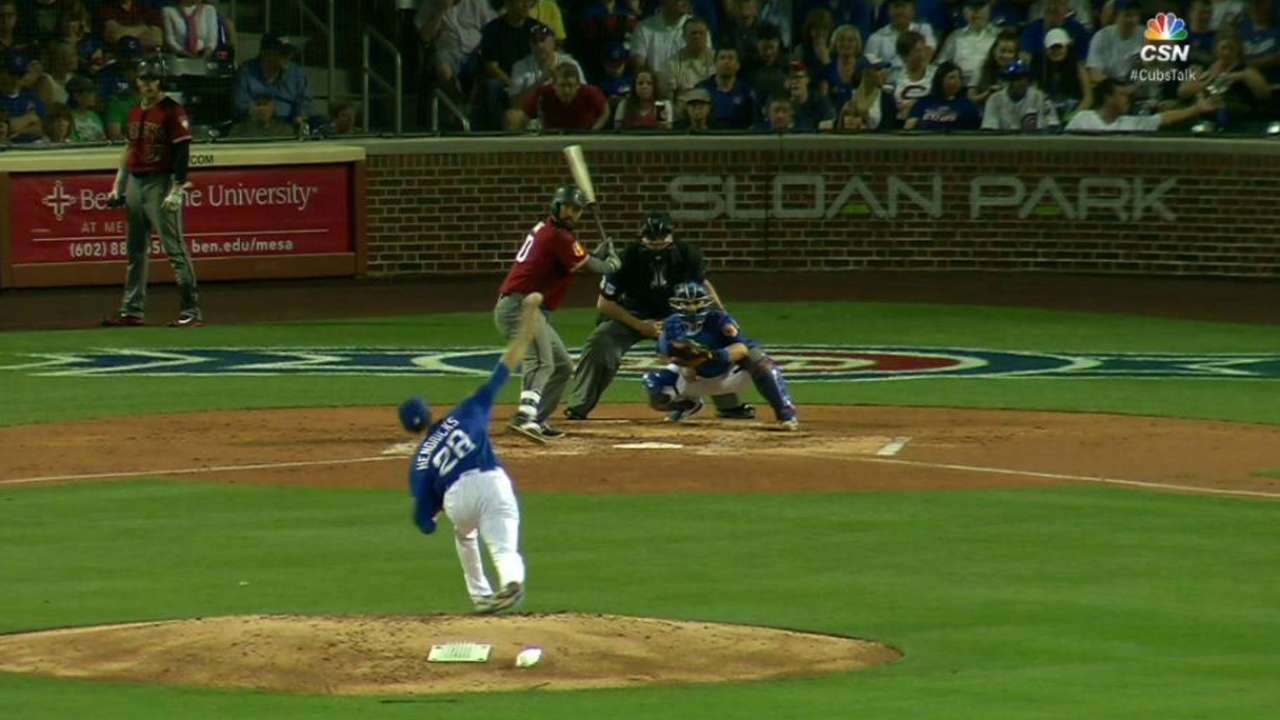 He faced seven batters in the fourth, and even the longer inning was beneficial because Hendricks said he could see where his stamina was and work on keeping his mechanics under control.
The right-hander, who led the Major Leagues in ERA last year, has not walked a batter over 13 2/3 innings this spring.
"That's a big focus for me," he said. "I didn't realize it, actually. That means my fastball command -- that's been the biggest key. Usually if I walk a couple guys it shows me my fastball command is off."
• Koji Uehara struck out two in one inning of relief against the Rockies, and then celebrated his outing with high-fives to the Cubs coaches and players.
"I'm gradually getting there, but I'm not quite there," Uehara said of the intensity of his celebratory slaps, not his outing. "They haven't seen anything yet."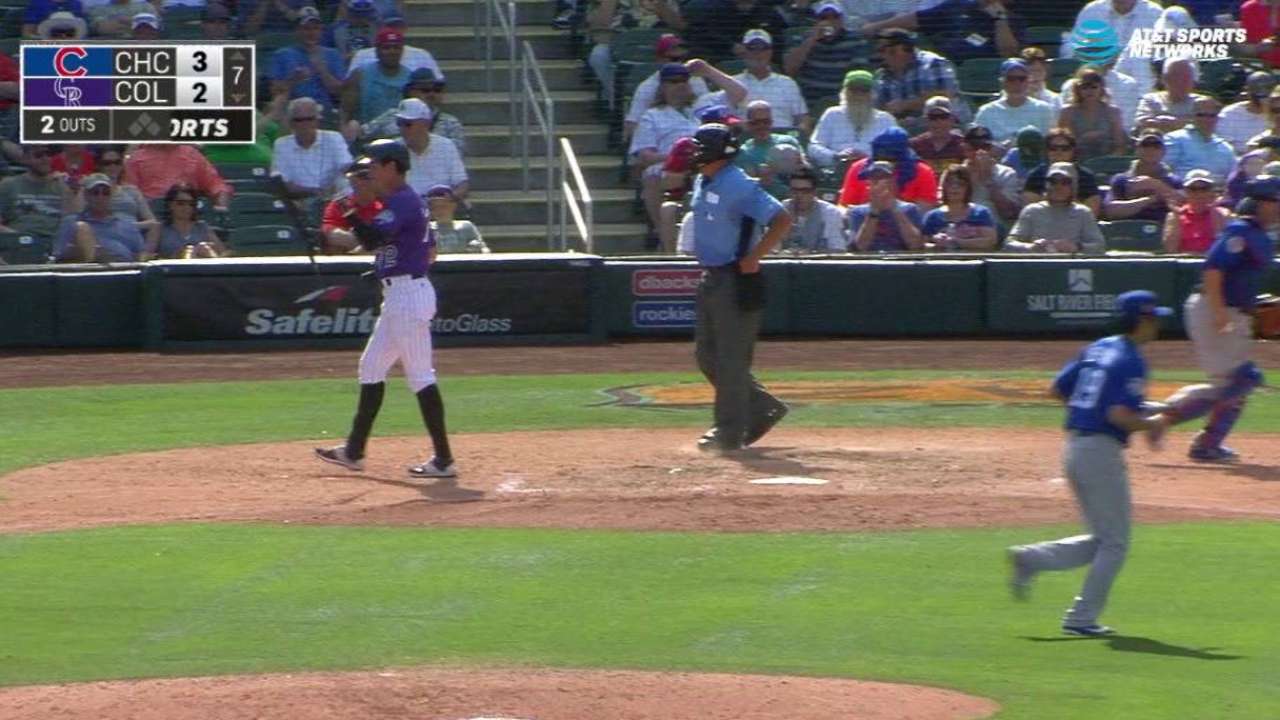 The Cubs coaches who were sitting on the field came over to the dugout to make sure they got a high-five from the right-hander.
"They don't have to come to me in the regular season," Uehara said, smiling. "I'll go to them."
• After an off-day Tuesday, the Cubs get back to work Wednesday against the Reds in Goodyear. However, Jon Lester will make his second straight start in a Minor League game rather than pitch in a Cactus League game. In his last outing, Lester went five innings and worked on his fastball command. The Minor League game will start at 3 p.m. CT at the Cubs' complex.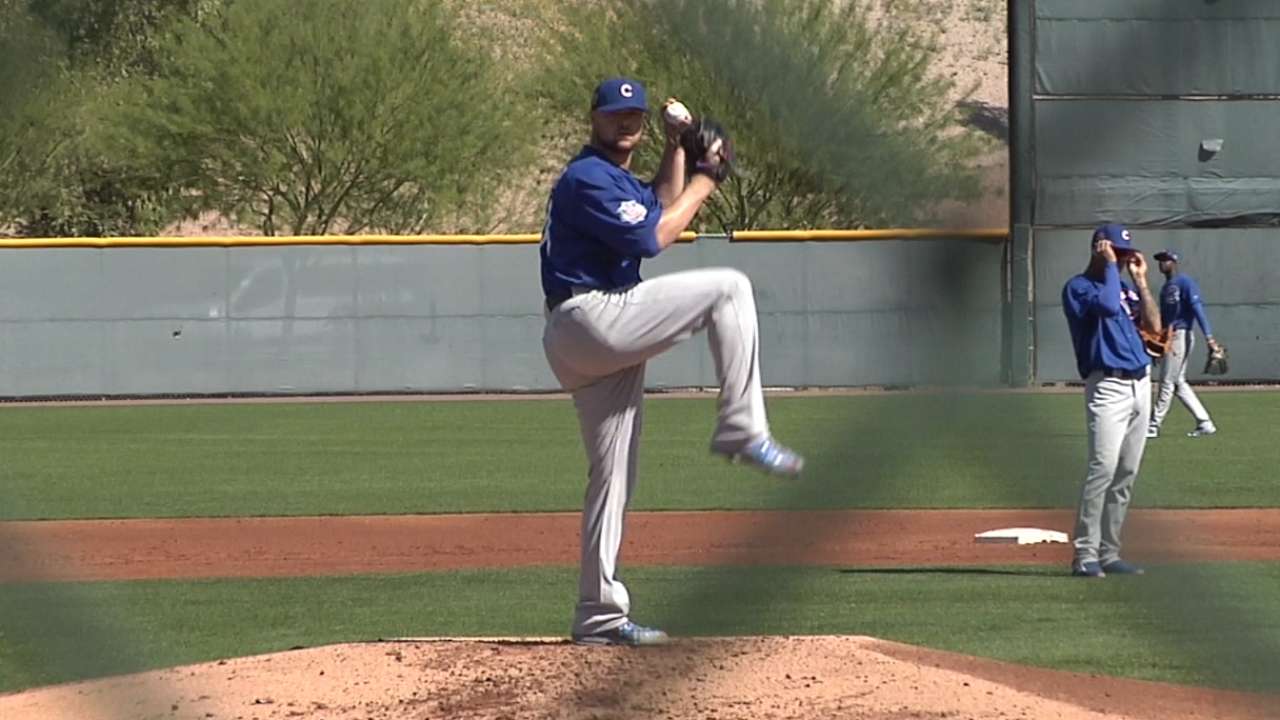 The tempo in camp may pick up Wednesday.
"By Wednesday, we should be in pretty good form, and ready to start turning up that mental dial a little bit," manager Joe Maddon said. "The timing seems right on."
Jake Arrieta and John Lackey will start Thursday and Friday against the D-backs and Indians, respectively, before the Cubs play split-squad games this weekend, including two in Las Vegas against the Reds.
• Carl Edwards Jr. finished his relief outing Sunday night in time to watch the end of the Duke-South Carolina NCAA Tournament game, won by South Carolina. Edwards is from Prosperity, S.C., and made sure his teammates knew who he was rooting for.
"You hear about the Gamecocks?" Edwards shouted to anyone and everyone he saw Monday.
It should not be a surprise he picked South Carolina to reach the Final Four.
• Former catcher David Ross was to make his debut on "Dancing With the Stars" on Monday night. Maddon, who admitted he's not much of a dancer himself, gave Ross credit for participating.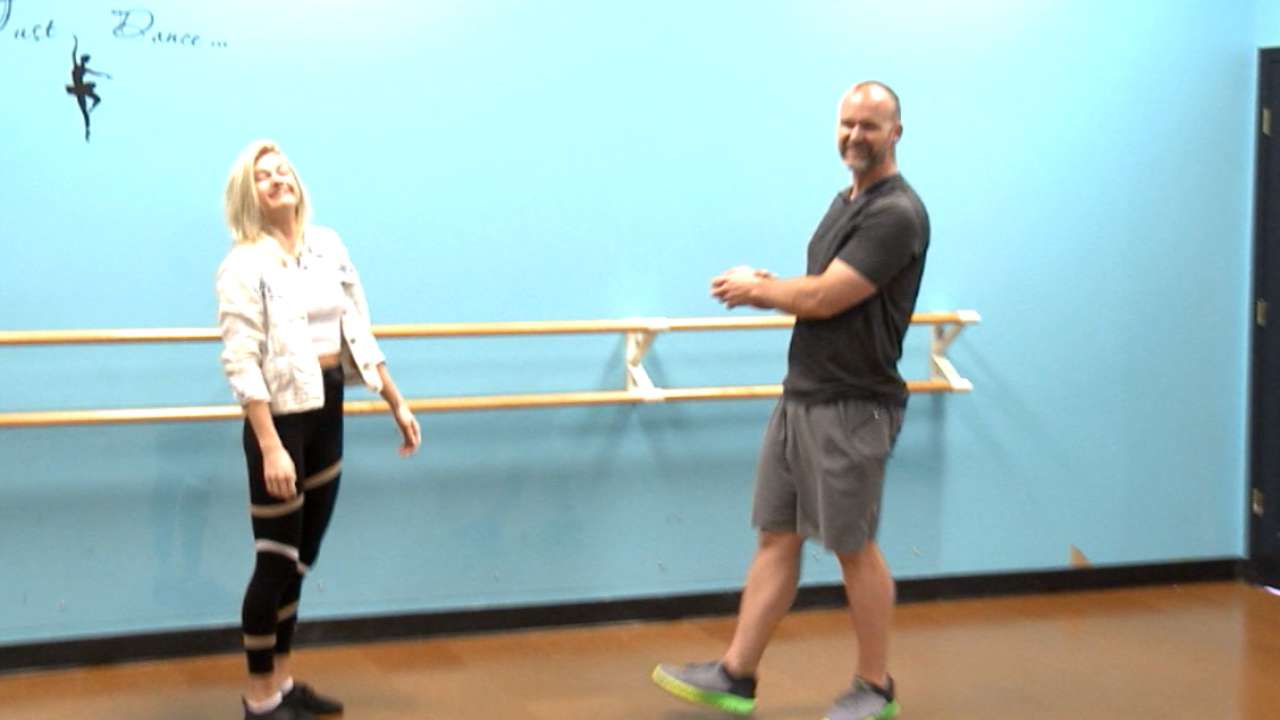 "This is something that's outside of your comfort zone, which I love," Maddon said. "I'm proud of him. I think it's great. Whenever you step outside that zone and expose yourself, I think that's awesome.
"Think about it -- he's a Major League catcher, he's been doing that for almost 20 years," Maddon said. "He likes to mess in the dugout when the country [music] comes on. You'd think he'd go with country and do a two-step."
Instead, Ross is reportedly dancing to the song "Go Cubs Go" with partner Lindsay Arnold.
Carrie Muskat has covered the Cubs since 1987, and for MLB.com since 2001. She writes a blog, Muskat Ramblings. You can follow her on Twitter @CarrieMuskat and listen to her podcast. This story was not subject to the approval of Major League Baseball or its clubs.