USA faces Japan, seeks first trip to Classic final
Teams roll into semis on MLB.TV, MLB Network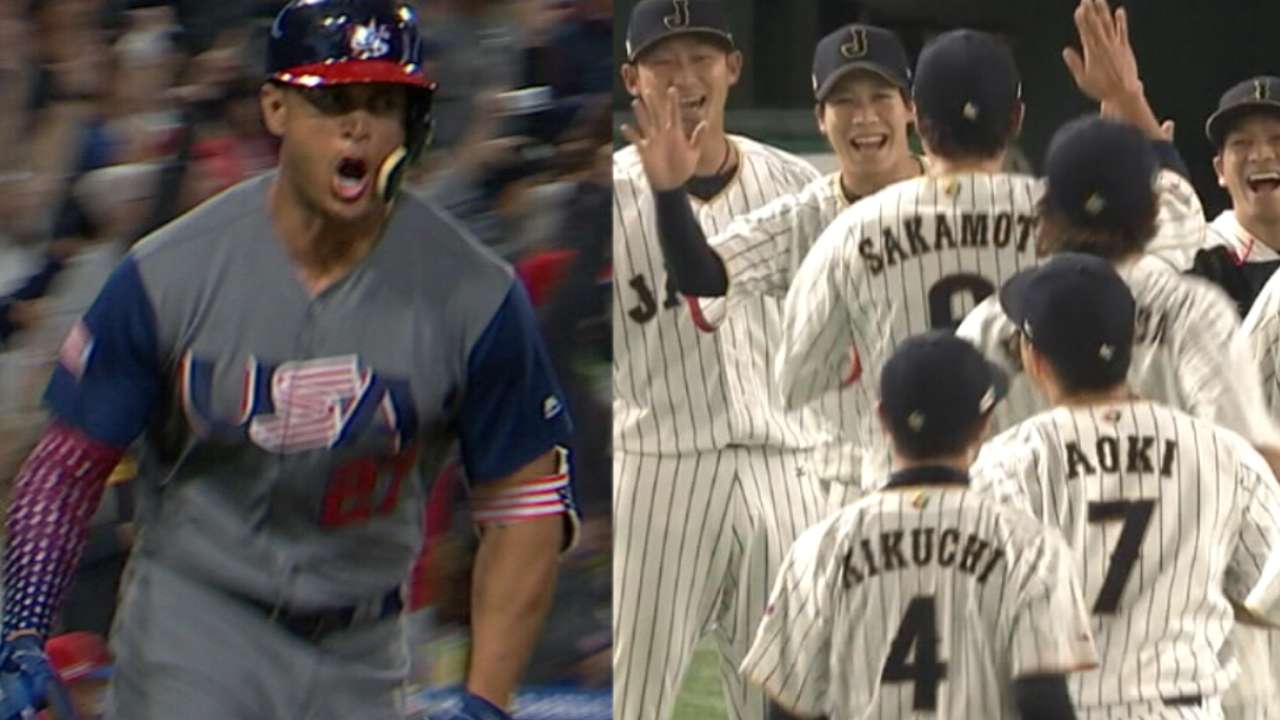 LOS ANGELES -- Team USA will take the field this evening vying to reach the World Baseball Classic championship game for the first time. They'll do so against a semifinal opponent accustomed to success in the Classic -- Japan, which won both the 2006 and '09 tournaments, finished third in '13 and enters this year's semifinals with a perfect 6-0 record.
There's plenty at stake for the two clubs, with the victor taking on Puerto Rico in Wednesday night's title game. Both tonight's semifinal and Wednesday's championship game begin at 9 p.m. ET/6 p.m. PT and can be watched live on MLB.TV and MLB Network.
Japan will go from playing home games in the Tokyo Dome to playing before what is likely to be an American-leaning crowd at Dodger Stadium in Los Angeles. Much of the Classic has been played before a packed house and electrics crowds, and tonight is sure to be no exception. The tournament has already shattered its attendance record with 976,828 fans through the first two rounds, and it is expected to surpass 1 million fans for the tourney during the three games in Los Angeles.
"As far as the atmosphere and energy goes, this is comparable to a playoff game, to a World Series game," said U.S. first baseman Eric Hosmer. "Honestly, as players, this is the type of atmosphere you dream about playing in."
The Japanese squad will present a somewhat unfamiliar opponent for Team USA. Many of the United States' opponents in Rounds 1 and 2 were loaded with Major League players, but most of Japan's roster comes from Nippon Professional Baseball. Royals outfielder Norichika Aoki represents the team's lone big leaguer.
"I think that's what makes this tournament so unique," Hosmer said. "Especially when you get this far, you start digging into the other brackets and you see the different type of style of play, you see the different players. You learn about the different players from Japan."
"What I know about them is they play a very clean game," outfielder Adam Jones said. "They move runners over. They hit behind the runners, they bunt. They don't make many errors fielding. They are a very, very fundamentally sound team."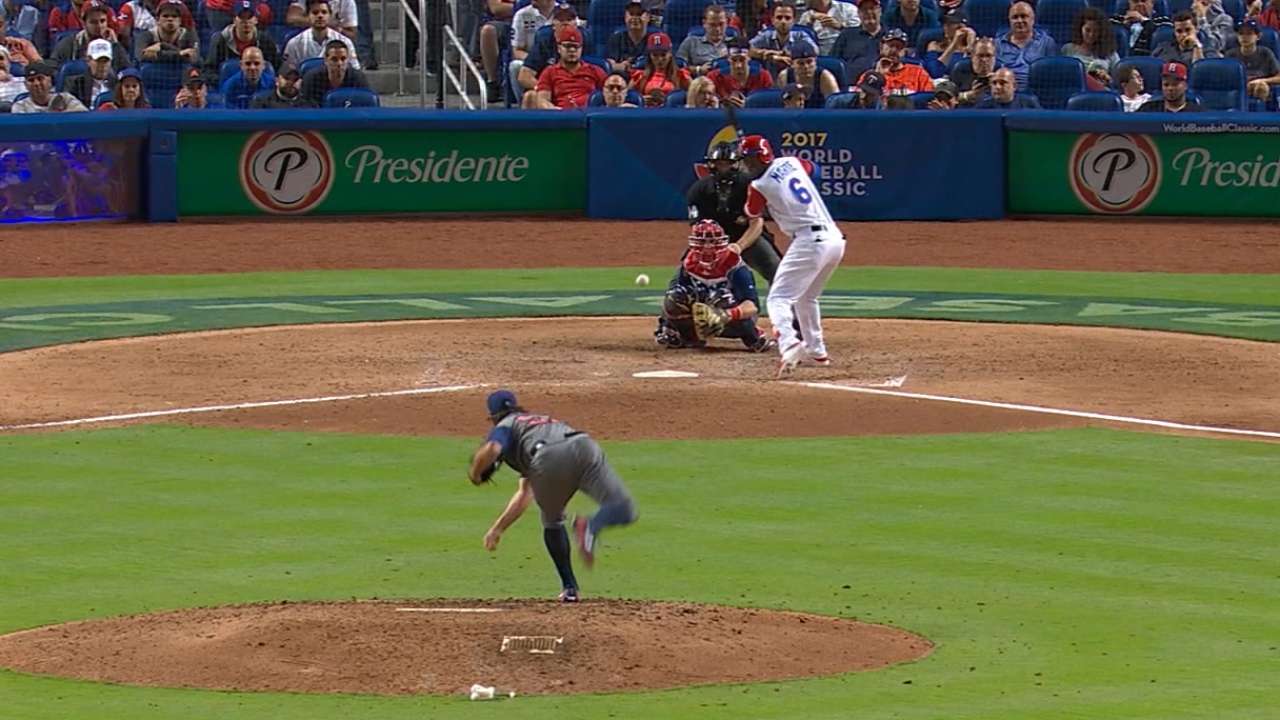 The Nationals' Tanner Roark will start vs. the Japanese, making his second appearance for Team USA. The right-hander yielded three runs in a relief appearance in the United States' Round 1 loss to the Dominican Republic in Miami.
For Japan, Tomoyuji Sugano will toe the rubber. The Yomiuri Giants' ace has allowed five earned runs through 8 1/3 innings (5.40 ERA) in the tournament. He's struck out 10 batters and has yet to issue a walk.
"Among the pitchers, he's the best, so we're entrusting him," Japanese manager Hiroki Kokubo said. "Once the game starts, the starting pitcher will create a game to a certain extent. That's necessary for our win, I think."
"I don't know a whole lot about him, to be honest with you," Team USA manager Jim Leyland said. "We have a scouting report, like I'm sure they do. ... He's obviously a very good pitcher or he wouldn't be representing Japan tomorrow."
The U.S. will deploy a similar lineup to the one it used in its 6-3 victory over the Dominican Republic on Saturday, with the exception of catcher, where Buster Posey will start instead of Jonathan Lucroy. At Monday afternoon's workout at Dodger Stadium, Leyland praised the way his players have come together as a unit in their short time playing for Team USA.
"I'm actually having a ball with them," Leyland said. "I told them: 'Make this a memory, hopefully a memory that you'll never forget.'"
The World Baseball Classic runs through Wednesday. In the U.S., games air live exclusively in English on MLB Network and on an authenticated basis via MLBNetwork.com/watch, while ESPN Deportes and WatchESPN provide the exclusive Spanish-language coverage. MLB.TV Premium subscribers in the U.S. have access to watch every tournament game live on any of the streaming service's 400-plus supported devices. The tournament is being distributed internationally across all forms of television, internet, mobile and radio in territories excluding the U.S., Puerto Rico and Japan. Get tickets for the Championship Round at Dodger Stadium, while complete coverage -- including schedules, video, stats and gear -- is available at WorldBaseballClassic.com.
Chad Thornburg is a reporter for MLB.com based in Los Angeles. This story was not subject to the approval of Major League Baseball or its clubs.