MLB.com Columnist
Fred Zinkie
Best of Fantasy411 Twitter chat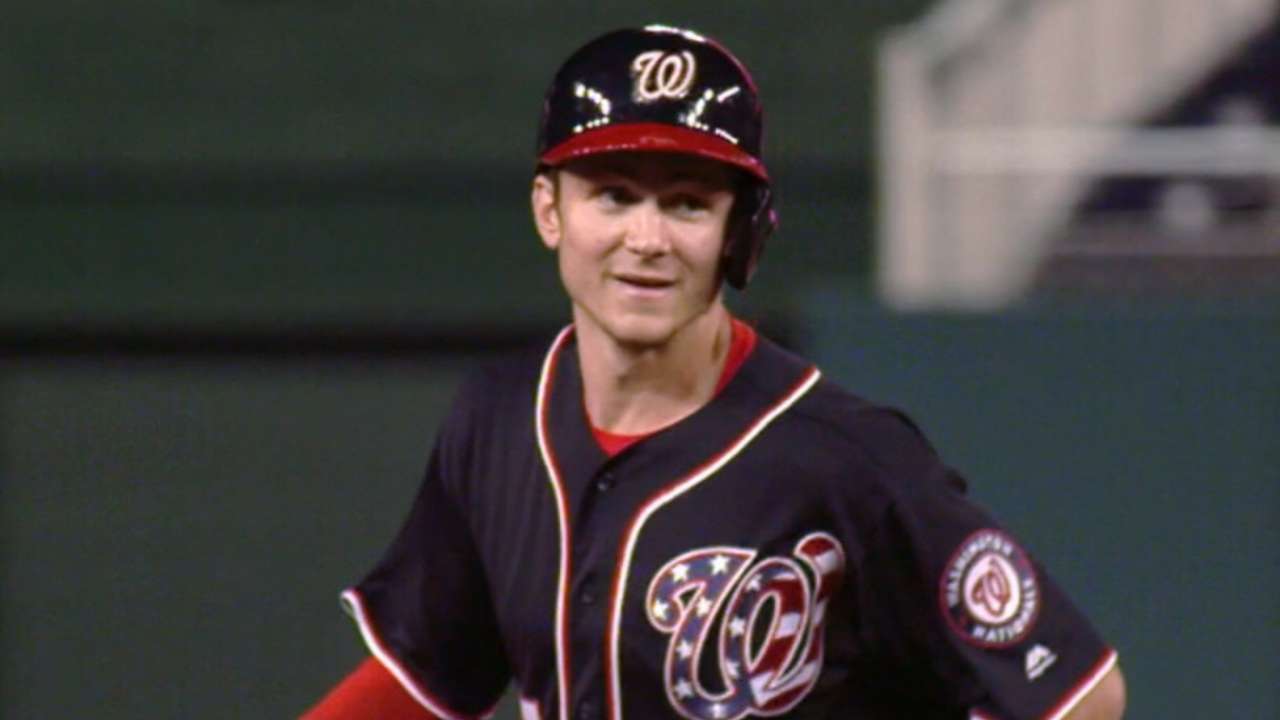 MLB.com fantasy expert Fred Zinkie fielded questions from fans during a live Twitter chat (@fantasy411) on Monday. Read through the best of the Q&A below. Questions and answers have been edited for clarity.
@Adam_Vella_: In a keeper league, would you rather own Yoan Moncada or Javier Baez?
Fred Zinkie: I prefer Moncada. He could make a major impact by the middle of this season and beyond 2017.
@xSteve2: Do you believe it is wise to draft Trea Turner 16th overall?
Zinkie: Absolutely. Turner has top-10 potential and is a fine pick at that point in your draft.
@danemichael9: Should we be concerned about J.D. Martinez's injury?
Zinkie: Until we know more, yes, we should be somewhat concerned. Owners who are drafting today should downgrade Martinez at least a couple rounds on their draft list.
@MikeyA54: Please pick one late-round starter out of Blake Snell, Robert Gsellman and Joe Musgrove.
Zinkie: I'll go with Snell. Musgrove is close, but Snell has elite strikeout skills and a secure rotation spot.
@texhonkey: Do you expect Tyler Saladino to open the season as the White Sox second baseman? If so, what is his fantasy value?
Zinkie: I expect Saladino to be their second baseman until June, when Moncada takes over. Saladino could help American League-only teams in April and May.
@__MeatBall: Do you worry about injuries with Noah Syndergaard?
Zinkie: I don't worry about injuries with Syndergaard to any greater degree than I worry about them with most other starters.
@mmledz: Are Tommy Joseph and Mitch Haniger good starting options in a 17-team league?
Zinkie: Yes, they are both good options in deep formats. They may even crack 12-team lineups.
@TK3MPY_10: What do you think we can expect from Trea Turner this year?
Zinkie: I expect big things -- 15 homers, 50 steals, 100 runs and a .300 average.
@vloneJLC: I have the seventh pick in this year's draft out of 12 teams. Who should I take?
Zinkie: There is a "Big 7" this year. You should pick one of Mike Trout, Mookie Betts, Clayton Kershaw, Kris Bryant, Jose Altuve, Nolan Arenado or Paul Goldschmidt.
@jay_ollie_04: Can Zack Greinke regain ace status?
Zinkie: I don't expect that to happen. Greinke's strikeout rate is not high and pitching at Chase Field is difficult.
@thealexmoretto: Would you rather have the sixth or 12th pick in your draft?
Zinkie: I would rather pick sixth. I always prefer to draft as early as possible.
@fantasyMLBnut09: What are your thoughts on a rebound season from Hyun-Jin Ryu or Wei-Yin Chen?
Zinkie: I still worry about injuries with Ryu. Plus, the Dodgers have so much rotation depth. I'm more optimistic on Chen.
@baum001: What are your thoughts on Tyler Naquin for this season?
Zinkie: I'm expecting some regression. Naquin's BABIP was high last year.
@JuicyJhicks: Please name a sleeper closer for the AL and National League this year.
Zinkie: Cam Bedrosian in the AL. Jim Johnson in the NL.
@MarkFredNubble: Which player do you prefer for 2017 out of Edwin Encarnacion, Jose Abreu, Nelson Cruz and George Springer?
Zinkie: I prefer Cruz. I know that most people would take Encarnacion or Springer. I expect Cruz to hit 35-40 homers.
@WilcoWacko: Please name some breakout players for 2017.
Zinkie: Yulieski Gurriel, Mitch Haniger, Mallex Smith, Austin Hedges, Aaron Nola, Lance McCullers Jr., Cam Bedrosian.
@Kogaryu66: Please name some players who you would stash on your bench if they open the season in the Minors.
Zinkie: Moncada is the best option. Jose De Leon and Brent Honeywell of the Rays are other good targets.
@fubzeppelin: Please rank Jon Gray, Matt Shoemaker and Joe Ross.
Zinkie: Gray, Shoemaker, Ross. Despite the presence of Coors Field, Gray has so much potential.
@echo_selzer: Do you expect a big bounceback season from Gerrit Cole? Do you prefer him to Carlos Carrasco?
Zinkie: I'm expecting a bounceback year. Cole could be a No. 2 starter in mixed leagues. You should keep him over Carrasco.
@13_wy: In a 12-team league, are there any last-round pitchers with good amount of upside?
Zinkie: Look at some veterans such as Ivan Nova, Michael Wacha or Francisco Liriano.
@_AndrewMer_: Do you prefer Arenado or Bryant?
Zinkie: I prefer Bryant. It is very close.
Fred Zinkie is the lead fantasy baseball writer for MLB.com. Follow him on Twitter at @FredZinkieMLB This story was not subject to the approval of Major League Baseball or its clubs.