Mesoraco feeling 'really good,' hopeful for opener
His progression continues this spring after banged-up 2015 and '16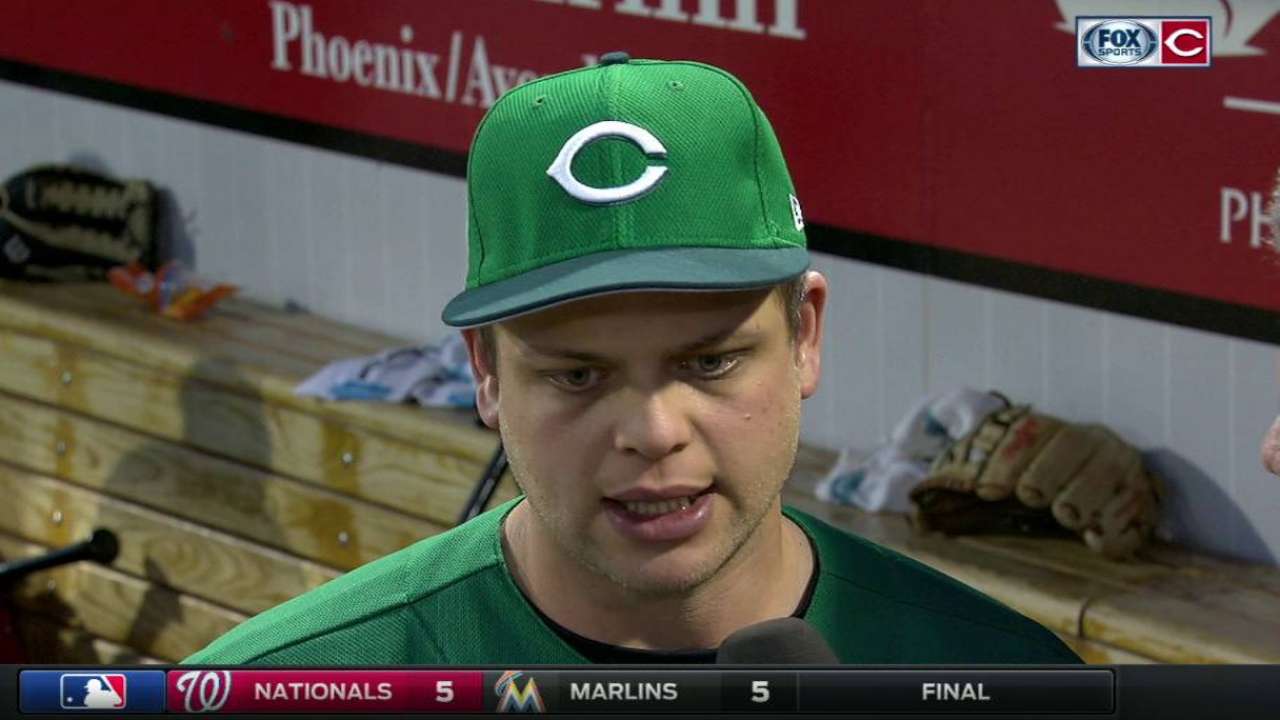 SURPRISE, Ariz. -- Devin Mesoraco continues to progress in his return from hip and shoulder surgeries, but there's no guarantee the catcher will be ready for Opening Day.
Mesoraco played four innings defensively in Monday's 10-6 win over the Royals and said afterward it's the best he has felt in four games this spring.
• Spring Training: Info | Tickets | Schedule | Gear
"The game didn't feel like it was completely foreign to me like it has the last couple of times," said Mesoraco, who went 1-for-2 at the plate. "It'll take some time here, but I do feel like I'm getting back in the swing of things. Health-wise, I do feel really good. I'd say I'm a little bit surprised at how good I do feel based on where I was a couple weeks ago. I think things are definitely trending in the right direction."
Does that mean Mesoraco will be ready for Opening Day, April 3, against the Phillies at Great American Ball Park?
"I know that we're getting close," Mesoraco said. "We've talked about it, and I think Opening Day is such an arbitrary date -- it's a single game in the season. If I'm ready by then, great. If I'm not, well, I'll get some more games in and make sure that I'm completely comfortable."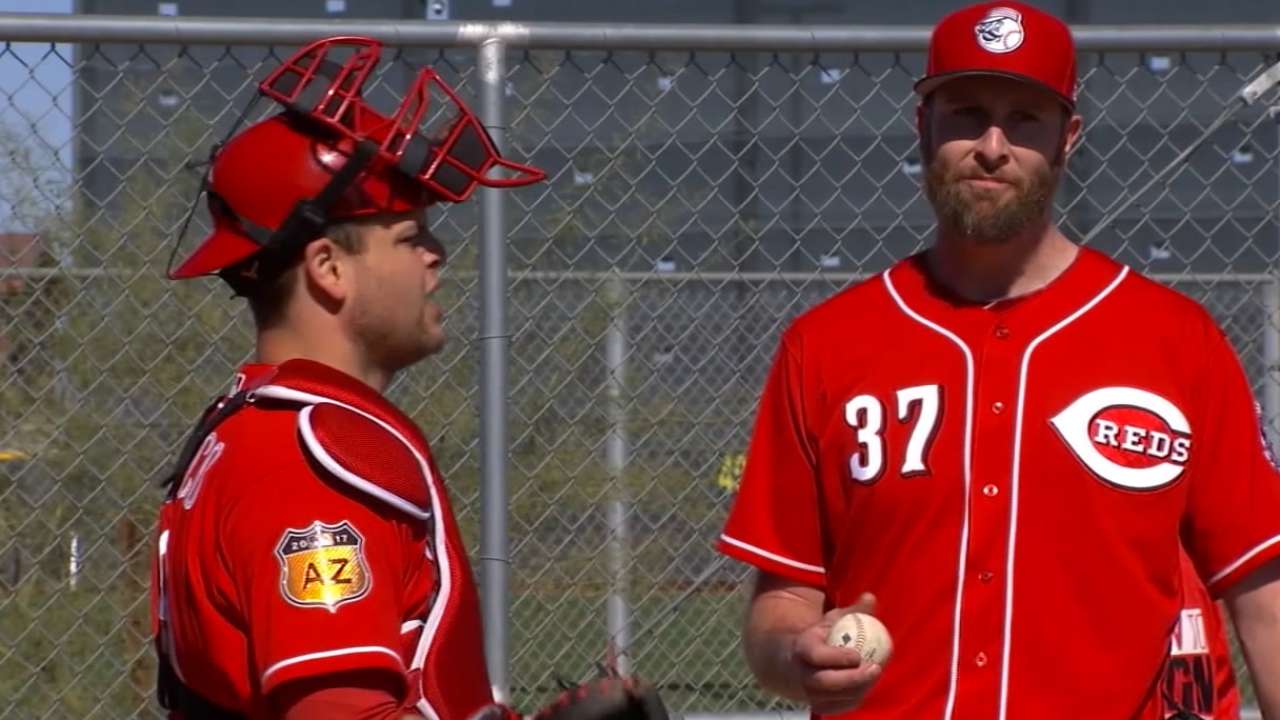 Manager Bryan Price said the Reds will be "pretty deliberate" with Mesoraco's rehab program.
"It's not a matter of saying he has to be ready on Opening Day at all costs," Price said. "We're not going that way. We're just kind of letting this happen as it happens and see how he responds to an increased workload."
Price would like to get Mesoraco more at-bats, most likely as a designated hitter in Minor League games this spring, and stretch him out to nine innings behind the plate.
"From a practical standpoint, there's some challenges to it, but we'll see how these next couple of starts go for Devin and see how he's feeling," Price said of getting Mesoraco ready for Opening Day.
With just less than two weeks left in Spring Training, Mesoraco is working against the calendar. Complicating matters is that Mesoraco played only 39 Major League games in 2015 and '16 combined.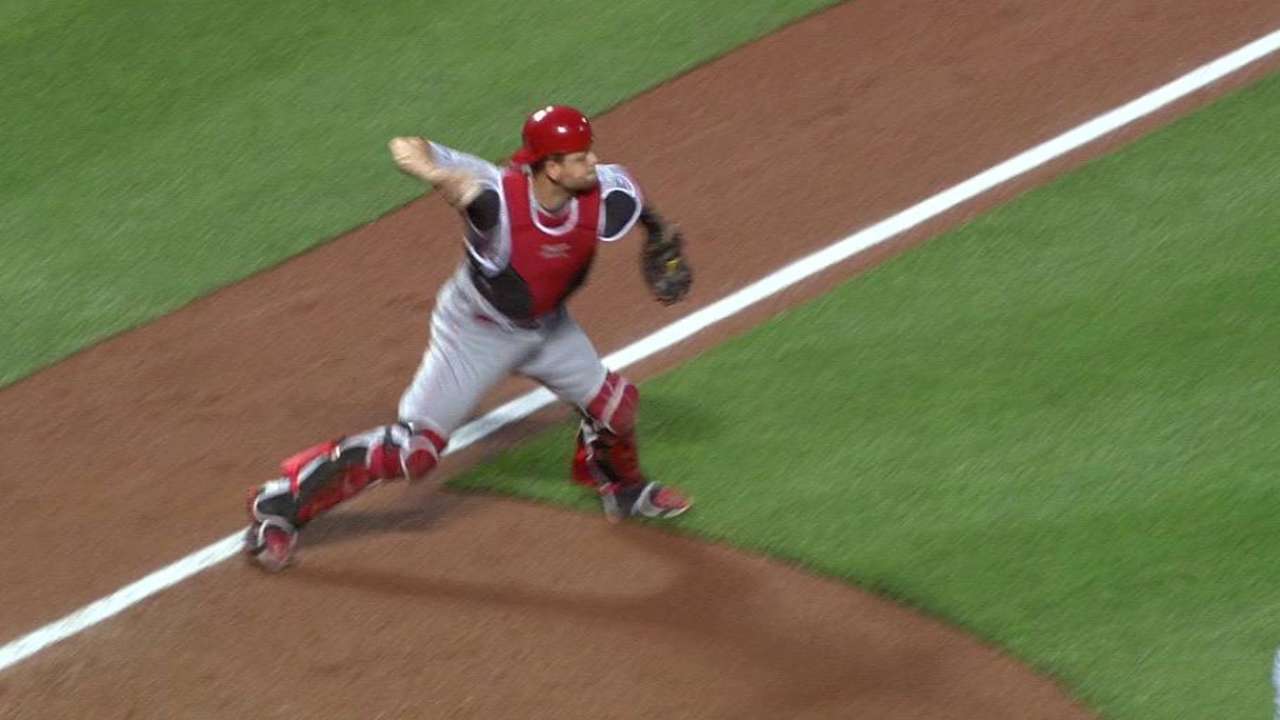 "I'm a guy who hasn't played in two years, essentially," he said. "For me to come out with catching one full game and getting 15 at-bats in Spring Training, that's probably not putting me or the team in the best position. If everybody thinks I'm perfectly ready and ready to go, I'll be in there. If not, it's fine. I understand that, and I think the organization has a good feel for that. That's something we'll decide later."
All that missed time means Mesoraco has more boxes to check off than the average spring.
"He missed so much time the last two years, it's not just the body, but it's getting comfortable behind the plate again, carrying the workload and taking the at-bats, running the bases, throwing to bases and doing all those things," Price said. "We want to make sure that when he's active on our 25-man roster, he's confident that he's fully ready to go."
Price said he would be comfortable opening the season with a catching mix involving Tucker Barnhart, Stuart Turner or Rob Brantly.
Austin Laymance is a reporter for MLB.com. This story was not subject to the approval of Major League Baseball or its clubs.