MLB.com Columnist
Jonathan Mayo
These prospects are impressing this spring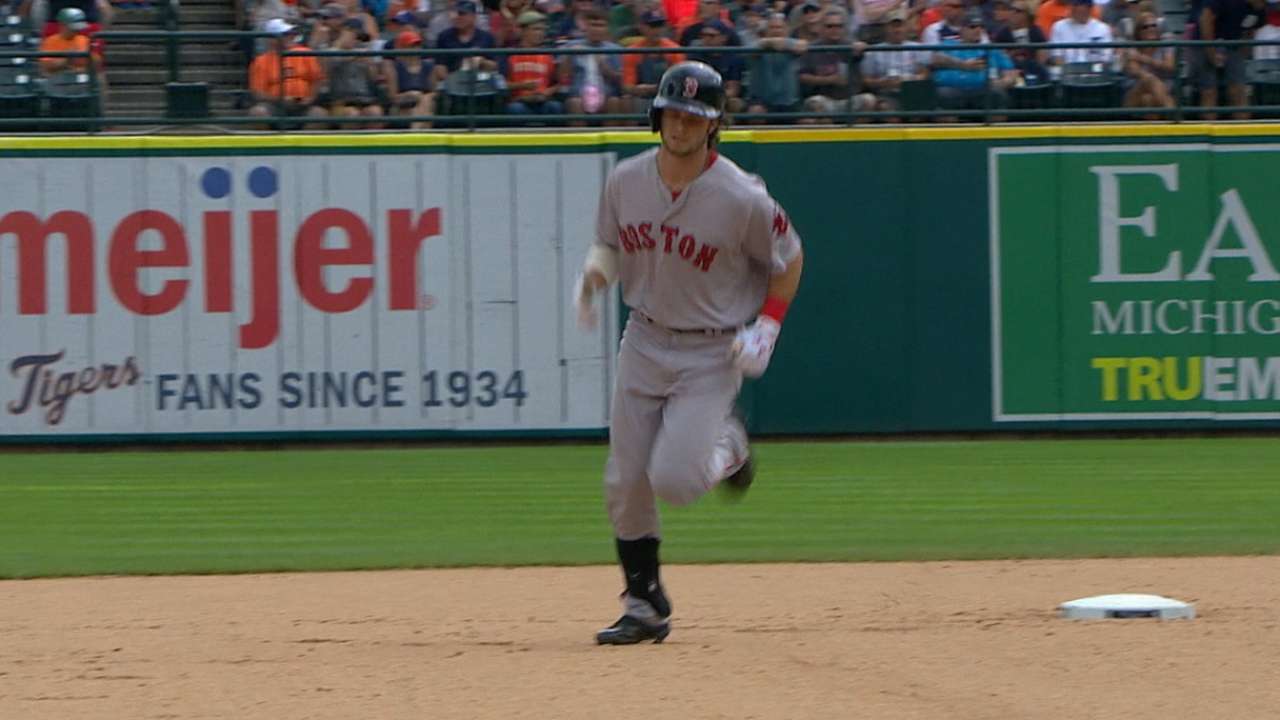 For most established big leaguers, Spring Training performances or stat lines don't mean a whole lot. Time in Florida or Arizona is meant to prepare for the 162 games that do matter. It's a different situation for prospects in Major League camp, however.
Some are competing for spots on the 25-man roster, some are trying to make a case for a callup at some point in 2017 and some are simply making an impression in their first big league camp experience. Whatever the circumstances, a number of prospects have played extremely well in the Grapefruit and Cactus Leagues this spring.
1. Andrew Benintendi, OF, Red Sox: Benintendi came into camp penciled in as the starting left fielder for Boston on Opening Day and he's done nothing but cement his place in the lineup. The 2015 first-rounder has hit .308/.391/.590 with a pair of homers and eight RBIs over 39 at-bats.
2. Yoan Moncada, 2B, White Sox: In his first Spring Training with his new team, having come via the Chris Sale deal, Moncada has wasted no time in making a strong impression. The infielder has a .317/.391/.683 line with three homers and 13 RBIs in 41 ABs.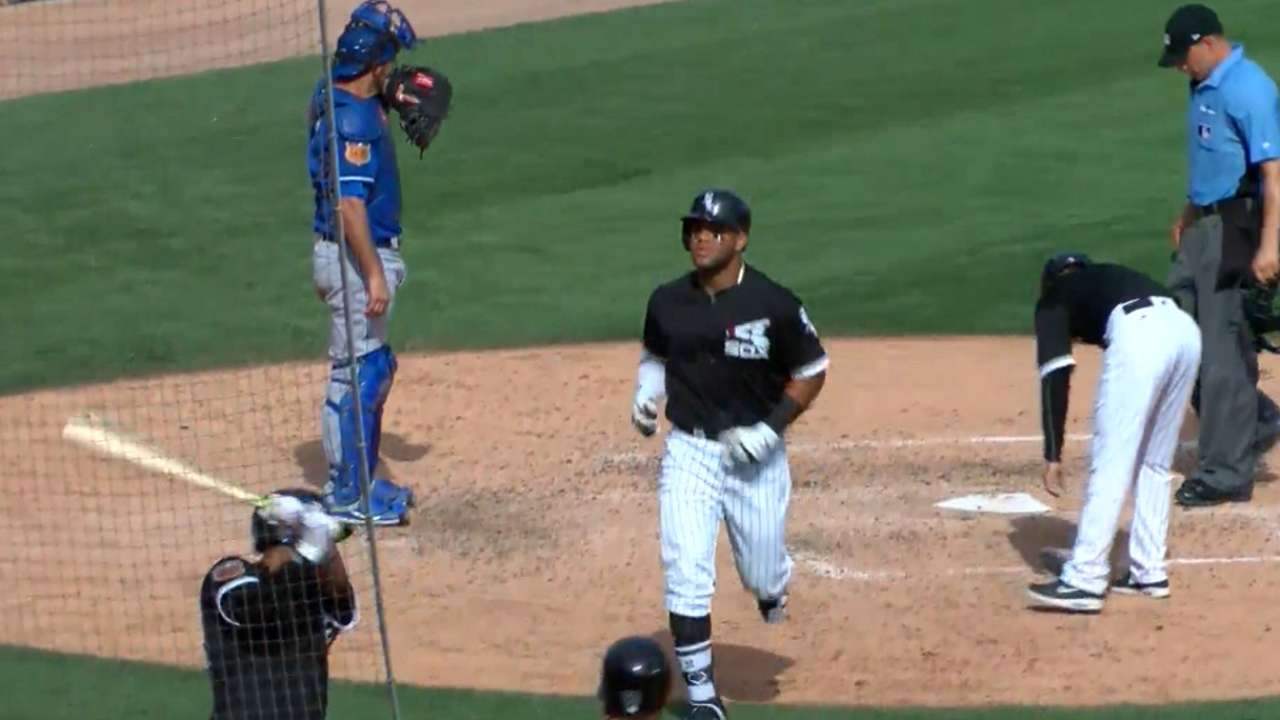 3. Gleyber Torres, SS, Yankees: As if his performance in the Arizona Fall League wasn't enough, Torres has continued raking in his first Spring Training with his new team. Over 18 games and 28 at-bats, the shortstop has hit .464/.484/.964 with two homers and nine RBIs.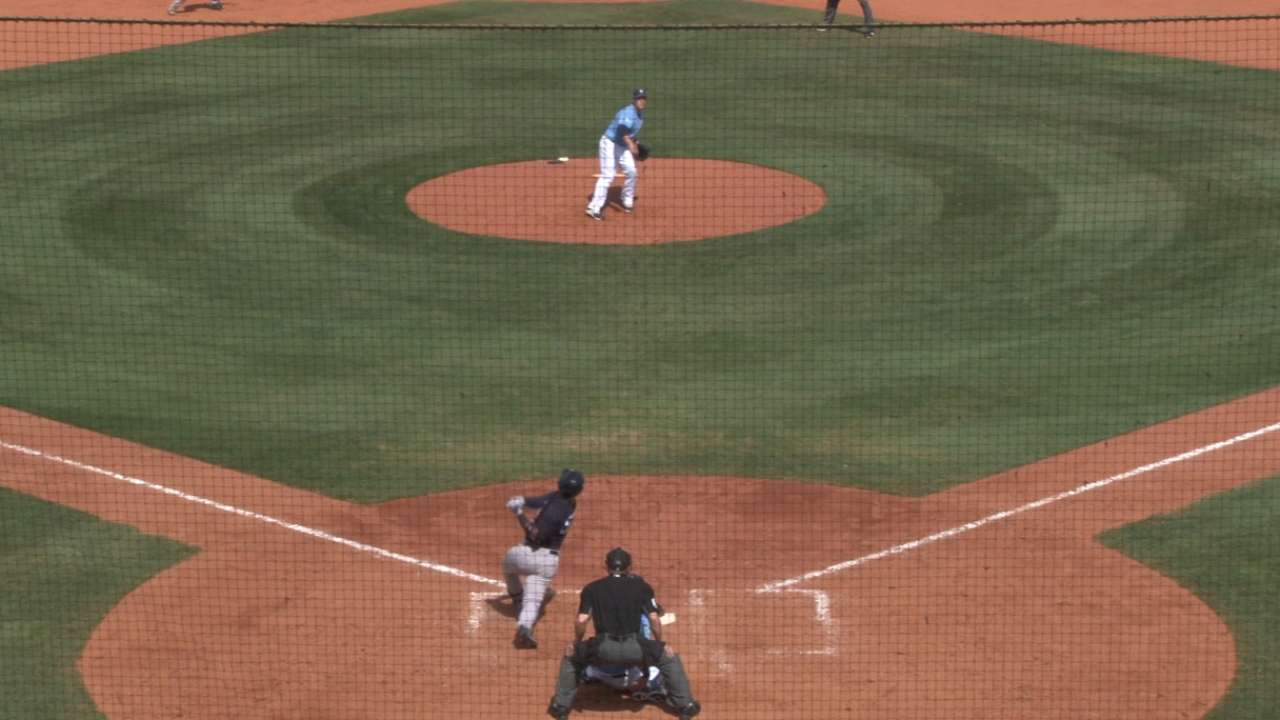 9. Austin Meadows, OF, Pirates: With the Pirates starting outfield all playing in the World Baseball Classic, Meadows has certainly taken advantage of the extra playing time. The 21-year-old has impressed with a .323/.447/.516 line to go along with a homer and eight RBIs over 31 ABs.
13. Eloy Jimenez, OF, Cubs: Before a shoulder injury shut him down, Jimenez had impressed in his first big league camp. Over 28 at-bats, the right fielder had hit .321/.355/.607 with two homers and four RBIs.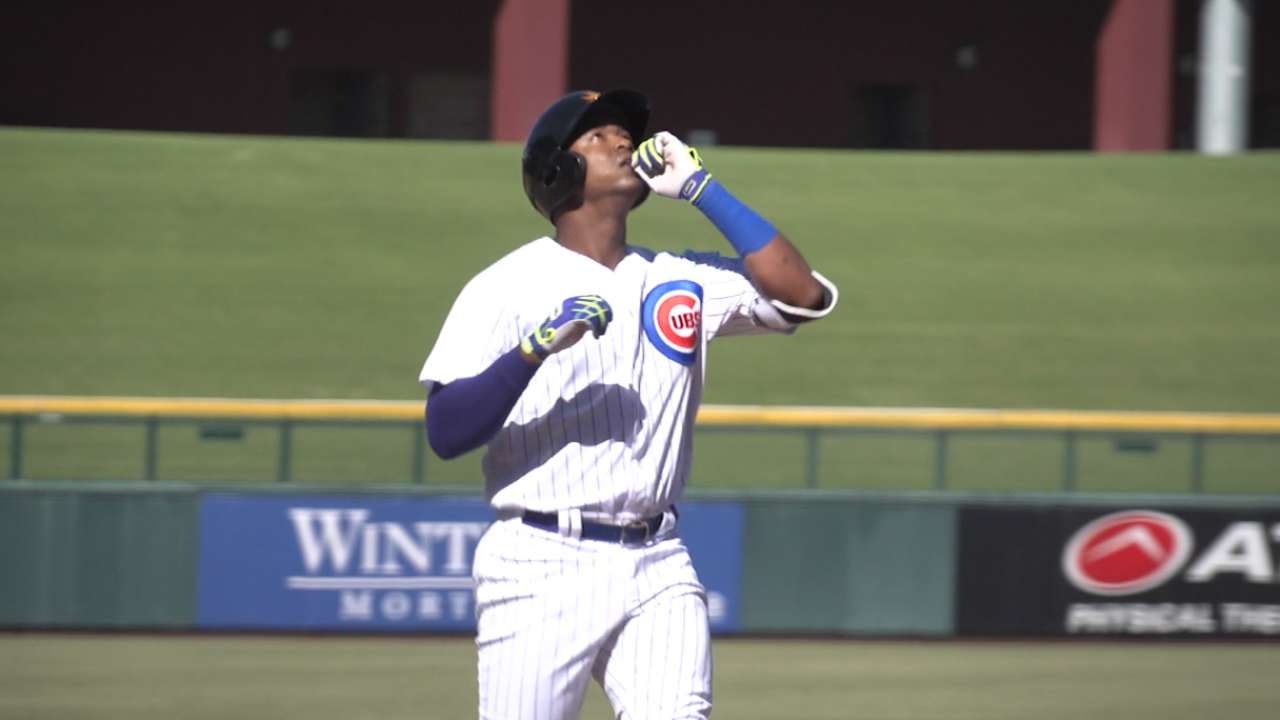 18. Lewis Brinson, OF, Brewers: Brinson has already been sent down to prepare for the Triple-A season, but he gave some notice that he might be ready for his first crack at the big leagues soon. In 34 ABs in big league camp, the toolsy outfielder hit .294/.385/.588 with two homers and eight RBIs.
22. Bradley Zimmer, OF, Indians: The Indians' top prospect has had all of his tools on display while trying to show he fits in the big league club's 2017 plans. In 19 games spanning 48 ABs, the former first-round pick has hit .354/.404/.646 with three home runs, 12 RBIs and four stolen bases.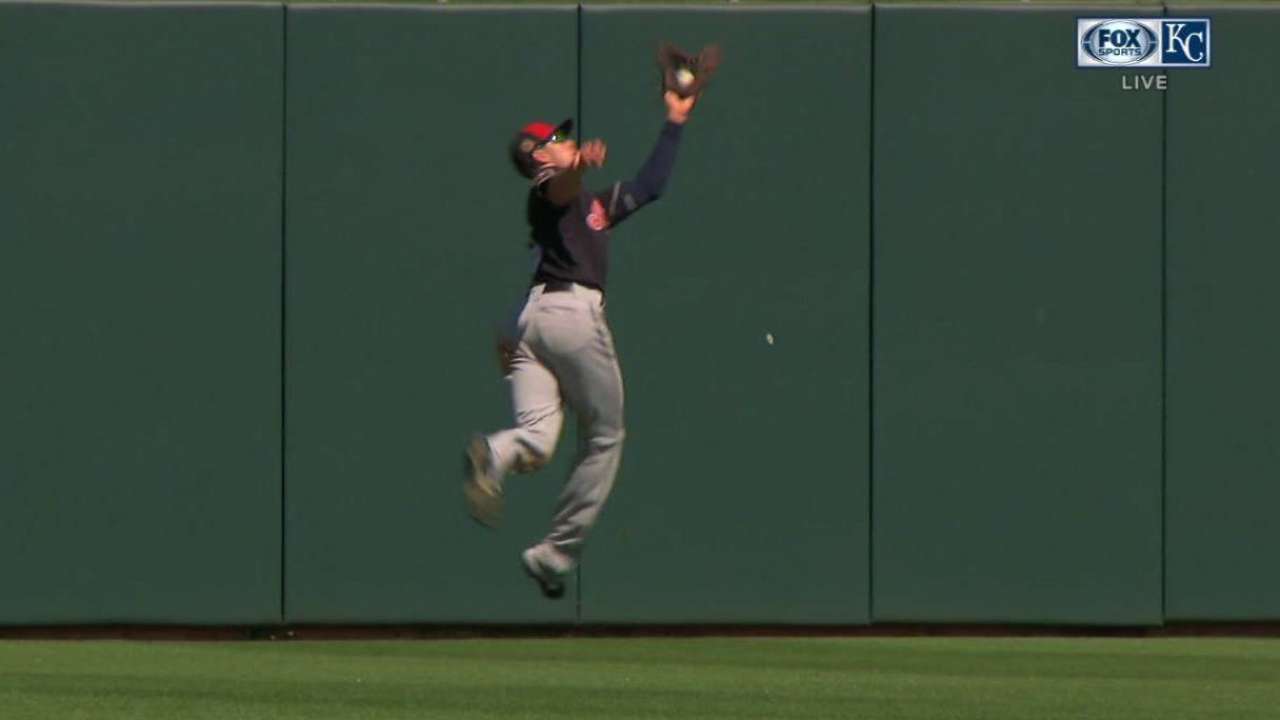 28. Ian Happ, 2B/OF, Cubs: With a stacked lineup full of young players, it's not too clear how Happ will fit in. But if his spring performance is any indication, it is clear he will show he's ready for a chance soon. The 2015 first-rounder is hitting .400/.432/.725 over his first 40 Cactus League ABs, with three homers and 11 RBIs.
36. Tyler O'Neill, OF, Mariners: O'Neill created some buzz when he homered off of Clayton Kershaw for his first Cactus League long ball. But the 2016 Southern League MVP has been performing well throughout, with a .310/.412/.552 line with the one home run and eight RBIs.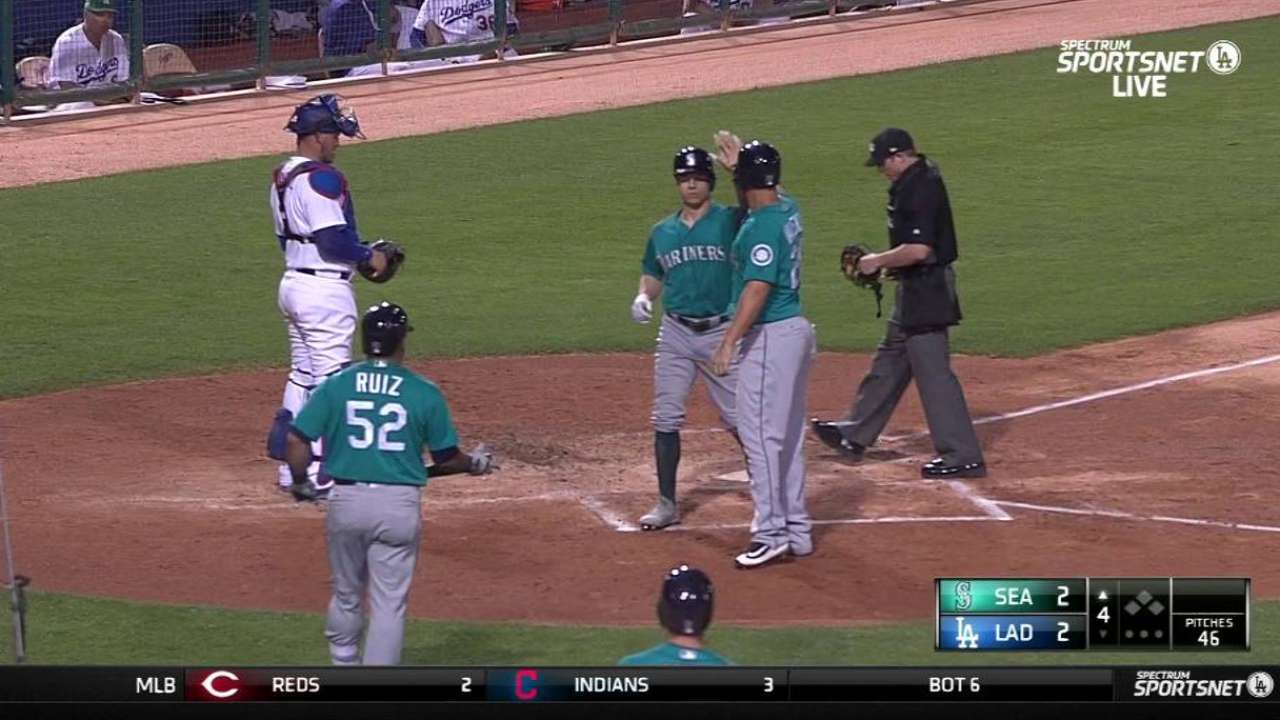 40. Francisco Mejia, C, Indians: The author of that 50-game hit streak last year just keeps on raking. In just 19 at-bats, the backstop has hit .421/.450/.789 with two homers and eight RBIs.
42. Hunter Renfroe, OF, Padres: Renfroe had a September callup for the ages and doesn't show any signs of letting up. Slated to be the Padres' right fielder, Renfroe has hit .286/.314/.490 with a pair of long balls and seven RBIs in 49 at-bats.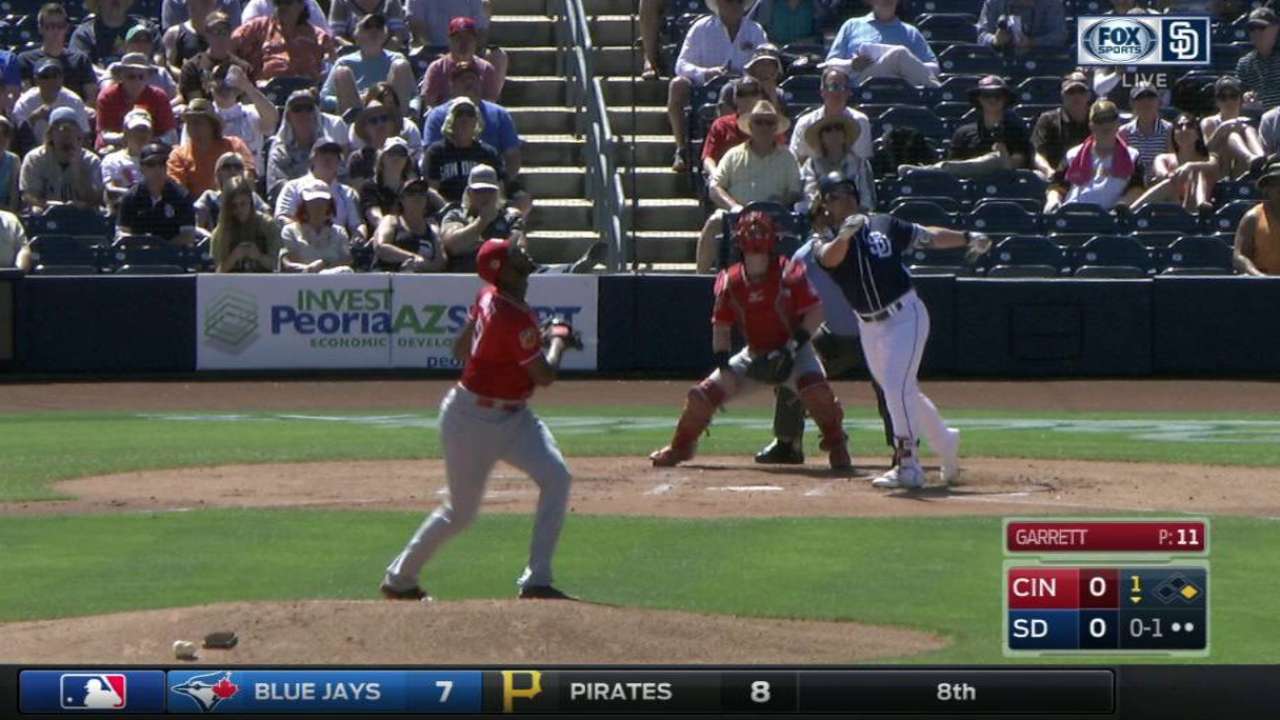 46. Reynaldo Lopez, RHP, White Sox: After a rough first outing (5 ER in 1 1/3 innings), Lopez -- one of the arms the White Sox got in the big Adam Eaton trade -- has been dealing ever since. With six shutout innings in his most recent start, Lopez has thrown 18 innings and allowed just three earned runs (1.50 ERA) since that first start, allowing just nine hits and four walks while striking out 14.
66. Amir Garrett, LHP, Reds: Trying to make his case he belongs in the big league rotation, Garrett has thrown well in Arizona, posting a 2.20 ERA in five starts. He's allowed 18 hits in 16 1/3 innings, walking three and striking out 10.
76. Jake Bauers, OF/1B, Rays: Bauers might claim he's a slow starter, but that certainly hasn't been evident in Rays camp. Over 30 at-bats, he's put up a .400/.486/.933 line with four homers and 11 RBIs. He's drawn six walks and struck out just three times in 15 games.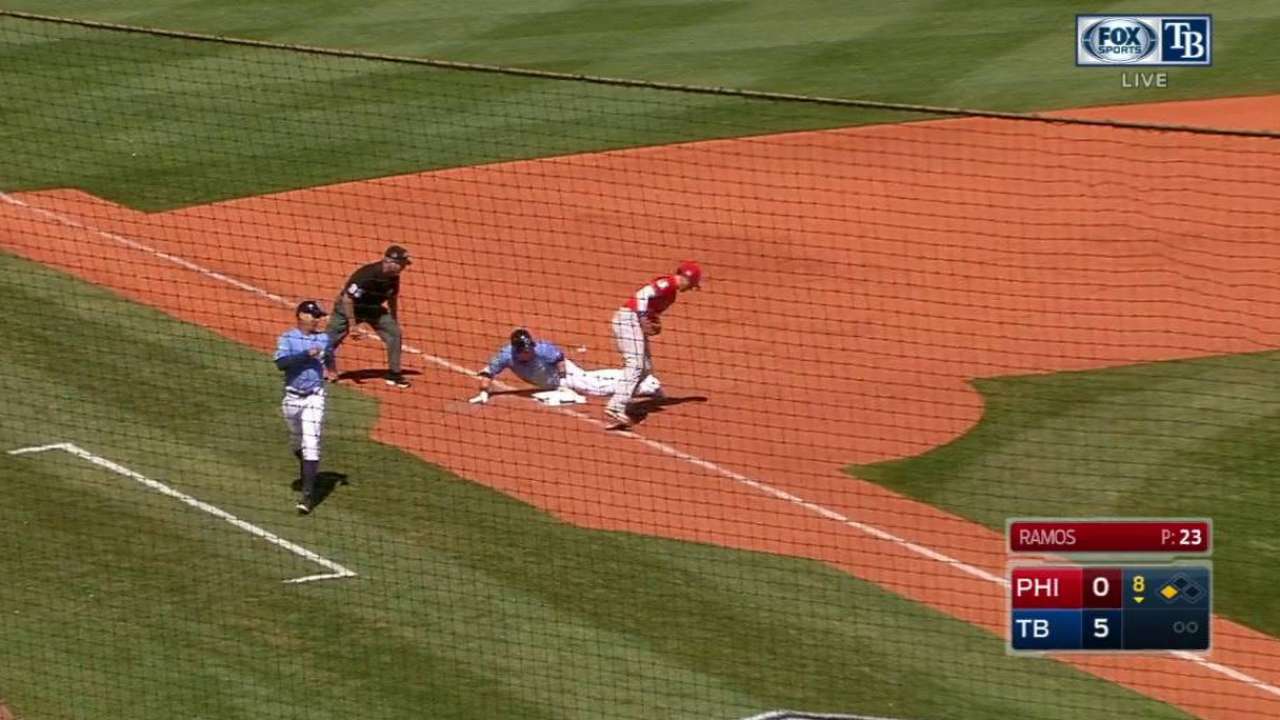 Non Top 100 prospects who have impressed
Harrison Bader, OF, Cardinals No. 5: 18 G, 42 AB, .310/.370/.524, 2 HR, 7 RBIs
Zack Burdi, RHP, White Sox No. 7: 10 IP, 2.70 ERA, 4 H, 4 BB, 12 K, .118 BAA
Yandy Diaz, OF/3B, Indians No. 10: 12 G, 24 AB, .417/.567/.609, 1 HR, 7 RBIs
Hunter Dozier, 3B/OF, Royals No. 2: 15 G, 22 AB, .409/.481/.818, 2 HR, 6 RBIs
Lucas Erceg, 3B, Brewers No. 7: 11 G, 24 AB, .417/.481/.708, 2 HR, 7 RBIs
Jack Flaherty, RHP, Cardinals No. 8: 7 IP, 2.57 ERA, 7 H, 3 BB, 10 K, .269 BAA
Mitch Haniger, OF, Mariners No. 4: 16 G, 47 AB, .404/.462/.702, 2 HR, 8 RBIs, 2 SB
Chris Lee, LHP, Orioles No. 7: 11 IP, 1.64 ERA, 7 H, 3 BB, 9 K, .184 BAA
Trey Mancini, 1B, Orioles No. 5: 21 G, 46 AB, .304/.360/.543, 2 HR, 8 RBIs
Jacob May, OF, White Sox No. 26: 17 G, 43 AB, .349/.378/.535, 2 RBIs, 4 SB
Adalberto Mejia, LHP, Twins No. 8: 14 1/3 IP, 1.88 ERA, 12 H, 4 BB, 14 K, .222 BAA
Colin Moran, 3B, Astros No. 25: 19 G, 36 AB, .389/.439/.611, 2 HR, 10 RBIs
Jose Osuna, 1B/OF, Pirates No. 29: 15 G, 36 AB, .417/.500/.889, 5 HR, 14 RBIs
Jordan Patterson, OF/1B, Rockies No. 20: 21 G, 47 AB, .298/.327/.553, 2 HR, 6 RBIs
Adam Plutko, RHP, Indians No. 15: 8 IP, 1.13 ERA, 8 H, 0 BB, 10 K, .250 BAA
Sal Romano, RHP, Reds No. 9: 15 1/3 IP, 1.17 ERA, 11 H, 3 BB, 19 K, .204 BAA
Sam Travis, 1B, Red Sox No. 4: 16 G, 33 AB, .333/.436/.697, 3 HR, 10 RBIs
Jonathan Mayo is a reporter for MLBPipeline.com. Follow him on Twitter @JonathanMayo and Facebook, and listen to him on the weekly Pipeline Podcast. This story was not subject to the approval of Major League Baseball or its clubs.