Reds' Davis making strong case for rotation spot
After four strong innings Monday, 23-year-old has 3.27 Cactus ERA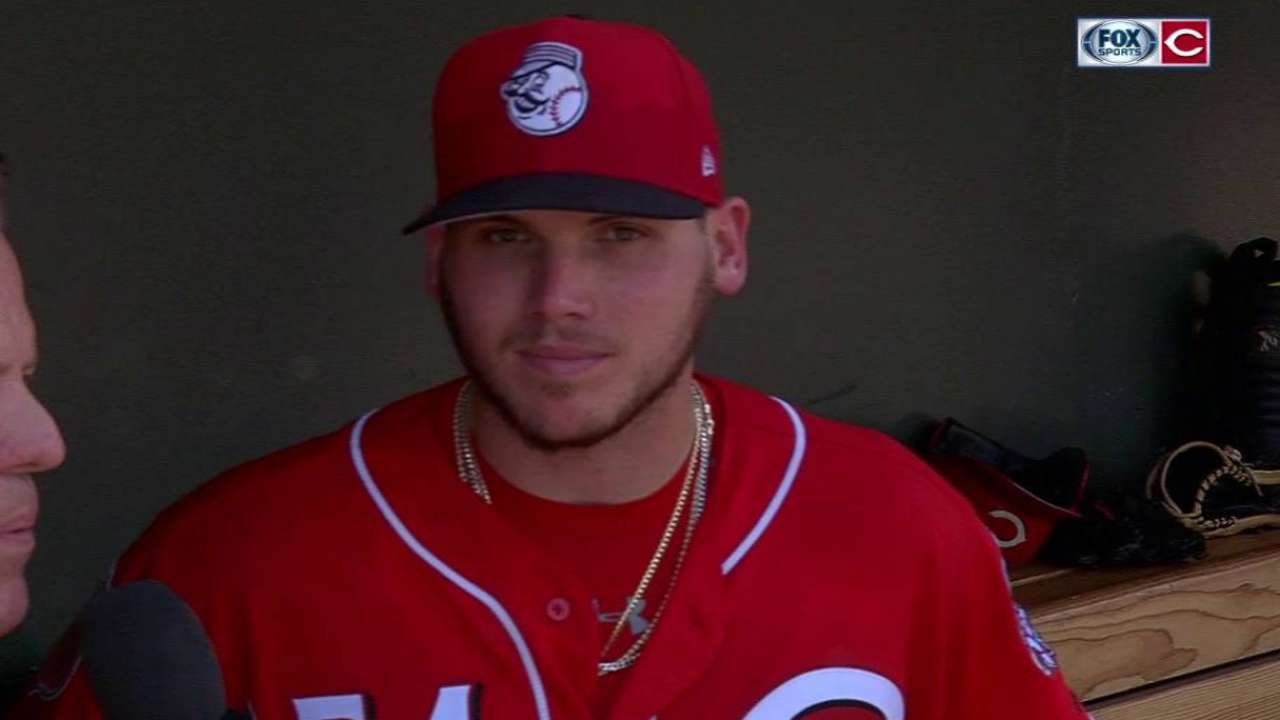 SURPRISE, Ariz. -- On a day when the Reds announced Scott Feldman as their Opening Day starter, Rookie Davis did his best to make a case for one of the remaining rotation spots.
Davis was sharp in his Monday start against the Royals, giving the Reds four solid innings in a 10-6 victory. The right-hander allowed one run on four hits and a walk, striking out three.
"I think Rookie competed really well and did a good job," catcher Devin Mesoraco said. "That's definitely a lot of what it is. It's not all about your stuff and throwing hard. They had some [good] guys in there, and he went right at them."
The Reds have a wide-open competition for three rotation jobs behind Feldman and Brandon Finnegan, and Davis is doing all he can to lock one down. But he's trying not to look too far ahead.
"A lot of guys get caught up in the statistics of it, get caught up in the competition itself," said Davis, who lowered his Cactus League ERA to 3.27. "I'm just in a competition with myself to continue to get better each start."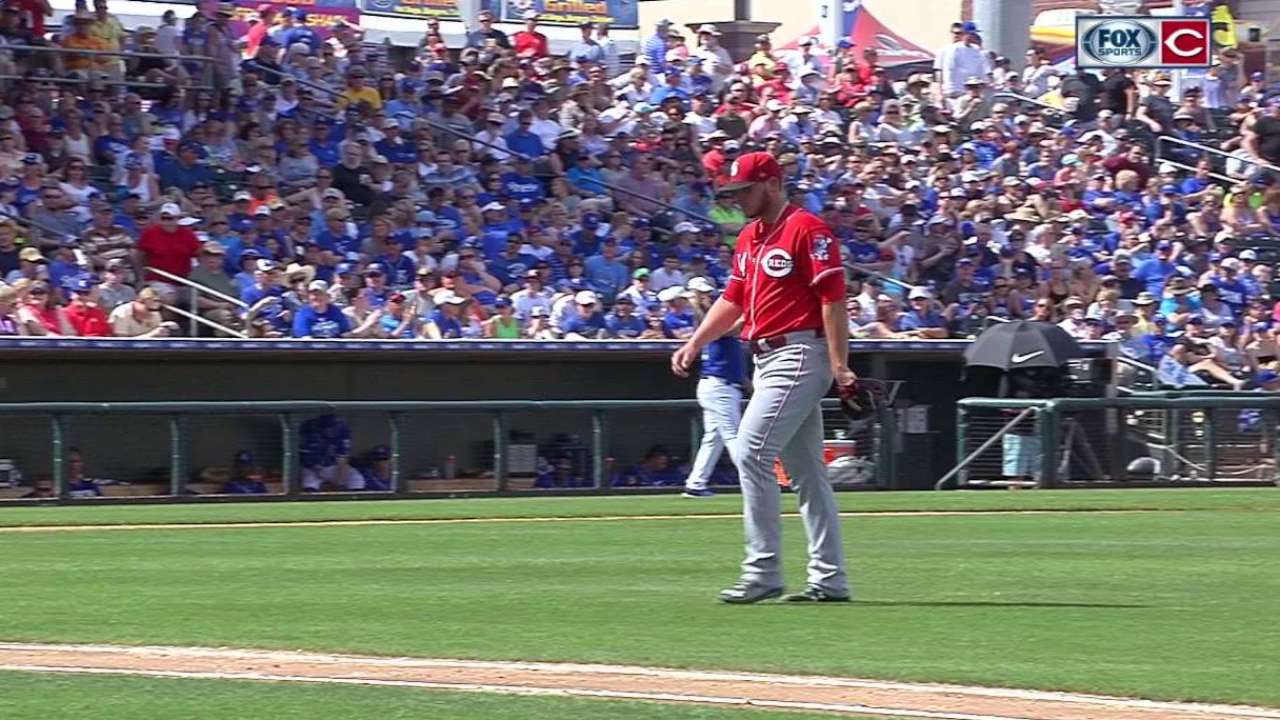 Davis has shown improvement through the spring, particularly with his slider, and he used the pitch to strike out Raul Mondesi and Christian Colon.
"I feel like the slider is going to be a very big pitch for me this year," said Davis, who will turn 24 in April. "You could see that today with the strikeout on multiple occasions today, just being able to throw it for a strike and then have a feel of putting guys away with it."
• Spring Training: Info | Tickets | Schedule | Gear
Manager Bryan Price liked the poise Davis showed with runners on base, thanks in part to some solid defense behind him. He got Alex Gordon and Colon to hit into double plays.
"He gets it," said Price, a former pitching coach. "He doesn't make it easy to time the steal, he holds the ball, he's quick to the plate, he varies his times. All that stuff is the detail we talk about. You come up to this level, the opponent is going to find your weakness, and they're going to exploit it. And he's more polished for a young guy than I'm used to seeing."
Added Mesoraco: "He's going to end up being a ground-ball guy. He gets a lot of balls in play, works fast; he doesn't necessarily strike everyone out. I think he looks pretty good."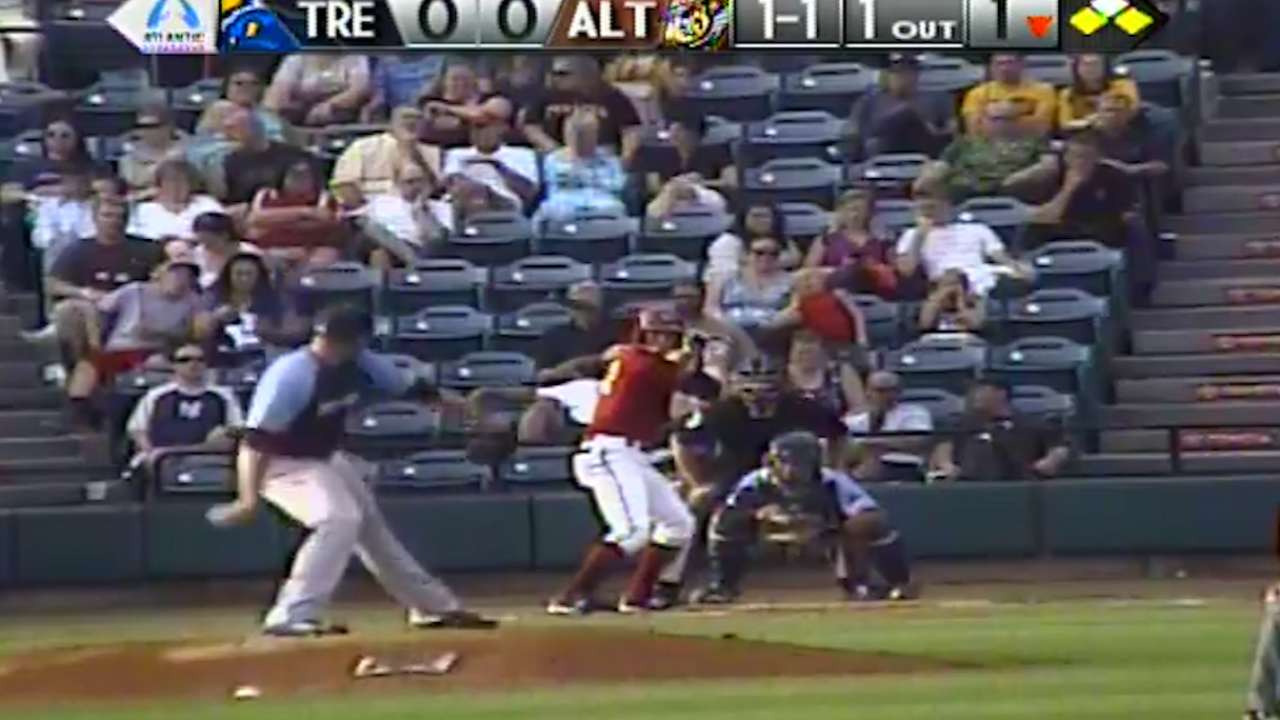 Davis picked a good time to have his best starts of the spring, which came only hours after Price spoke about the rotation competition.
"It's 100 percent TBD for three, four and five," Price said. "It'll be a great competition, and it's open. It's not a competition that necessitates that any pitcher that makes the rotation has to have had Triple-A experience."
Davis reached Triple-A last year, appearing in five games with Louisville. Bronson Arroyo, Cody Reed, Tim Adleman, Robert Stephenson, Amir Garrett and Sal Romano are also in the mix for the rotation. Of that group, Romano is the only one without Triple-A experience.
"There is a pecking order," Price said. "They're not all on equal footing right now."
Davis welcomes the challenge.
"The competition, it's great," he said. "I think it's great for the organization and great for us young guys to be friends and still compete on the field, but, honestly, I'm just in a competition with myself to continue the momentum."
Austin Laymance is a reporter for MLB.com. This story was not subject to the approval of Major League Baseball or its clubs.