Donaldson delighted to be back in games
Designated hitter went 0-for-2 in return to spring action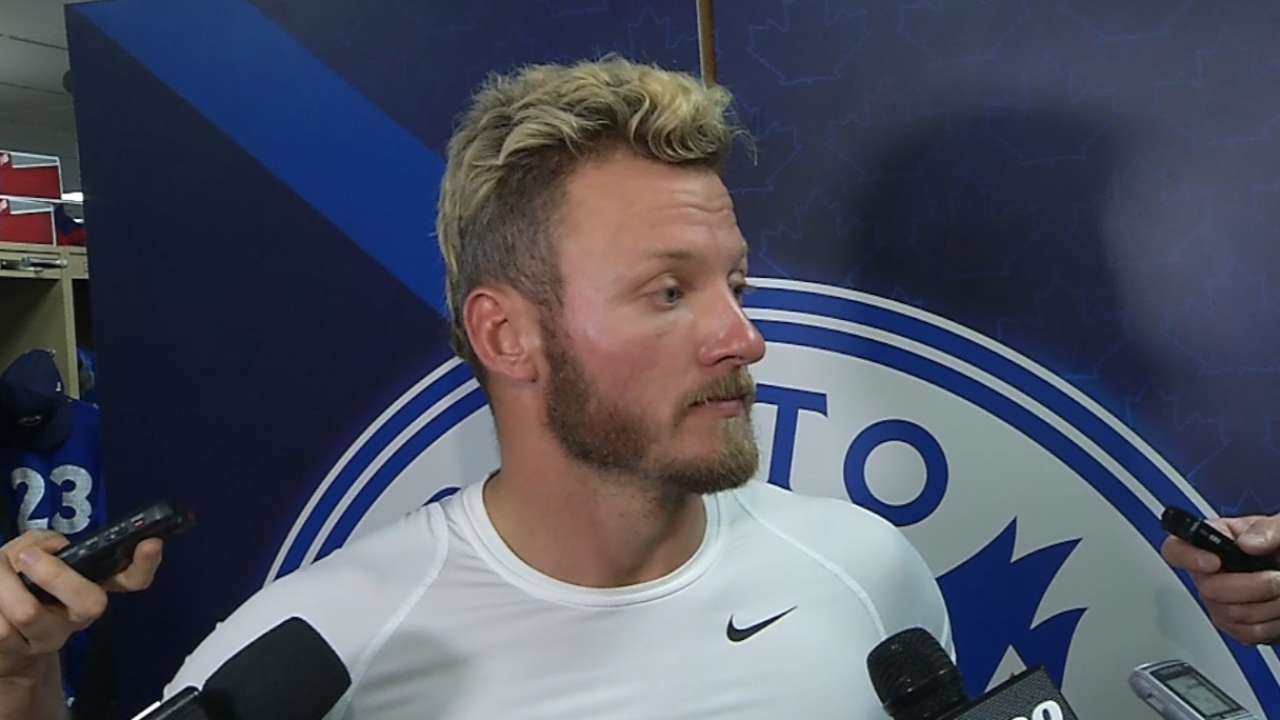 DUNEDIN, Fla. -- Josh Donaldson's long-awaited Grapefruit League debut yielded three unmemorable plate appearances on Monday, but more importantly the promise of accelerated work for the Blue Jays' star third baseman.
Donaldson served as the designated hitter in an 8-2 loss against the Twins at Florida Auto Exchange Stadium. He said he hopes to play in the field by Wednesday.
"We've been waiting for this day,'' Blue Jays manager John Gibbons said. "It's really big for Josh and the ballclub. It's a big step for us."
• Spring: Info | Tickets | Schedule | Gear
Donaldson, the 2015 American League Most Valuable Player, who had 37 home runs and 99 RBIs in '16, has been recovering from a right calf strain. He had been hitting in Minor League games.
"It was nice to be on the field, run a little bit, get some work in,'' said Donaldson, who was 0-for-2 with a walk and a strikeout. Donaldson reached base in the sixth, when Twins second baseman Benji Gonzalez muffed Donaldson's high popup in short-center field.
How did Donaldson feel physically?
"My calf feels normal," Donaldson said. "It hasn't been easy for me, because I want to be out there. But I've been going as slow as possible, taking all the precautionary steps."
The Blue Jays are still handling Donaldson gingerly, encouraging him to not go all out -- yet.
"If he gets a hit or hits a ball where he has to run, we want him to dog it a little bit," Gibbons said. "I told him, 'Don't worry, that's no big deal. People are used to seeing you do that.' They'll think everything is hunky-dory."
Gibbons chuckled, then grew serious.
"Josh is different," Gibbons said. "He has proven himself in this league. He's at the point of his career where he knows it's huge for the team when he's on the field. He's smart enough now to know we can't have any setbacks. It takes a little bit longer, and he has handled it well. Maybe he's on that program now where less Spring Training is not a bad thing, anyway."
Actually, Donaldson has proven to be one of the game's most durable players. He played 155 games for Toronto in 2016 and 158 in each of his previous three Major League seasons.
"It is kind of rare [to play that often] in this day and age," Gibbons said. "A lot of it is his toughness, his mentality, kind of who he is. He's also one of those guys who has a big obligation to his team.
"He knows they pay him a lot of money to be out on the field. There are a lot of guys who wouldn't be out there, sometimes, when he is. We knew that when we first picked him up."
Gibbons said there were times in recent seasons when he felt Donaldson could benefit from a day off. Donaldson almost always refused.
"He said, 'Naw, I'll be fine.' … Maybe he said he wouldn't be able to go as hard, but, 'The team needs me,'" Gibbons said. "Some guys are wired differently. Look at his production. The last couple of years here, it's tough for a manager to sit him, especially when you're in the thick of things. One game can be really important.
"I trust these guys to tell me, too. I usually have a good feel on when they might be covering something up, when it's not wise to go out there. This is professional baseball at the highest level, and they're supposed to be out there. People come to see them play, and if they're really productive, that's where they belong."
Donaldson was back where he belonged on Monday. Little by little, he hopes to increase his workload so he's ready for Opening Day -- and beyond.
"I just want to do whatever it takes to win games,'' Donaldson said. "We've been right on the edge [of reaching the World Series] two years in a row now. We want to take that next step.''
Joey Johnston is a contributor to MLB.com and covered the Blue Jays on Monday. This story was not subject to the approval of Major League Baseball or its clubs.