Pomeranz feels good a day after early exit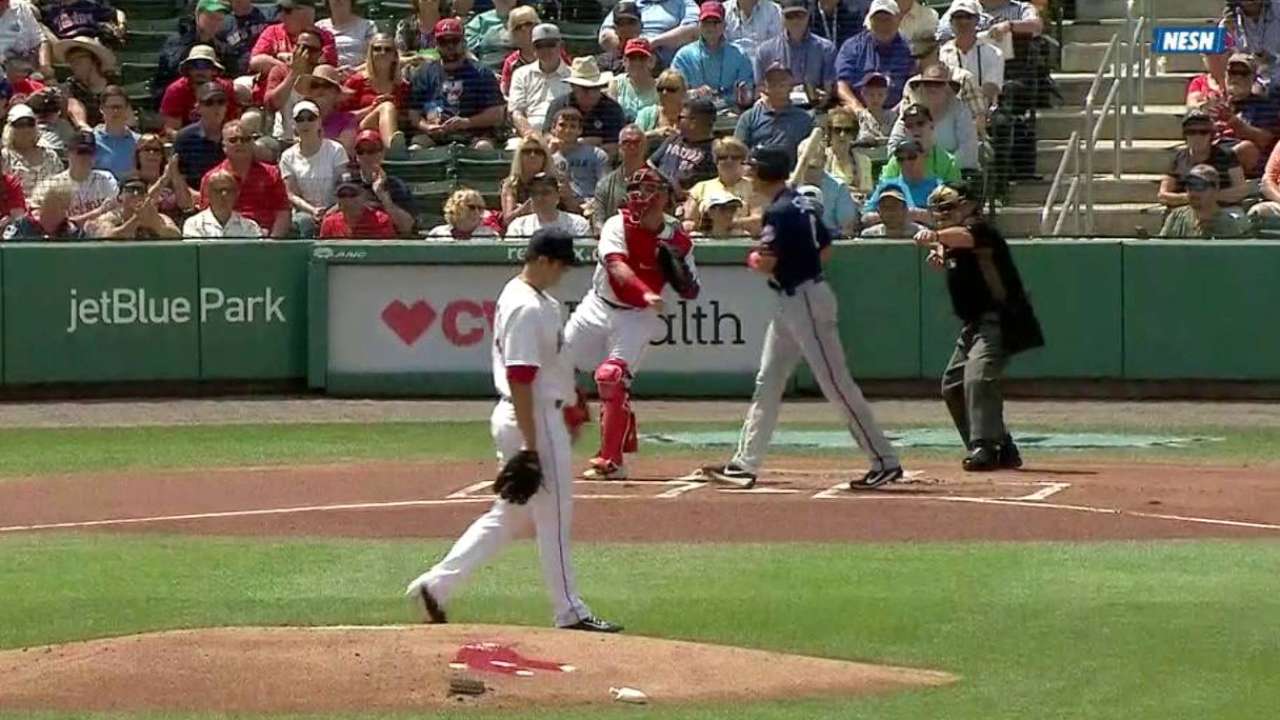 FORT MYERS, Fla. -- Red Sox left-hander Drew Pomeranz felt no ill effects on Monday from the left triceps tightness that forced him to leave his start on Sunday, and he looks to be on track to make his next outing.
In fact, Pomeranz thinks the discomfort was due to a mechanical flaw that he corrected while playing catch on Monday.
"Some mechanical thing yesterday," Pomeranz said. "My arm was dragging behind me a little bit and putting pressure on a different part of my triceps more than normal. I don't normally get there. But watching some video [Sunday] and [Monday] morning, I changed it, and I feel fine."
• Spring Training: Info | Tickets | Schedule | Gear
If Pomeranz stays on track as he expects, he would start Friday against the Blue Jays.
Pomeranz had been taking a conservative path this spring after getting a stem-cell shot in his left elbow in the offseason, and Sunday was his second Grapefruit League start.
"I'm searching for a feeling mechanically," said Pomeranz. "I think last week I really kind of ramped up the workload to start getting ready for the season. Last week I had a big jump. [Monday] was a big step in that process because mechanics are so huge for me, just being in a good position with my body, using the muscles I'm supposed to be using."
If Pomeranz can avoid any setbacks for the rest of Spring Training, he should be on track to start a game for the Red Sox in the first week of the regular season.
David Price is already projected to start the season on the disabled list, so Pomeranz is currently Boston's No. 5 starter.
Kyle Kendrick, who turned in another strong start (five innings, two runs) in Monday's 7-4 win against the Orioles, is probably next in the pecking order if Pomeranz can't go.
Starting-pitching depth in the upper Minors isn't a strength for the Red Sox right now.
Per usual, Red Sox president of baseball operations Dave Dombrowski has been monitoring the market for any rotation depth that becomes available.
"That's ongoing," said Red Sox manager John Farrell. "Our efforts haven't picked up just because of recent developments. It's always been there. It focuses back on those guys who have just been sent out of camp and getting them to the point of being more consistent.
"Henry Owens and Brian Johnson, those two guys in particular, because they're healthy and they're capable. They're not dealing with physical ailments. We've got to make them consistent to have more readily available pitching depth. That's why Kyle Kendrick's presence here has become more important by the day."
Ian Browne has covered the Red Sox for MLB.com since 2002. Follow him on Twitter @IanMBrowne and Facebook. This story was not subject to the approval of Major League Baseball or its clubs.