Slice of Kevin: Rays, Kiermaier make it official
Center fielder 'happiest man on the planet' with 6-year, $53.5M pact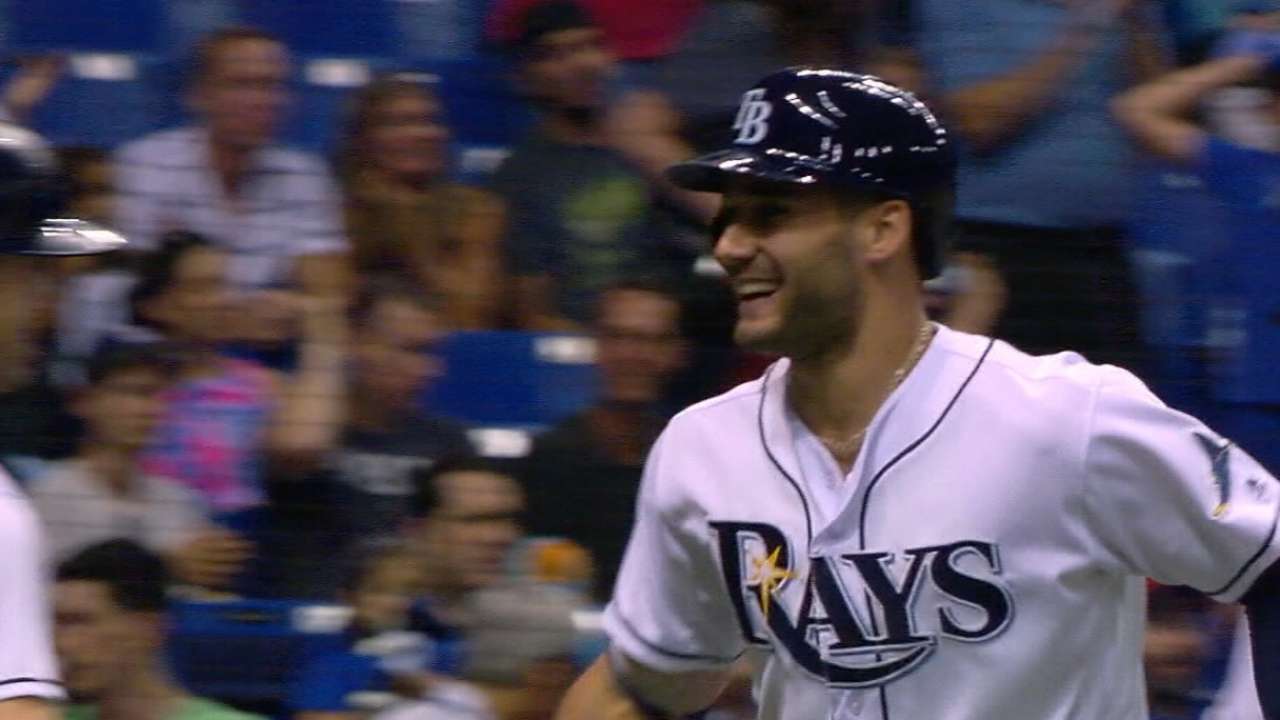 PORT CHARLOTTE, Fla. -- Kevin Kiermaier celebrated Monday's news of his six-year, $53.5 million deal in proper fashion.
The Rays center fielder legged out an infield hit in his first at-bat during a 5-4 loss against the Pirates, stole second base, moved to third on a wild pitch, and scored on a single through the infield.
Kiermaier is all about hustle. The Rays rewarded that facet of his game -- along with his impactful defense -- by signing him to the life-changing deal.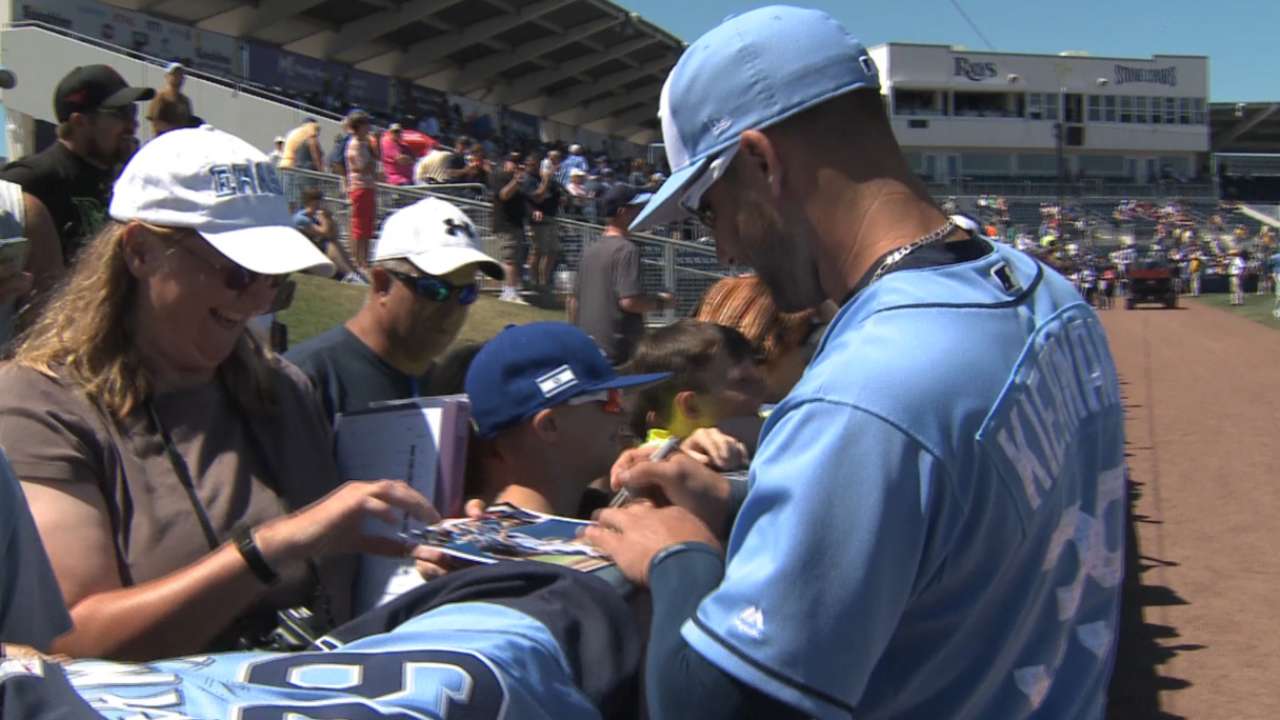 "This is a day -- I can't say it's unbelievable, because I've always dreamed of this, and I've worked my butt off ever since I got to junior college to try to make this moment happen," Kiermaier said. "Here it is, and I couldn't be more thankful and grateful. … I'm the happiest man on the planet right now."
The contract, which includes incentives and a club option that could raise the maximum value to $66.15 million, runs through 2022 with the club option in place for '23. Kiermaier was scheduled to become a free agent after the '20 season.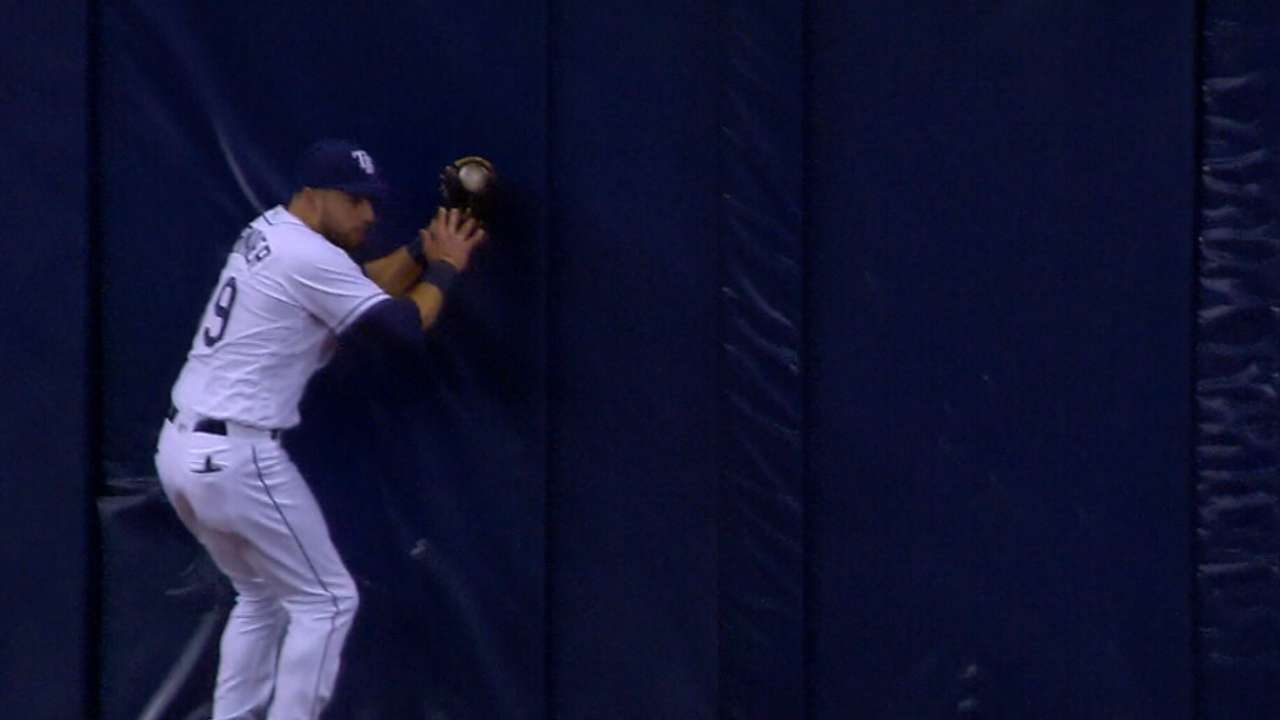 Kiermaier allowed that the decision to sign the deal was an easy one for him, based on the security the deal brings and the fact he loves the St. Petersburg area, which "is where my home will be forever most likely, no matter whatever happens the rest of my career. "
OFFICIAL: The #Rays have signed Kevin Kiermaier to a six-year contract, including a club option for 2023. pic.twitter.com/LwCL1m8xn0

— Tampa Bay Rays (@RaysBaseball) March 20, 2017
Rays president of baseball operations Matt Silverman made it sound as though the decision to sign Kiermaier to such a deal had been an easy one, too.
"Kevin has established himself as one of the most dynamic and exciting players in baseball, and he also sets a tremendous example off the field with his work ethic, dedication and leadership," Silverman said. "We're thrilled that he'll be patrolling center field for the Rays for years to come."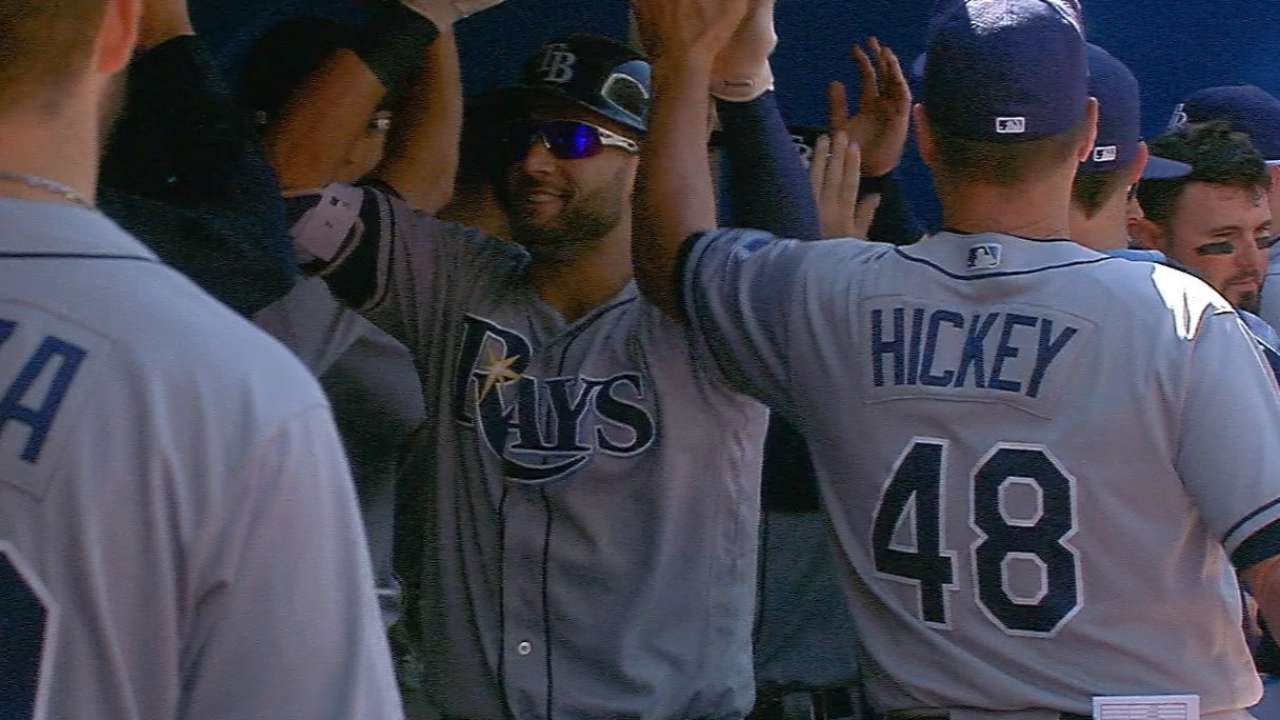 Kiermaier emphasized that signing a big deal won't affect how he goes about his business.
"I was the 941st pick of the 2010 Draft," Kiermaier said. "I'll never forget that. ... I'm never content with anything I'm doing. I always want to be the best player I can possibly be."
Kiermaier, 26, won the American League Gold Glove Award for center field in 2016 for the second consecutive season to became the second AL outfielder since 1957 to claim the Gold Glove Award in each of his first two full seasons in the Majors, joining Mariners right fielder Ichiro Suzuki in 2001-02. He also led Major League center fielders with 25 Defensive Runs Saved last season despite missing 48 games due to injury.
Offensively, Kiermaier set career highs in 2016 in home runs (12), stolen bases (21), walks (40) and on-base percentage (.331).
"Obviously, his defense gets a lot of recognition," Rays manager Kevin Cash said. "We feel very confident that the offense will continue to get better and he'll achieve an elite status in that regard."
Kiermaier is the third Rays player that Stuart Sternberg's ownership group has guaranteed at least six years in a contract, joining Evan Longoria and Chris Archer.
"You're talking about the faces of our franchise right now, and guys who have made a commitment to the Tampa Bay Rays," said Silverman of the trio.
Bill Chastain has covered the Rays for MLB.com since 2005. This story was not subject to the approval of Major League Baseball or its clubs.