Molina the straw that stirs PR's drink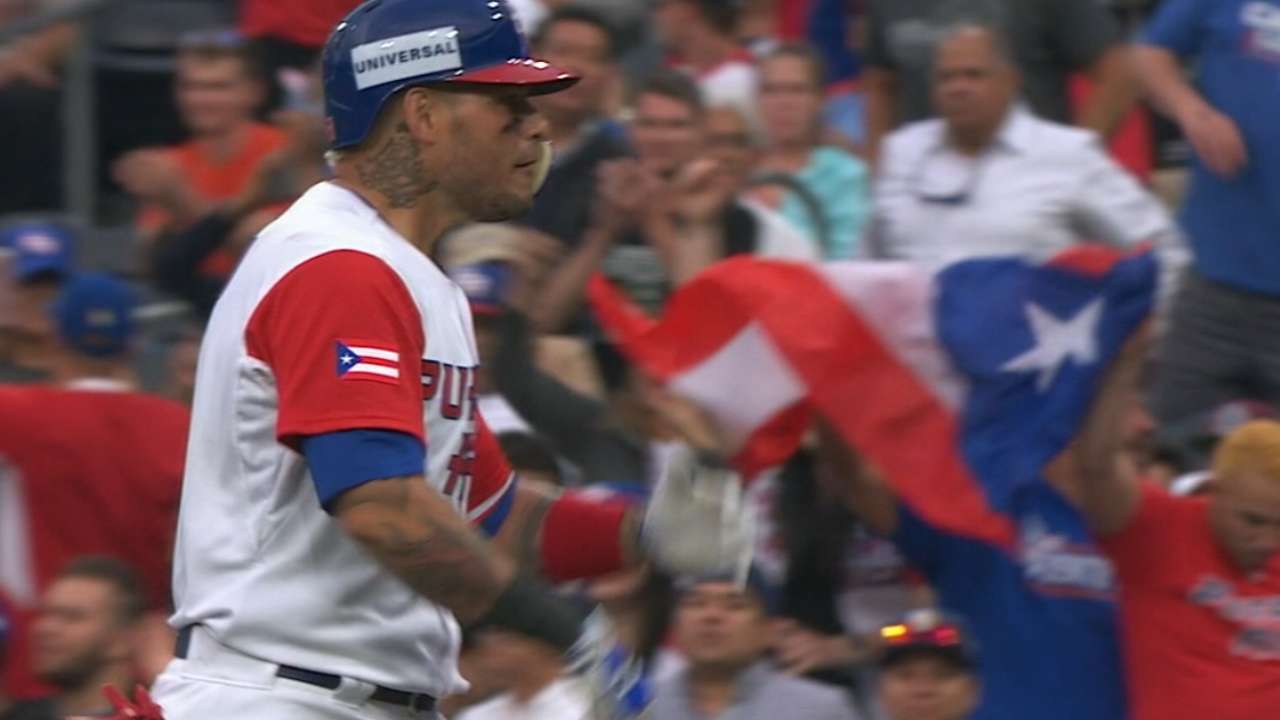 LOS ANGELES -- It all started with a group text chat organized by team leader Yadier Molina.
Before they took the field together in the World Baseball Classic, the Cardinals' star catcher assembled his Puerto Rican teammates virtually, in a chat where they would get to know each other throughout the offseason.
"We were basically talking to each other every single day, 24/7, from the moment we wake up to the moment we go to sleep," Puerto Rican outfielder and shortstop Enrique Hernandez said. "When we all got to Arizona, we were so happy to see each other. It felt like we've known each other for our entire lives."
"Obviously, when you're going to play in this kind of tournament, you don't know many guys, especially in my case," Molina said. "I live in Jupiter, Fla.; many of the guys live in Puerto Rico. ... It's always good to get in contact, get involved with your teammates."
For a team that has sparingly played together, the players comprising the Puerto Rican squad have formed intense bonds in their short time representing the island on the international stage. In a show of unity, much of the group has even died their hair bleach blonde for the tournament.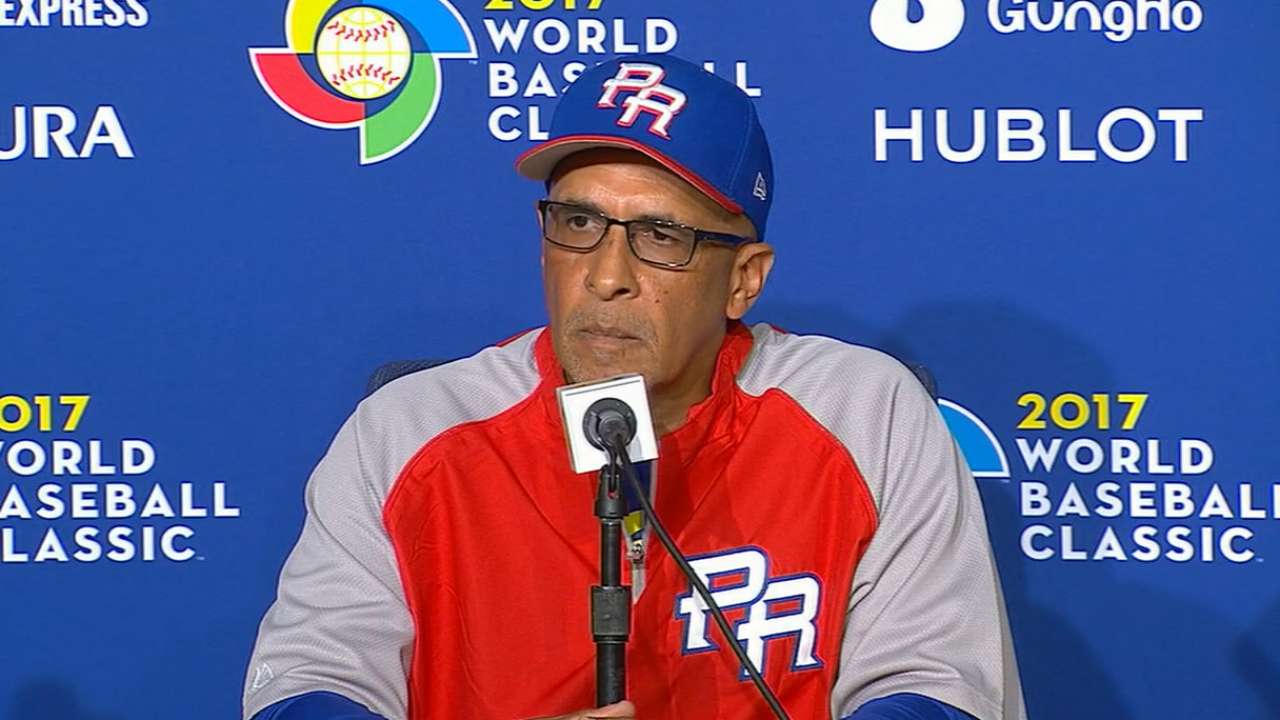 "It was just saying 'hi', just telling jokes," Hernandez said. "Before you know it, the entire team has blonde hair."
That chemistry has translated to tremendous success in this year's World Baseball Classic. After losing in the championship game to the Dominican Republic in the 2013 Classic, Puerto Rico has rebounded to go unbeaten (6-0) through two rounds of this year's tournament. The tournament run through Jalisco, Mexico, and San Diego -- sweeping Venezuela, Italy, Mexico, the United States and the Dominican -- has been dominant, with Puerto Rico outscoring its opponents by a 51-15 margin.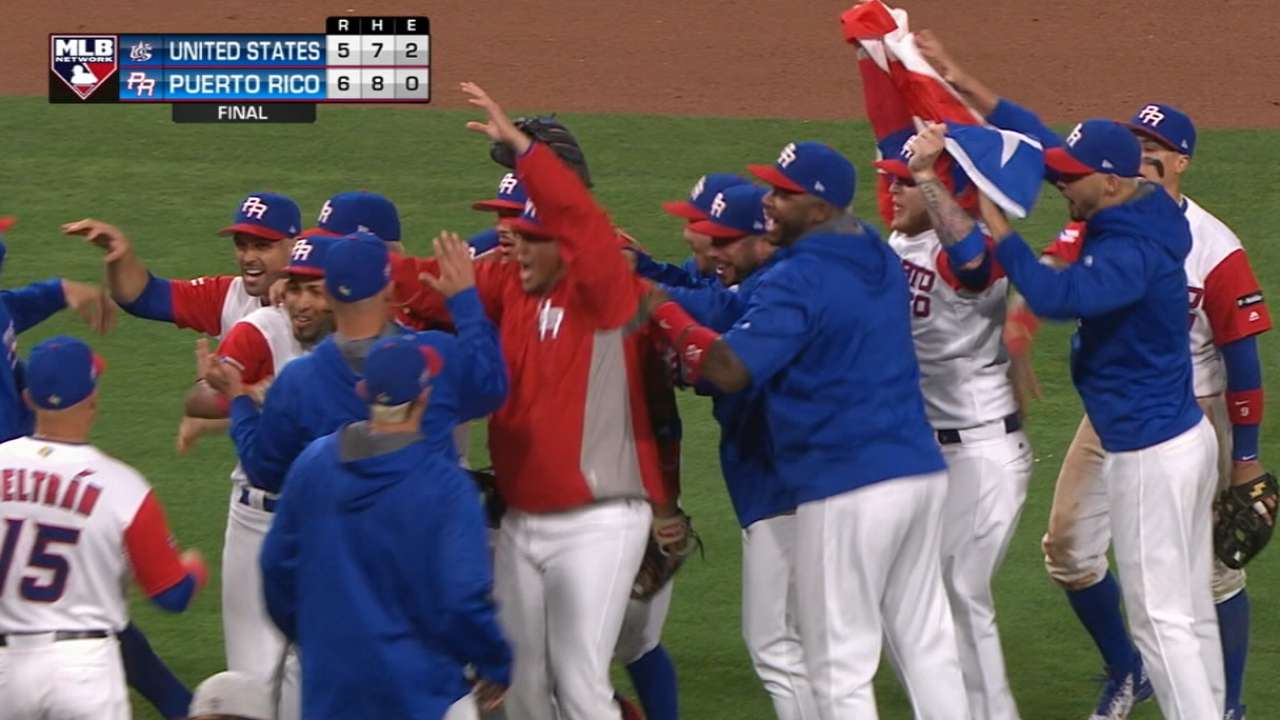 Puerto Rico is now one of four teams left standing, and it will go head-to-head with the Netherlands in the semifinals matchup at Dodger Stadium on Monday at 9 p.m. ET.
"We're not playing really good baseball just because we have really good players," Hernandez said. "We're playing really good baseball, because we have an unbelievable chemistry and we get along so well. We care for each other, and we have the trust that if you don't get the job done, then the guy behind you is going to get it done."
Playing in his fourth Classic, Molina remains the focal point of Team Puerto Rico, not only serving as the glue that binds the team together, but also contributing immensely on the field.
In addition to his contributions behind the plate as one of the game's best backstops, Molina is batting .353 (6-for-17) with two home runs, six RBIs and four runs scored through four starts. His performance in San Diego earned him Pool F Most Valuable Player honors.
"It's well-deserved," said Puerto Rican manager Edwin Rodriguez. "He's the heart of the team."
The World Baseball Classic runs through Wednesday. In the U.S., games air live exclusively in English on MLB Network and on an authenticated basis via MLBNetwork.com/watch, while ESPN Deportes and WatchESPN provide the exclusive Spanish-language coverage. MLB.TV Premium subscribers in the U.S. have access to watch every tournament game live on any of the streaming service's 400-plus supported devices. The tournament is being distributed internationally across all forms of television, internet, mobile and radio in territories excluding the U.S., Puerto Rico and Japan. Get tickets for the Championship Round at Dodger Stadium, while complete coverage -- including schedules, video, stats and gear -- is available at WorldBaseballClassic.com.
Chad Thornburg is a reporter for MLB.com based in Los Angeles. This story was not subject to the approval of Major League Baseball or its clubs.