Saturday night survive: USA-DR win or else!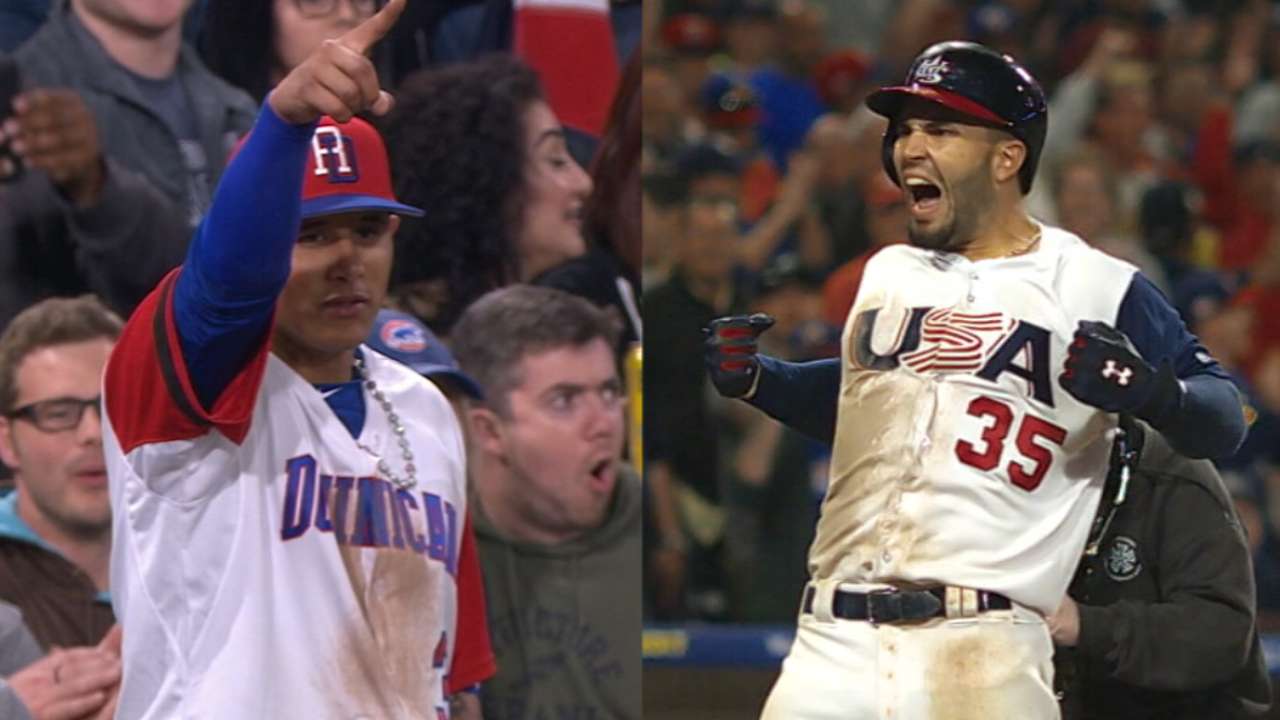 SAN DIEGO -- Two teams, two countries, one game and the winner takes all. The bragging rights will last at least four years.
Familiar chants of "USA! USA! USA!" will provide the soundtrack to a sold-out Petco Park. The speedy and rhythmic chorus of "Dominicana! Dominicana! Dominicana!" will provide the bassline.
The team of All-Stars from the Dominican Republic and Team USA have been on a crash course toward a final World Baseball Classic clash since the tournament started earlier this month.
And now, it's finally here.
"[Saturday] is to move on and both teams are going to be amped," USA center fielder Adam Jones said. "They are going to bring their best and we are going to bring our best."
The winner of tonight's USA-Dominican Republic matchup will join Puerto Rico, Japan and the Netherlands in the semifinals in Los Angeles next week. The loser goes home.
Baseball fans across the globe will win either way.
"You figured there was a good chance [to face the Dominican Republic]," Giants shortstop Brandon Crawford said. "This is a real tough bracket and there are a lot of good teams. We figured it would be down to the last day kind of thing."
Team USA made it to this point with a late-inning rally against Venezuela for a 4-2 victory Wednesday in its first game of Pool F play and a 6-5 loss to Puerto Rico on Friday. The Dominican Republic was defeated by Puerto Rico, 3-1, in its first game of Pool F on Tuesday and defeated Venezuela, 3-0, on Thursday.
One week ago, the Dominican Republic beat USA, 7-5, in a thrilling game in front of an electric record crowd of 37,446 at Marlins Park.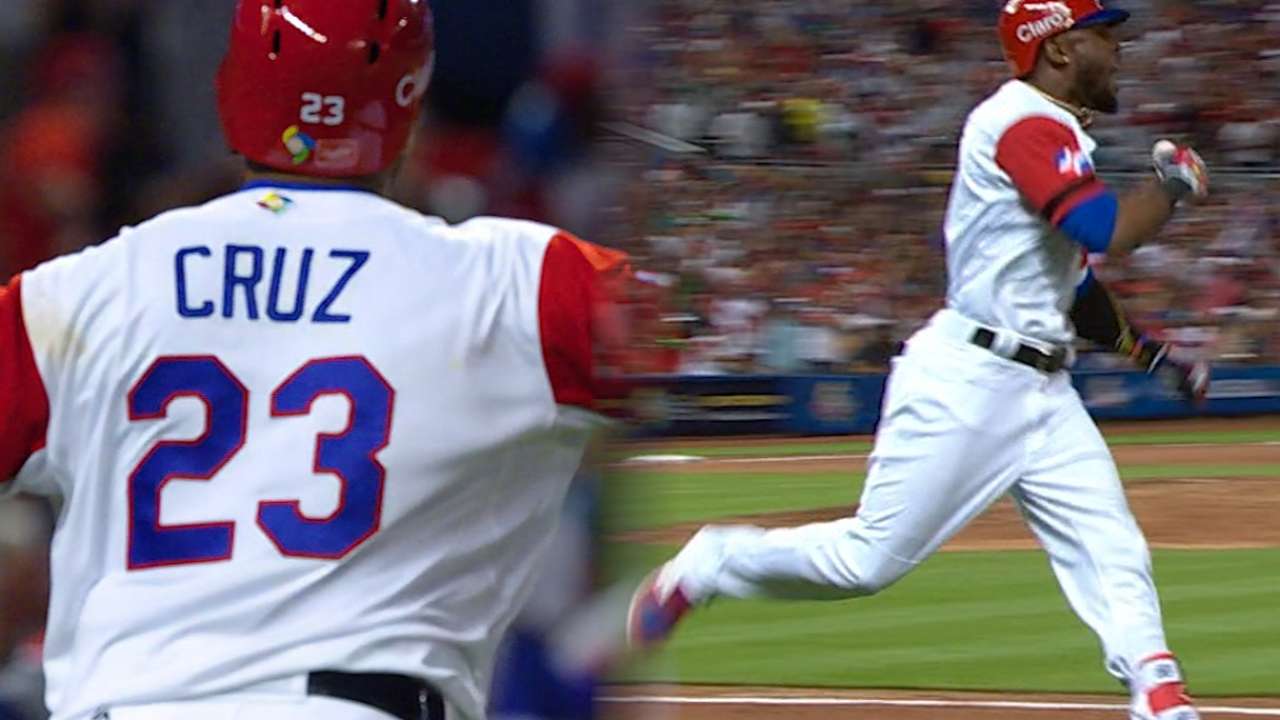 It's payback time for the United States. Team USA will send Danny Duffy to the mound. The Dominican Republic will counter with Ervin Santana in his first start of the tournament.
"It's going to be a great game [Saturday]," Jones said. "We are going to bring what we got. We are facing Ervin Santana, somebody that is familiar with most of the players, so we will give it all we got and they are going to give it all they got. Hopefully, it's a great game."
Duffy's fastball velocity should be a factor. When he's on, his average four-seam fastball is 95 mph, according to Statcast™, second among left-handed starters only to James Paxton, who averaged 96.8 mph. Also keep an eye on third baseman Nolan Arenado. Yes, he's struggled at the plate and has offered at pitches out of the zone, but that could work in his favor. Arenado has hit the third-most homers in MLB over the past two seasons (83), and nearly one-third of those (27) have come on pitches Statcast™ has pegged as out of the strike zone.
Eric Hosmer already has one home run in Pool F and that should surprise no one. He and Christian Yelich both recorded 155 batted balls of 100 mph or harder last season. But the Dominican squad can play hard-hit-ball, too. Three of the top four players at hitting balls 100 mph or harder last season play for the D.R.: Nelson Cruz (179 batted balls faster than 100 mph), Robinson Cano (166) and Manny Machado (165). Only Miguel Cabrera hit more (195). And Cruz already has three home runs this World Baseball Classic.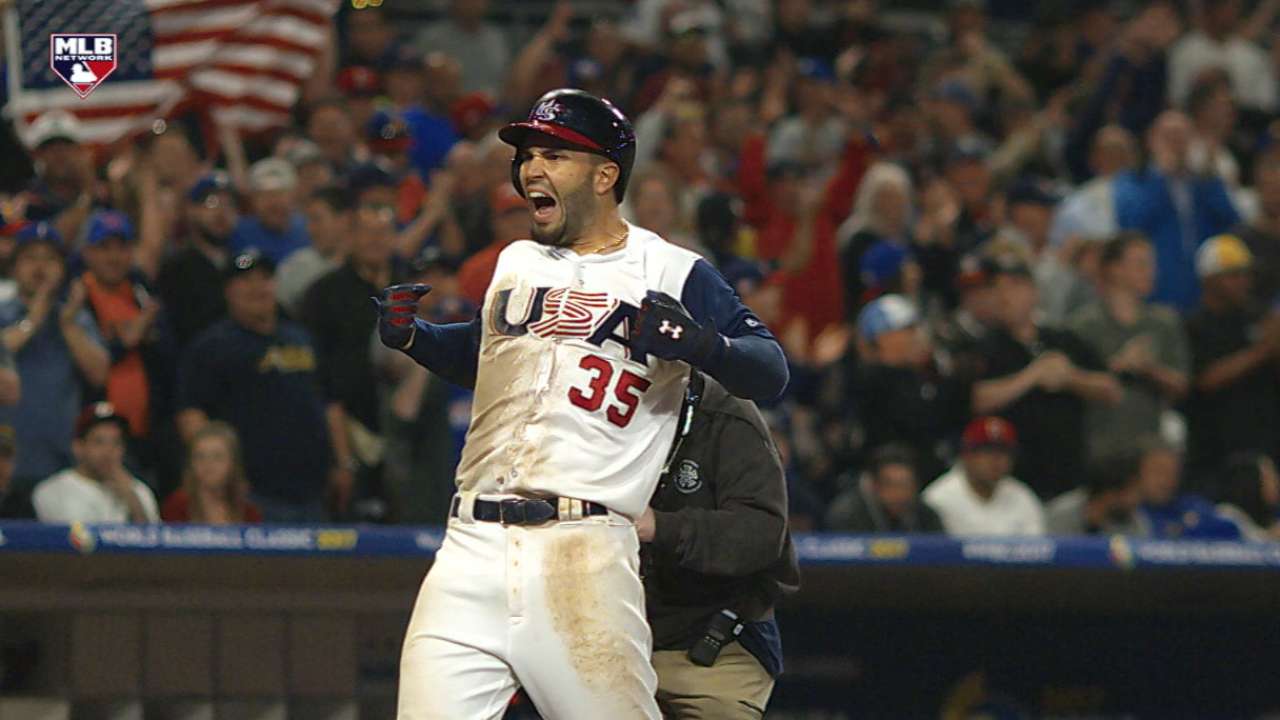 Watch out for Santana's slider. The right-hander threw the pitch nearly 40 percent of the time last season, leading to a swing-and-miss rate of 17.5 percent on them. In all, he induced more total missed swings on his slider (203) than all but three other pitchers: Michael Pineda (302), Chris Archer (277) and Max Scherzer (227).
Manny Machado's glove has many people in the Dominican Republic joking that he is the new secretary of defense, but Duffy would be wise not to throw him many fastballs. Last year, Machado slugged .627 in at-bats ending with either a four-seamer, two-seamer, sinker or cutter, ranking seventh out of 214 players who had at least 200 such at-bats.
One thing is certain, this game matters and the baseball world will be watching.
"It's an all-or-nothing type of game, so we are both going to come out and give it all we have," Jones said. "In the end, that's all you can do."
The World Baseball Classic runs through Wednesday. In the U.S., games air live exclusively in English on MLB Network and on an authenticated basis via MLBNetwork.com/watch, while ESPN Deportes and WatchESPN provide the exclusive Spanish-language coverage. MLB.TV Premium subscribers in the U.S. have access to watch every tournament game live on any of the streaming service's 400-plus supported devices. The tournament is being distributed internationally across all forms of television, internet, mobile and radio in territories excluding the U.S., Puerto Rico and Japan. Get tickets for games in San Diego's Petco Park and the Championship Round at Dodger Stadium, while complete coverage -- including schedules, video, stats and gear -- is available at WorldBaseballClassic.com.
Jesse Sanchez, who has been writing for MLB.com since 2001, is a national reporter based in Phoenix. Follow him on Twitter @JesseSanchezMLB and Facebook. This story was not subject to the approval of Major League Baseball or its clubs.