MLB.com Columnist
Phil Rogers
National pride resonates for Dominican squad
Defending Classic champs pick up where they left off vs. Canada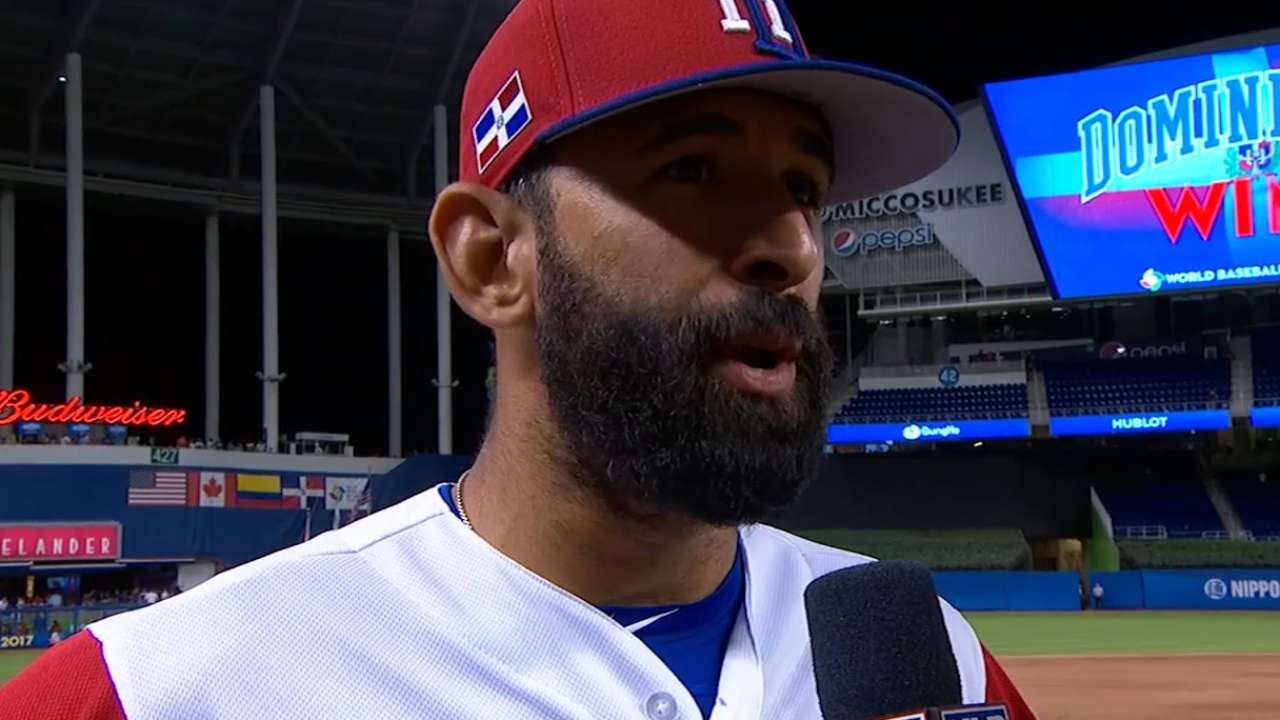 MIAMI -- When the Dominican Republic defeated Puerto Rico to capture the World Baseball Classic four years ago, it was wandering reliever Octavio Dotel who perfectly captured the joy that Dominicans experience playing baseball.
"We've got the game in our hearts, and we cannot hold it in," said Dotel, who played for 13 Major League teams, none of which he loved like his national team.
Dotel has since retired, and he is watching along with the rest of the Dominican Republic as manager Tony Pena and seven holdovers from 2013 try to defend its title. Based on the noise from drums, boomsticks (shaped like the plantain that Fernando Rodney waved after saves in the 2013 WBC) and other noisemakers on Thursday night at Marlins Park, it's clear winning will never get old for these guys.
The Dominican team pounded Ryan Dempster and Team Canada, 9-2, in the first game of Pool C play, and they will anxiously await a Saturday night date with the United States at 6:30 p.m. ET on MLB.TV and MLB Network. These two countries have never met in the Classic, and the atmosphere figures to be absolutely electrifying.
Attendance for the opener was 27,388, but you would have sworn it was a full house when "Quisqueyanos Valientes," the national anthem of the Dominican Republic, was played. Pena sang along as enthusiastically as anyone in the stands.
"It was great energy from our fans, from our people,'' said Jose Bautista, who was 3-for-4, including a three-run homer. "When you play for your country, it cannot be compared to many things. So we felt very good on the field, they transferred that positive energy to us and we with were able to perform.''
• Complete World Baseball Classic Coverage
While top players from the United States regularly skip the World Baseball Classic, the best Dominican players do what they can to be a part of this baseball festival. It's a beautiful thing.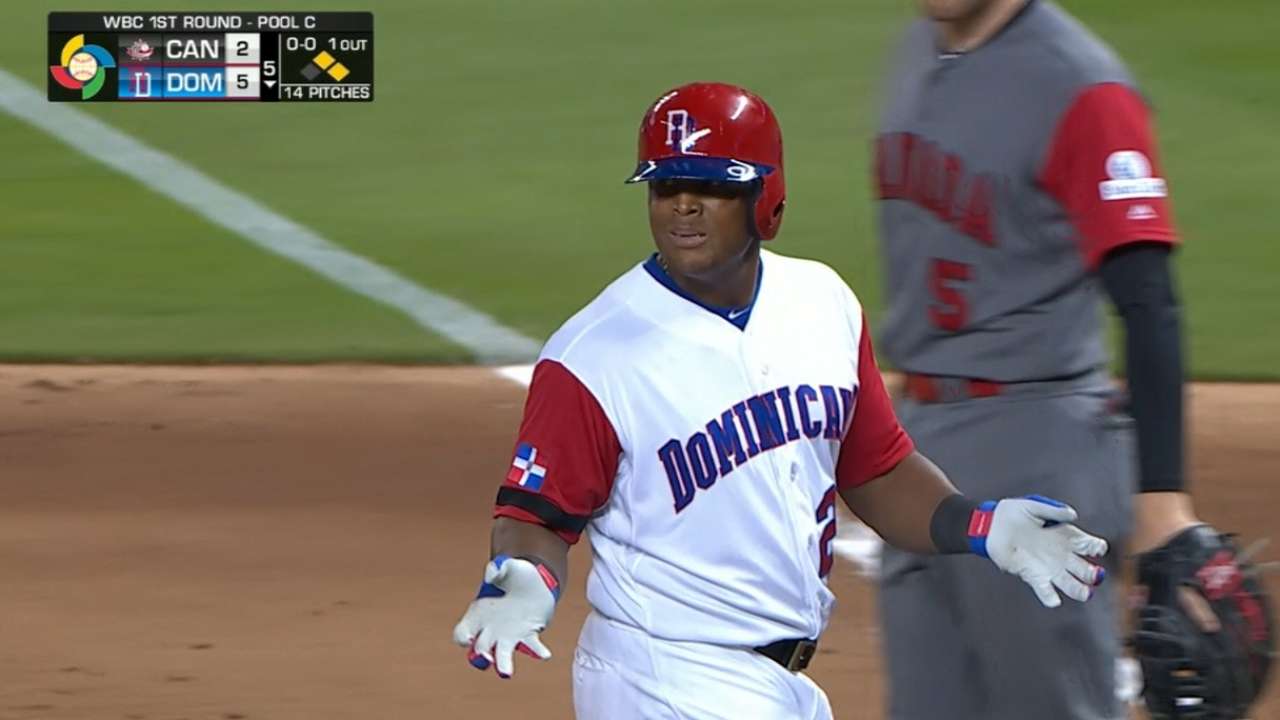 Look at Adrian Beltre. The Rangers' third baseman, almost certain to be a Hall of Famer when he retires, suffered a serious calf strain on Feb. 14, almost immediately after reporting to Spring Training. Beltre was expected to be sidelined three weeks, but he found a way to get back on the field last weekend and somehow persuaded team management to let him travel to Miami to serve as the designated hitter in a lineup that includes Robinson Cano, Manny Machado, Bautista, Nelson Cruz and Gregory Polanco.
You get zero complaints from Dominican players about the event being held in the middle of Spring Training. If anything, they embrace the chance to jumpstart their seasons by traveling the world with many of their best friends in baseball.
"I like to get away from Spring Training for a little bit,'' Cano said. "But it's always fun to come and represent your country. … We love our country and we would love to do it, no matter when they [hold] it.''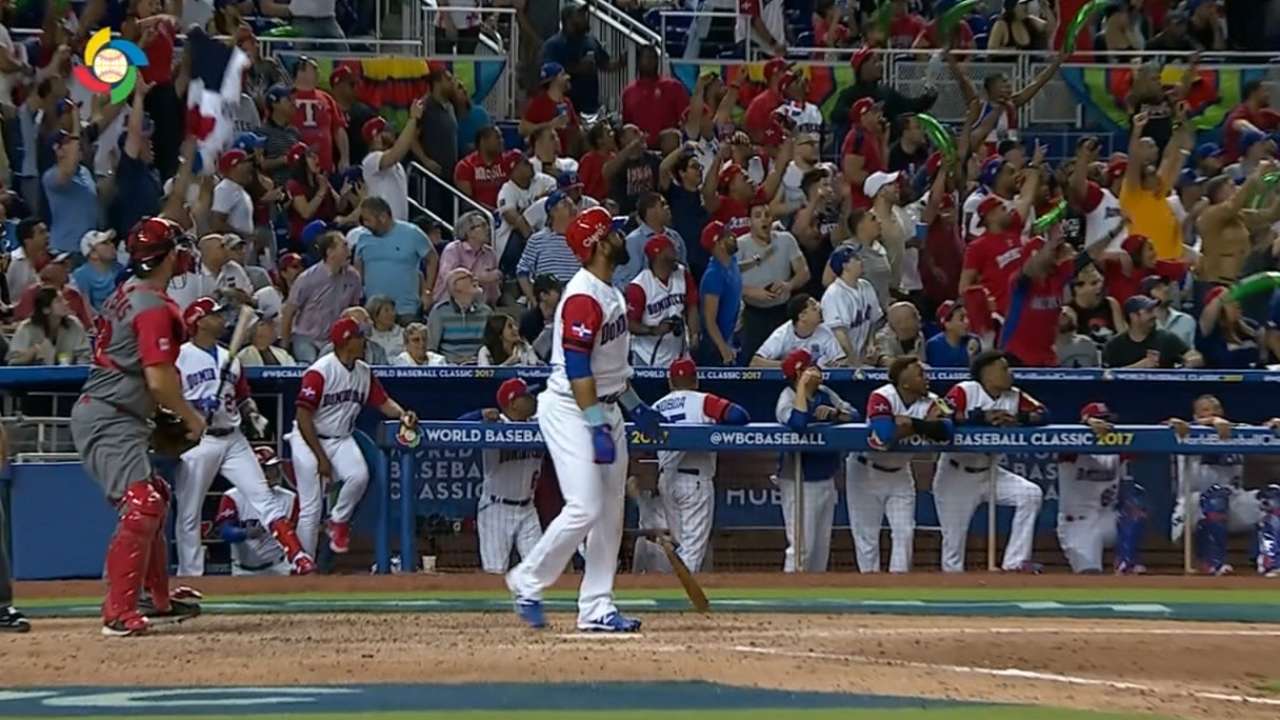 There's a bittersweet element to the quest that Cano and his teammates undertake this time around. That was evident when Carlos Martinez scratched out the numbers 30 and 18 in the dirt on the pitcher's mound before the game's first pitch.
Those were the numbers worn by Royals pitcher Yordano Ventura and Andy Marte, who were killed in car wrecks in the Dominican Republic. They were popular members of the fraternity, gone way too soon, and the Dominican team plans to keep their jerseys in the dugout throughout the Classic.
Those jerseys carry a lot of meaning.
"Whenever we put a uniform on that says Dominicana in front, it means a lot to us,'' said Pena, the former catcher who is now the Yankees' first-base coach. "We are not only representing ourself but we have a country that we need to represent. And everybody is counting on us.''
Pena and his players feed off the passion in the stands, but they are keenly aware of the support they have in Santo Domingo and throughout their homeland.
"From what I've been told, in the Dominican Republic when the game starts, it's like a curfew,'' Pena said. "Everybody's home watching the game and seeing what's going to happen.''
The Dominican Republic hasn't lost a game in the Classic since 2009, when a throwing error by reliever Carlos Marmol allowed the Netherlands to beat them in 11 innings in an elimination game played in Puerto Rico. How long ago was that?
Kenley Jansen, who this offseason signed an $80 million contract as the Dodgers' closer, was the starting catcher for the Dutch team. That's a long time ago.
"They obviously have a very strong team -- good pitching, play good defense and they have a lot of swagger,'' Canadian starter Ryan Dempster said. "Rightfully so, they're the defending champs. [But] they're beatable. You just have to go out there and out-execute them.''
Given its own All-Star lineup, Team USA has a shot to do that. March baseball doesn't get better than this.
The World Baseball Classic runs through March 22. In the U.S., games air live exclusively in English on MLB Network and on an authenticated basis via MLBNetwork.com/watch, while ESPN Deportes and WatchESPN provide the exclusive Spanish-language coverage. MLB.TV Premium subscribers in the U.S. have access to watch every tournament game live on any of the streaming service's 400-plus supported devices. The tournament is being distributed internationally across all forms of television, internet, mobile and radio in territories excluding the U.S., Puerto Rico and Japan. Get tickets for games at Marlins Park, Tokyo Dome, Estadio Charros de Jalisco in Mexico, Petco Park, as well as the Championship Round at Dodger Stadium, while complete coverage -- including schedules, video, stats and gear -- is available at WorldBaseballClassic.com.
Phil Rogers is a columnist for MLB.com and has covered Major League Baseball since 1984. This story was not subject to the approval of Major League Baseball or its clubs.