Italy slugs early, stuns Mexico late with 5-run 9th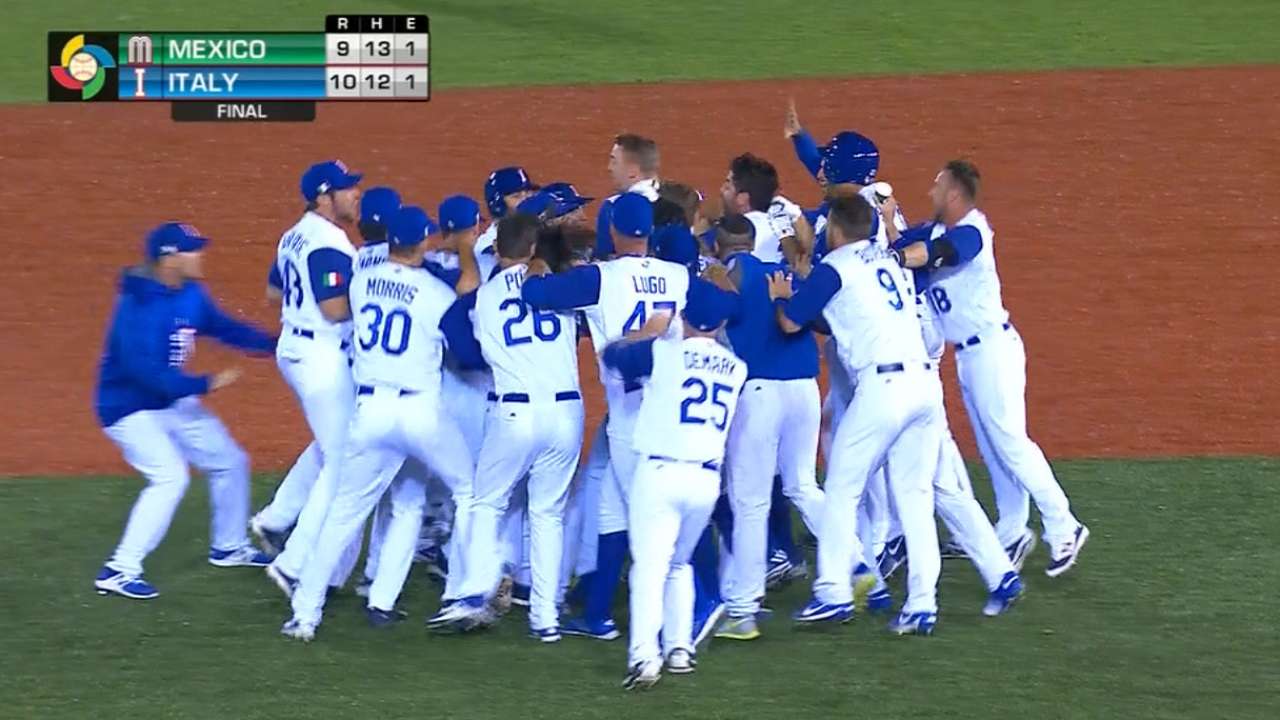 For the second time in as many World Baseball Classic contests against Mexico, Italy mounted a stunning ninth-inning comeback to win the opener of Pool D play in Jalisco, 10-9.
With Mexico nursing a comfortable four-run advantage heading into the bottom of the ninth, Italy's Francisco Cervelli, Chris Colabello and Alex Liddi hit consecutive doubles off reliever Roberto Osuna. That was followed by an error at shortstop for Mexico, a walk and a Brandon Nimmo single. John Andreoli hit a walk-off single to lift Italy to victory.
Italy slugged four of the six homers in the game, all in the first five innings. Andreoli hit a solo shot in the first, and in the fourth, both Rob Segedin and Colabello went deep. Drew Butera belted a solo homer in the fifth.
Mexico was in control after reclaiming the lead in the fifth, as Vidal Nuno, Carlos Torres, Joakim Soria and Sergio Romo combined for four scoreless innings before Italy's ninth-inning rally.
MOMENTS THAT MATTERED
Blast-off: Second baseman Esteban Quiroz wasted no time in getting Mexico on the board, leading off the game with an opposite-field home run over the left-field wall off Italy starter Alessandro Maestri. Quiroz followed that up with an RBI double in the third to put Mexico up, 2-1. More >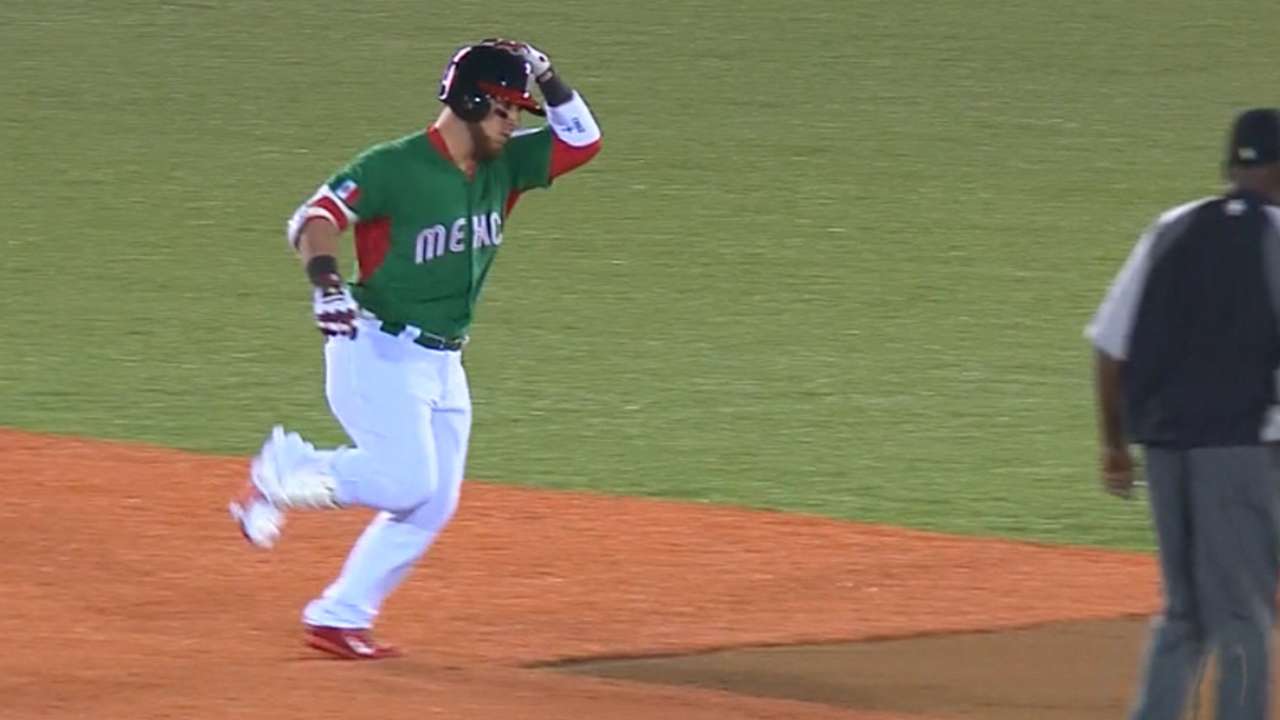 Amador says 'Adios': With one out in the fourth, Japhet Amador launched a 1-2 pitch from Italy reliever Tiago da Silva over the wall in left to extend Mexico's lead to 3-1. Mexico tacked on another run in the frame on a Sebastian Elizalde single.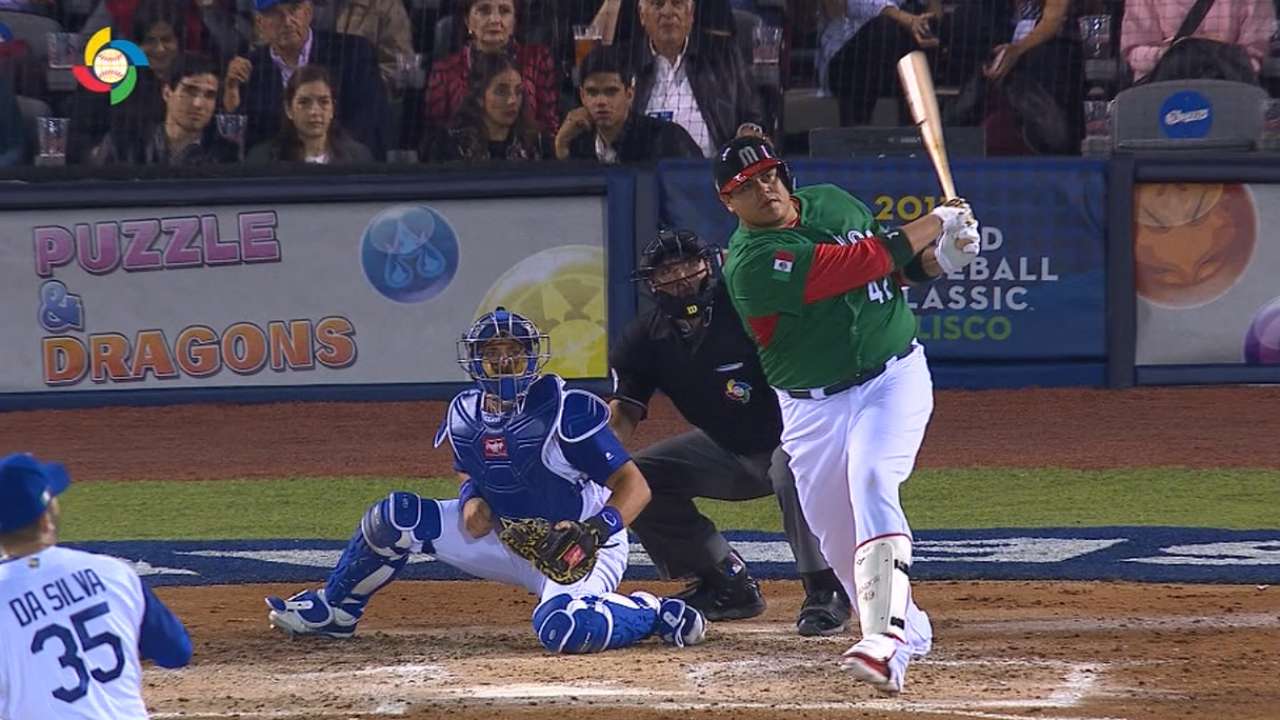 Buca di Oppo: After seeing Mexico pad its lead in the top half of the inning, Segedin and Colabello pulled Italy even with a pair of homers to right field off Mexico starter Yovani Gallardo in the bottom of the fourth.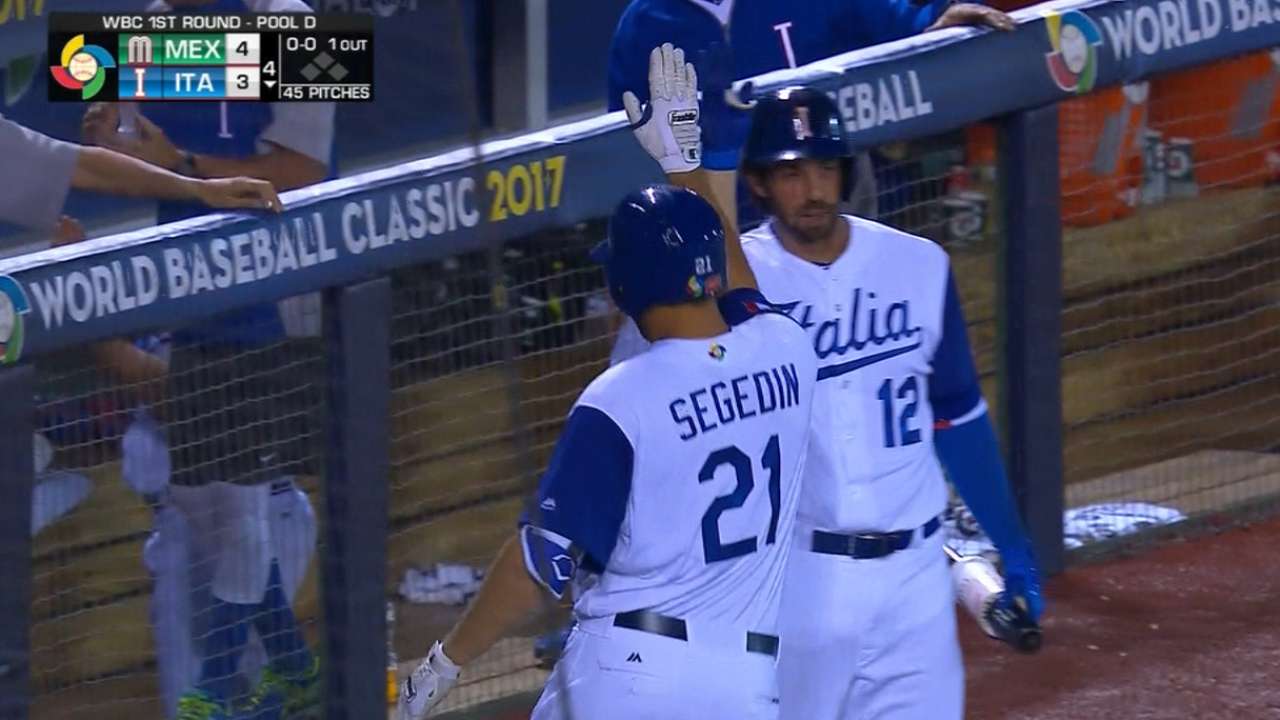 Cruz control: With two outs and the bases loaded in the fifth, Luis Alfonso Cruz jumped on the first pitch he saw from Italy's Pat Venditte, driving it down the left-field line for a two-run double to reclaim a three-run lead for Mexico.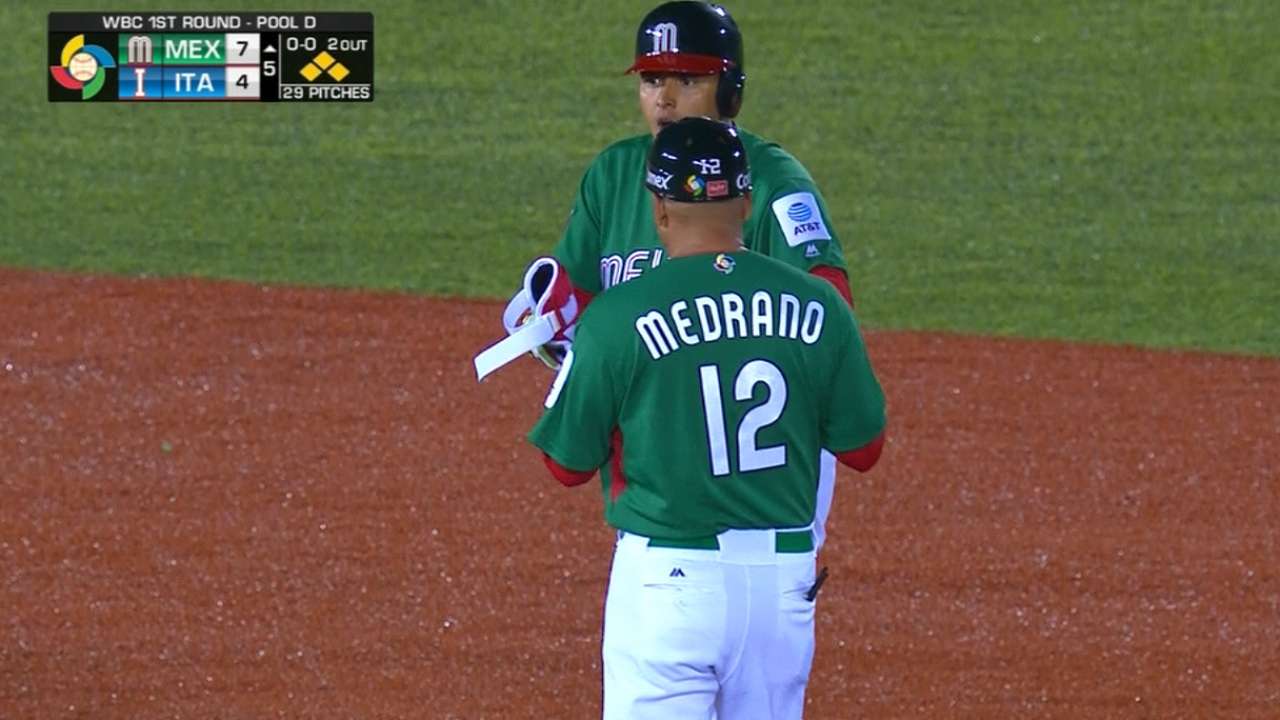 Nimmo's clutch knock: Down 9-7 in the ninth, Mets prospect Nimmo drove a 1-2 pitch from Oliver Perez to right field, where Dodgers prospect Alex Verdugo dove to his right but couldn't come up with the catch. As the ball kicked away from Verdugo, a run scored to bring the Italians within one.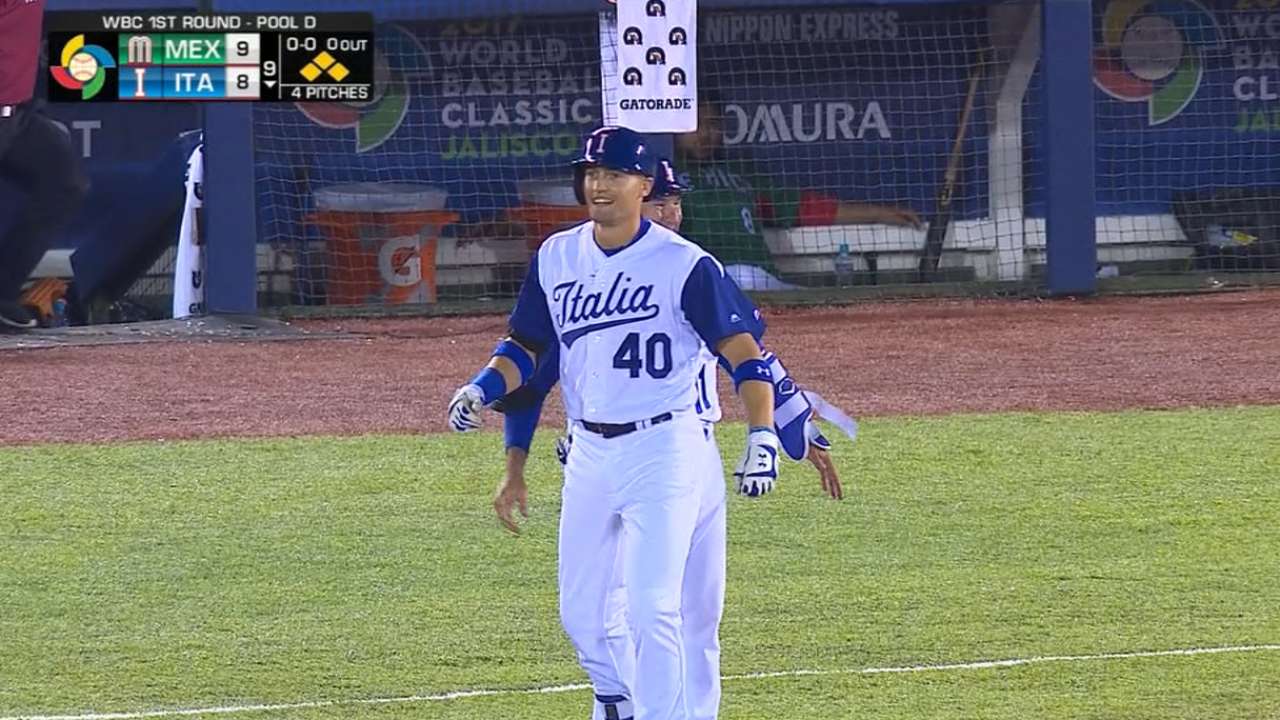 QUOTABLE
"Well, for some reason, any time Italy wins, it's a big surprise. It's been like that for eight years now. The only ones that are not surprised, it's these guys, because they're playing to win. They're playing to win every pitch. And sometimes we're able to make it, sometimes we don't make it. But they play to win, and they showed it tonight." -- Italy manager Marco Mazzieri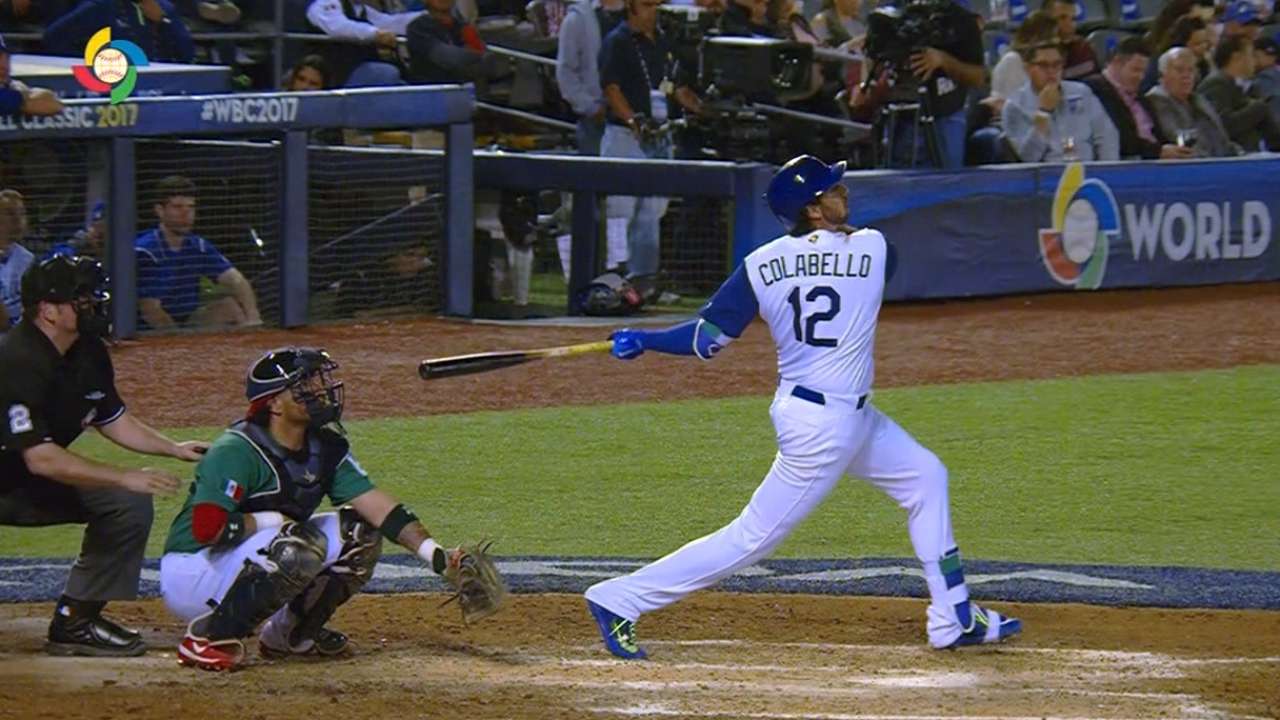 "We were winning, 9-5, in the last inning. They are all closers from the big leagues, and I don't see anything that could have been different. We were up, 9-5, with the best closers in the big leagues. You cannot do anything different. Baseball didn't pay off today; it wasn't our game. We know [Osuna's] an awesome pitcher, and there are good days and bad days for everybody." -- Mexico manager Edgar Gonzalez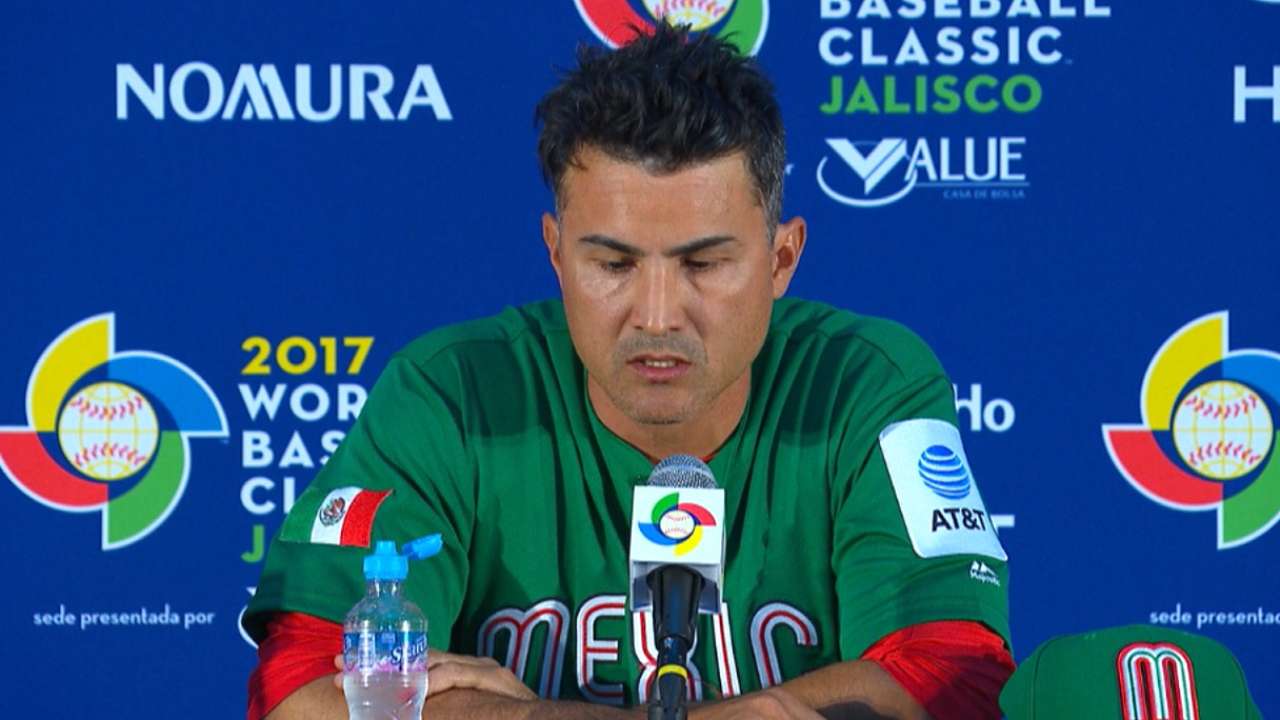 WHAT'S NEXT
Mexico: Mexico takes on Puerto Rico on Saturday at 9:30 p.m EST. Puerto Rico was the runner-up in the 2013 Classic, losing to the Dominican Republic in the championship game.
Italy: Italy's next opponent in round-robin Pool D play is Venezuela, on Saturday at 3 p.m. EST.
The World Baseball Classic runs through March 22. In the U.S., games air live exclusively in English on MLB Network and on an authenticated basis via MLBNetwork.com/watch, while ESPN Deportes and WatchESPN provide the exclusive Spanish-language coverage. MLB.TV Premium subscribers in the U.S. have access to watch every tournament game live on any of the streaming service's 400-plus supported devices. The tournament is being distributed internationally across all forms of television, internet, mobile and radio in territories excluding the U.S., Puerto Rico and Japan. Get tickets for games at Marlins Park, Tokyo Dome, Estadio Charros de Jalisco in Mexico, Petco Park, as well as the Championship Round at Dodger Stadium, while complete coverage -- including schedules, video, stats and gear -- is available at WorldBaseballClassic.com.
Manny Randhawa is a reporter for MLB.com. This story was not subject to the approval of Major League Baseball or its clubs.