MLB's Honorary Bat Girl Contest underway
Each club to select a winner for showing initiative in fight vs. breast cancer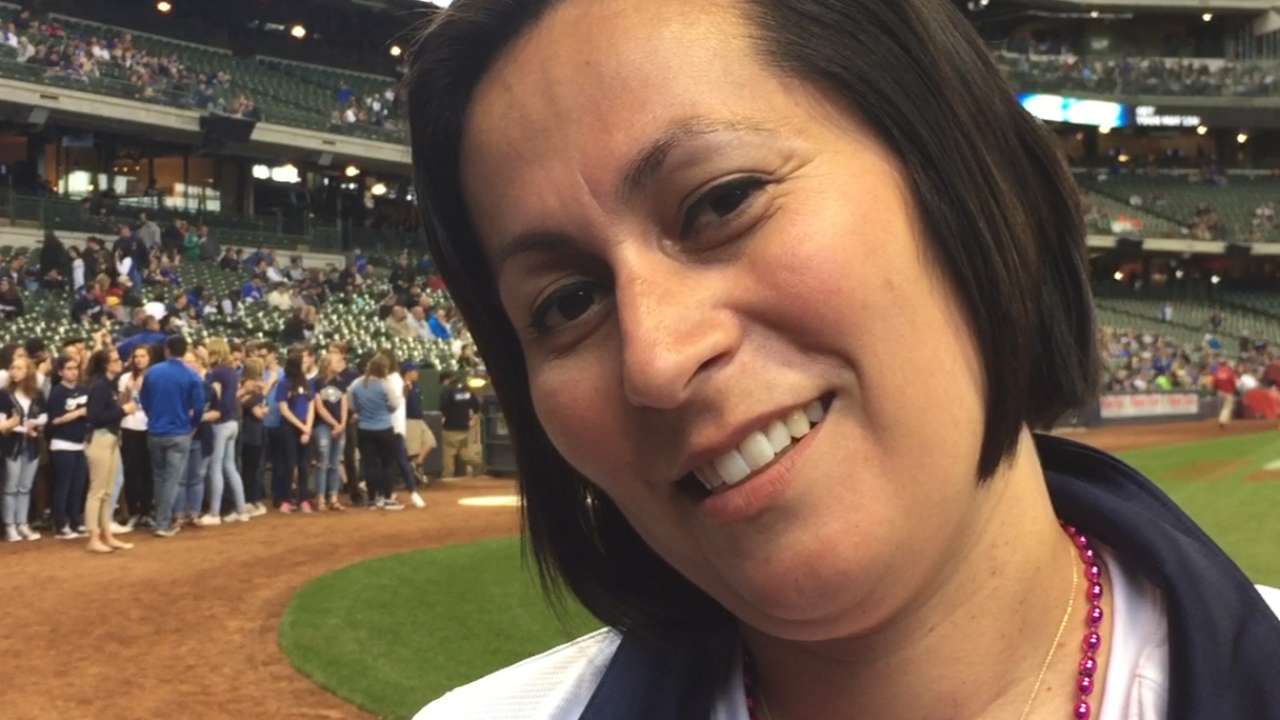 Entries are underway through April 12 for Major League Baseball's annual Honorary Bat Girl Contest, which will recognize one fan per MLB club who has been affected by breast cancer and has demonstrated a commitment to battling the disease.
Breast cancer survivors, friends and family, advocates and supporters of the cause, regardless of gender, can submit stories about themselves or loved ones who are "Going to Bat Against Cancer" by visiting HonoraryBatGirl.com for a chance to be recognized on-field by their favorite team on Mother's Day, May 14. Entrants must be at least 18 or over.
Supporters of the contest participants have the opportunity to vote online for these inspirational stories. During MLB's annual recognition of Mother's Day, one Honorary Bat Girl per club will take part in pregame activities and will also receive pink MLB merchandise. For clubs that are away on Mother's Day, another home game will be selected to recognize their Honorary Bat Girl.
A panel featuring several guest judges and an online public vote at HonoraryBatGirl.com will help select the winning submissions based on the following criteria: quality of submission in describing the nominee's personal connection to breast cancer, the nominee's commitment to the battle against breast cancer through education/awareness/fundraising/additional efforts, and public appeal (as determined by the public online vote). Each judge will review a portion of the submissions, and their rankings will be considered in the selection process.
Uzo Aduba, Emmy Award-winning star of the hit Netflix series "Orange Is the New Black" and a Stand Up To Cancer ambassador, will serve as a guest judge on the panel in honor of her friends and family members affected by cancer. Brenda Song, star of CBS drama "Pure Genius," will serve as a guest judge on the panel in honor of her mother, who has successfully fought breast cancer three times. Orioles starting pitcher Kevin Gausman, who lost both of his grandmothers to breast cancer, will return as a guest judge. A's shortstop Marcus Semien will serve on the panel in honor of his best friend's mother, who is a breast cancer survivor.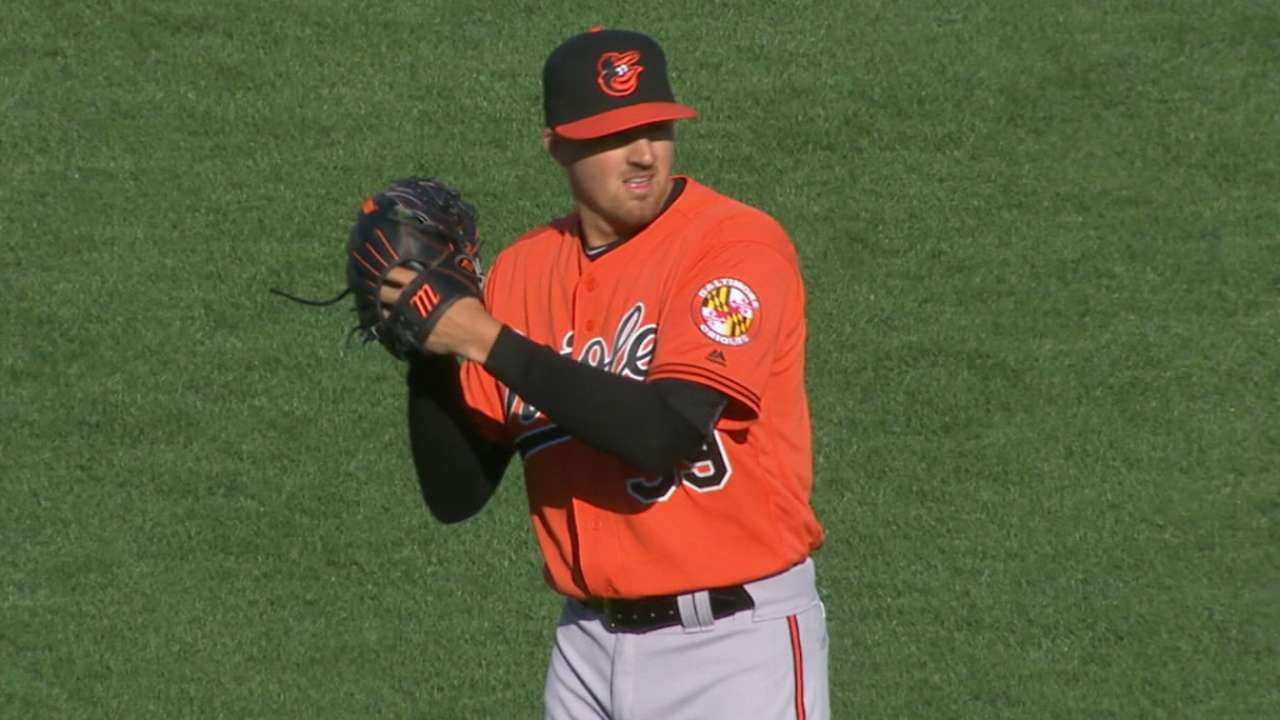 Royals left fielder Alex Gordon will be a guest judge for his mom, Leslie, who is a breast cancer survivor. Brock Holt from the Red Sox also will serve on the panel as part of his continuing efforts to support the cause against cancer, which include time and financial commitments to The Jimmy Fund and the Dana Farber Cancer Institute. Marlins first baseman Justin Bour and Phillies starting pitcher Jerad Eickhoff will each serve on the panel for the first time. Eickhoff's aunt is battling breast cancer for the third time.
Lindsay Berra and Alyson Footer from MLB.com will serve as guest judges. Berra has several close friends who have been affected by the disease, while Footer lost her mother to cancer and has an aunt who is a breast cancer survivor. ESPN's Holly Rowe and Shelley Smith, both of whom are breast cancer survivors, will join the judging panel for the first time.
MLB Network hosts on the panel will include Chris Rose, who has lost several close friends to the disease, and Kelly Nash, an active supporter of women's health initiatives.
In the U.S., about one in eight women will develop invasive breast cancer, and there will be more than 246,000 new cases. Renee Heine, last year's Honorary Bat Girl winner for the Yankees, said sharing stories in this large-scale way is a positive in the fight.
Heine was diagnosed at age 37, after ignoring her doctor's suggestion the previous year and then finally going in for a routine mammogram. Within a day of her first mammogram, she was called back for additional tests. A week later, Heine was told that she had ductal carcinoma in her right breast. She underwent two surgeries, 30 rounds of radiation and five years of hormone therapy. Watching the Yankees, Heine said, was a "good outlet" that helped get her through the grind.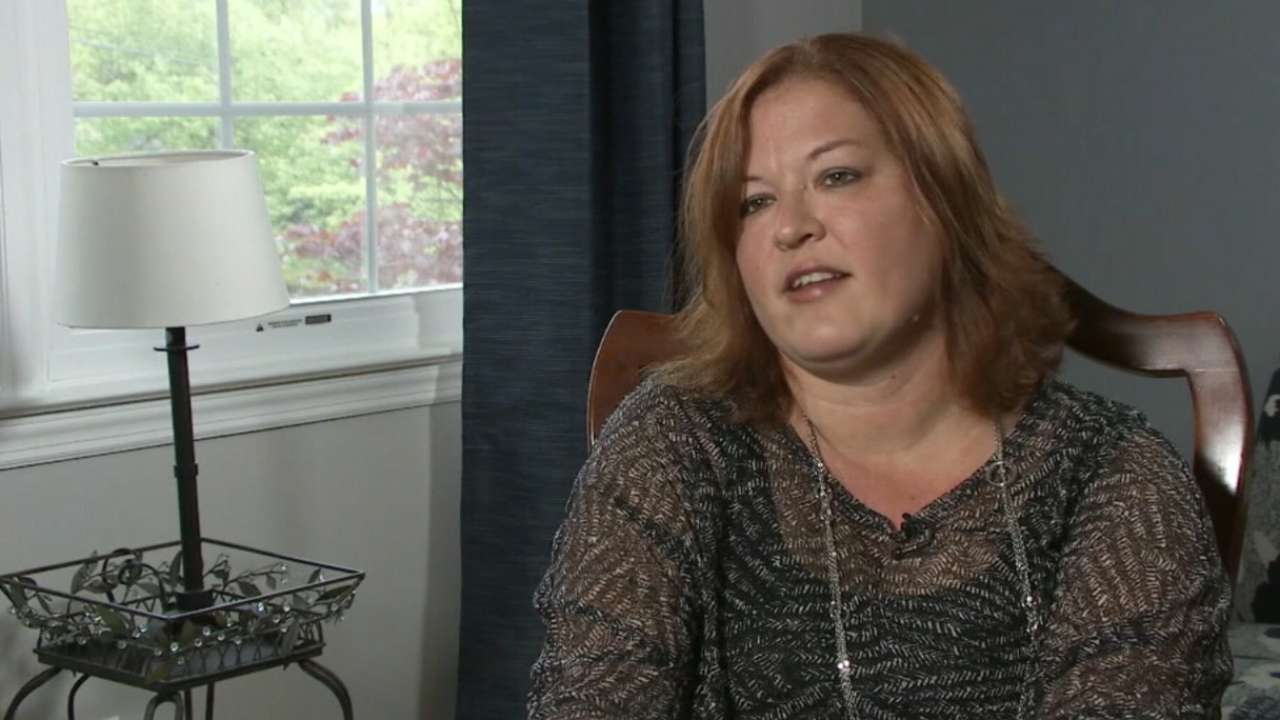 "Breast cancer doesn't care about your age," Heine said. "It doesn't discriminate and it can happen in your 30s. It can happen younger. So that's really [why I] strive, to keep going again and to fight for women. The more awareness that's out there, the more lives that can be saved. The more people hear other people's stories of their struggles with cancer, there's going to be more people who fought like me, and said, 'Let me just go get checked. Let me do this for me.' The more you hear it, the better it will help you."
On Mother's Day, players and on-field personnel will wear the symbolic pink ribbon on their uniforms, along with pink wrist bands. Players also will wear specially designed uniforms that incorporate pink into the clubs' regular logos. Commemorative base jewels and dugout lineup cards also will be pink. Games will feature a pink-stitched Rawlings game ball. Many players also will use pink bats, and pink Louisville Slugger bats will be stamped with the MLB breast cancer awareness logo.
Many authenticated game-used Louisville Slugger pink bats and other pink items from Mother's Day games -- like this game-used first base from the Mets-Padres game on Mother's Day 2016 -- will be up for bidding exclusively on MLB.com/auction to benefit the fight against breast cancer.
During the last Winter Meetings, MLB PR directors teamed up to conduct a special Play Ball auction that raised more than $235,000 for the renovation of an existing youth baseball and softball field in memory of Shannon Forde, the beloved longtime Mets PR executive who died at the age of 44 last year of breast cancer.
The Honorary Bat Girl program was introduced in 2009 to raise additional awareness and support for the annual "Going to Bat Against Breast Cancer" initiative, which is commemorated on Mother's Day. In eight years, thousands of unique testimonials have been submitted and more than three million fan votes have been cast in the MLB initiative, which is supported by charitable partners Stand Up To Cancer and Susan G. Komen. The initiative raises awareness about breast cancer, while also raising funds to support breast cancer research, and you can see last year's winners here.
Mark Newman is enterprise editor of MLB.com and a baseball writer since 1990. Read and join other baseball fans on his MLB.com community blog. This story was not subject to the approval of Major League Baseball or its clubs.