MLB.com Columnist
Jonathan Mayo
Braves' farm system ranked No. 1 in MLB
New Top 30 Prospects list led by Swanson, Albies and Maitan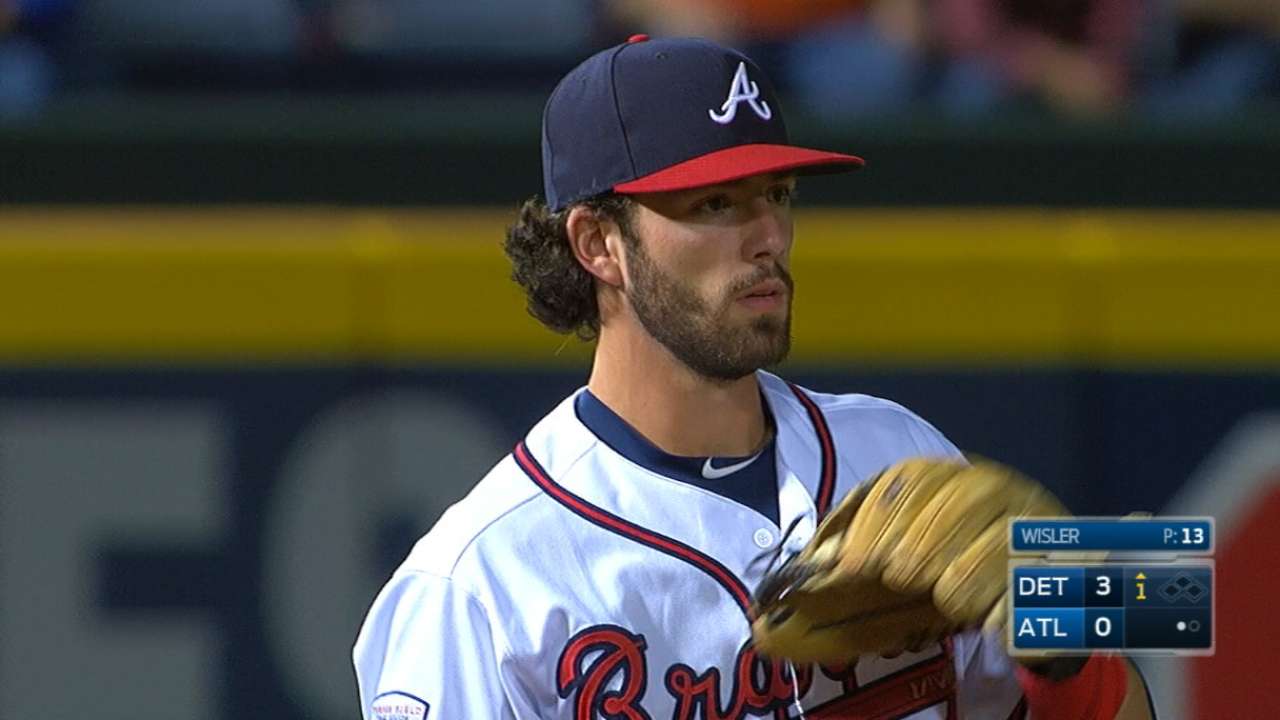 As the Braves have gone all-in on the rebuilding front, with the obvious primary goal of funneling players up to a winning big league club, there has been a second clear objective: having the top farm system in all of baseball.
Well, after coming in at No. 9 in 2015 and No. 2 a year ago, they can cross that off the bucket list. The Braves now have, according to MLBPipeline.com, the top system in the land.
• Braves' Top 30 Prospects list
There's a ton of elite-level talent, with seven players on the Top 100 list, led by No. 4 overall prospect Dansby Swanson, on everyone's short list for National League Rookie of the Year. There are at least two players in Max Fried and Ronald Acuna who are already knocking on the Top 100 door, and even more down the line who could jump onto the list.
The Braves have done quite a bit of re-tooling via trades. An even dozen of the players on this Top 30 were not initially signed by the Braves, including Swanson and fellow Top 100 prospect Sean Newcomb. And the Braves haven't been afraid to send some of their prospects away to get Minor Leaguers who might be further away from the big leagues but who they felt had higher ceilings. Six of last year's Top 30 were dealt, with three acquired prospects finding a spot on this year's list.
The bigger gains have come in the Draft and on the international market. The Braves have shown an affinity for young pitching of late, with six of the top 30 being prep arms drafted in 2015 and 2016. The big international get was Kevin Maitan, who has had as much hype as any international prospect since Miguel Sano, but toolsy outfielders like Acuna and Cristian Pache, both in the top 15, were also excellent amateur acquisitions.
MLB's Top 10 farm systems
Biggest jump/fall
Here are the players whose ranks changed the most from the 2016 preseason list to the 2017 preseason list.
Jump: Ronald Acuna, OF (2016: 23 | 2017: 8) and Patrick Weigel, RHP (2016: NR | 2017: 16)
Fall: Braxton Davidson, OF (2016: 15 | 2017: 29)
Top 30 Prospects lists
| Division | Release date |
| --- | --- |
| AL East | BAL, BOS, NYY, TB, TOR |
| NL East | ATL, MIA, NYM, PHI, WSH |
| AL Central | CLE, CWS, DET, KC, MIN |
| NL Central | CHC, CIN, MIL, PIT, STL |
| AL West | HOU, LAA, OAK, SEA, TEX |
| NL West | ARI, COL, LAD, SD, SF |
Best tools
Players are graded on a 20-80 scouting scale for future tools -- 20-30 is well below average, 40 is below average, 50 is average, 60 is above average and 70-80 is well above average.
Hit: Ozzie Albies (65)
Power: Austin Riley (55)
Run: Cristian Pache (70)
Arm: Kevin Maitan (65)
Defense: Ozzie Albies (65)
Fastball: Luiz Gohara (70)
Curveball: Max Fried (60)
Slider: Luiz Gohara (55)
Changeup: Akeel Morris (60)
Control: Mike Soroka (55)
How they were built
Draft: 13
International: 5
Trade: 12
Breakdown by ETA
2017: 9
2018: 5
2019: 9
2020: 7
Breakdown by position
C: 1
2B: 2
3B: 2
SS: 3
OF: 5
RHP: 8
LHP: 9
Here's a look at the Braves' preseason Top 10 prospects from each of the past seven years (click here to see a larger image):
Jonathan Mayo is a reporter for MLBPipeline.com. Follow him on Twitter @JonathanMayo and Facebook, and listen to him on the weekly Pipeline Podcast. This story was not subject to the approval of Major League Baseball or its clubs.