On big day for bats, Rays arms nearly perfect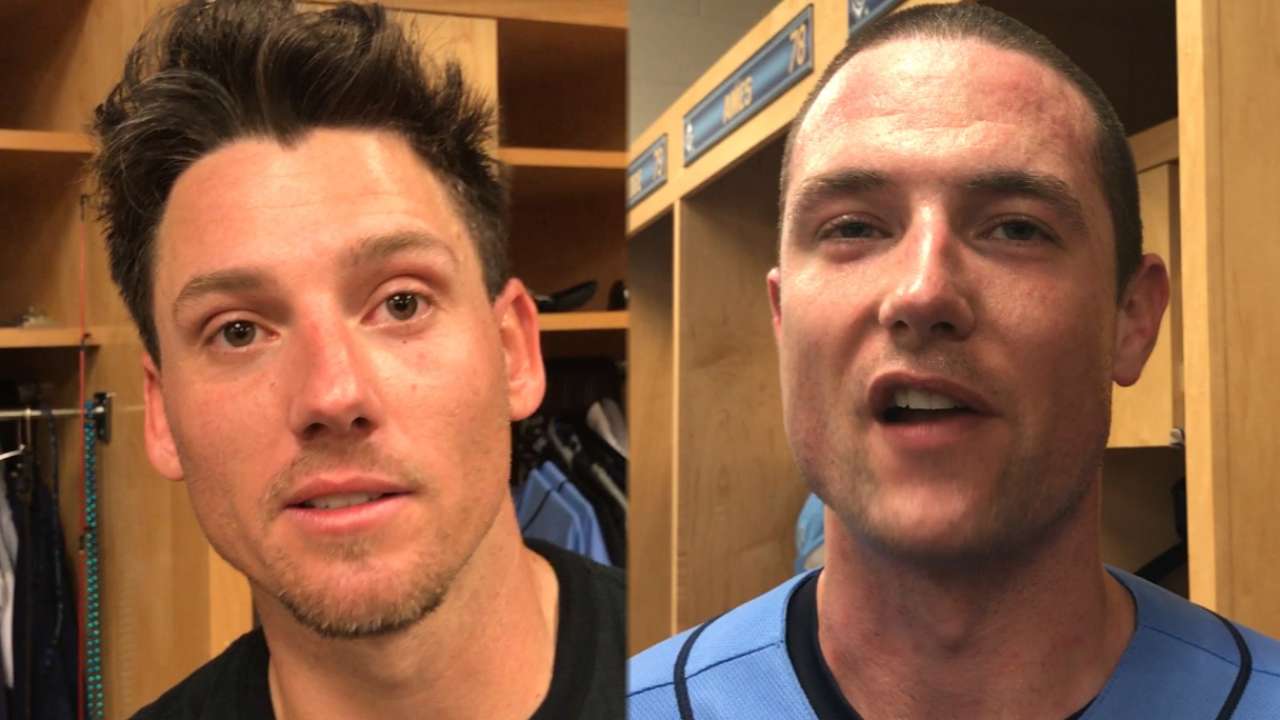 PORT CHARLOTTE, Fla. -- Six outs separated the Rays from spinning a perfect game in what would be a 19-0 win over the Twins on Tuesday afternoon.
Benji Gonzalez finally broke the spell against Neil Wagner with a single through the right side to lead off the Twins' eighth.
By that time, most spectators in Charlotte Sports Park were so mesmerized by the fireworks put forth by the Rays' offense -- 19 runs on 23 hits -- that the silence from the Twins' bats went largely unnoticed.
Whispers of a possible perfect game began to move around the park by the time Danny Farquhar took the mound in the sixth.
"It was probably two outs into my first inning when I realized we had a perfect game," Farquhar said. "I'm like, 'Wow, we have a lot of points, and they have zero points. I'm going to try and not mess this up.'
"It was weird. That's cool it was a perfect game [through seven innings]. That means all the pitchers pitched well."
Alex Cobb, Dana Eveland, David Carpenter, and Alex Colome preceded Farquhar, who then retired the Twins in order in the sixth and seventh innings. Wagner then entered the game to pitch the eighth.
"I didn't really notice that we hadn't given up a hit until about the sixth inning," said Wagner, noting that his teammates weren't talking about a possible perfect game, though "a couple of fans did."
Bottom line, perfect game or not, Wagner was pitching in a Spring Training game, so the plan was to "get my work in" and "try to dial in the strike zone a little better."
Wagner noted that Gonzalez hit a fastball.
Luke Maile caught the final four innings for the Rays.
"It was one of those weird games where we scored 19 runs, but it was actually moving pretty decent," Maile said. "It wasn't like it took four hours to play. There was a weird vibe, it would have been cool for it to happen, but it didn't."
Minnesota manager Paul Molitor looked at the scoreboard after seven innings and wasn't exactly seeing seashells and balloons.
"In the eighth inning we had four zeros [on the scoreboard] and they had 19 [runs]," Molitor said. "We probably faced 50 hitters in eight innings, and threw 160 pitches. First-pitch strikes were probably 50 percent or less. We missed some plays that added to our problems.
"... The first few innings, I thought our at-bats were good. Byron Buxton had a good at-bat to open the game. But they were throwing strikes and we weren't squaring anything up. We had some long innings on the defensive side. I just wanted the guys not to give at-bats away as best as they could given the circumstances. We didn't do much."
Bill Chastain has covered the Rays for MLB.com since 2005. This story was not subject to the approval of Major League Baseball or its clubs.