Showalter believes Bundy is ready to step up
Righty set for first Grapefruit League start vs. Red Sox on Wednesday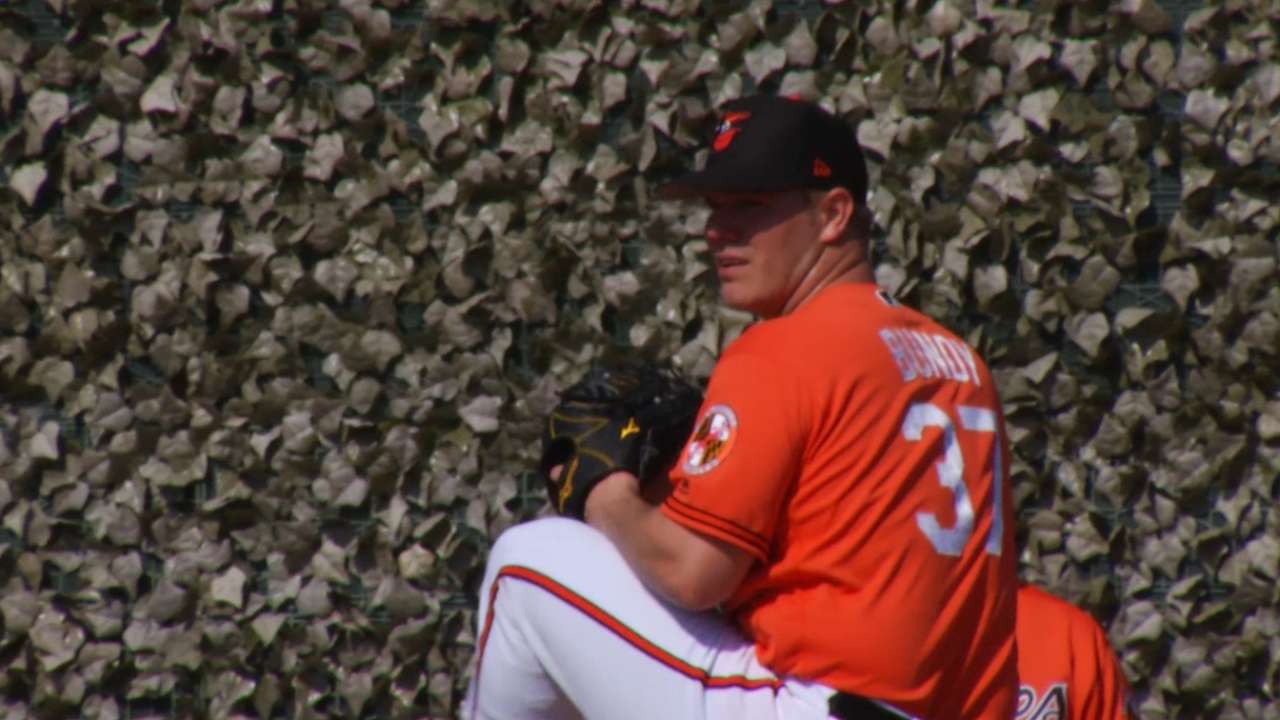 CLEARWATER, Fla. -- Dylan Bundy proved he was a Major League starter in 2016 even though he didn't start in Spring Training at all. Bundy, the fourth overall Draft choice in 2011, had Tommy John surgery in '13, and he wasn't put in the starting rotation last season until after the All-Star break.
"Finishing up last year with 14 starts and then getting a start in spring here is a kind of a big step for me in a game here because I haven't done it in a while," said Bundy, who is slated to start Wednesday's Grapefruit League game vs. the Red Sox.
• Spring Training: Info | Tickets | Schedule | Gear
Last season, the Orioles made sure that Bundy had plenty of rest -- even between some relief appearances in the season's first half -- and as a result, he's feeling strong.
"No problems at all, just going out there and taking care of my arm and doing all the stuff I need to do off the field and to prepare my body for the season," Bundy said.
Manager Buck Showalter said that Bundy, who was 10-6 with a 4.02 ERA in 109 2/3 innings in 2016, is ready to move up.
"There's always uncharted territory with every young pitcher," Showalter said. "It may not be innings, but it might be the level they're pitching at. Everything is uncharted. That's what [Kevin Gausman] has kind of gotten behind. He's faced this competition. Dylan has a little bit."
With Chris Tillman ruled out of the April 3 opener because of a sore right shoulder, Gausman could get the Opening Day start, and Bundy could be slotted second for now. Tillman will be a free agent after this season. Bundy and Gausman could be at the front of the rotation in 2018.
"I think about things that could happen," Showalter said. "I think he and Gaus are capable of going to another level because a lot of it we just don't know. Kevin, maybe a little more so, they have some things in their resume now that lend to really being in a comfort zone to do what they're capable of doing without thinking about innings or past surgeries. Dylan's ready."
Showalter noted that in his first season of starting, Bundy tired near the end of the year. He plans to use the righty judiciously, but he won't put him on a strict pitch limit early in the season.
"I thought Dylan towards the end of last season -- he'd never admit it," Showalter said. "It wasn't showing up in velocities. It was just a little different crispness to his stuff. We're putting him at the back end when we get an extra day. We float him in the back.
"I'm not saying we won't get to that point this year, but it won't be at the front. If we get to the point where we won't have this guy in September and October if we don't back off a little, it might be miss a start before the break and be the last guy out after the break."
Rich Dubroff is a contributor for MLB.com. This story was not subject to the approval of Major League Baseball or its clubs.