Banuelos focused on good health with Angels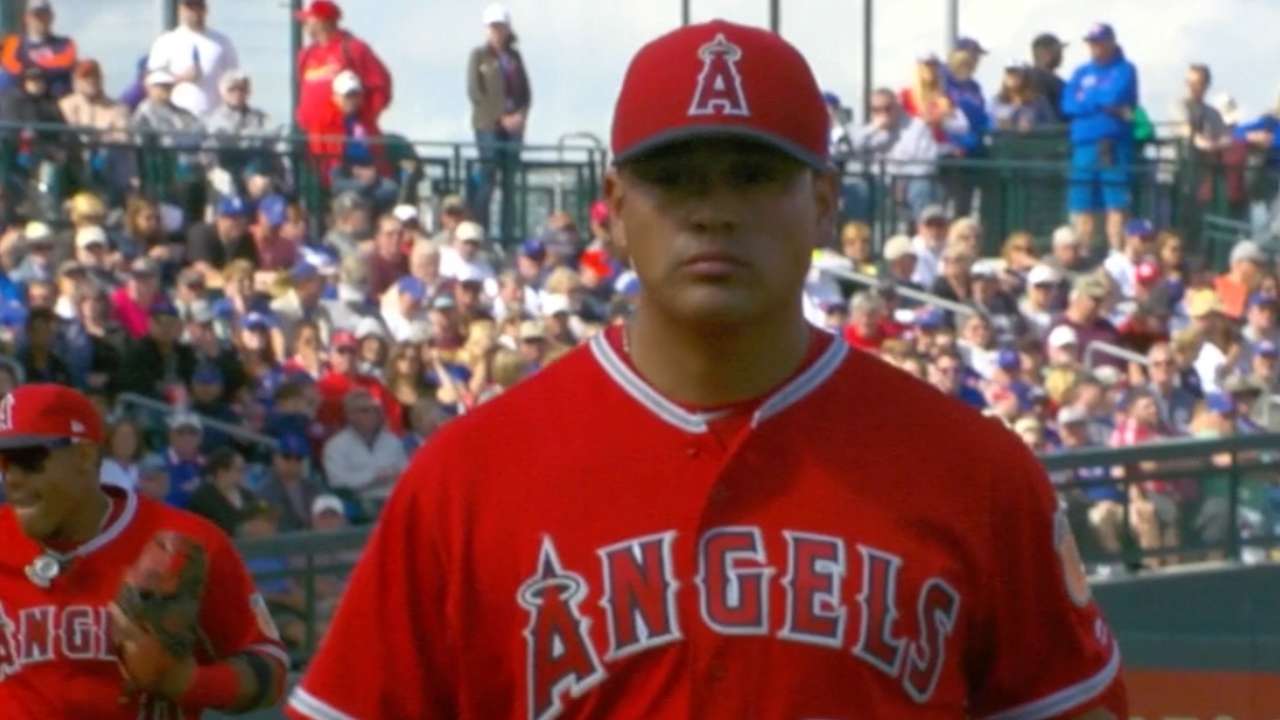 MESA, Ariz. -- Left-hander Manny Banuelos returned to the mound for the first time in seven months on Tuesday when he started the Angels' 7-5 win over the Cubs at Sloan Park.
Banuelos, who walked three over two hitless innings, signed a Minor League deal in August, but he did not pitch for the rest of the 2016 season while recovering from bone spurs in his elbow. While Banuelos acknowledged that his command needs to be sharper, he said he was simply grateful to finally be healthy after dealing with various arm injuries over the last few years.
• Thaiss learning ropes in Major League camp
"It was not perfect," Banuelos said. "I've got to keep working on my fastball command, but the very important thing is to stay healthy, and I am right now."
Banuelos, 25, was once a heralded pitching prospect for the Yankees, but his ascent stalled after undergoing Tommy John surgery in 2012. He missed the entire '13 season and struggled after returning to action. Banuelos briefly rebounded in '15 and reached the Majors with the Braves, but he logged a 5.13 ERA in six starts before being demoted. He had a 5.33 ERA in 14 Minor League starts when Atlanta released him last summer.
Banuelos said he didn't throw for a month and a half after joining the Angels and focused solely on rehabbing his elbow. He said his arm feels good for the first time since the spring of 2015.
"When I signed with the Angels, they did a really good job with the rehab," Banuelos said. "I feel great. My arm feels great, feels healthy. I don't feel anything in my elbow now."
Banuelos is among the candidates for the fifth spot in the rotation, though his pedigree and background make him one of their more intriguing options. Angels manager Mike Scioscia said on Tuesday that the club views Banuelos as a starter, meaning he'll likely open the season in Triple-A if he's unable to win a spot in the rotation rather than pitch out of the bullpen in the Majors.
"I think he's got tremendous upside," Scioscia said. "I think his stuff plays up. He's got a plus fastball. He spins it well. I think he's still just trying to figure some things out. But there's no doubt that we all feel really good with the potential he has."
Worth noting
• Ben Revere is off to a fast start this spring, going 4-for-7 with a double, two walks and two RBIs in three Cactus League games. Revere, 28, signed a one-year, $4 million deal this winter and is projected to be the Angels' fourth outfielder.
"Ben does what he does," Scioscia said. "He puts the ball in play, finding holes. We know how well he runs. He's doing what he does best."
• Jesse Chavez is scheduled to start against the Rangers on Wednesday and will be the first of the Angels' projected starters to make his spring debut. Ricky Nolasco is slated to start against the Giants on Thursday. Matt Shoemaker, Tyler Skaggs and Garrett Richards will likely follow in some order this weekend.
Maria Guardado covers the Angels for MLB.com. This story was not subject to the approval of Major League Baseball or its clubs.