MLB.com Columnist
Alyson Footer
New Nats, Astros park opens to much fanfare
Commissioner praises state-of-the-art facility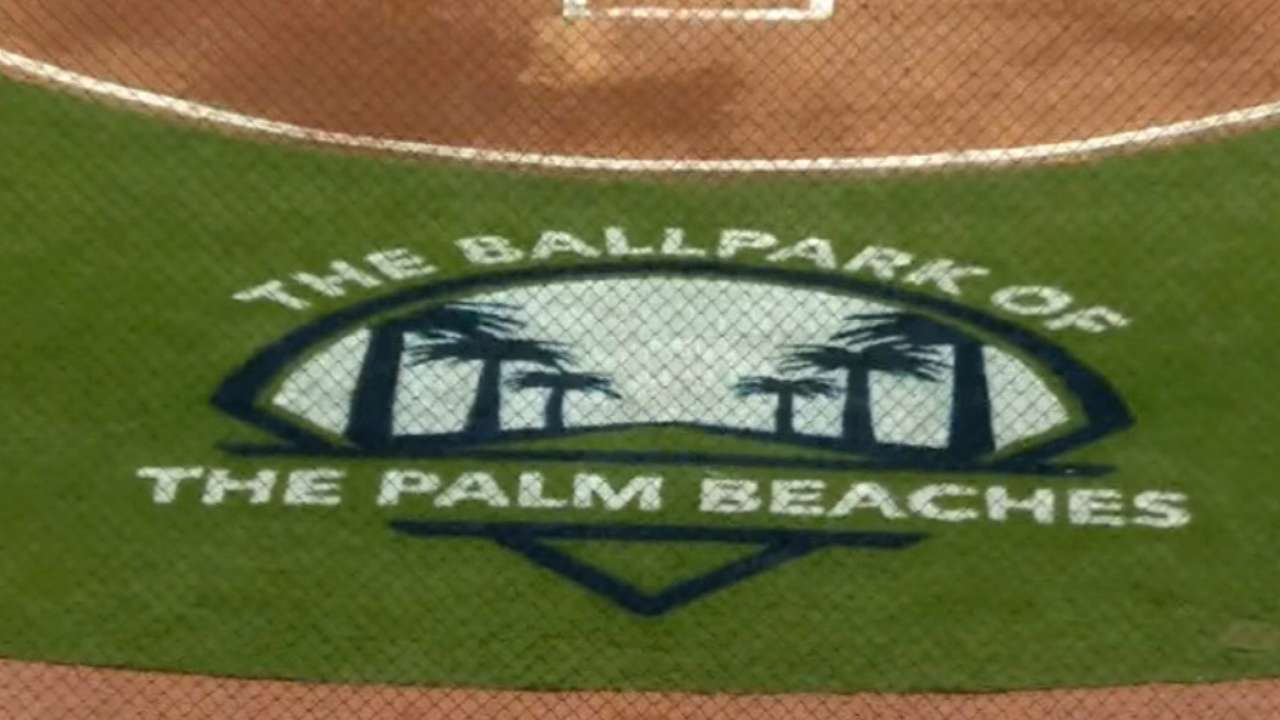 WEST PALM BEACH, Fla. -- Nationals and Astros fans were given their first glimpse of baseball's newest Spring Training facility on Tuesday, when the two clubs played their first game on the field of The Ballpark of the Palm Beaches.
As is the case with the opening of every brand-new ballpark, Tuesday's game was preceded by a festive pregame ceremony that officially ushered in the new era of spring baseball on the east coast of Florida. In attendance at the ceremony were Commissioner Rob Manfred, Astros owner and chairman Jim Crane and Nationals principal owners Ted and Annette Lerner.
Manfred praised the city of West Palm Beach and the two clubs for the construction of yet another premier facility for fans to watch Spring Training baseball.
"These Spring Training facilities just seem to get better and better," Manfred said. "You see little features for example of great facilities that we have in Arizona that the Astros and Nationals have incorporated into the facility here.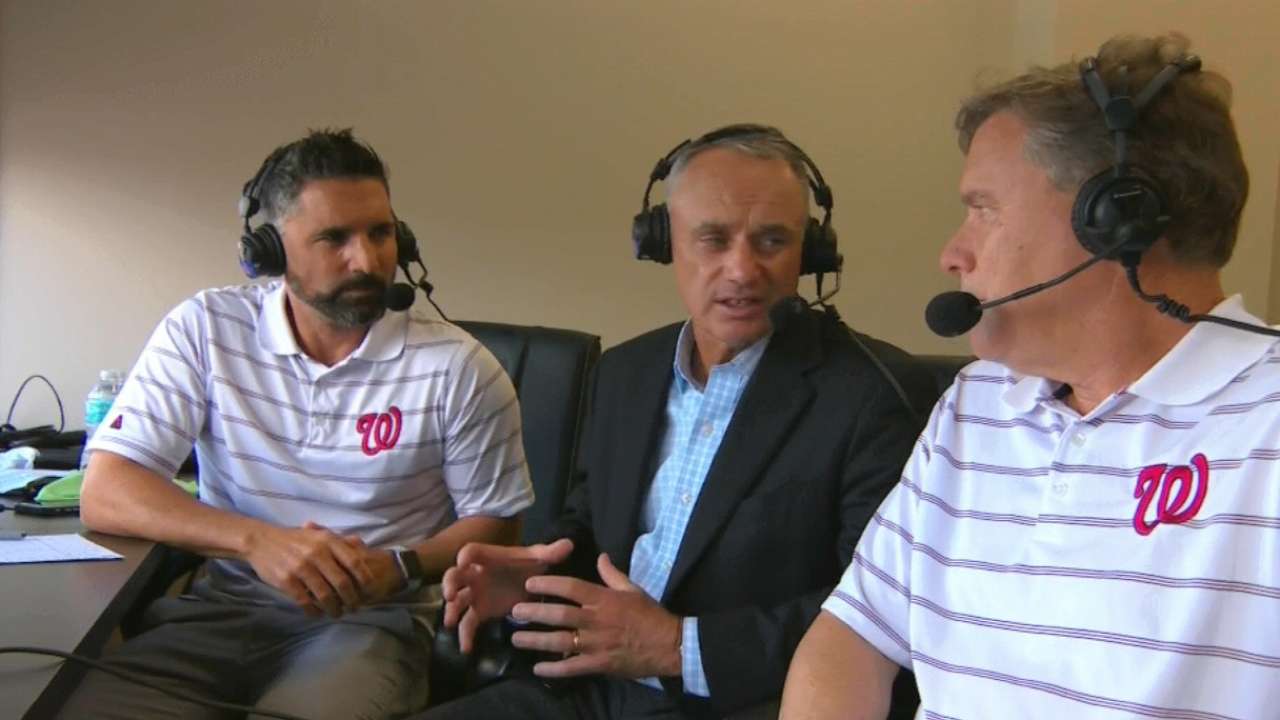 "The stadium bowl itself is absolutely first rate, but I think the backfields and practice areas are amazing as well."
A group of nearly two-dozen dignitaries -- Manfred, Crane, the Lerners and several local and civic leaders -- participated in a ribbon-cutting ceremony, followed by ceremonial pitches thrown by two children from the Crossroads Baptist Church in West Palm Beach. The pitches were caught by a budding star from each club -- the Astros' Alex Bregman, and the Nationals' Trea Turner.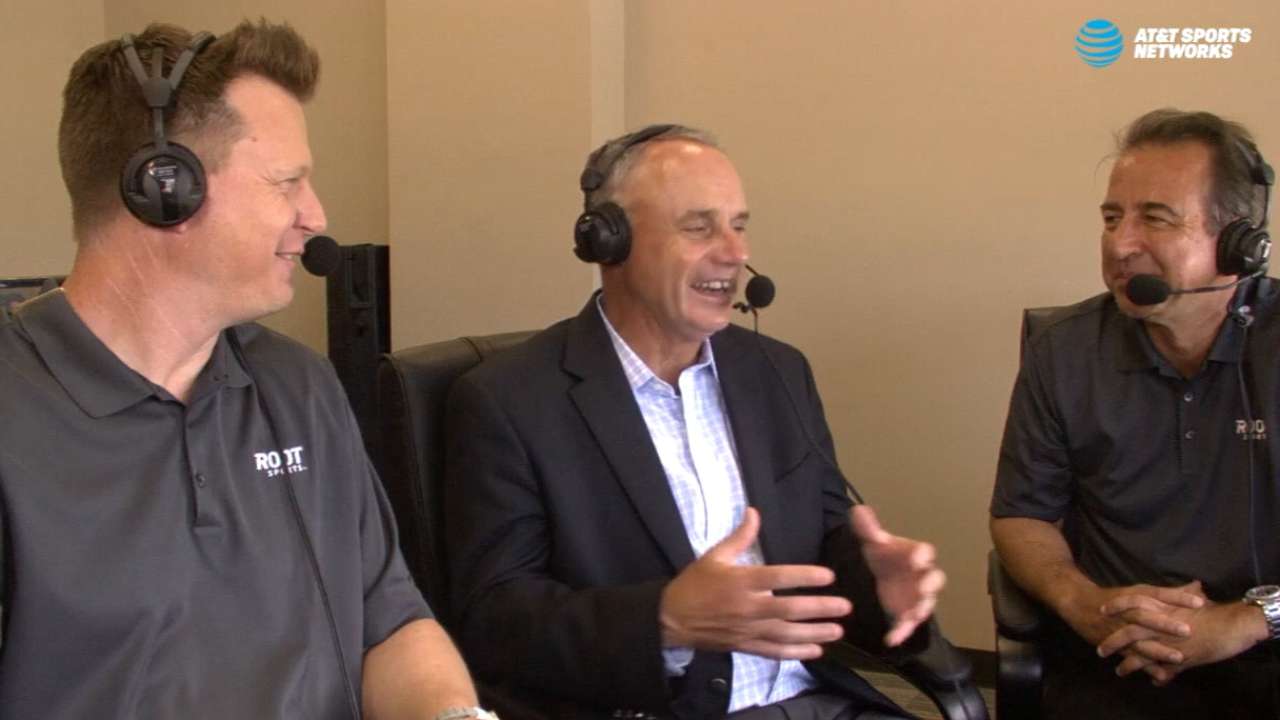 The nation's colors were presented by the West Palm Beach Police Department Honor Guard, led by Lt. Frank DiStefano. The anthem was performed by Palm Beach Opera soprano Jessica Fishenfeld. A flyover was carried out by the U.S. Coast Guard from Air Station Miami.
The Ballpark of the Palm Beaches complex, which took approximately 15 months to build, features a 6,500-seat stadium that houses a 360-degree concourse, suites and party areas, as well as a grassy outfield berm that extends from left-center to right-center and gives a close-up view of each team's bullpen.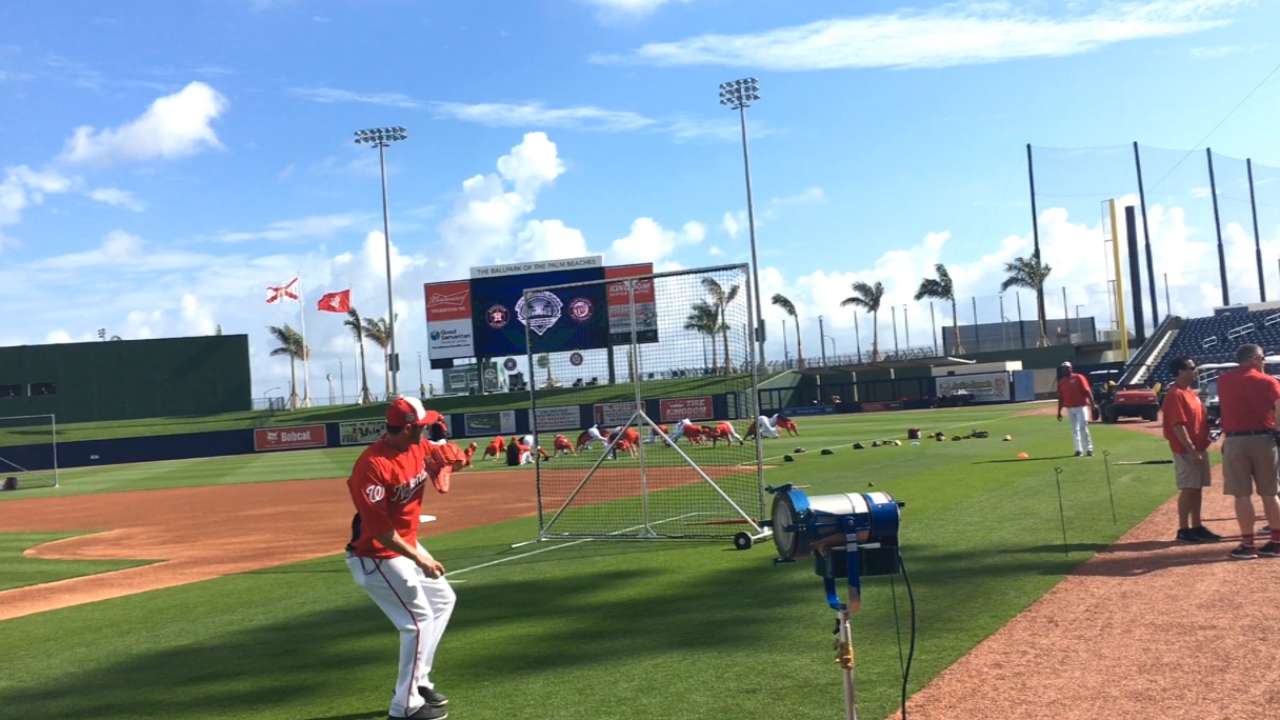 The 160-acre site features separate modern training complexes and includes six practice fields for each team, plus state-of-the-art clubhouses, weight-training facilities and offices for front-office personnel.
Early returns from both teams have been favorable.
"It's like moving into a new house," Nationals manager Dusty Baker said. "You look around, you see the beauty, you're excited to be there, everything's new. I have to really commend them for the work that they've done."
"It's hard not to love this place," Astros manager A.J. Hinch said. "To a man, there's been so much excitement. You walk in and it's gorgeous. It's got everything you can think of. You come out here and the fields are ready for us to get after it. It's a wonderful new home."
Alyson Footer is a national correspondent for MLB.com. Follow her on Twitter @alysonfooter. This story was not subject to the approval of Major League Baseball or its clubs.