Brewers to honor Hart, Burdette
All-Star outfielder begins professional coaching career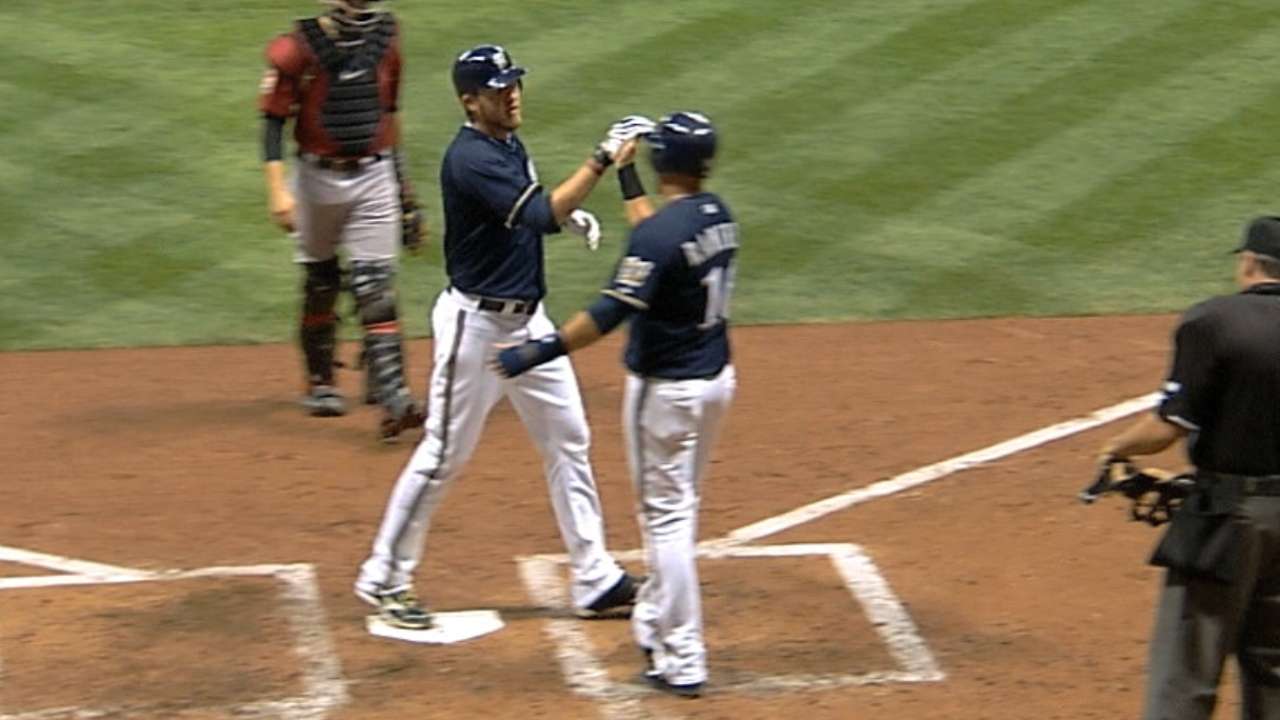 PHOENIX -- It was a happy coincidence that former All-Star outfielder Corey Hart was in uniform Tuesday to begin, what he hopes is, a professional coaching career on the same day his former team announced he would be inducted this summer to the Brewers Wall of Honor at Miller Park.
Hart, a two-time All-Star whose playing career was cut short by injuries, will be honored at Miller Park on June 30. He will be the 60th player with a plaque on the Brewers Wall of Honor, which was dedicated in 2014 and includes players who meet certain standards of longevity or production.
It will be one of two celebrations this season for former Milwaukee Major Leaguers. On May 26, Lew Burdette, the right-hander who won 1957 World Series MVP honors, will be posthumously inducted into the Milwaukee Braves Wall of Honor.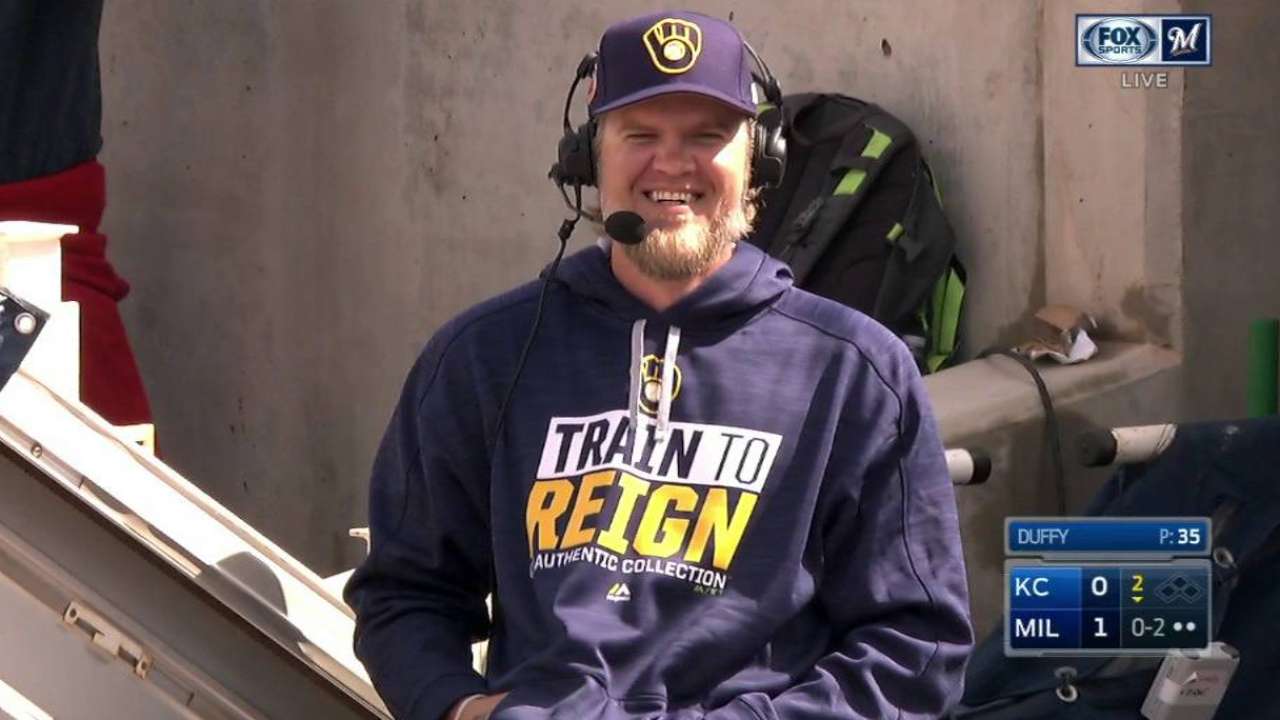 "This was always home," Hart said. "My best years and my best memories are always going to be here."
Hart, who last played for the Pirates in 2015, lives with his wife and four kids west of Phoenix, and has been itching to get back into the game since taking over his oldest son Matthew's youth travel team, which is one of the best in the country.
• Spring Training: Info | Tickets | Schedule | Gear
He'll spend the next few weeks splitting time between the big league club and Minor League camp.
Eventually, Hart sees himself managing.
"Whether it's rookie ball or whatever level," he said. "It's obviously a different level, but I run my son's team and I love the chess match. Knowing the game and learning different parts of it, and putting my kids in the best situation. It's not, obviously, professional baseball, but they don't know that."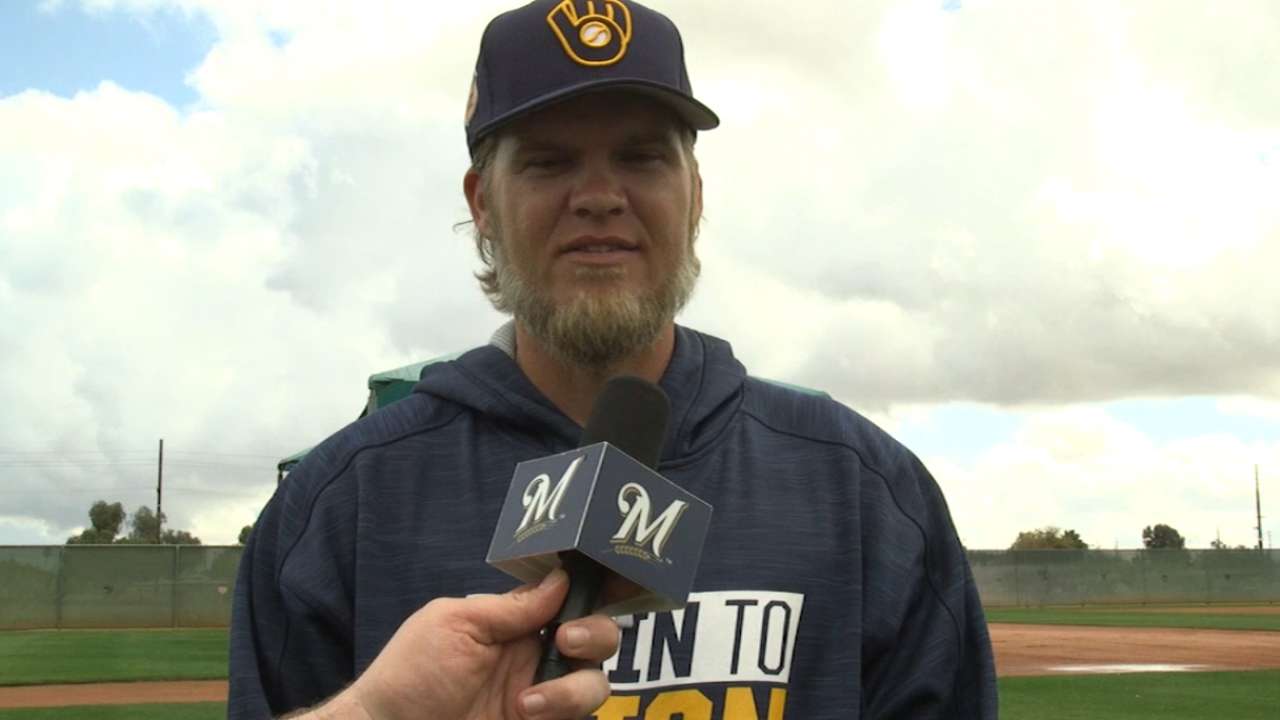 Hart was especially pleased to reunite with Brewers third base coach and outfield instructor Ed Sedar. The two go all the way back to Hart's first professional season, 2000, when he played rookie ball for the Sedar-managed Ogden Raptors.
"[Hart] is going to spend most of his time on the Minor League side, but we wanted him to spend time with Eddie and get Eddie's outfield and baserunning lingo back into his head," Brewers manager Craig Counsell said. "Then he'll take it over to the Minor League side, where Corey can hopefully, add a little bit with all of his experiences.
"I think the interesting thing with Corey is he was not a noted Draft pick, he was not a noted prospect for quite a while. He would probably tell you he was not a very good baseball player when he stepped into professional baseball. He was very athletic, and he made himself a really good baseball player [who] was good at a lot of things."
Hart logged a pair of 30-homer seasons for the Brewers and made the National League All-Star team in 2008 and 2010.
Adam McCalvy has covered the Brewers for MLB.com since 2001. Follow him on Twitter @AdamMcCalvy, like him on Facebook and listen to his podcast. This story was not subject to the approval of Major League Baseball or its clubs.