'Bulldog' Castro making pitch to stick with A's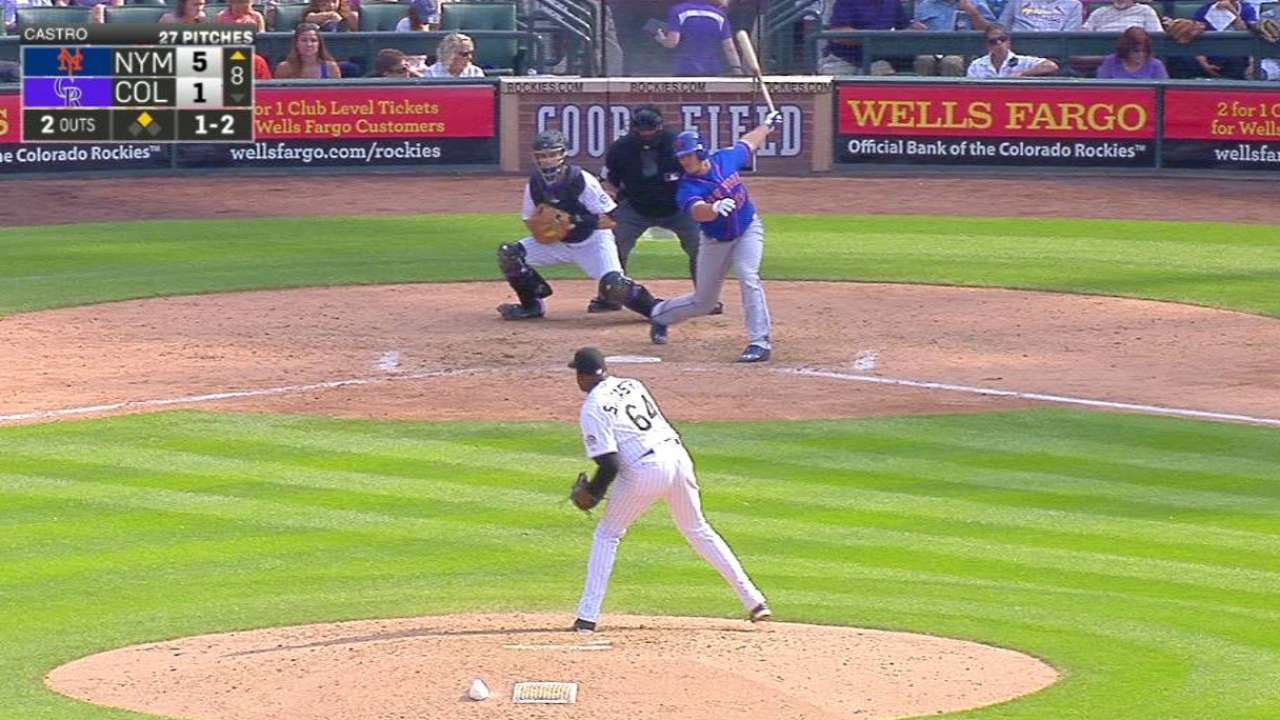 MESA, Ariz. -- The A's have 14 non-roster pitchers in camp vying for attention, and sinkerballer Simon Castro, animated and aggressive, is quickly separating himself from the pack.
Twice in the club's first three games, he was summoned in the middle of an inning to steady a sticky situation. Twice he did just that.
"He's pretty passionate about what he does, and when he came to the mound, he was pretty vocal," A's manager Bob Melvin said. "He was telling the guys, 'Let's go! Right now, let's go!' I haven't heard that too many times out of pitchers, let alone in Spring Training, so he impressed me with his eagerness to pitch and certainly was not scared and got the outs we needed. I enjoyed that."
• Spring: Tickets | Ballpark | 40-man roster | NRIs
Castro said he's "always hyped up," adding with a smile, "I'm kind of like a bulldog, like, let me go, and when they bring me in, I come in with all that energy and I like to share that with the guys out in the infield and with the catcher, so that everyone's awake, because tough situations call for that kind of stuff."
The Dominican right-hander, who will turn 29 in April, made his Major League debut with the White Sox in 2013 -- A's teammate Josh Phegley caught his first career strikeout -- and last appeared in a big league game in 2015 for Colorado. The former starter has been terrific since his full-time conversion to the bullpen following 2014 Tommy John surgery, posting a 3.59 ERA with 132 strikeouts in 110 1/3 innings at the Triple-A level between 2015-16.
Castro relishes high-pressure points of the game, and has thrived in them.
"I love it. I love the bullpen," Castro said. "When I was starting, it's more laid back and stuff, and I'm almost too aggressive, so I think this fits better for me."
Catcher Bruce Maxwell has been behind the plate for each of Castro's appearances this spring and said, "His aggressive manner, regardless of the inning, it kind of gives everyone confidence that, this is our guy that's going to get it done. He just attacks guys with as few pitches as possible."
Castro typically turns to his sinking fastball for a surefire ground ball but also has a slider and a split-changeup in his pocket. He's likely ticketed for Triple-A Nashville when the season opens but could very well be an injury or two away from joining the A's at some point this year so long as he keeps performing.
"I love the energy and the aggression that he brings," Maxwell said. "It's not out of control but it's with conviction. That's what makes a good pitcher great and a great pitcher dangerous. It's about having everybody behind him believe in what he's doing as much as he does. I can already say he's probably one of the best clubhouse guys I've ever been around."
Phegley echoed those sentiments, as did Marcus Semien, who also played with them in the White Sox organization.
"He's a fun guy to have in the clubhouse," Semien said. "Even though we come from different parts of the world, you see him connecting so well with everyone."
Jane Lee has covered the A's for MLB.com since 2010. This story was not subject to the approval of Major League Baseball or its clubs.