Map project teaches Farris about new Rockies teammates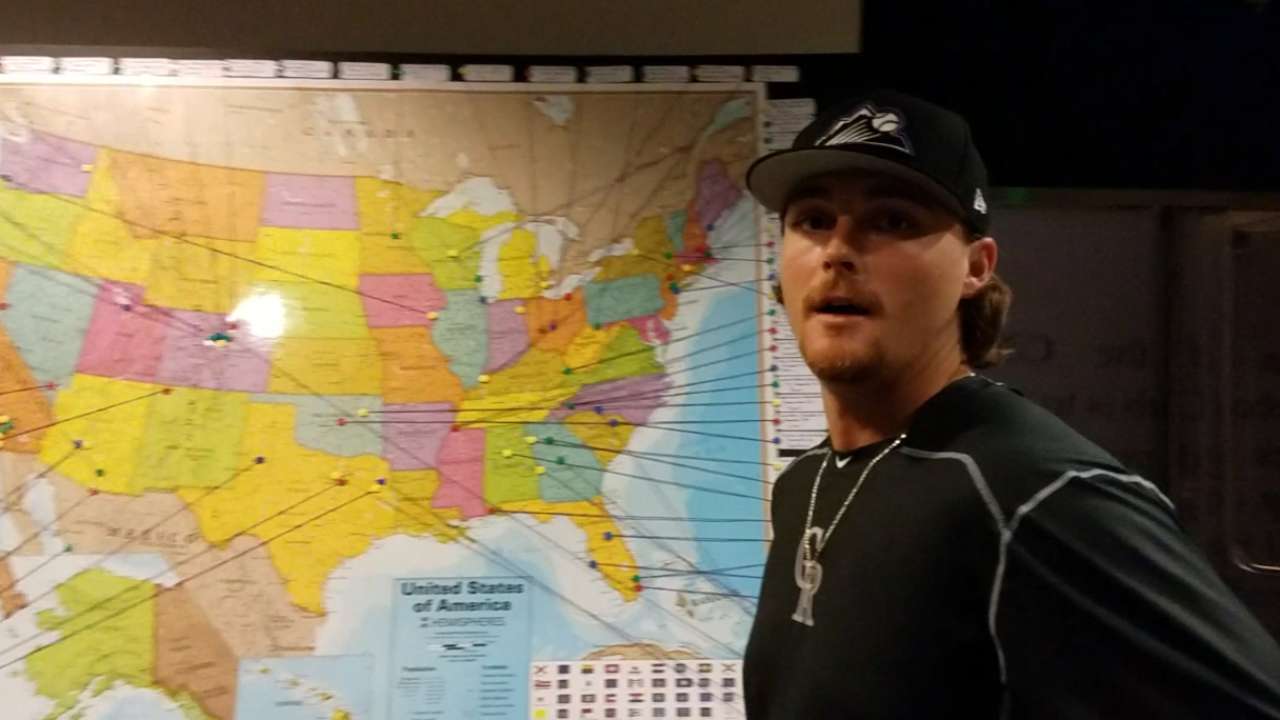 SCOTTSDALE, Ariz. -- Get to know your teammates. Rockies relief pitching prospect James Farris had that lesson driven home in a unique way this Spring Training.
On easels in the hallway outside the Rockies' clubhouse rest two large maps -- one featuring the United States and Mexico, the other with Latin America and Taiwan. The maps are decorated with multi-colored thumbtacks and strings that connect a player's name, high school and high school nickname with the corresponding spot on the map. Manager Bud Black, the coaching staff and many Rockies staff members also show up.
Farris, who was obtained from the Cubs in an offseason trade for pitcher Eddie Butler, produced the project. It was assigned as penance for a clubhouse transgression, but quickly became a labor of love.
• Spring Training: Info | Tickets | Schedule | Gear
During one of the team's pre-workout meetings, Black asked Farris to tell the team something about himself. The manager had done the same with lefty pitching prospect Kyle Freeland the previous morning.
"The day before, Freeland, who is from [Denver's] Thomas Jefferson High School -- I'll never forget that he said he was from Thomas Jefferson," Farris said. "Bud asked me where Freeland was from, and me, being on the spot, my mind went blank. I totally forgot where he was from. He assigned me to do everybody's name and high school."
But Farris, 25, was quite qualified, thanks to his University of Arizona education.
"I took a lot of geography classes for my regional development degree and econ and industry degrees, so this is actually a pretty fun project to do," Farris said. "I got to learn a lot about the guys, and got to learn their names pretty well. They got to learn who I am, too … good thing."
So much can be learned. The card for Lake Forest, Calif., native Nolan Arenado proudly notes that the El Toro High Chargers won the 2008 California Interscholastic Federation southern championship. Right-handed pitcher Jeff Hoffman of Latham, N.Y., played for the Shaker High Blue Bison. Star outfielder Carlos Gonzalez is from Maracaibo, Venezuela, and went to Liceo Udon Perez High School.
And, since the guy signs his checks, Farris felt it was important to note that Rockies owner, chairman and CEO Richard L. Monfort went to Greeley (Colo.) West High School.
Farris, himself, is from all over. Born in Columbus, Ohio -- which is where his thumbtack was placed -- he went to Nettleton High in Jonesboro, Ark., then transferred to Highland High in Gilbert, Ariz.
It turns out that Black, who is from Longview, Wash., and is a proud former star of the Mark Morris High Monarchs -- gives tough grades.
Farris completed the project on much smaller surfaces and took it to the manager, who complimented the effort but demanded a better presentation.
Farris earned 13 saves combined at Class A Myrtle Beach and Double-A Tennessee in the Cubs organization, and struck out 74 in 66 innings.Those who have scouted Farris believe it may not be long until he is needed at the Major League level.
So he might as well get to know everyone, in an artistic way.
Thomas Harding has covered the Rockies since 2000, and for MLB.com since 2002. Follow him on Twitter @harding_at_mlb, listen to podcasts and like his Facebook page. This story was not subject to the approval of Major League Baseball or its clubs.