Hey, brother: Garcia siblings reunite at camp
Cards' Adolis on Braves' Adonis: 'I would like to follow in his footsteps'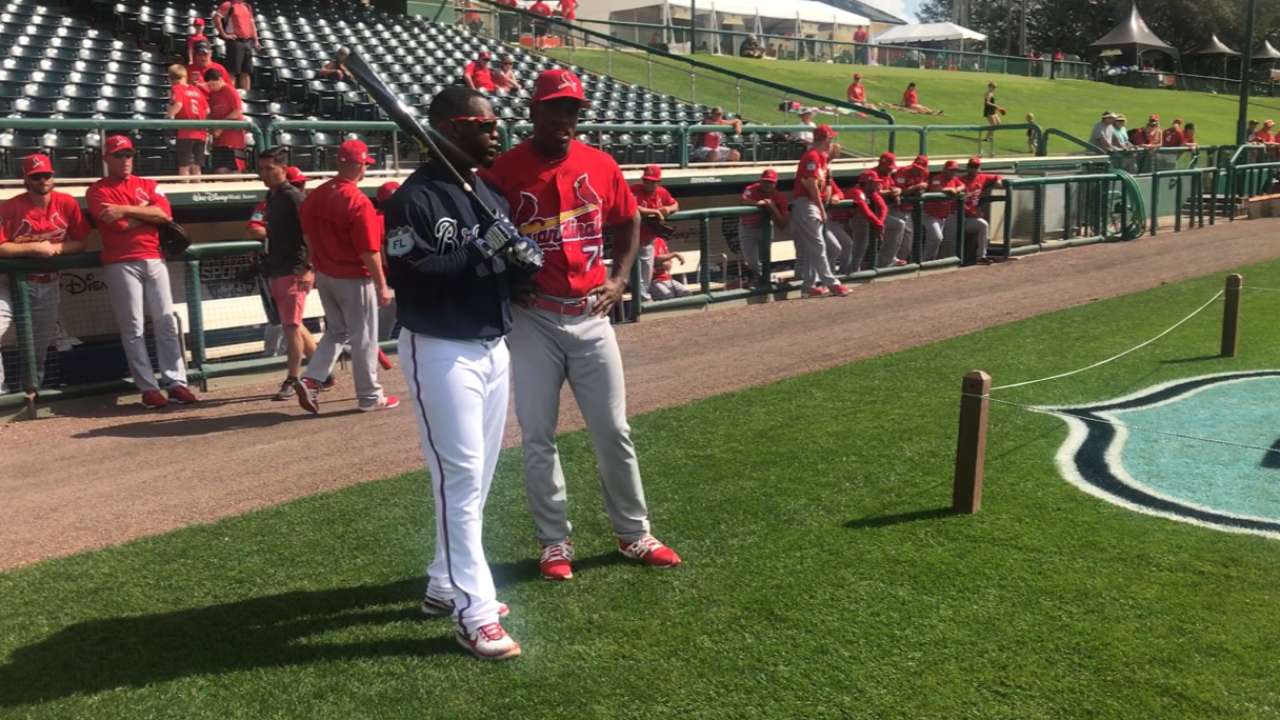 LAKE BUENA VISTA, Fla. -- When the Rays traveled to Cuba to play the Cuban National team last March, Braves third baseman Adonis Garcia attentively watched the game to get a glimpse of the nation and the brother he left behind when he defected in 2010 to pursue his dream to play in the United States.
Before the Braves played the Cardinals on Tuesday at ESPN's Wide World of Sports complex, Adonis simply had to walk across the field to proudly stand next to his brother, 24-year-old outfielder Jose Adolis Garcia, who signed a Minor League deal with St. Louis on Friday.
"My brother has been my role model," Adolis Garcia said through an interpreter. "Having him in the position that he's in is really helpful for me to be able to see where I want to end up eventually. I'm very happy for him, and once again, he's my role model. I would like to follow in his footsteps."
Adolis has not yet received the work visa necessary for him to begin playing in games, but the Cardinals plan to take him on every road trip during Spring Training to better acquaint him with his new environment.
"It's a very special moment," Adonis Garcia said through an interpreter. "Just to see the natural ability he has and to be able to see him develop is very special. To be able to see all the work he has put in, in the Dominican Republic and Japan, you can tell how much he has progressed as a baseball player. It's been [great] to see him keep progressing."
After playing in Japan this past year, Adolis defected from Cuba in August and spent a portion of the offseason working out with Adonis in the Dominican Republic. The 31-year-old Braves third baseman had also traveled to the D.R. to see his younger brother play in the 2016 Caribbean Series.
"When he was in Cuba, we were able to communicate frequently, maybe not every day, but when he went over to Japan, we had an opportunity to communicate daily, so that was great," Adonis said. "We've always stayed in contact and communicated with each other. I've always tried to help him in any way I can. I can't tell you how proud I am of him, first and foremost as a person."
Mark Bowman has covered the Braves for MLB.com since 2001. This story was not subject to the approval of Major League Baseball or its clubs.