McCullers could make spring debut next week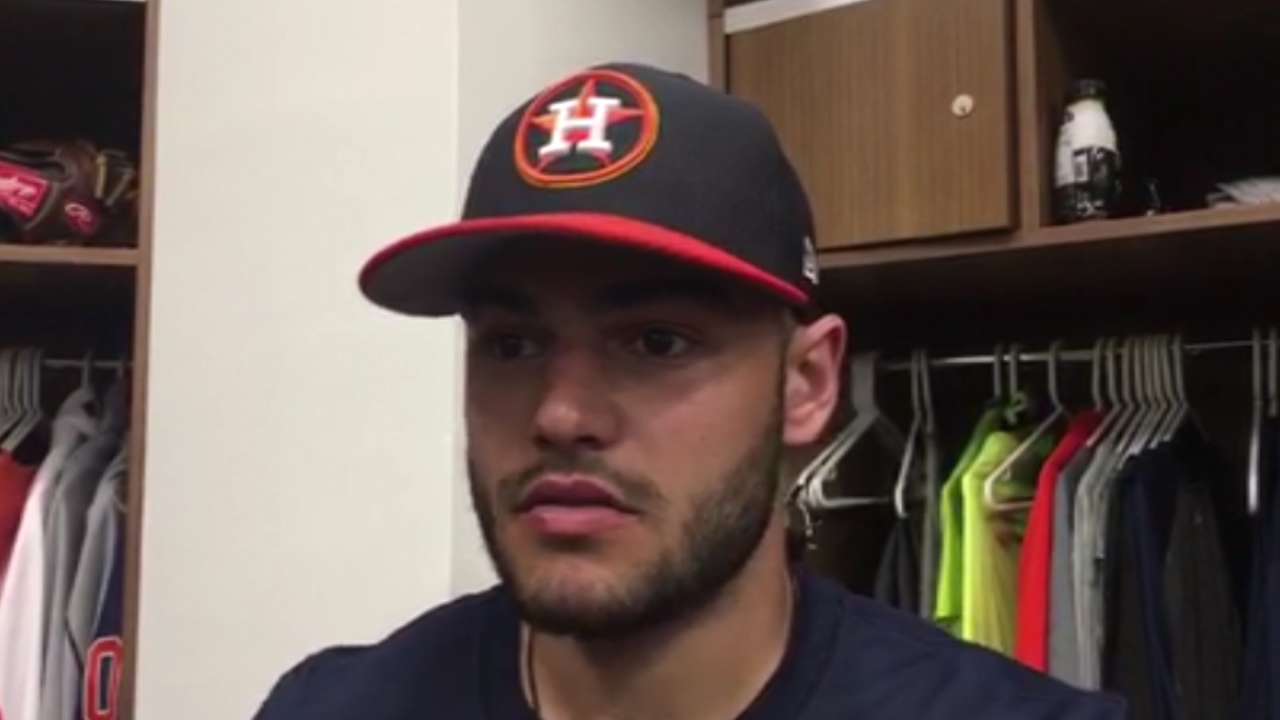 WEST PALM BEACH, Fla. -- Astros right-hander Lance McCullers Jr. could make his Grapefruit League debut next week, manager A.J. Hinch said Tuesday. McCullers threw his second round of live batting practice on a back field at the Ballpark at the Palm Beaches on Monday, and Hinch said he was impressive.
McCullers, who missed the final two months of last season with right elbow discomfort, is on an individualized throwing program and could appear in a game for the first time this spring following Houston's next scheduled off day March 7.
• Spring: Tickets | Ballpark | 40-man roster | NRIs
"His velocity was in the low 90s, which is good, especially this time of year," Hinch said. "He will throw more of a simulated game here in a few days. We'll take the [protective] screens away, we may place some runners on base, which is his last step, hopefully, before he gets in real game action."
Hinch said lefty Dallas Keuchel, who's also on an individualized program, will throw a simulated game of sorts Wednesday. Keuchel has two rounds of live batting practice under his belt.
"He's along the same lines, where he's going to start to ramp up a little bit of the intensity," he said. "We'll take the screens, which is more psychological than anything, and just make it a little more like a game."
Hinch looks to give regulars more days off
Now that he's got a deeper roster following the offseason additions of outfielders Carlos Beltran, Josh Reddick, Norichika Aoki and catcher Brian McCann, Hinch wants to try to give some of his core players more days off in the regular season.
Perhaps the biggest factor in extra rest is utility player Marwin Gonzalez, who can play any of the infield positions and is a competent switch-hitter. Gonzalez started 74 games at first base, 16 at third base, 14 in left field, eight at second base and six at shortstop last year.
"In a perfect world, he's playing a little bit of everywhere," Hinch said. "Obviously, at first base, there's going to be some at-bats open for him, depending on how Yulieski Gurriel does. I'm committed to getting more rest for Jose Altuve, Carlos Correa and Alex Bregman than people are used to. That will help Marwin. I can, precisely because we have a guy like Marwin. I like that idea. He may sprinkle in some time in left field. I don't think at-bats will be a problem for him."
Brian McTaggart has covered the Astros since 2004, and for MLB.com since 2009. Follow @brianmctaggart on Twitter and listen to his podcast. This story was not subject to the approval of Major League Baseball or its clubs.