MLB.com Columnist
Jon Paul Morosi
Pitching plans for Team USA taking shape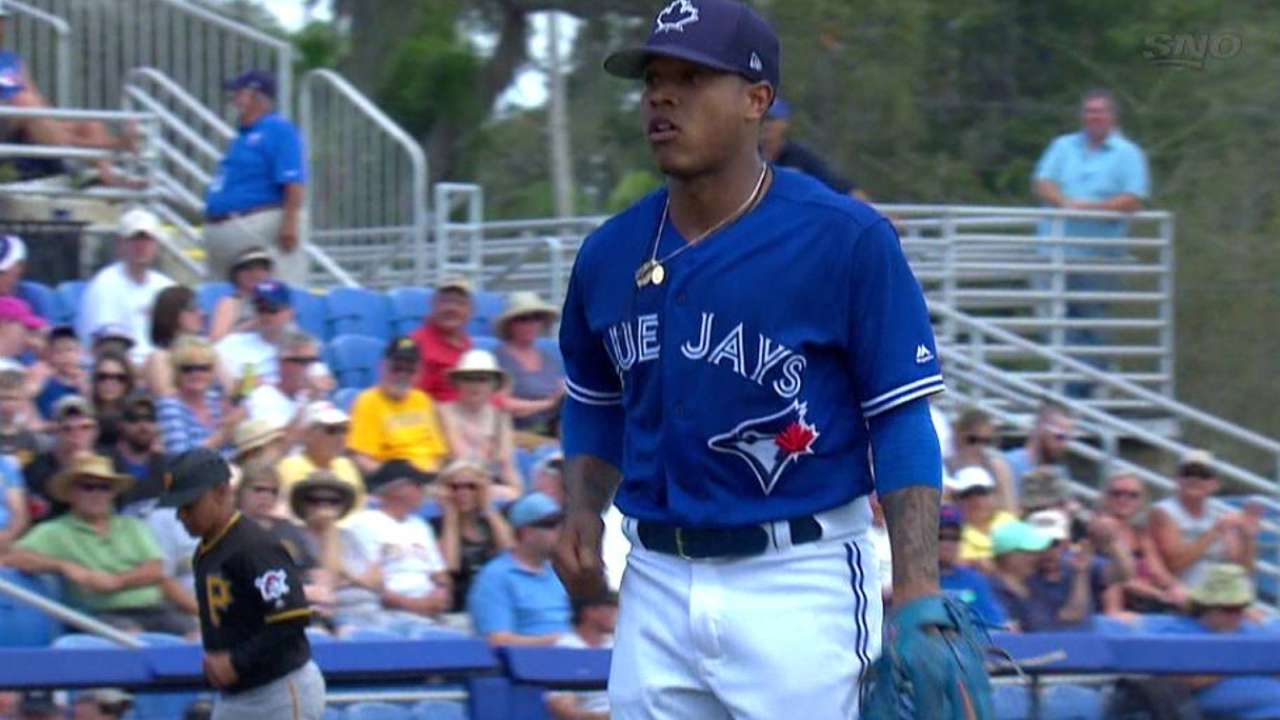 Now that Grapefruit League and Cactus League play has begun, we could be getting a glimpse into Team USA's rotation plans for the World Baseball Classic.
Chris Archer was the team's first starter to debut this spring, with two shutout innings for the Rays on Sunday. The Nationals' Tanner Roark (three scoreless innings) and the Blue Jays' Marcus Stroman (two scoreless innings) were similarly sharp on Monday. The Royals' Danny Duffy will pitch for the first time on Tuesday afternoon in Phoenix.
• World Baseball Classic tickets, schedule
If they remain in that order, Archer will start Team USA's opener against Colombia one week from Friday, Roark or Stroman will face the Dominican Republic the following night, and the left-handed Duffy will oppose lefty slugger Freddie Freeman and Team Canada.
At one point in the offseason, U.S. manager Jim Leyland spoke about the possibility of piggybacking two starting pitchers in one game. The matchup with the Dominicans -- the defending Classic champions -- might appear to be one opportunity to do so, but the calendar probably won't cooperate.
Here's why. Whereas the Canadians and Dominicans have an off-day after opening Pool C play on March 9, the Americans and Colombians have games on three consecutive days. That limits Leyland's flexibility.
The tournament's structure is an even greater restriction: Because of a format change for this year's tournament, Team USA may need to play a tiebreaker on March 13 if it is part of a three-way tie (with a 2-1 or 1-2 record) after the round robin.
So if the Americans use both Roark and Stroman against the Dominican Republic, it's unclear who would start a potential tiebreaker game two days later. Leyland won't want to bring back a starting pitcher on short rest after throwing fewer than 50 pitches, even though tournament rules permit that. In that case, a "bullpen game" would be the answer.
Team USA has nine relievers, three of whom -- Andrew Miller (66), Tyler Clippard (six) and Sam Dyson (one) -- have started at least one game in the Major Leagues.
Dyson was the most recent to do so. In 2013.
Leyland, a likely Hall of Fame-bound manager, wouldn't allow a reliever to start the decisive game of a Classic round. For that reason, Roark or Stroman -- but not both -- will pitch in the showdown against the Dominican Republic. The other must wait to pitch a game the U.S. hopes not to play.
The World Baseball Classic runs from March 6-22. In the U.S., games will air live exclusively in English on MLB Network and on an authenticated basis via MLBNetwork.com/watch, while ESPN Deportes and WatchESPN will provide the exclusive Spanish-language coverage. MLB.TV Premium subscribers in the U.S. will have access to watch every tournament game live on any of the streaming service's 400-plus supported devices. Internationally, the tournament will be distributed across all forms of television, internet, mobile and radio in territories excluding the U.S., Puerto Rico and Japan. Get tickets for games at Marlins Park, Tokyo Dome, Gocheok Sky Dome in Seoul, Estadio Charros de Jalisco in Mexico, Petco Park, as well as the Championship Round at Dodger Stadium, while complete coverage -- including schedules, video, stats and gear -- is available at WorldBaseballClassic.com.
Jon Paul Morosi is a columnist for MLB.com. This story was not subject to the approval of Major League Baseball or its clubs.