Anderson pleased with progress, new routine
Cubs lefty pitches scoreless frame in spring debut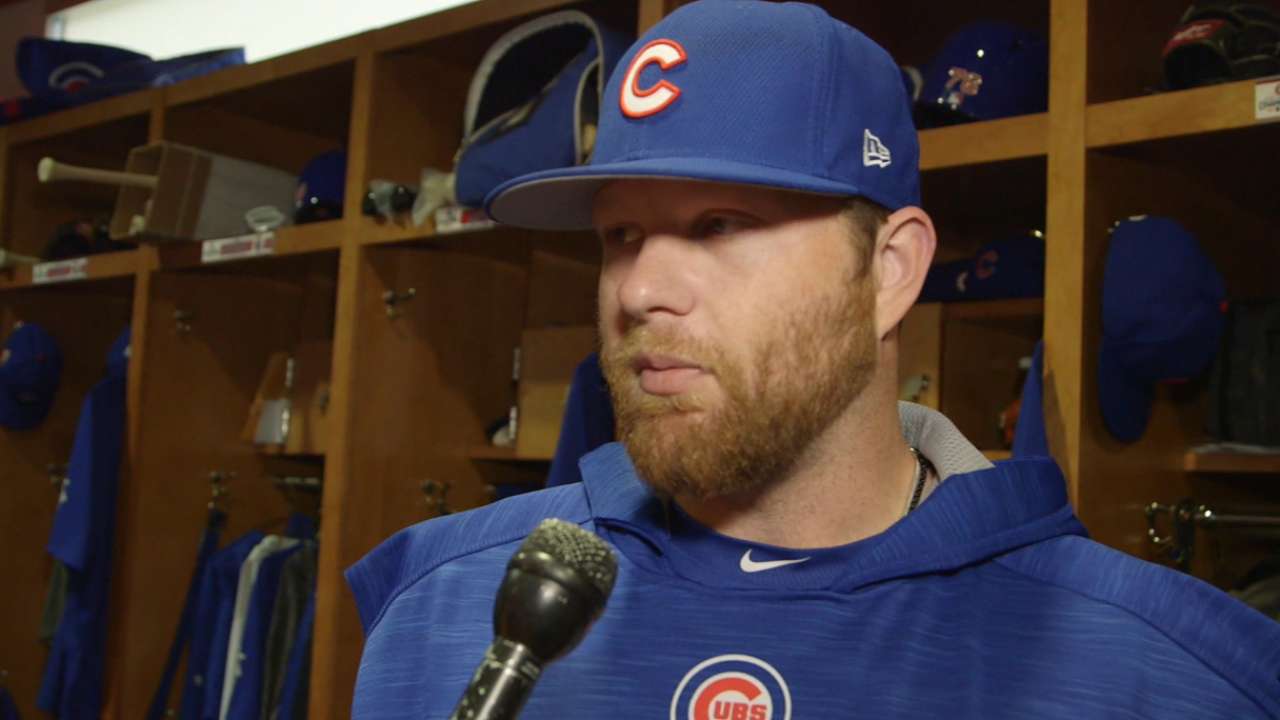 MESA, Ariz. -- Usually, Brett Anderson's pre-start routine is fairly simple. But on Monday, the left-hander spent far more time prepping for his outing compared to the time he spent on the mound. It's part of the new routine Anderson has to adjust to after undergoing back surgery one year ago.
Anderson gave up one hit, got two groundouts and struck out a batter in his first start and outing for the Cubs, facing the White Sox in a 4-4 tie at Sloan Park. He's accepted that the back exercises are montonous. They're now a part of his life.
"That's what I have to deal with on a day-to-day basis, and I'll do whatever it takes to be healthy," Anderson said. "It's not fun to do, but you have to do it at this point."
Cubs pitching coach Chris Bosio has been proactive as well.
"He's not trying to re-invent the wheel," Anderson said of Bosio. "It's more trying to limit the pressure on my back and a mild mechanical adjustment so I don't land on my heel as much and land on the ball of my foot or my toes so it's not such a whiplash affect. It's small things. He's said he likes what my pitches do."
What's key is that Anderson can feel the difference.
"It felt kind of awkward the first couple times because I've thrown the same way since I could walk and talk," he said. "I feel strong and I feel more directional toward the plate than rotational. It's been good so far."
The White Sox Tim Anderson singled to lead off the game but Brett Anderson then settled down and retired the next three batters, including Matt Davidson, who struck out looking to end the inning.
That was it for Anderson, who has gone further than he did in spring 2016. Last year, he felt something in his back after a live batting practice session, and eventually underwent back surgery in March. He did appear in four games with the Dodgers, but he was a free agent at season's end and signed with the Cubs on Jan. 26.
The Cubs are considering having Anderson and Mike Montgomery share the fifth spot in the rotation.
"The tricky part is using both as a starter on occasion," manager Joe Maddon said Monday. "[Anderson] will have to fall back into the bullpen somehow."
Which may be tough because of his back and the amount of time Anderson will need to get ready. Montgomery is used to pitching in relief.
"Barring health, it'll work itself out, whether it's bullpen or starting," Anderson said. "It's always good to have competition. You can't have too much depth, coming from where I was last year with [the Dodgers]. We used so many starters. Obviously, that wasn't the case here."
The Dodgers needed 15 starters last season, while the Cubs relied on five most of the year and didn't need a sixth until Adam Warren pitched on July 6.
Carrie Muskat has covered the Cubs since 1987, and for MLB.com since 2001. She writes a blog, Muskat Ramblings. You can follow her on Twitter @CarrieMuskat and listen to her podcast. This story was not subject to the approval of Major League Baseball or its clubs.