Roark revved up to represent US in Classic
Throwing since November, Nats righty sharp in three-inning spring debut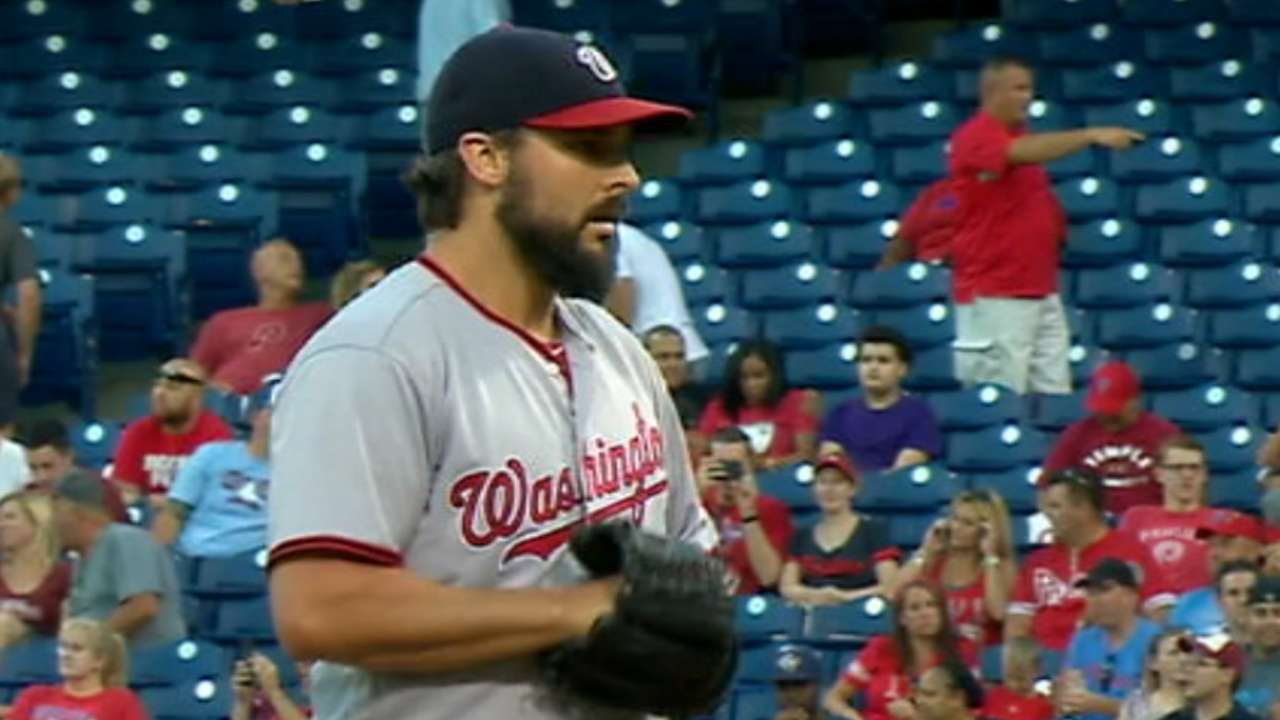 JUPITER, Fla. -- Tanner Roark was notified by Team USA that he would pitch in its second game of the World Baseball Classic on March 11, although at the time, he was unsure which team he would face.
Turns out his opponent will be the Dominican Republic, the defending Classic champion, which ran the table in 2013 to finish 8-0. The Nationals are tasked with getting Roark prepared for that start and for the regular season on a bit of an accelerated pace.The right-hander made his Grapefruit League debut in Monday's 5-4 loss to the Cardinals, throwing three scoreless innings while most starters are still throwing one or two innings.
• Complete World Baseball Classic coverage
Roark could be used as a tandem starter in that game along with Blue Jays right-hander Marcus Stroman, according to MLB.com's Jon Paul Morosi. Roark is scheduled to join Team USA on Sunday, and should make one more start with the Nats before he leaves with teammate Daniel Murphy, who is also playing for Team USA.
"You get to represent your country," Roark said. "And that's one hell of a thing to represent where you're from. Everybody else is doing the same around the world, so it's a cool thing to go head-to-head against other countries and try to come out on top."
Even though Roark threw a career high 210 innings in 2016, he was not hesitant to accept his Classic invitation. In fact, Roark said he wanted to start throwing earlier this offseason than usual so it played into his hands. He began throwing in late November, about a month ahead of his normal starting point.
"I didn't want everything to start going back in place and everything start to feel tight again because I'm not doing the same motion of throwing," Roark said.
Roark will face a lineup featuring Robinson Cano, Jose Bautista, Nelson Cruz and Manny Machado for the Dominican Republic, so he was happy to face a Cardinals lineup featuring several regulars Monday.
"I felt it when we had the intrasquad," he said. "I like to be out there and it's a different kind of animal and you just go out there and you have to compete. Always. No matter if it's against your own guys."
The World Baseball Classic runs from March 6-22. In the U.S., games will air live exclusively in English on MLB Network and on an authenticated basis via MLBNetwork.com/watch, while ESPN Deportes and WatchESPN will provide the exclusive Spanish-language coverage. MLB.TV Premium subscribers in the U.S. will have access to watch every tournament game live on any of the streaming service's 400-plus supported devices. Internationally, the tournament will be distributed across all forms of television, internet, mobile and radio in territories excluding the U.S., Puerto Rico and Japan. Get tickets for games at Marlins Park, Tokyo Dome, Gocheok Sky Dome in Seoul, Estadio Charros de Jalisco in Mexico, Petco Park, as well as the Championship Round at Dodger Stadium, while complete coverage -- including schedules, video, stats and gear -- is available at WorldBaseballClassic.com.
Jamal Collier covers the Nationals for MLB.com. Follow him on Twitter at @jamalcollier. This story was not subject to the approval of Major League Baseball or its clubs.