Kuhl gives his changeup makeover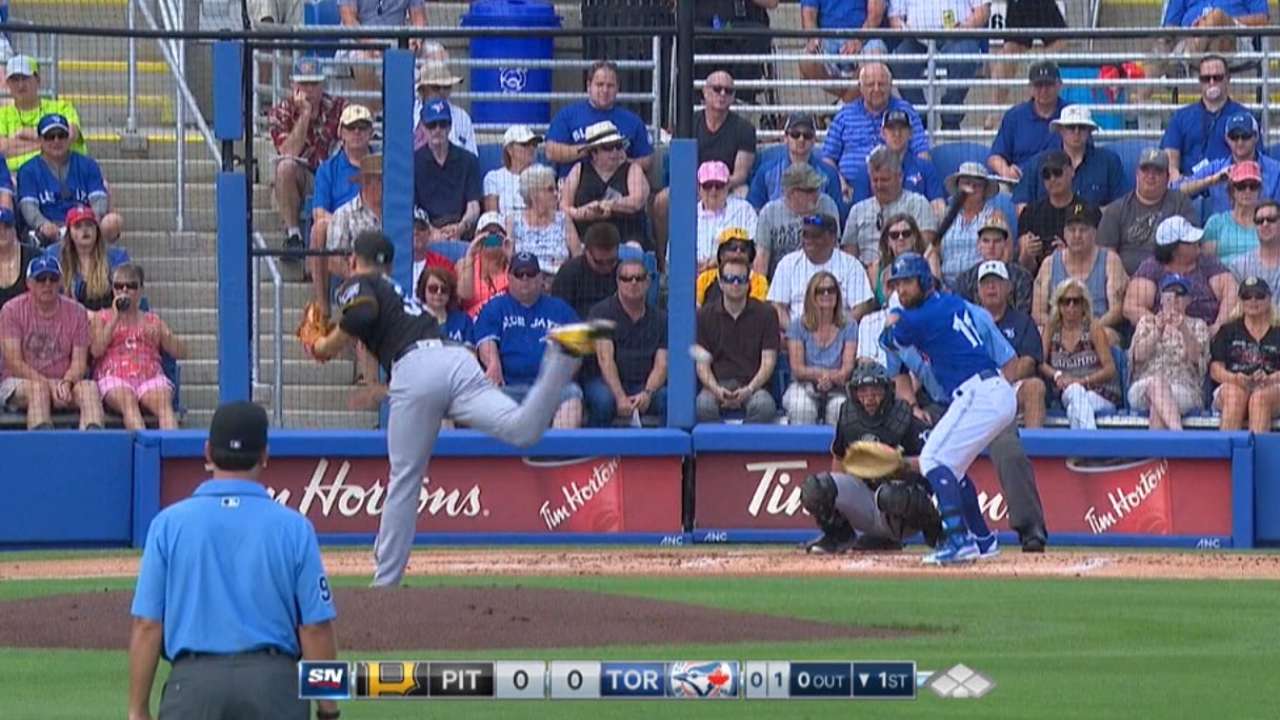 DUNEDIN, Fla. -- Add Chad Kuhl to the list of Pirates pitchers changing up his changeup.
Jameson Taillon and Tyler Glasnow tested out their modified changeups on Sunday, and Kuhl unveiled his reworked offspeed offering during a perfect two-inning start against the Blue Jays on Monday at Florida Auto Exchange Stadium. The Pirates won the game, 2-1.
Relying on his heavy sinker and slider, Kuhl, 24, made his Major League debut last year and pitched well enough to become the favorite for one of the two remaining spots in the Pirates' rotation. But he wanted to add another wrinkle, something that would keep opposing hitters from sitting on his other two pitches.
• Spring: Tickets | Ballpark | 40-man roster | NRIs
So with the blessing of pitching coach Ray Searage and senior pitching coordinator Scott Mitchell, Kuhl experimented with his grip. He moved his fingers behind the seams and removed some pressure, trusting the ball to move instead of forcing it.
"It's another thing to go to. It's a weapon," Kuhl said. "They can't just cancel it out. They can't just eliminate one pitch. That makes it a ton easier than it being a coin-flip between fastball and slider, just having that third pitch and having it be a weapon."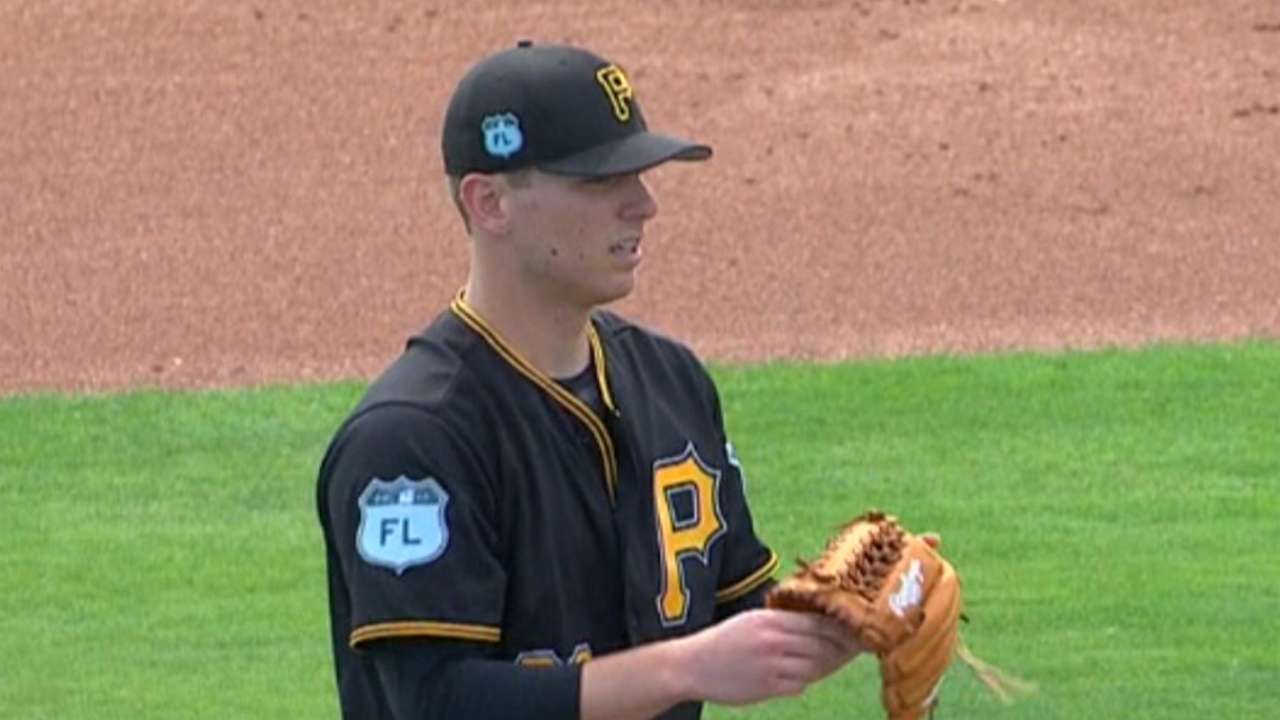 Kuhl struck out Jose Bautista and Jarrod Saltalamacchia in the first inning. The two-seamer, his signature pitch, helped him get two groundouts from the six batters he faced. He said his changeup has "come a long way," and he threw six or seven of them in his efficient Grapefruit League debut.
Why the emphasis on changeups this spring?
"It's a weapon. It's a good pitch," manager Clint Hurdle said. "The game today, there's enough fastball. There's plenty of fastball. It is hard to hit velocity at times, but if you want to be dynamic, back it up with a changeup or something that backs them off 15 mph. That's when you start really cooking and getting some things done, getting some funny swings and soft contact."
Taillon started on Sunday, and Ivan Nova is slated to pitch Tuesday. The Pirates already announced three-fifths of their Opening Day rotation: Gerrit Cole on Opening Day, Taillon in Game 2, an open spot for Game 3 then Nova in the home opener. So, Kuhl fits between Taillon and Nova.
If their current rotation holds up and remains injury-free throughout Spring Training, Kuhl would be set up to start the third game of the season against the Red Sox at Fenway Park. The Pirates haven't yet guaranteed him that assignment, but general manager Neal Huntington has said Kuhl is on the "inside track" for the rotation.
"They're going to pick their lineup. They're going to pick their starting five. You just go out there and compete," Kuhl said. "I'm in a good spot, especially with this changeup coming along. They're going to make those decisions. We're all going to go pitch and compete and have fun."
Adam Berry has covered the Pirates for MLB.com since 2015. Follow him on Twitter and Facebook, read his blog and listen to his podcast. This story was not subject to the approval of Major League Baseball or its clubs.