O'Neill adds musical skills to baseball talent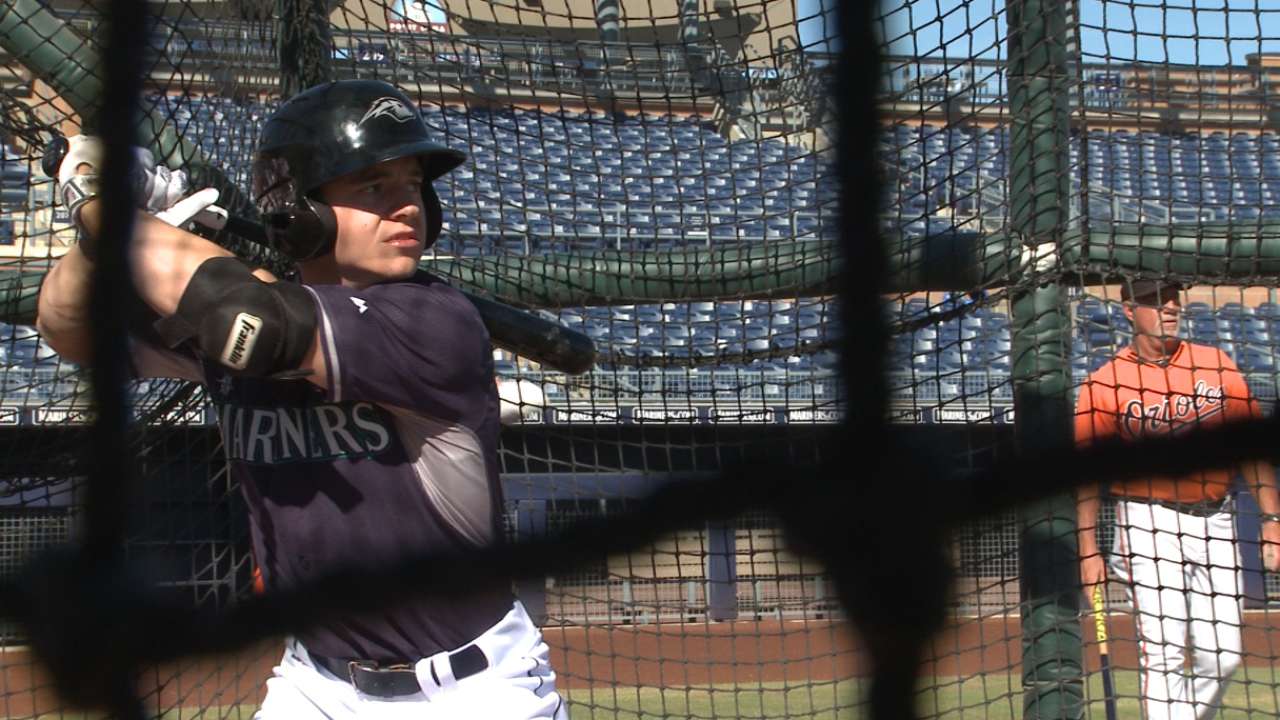 PEORIA, Ariz. -- Tyler O'Neill looks like a weight lifter, for good reason, having grown up pumping iron as the son of former Mr. Canada, Terry O'Neill, in Burnaby, British Columbia.
But it turns out that the Mariners' muscle-bound outfielder has another skill that he unveiled during a team meeting on Sunday. The 21-year-old O'Neill knocked out a quality rendition of the theme song from Lord of the Rings on a keyboard in the clubhouse, with reliever Thyago Vieira from Brazil beat-boxing alongside.
After finding out about O'Neill's piano skills, manager Scott Servais had an electric keyboard brought in for Sunday's meeting and the youngster delivered.
• Spring Training: Information | Tickets | Schedule
"They asked me about a hidden talent or one of my hobbies, or something like that, and I said piano, just because I wanted to be different, I guess," O'Neill said. "It kind of blew up a little bit and there I was, a week later."
"It was awesome," Servais said. "We had standing ovations and people started dancing. It was really good."
O'Neill, ranked as the Mariners' No. 2 prospect by MLBPipeline.com, said he's played the piano since he was a kid, though he hadn't touched the keys in about three years while pursuing his baseball dreams.
Locked in. @toneill21 rehearsing for his recital on Sunday. Turns out he reached grade 9 in The Canadian Conservatory program. #MarinersST pic.twitter.com/sz1oIc0tOV

— Mariners (@Mariners) February 23, 2017
"When I was 7 or 8 years old, my parents kind of forced me to play an instrument," he said. "So looking back on it now, I'm very thankful for that. It felt like a burden and chore when I was young, but now I'm very thankful."
O'Neill is an outgoing sort who exudes confidence, but admits he was nervous getting up in front of his teammates.
"Oh yeah, a little bit. My fingers had a little sweat going," he said. "It kind of reminded me of my recital days back when I was 10 years old. But it was fun. The standing ovation at the end made it well worth it."
As for Vieira's contribution? The 24-year-old is known more for his 100 mph fastball, but apparently the music flows just as naturally when he's beat-boxing.
"I sent him a video of a guy playing the piano on YouTube just to give him an idea of what was going to happen," O'Neill said. "About an hour before we did the presentation, I played it for him in the headphones and he pretty much just free-styled it, which is very skillful."
O'Neill said his favorite number to get people singing along is "O Canada," but he picked the Lord of the Rings theme to perform and practiced it the previous few days.
"I knew that one in high school. That was my favorite," he said. "When I got called upon last week, I just sat down and my fingers started to come back to me. I just went with it from there."
Servais is interested to see how O'Neill handles himself on the field as well after hitting .293/374/.508 with 24 homers and 102 RBIs last season at Double-A Jackson.
"Tyler is a very confident young man," Servais said. "Sometimes it can come off the wrong way. But he's been great. He's handled everything that we've thrown at him in the meetings and stuff. He's obviously a very good and talented player.
"It's only a matter of time before he gets a chance to impact us in Seattle. It could be sooner rather than later. We'll see. But the future is certainly bright for him."
Greg Johns has covered the Mariners since 1997, and for MLB.com since 2011. Follow him on Twitter @GregJohnsMLB and listen to his podcast. This story was not subject to the approval of Major League Baseball or its clubs.