MLB.com Columnist
Jonathan Mayo
Breaking down the Reds' Top 30 list
Cincy's effort to pad farm, ranked No. 9 in baseball, paying off mightily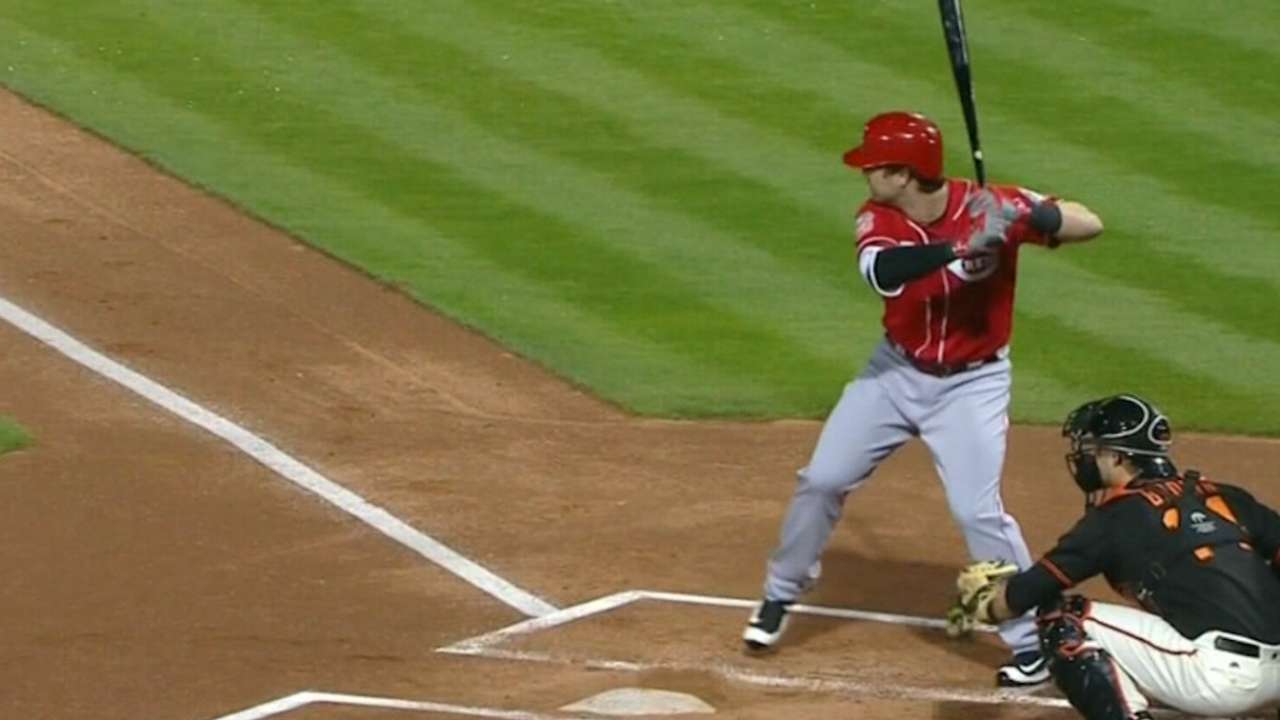 The rebuild started at the Trade Deadline in 2015, with many an established big leaguer traded in return for bushels of prospects. How's it going so far?
So far, so good. The Reds clock in as the No. 9 farm system in all of baseball. A year ago? Not on the Top 10 at all. So something must be moving in the right direction.
The Reds have four players on the the Top 100 Prospects list, led by their top pick from last June's Draft, Nick Senzel, the No. 2 overall selection. He debuts in the top spot and given his advanced skill set, he might not be on this list for long. The other three on the Top 100 all have a chance to contribute in Cincinnati and graduate off this list, which of course is the whole point of rebuilding: lefty Amir Garrett, outfielder Jesse Winker and right-hander Robert Stephenson. It seems like Winker and Stephenson, in particular, have been on this list for an eternity, but Stephenson just turned 24 and Winker will be 23 for most of the regular season.
While there are some prospects acquired via trade -- and two who graduated off this past season -- the Draft remains the biggest source of talent for this system. A total of 19 of the Top 30 came via the Draft, 20 if you count non-drafted free agent TJ Friedl. The Reds had a strong top of the 2016 Draft and the four picks they had in the top two rounds have all found their way into the organization's top 15 picks.
The Reds were also active in the international market, particularly with Cuban players. They spent close to $12 million to acquire shortstop Alfredo Rodriguez and right-hander Vladimir Gutierrez. The pair will truly get their career started with Cincinnati this season, and both are in the Top 15 as well.
MLB's Top 10 farm systems
Biggest jump/fall
Here are the players whose ranks changed the most from the 2016 preseason list to the 2017 preseason list.
Jump: Aristedes Aquino, OF (2016: 24 | 2017: 6)
Fall: Eric Jagielo, 3B/1B (2016: 14 | 2017: NR)
Top 30 Prospects lists
| Division | Release date |
| --- | --- |
| AL East | BAL, BOS, NYY, TB, TOR |
| NL East | ATL, MIA, NYM, PHI, WSH |
| AL Central | CLE, CWS, DET, KC, MIN |
| NL Central | CHC, CIN, MIL, PIT, STL |
| AL West | HOU, LAA, OAK, SEA, TEX |
| NL West | ARI, COL, LAD, SD, SF |
Best tools
Players are graded on a 20-80 scouting scale for future tools -- 20-30 is well below average, 40 is below average, 50 is average, 60 is above average and 70-80 is well above average.
Hit: Nick Senzel (60)
Power: Aristedes Aquino (55)
Run: Taylor Tramell (70)
Arm: Aristedes Aquino (70)
Defense: Alfredo Rodriguez (60)
Fastball: Ariel Hernandez (75)
Curveball: Ariel Hernandez (60)
Slider: Tony Santillan (60)
Changeup: Robert Stephenson (60)
Control: Tyler Mahle (60)
How they were built
Draft: 19
International: 5
Trade: 4
Rule 5: 1
Free agent: 1
Breakdown by ETA
2017: 8
2018: 14
2019: 6
2020: 2
Breakdown by position
C: 2
2B: 2
3B: 2
SS: 3
OF: 6
RHP: 14
LHP: 1
Here's a look at the Reds' preseason Top 10 prospects from each of the past seven years (click here to see a larger image):
Jonathan Mayo is a reporter for MLBPipeline.com. Follow him on Twitter @JonathanMayo and Facebook, and listen to him on the weekly Pipeline Podcast. This story was not subject to the approval of Major League Baseball or its clubs.