Swanson feeling 'comfortable' in camp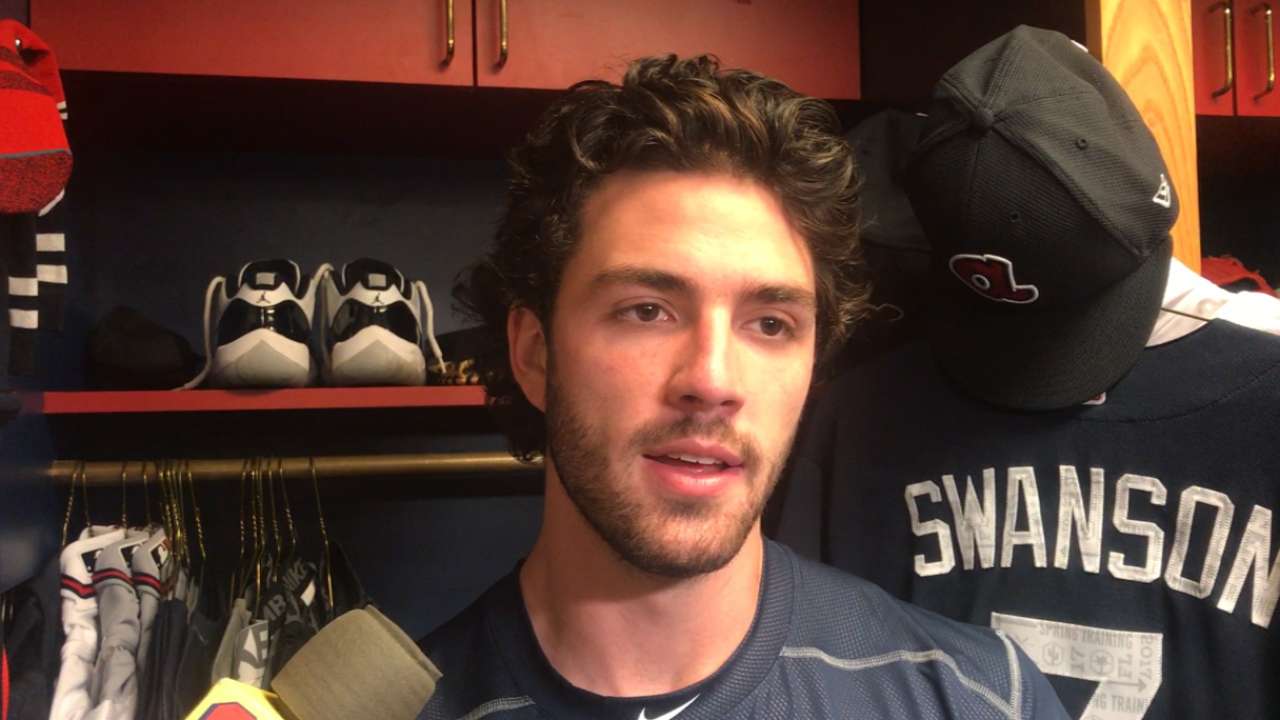 LAKELAND, Fla. -- Having had the opportunity to experience his first big league Spring Training last year and then spend the regular season's final six weeks at the Major League level, Dansby Swanson returned to this year's Braves camp with a better understanding of what to expect.
"Each year you learn a little bit of something," Swanson said after the Braves' 10-7 loss to the Tigers on Monday. "Everywhere you go, you learn a little bit of something. Being able to experience big league camp for the amount of time I did last year helped me grow and become more comfortable with what I needed to do to be ready for this time of year."
There is a lot of Spring Training left and a couple good games in late February or early March do not necessarily foreshadow what the regular season might bring. But the Braves have certainly been encouraged by what they've seen thus far from Swanson, who recorded a hit in each of the three at-bats at Publix Field at Joker Marchant Stadium.
Swanson recorded an opposite-field single off Jordan Zimmermann in the first inning and then went the other way again in the third inning with a single off Anibal Sanchez. The 23-year-old shortstop then capped his three-hit day with an RBI double in the fourth inning against Jeff Ferrell.
"We saw him [go the other way] at the end of last season," Braves manager Brian Snitker said. "I was kind of surprised with the carry he had to right-center field. I saw him rifle some balls of that right-center-field wall last September after we called him up. He just kind of has a simple approach. He lets the ball get deep."
Swanson has recorded four hits through his first five at-bats of the Grapefruit League season.
Odds and ends
• Arodys Vizcaino provided further indication he is healthy as his fastball sat between 97-99 mph while he recorded two strikeouts during a perfect fifth inning on Monday. Jose Iglesias and Victor Martinez served as Vizcaino's strikeout victims.
• Adonis Garcia also recorded three hits in Monday's loss to the Tigers. He has four hits, including a double, through his first six at-bats.
• Chaz Roe's bid for a bullpen spot began inauspiciously as he did not retire any of the six batters he faced during Detroit's eight-run, eighth inning. Roe issued two walks and surrendered four hits, including a fly ball that right fielder Micah Johnson appeared to lose in the sun.
Mark Bowman has covered the Braves for MLB.com since 2001. This story was not subject to the approval of Major League Baseball or its clubs.