MLB.com Columnist
Barry M. Bloom
Hill's remarkable journey continues in LA
After death of his son and numerous injuries, left-hander has found success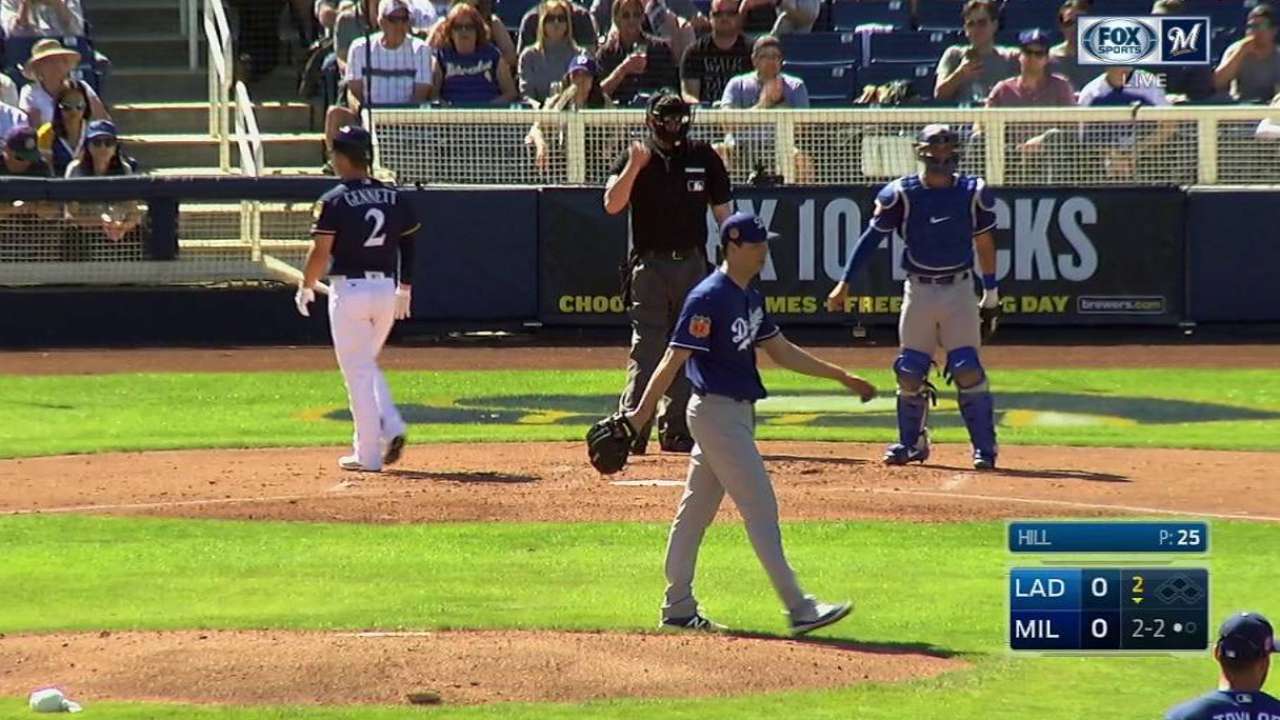 PHOENIX -- Two years ago, left-hander Rich Hill went into Spring Training without a Major League job. On Sunday, he threw his first pitches for the Dodgers in a 10-8 Cactus League win over the Brewers at Maryvale Baseball Park after signing a three-year, $48 million contract.
Hill's journey is a well-documented trail of persistence and fortitude through constant physical injury and heart-wrenching personal tragedy.
"Sometimes it's hard to comprehend where I've been," Hill told MLB.com on Sunday after two scoreless innings. "Not that it's unbelievable what I've been through, but where I am now was just totally unpredictable. It's not to be believed. No one could have made this up. No one would believe it."
In 2009, Hill had shoulder surgery, and two years later, he blew out his elbow, which led to Tommy John surgery. But that didn't prepare him for the most challenging ordeal of his adult life.
Hill's young son of two months died from what he called "multiple genetic issues" in 2014, and save 16 relief appearances between the Angels and Yankees, he was virtually out of baseball.
Hill still uses what he learned from that grief to help other people who have suffered through similar losses.
"I just met with a family yesterday that lost a daughter to cancer," Hill said. "That was tough. I mean, it was so fresh, so recent. It had just happened. They were at the field, and I spent some time talking to them. Just talking, and that was it. Sometimes with people, you don't even need to say anything. Just being present is the biggest thing."
After that loss, Hill decided to salvage his baseball career. He didn't make it out of Spring Training with the Nationals in 2015, and having realized he was going nowhere, he asked for his outright release. In midseason, Hill joined the independent league Long Island Ducks, and on his own volition, he converted back from a reliever to a starter.
Hill hadn't started regularly since the 2009 season with the Orioles prior to the shoulder surgery. He knew it was his last shot.
Based on two scoreless starts and 21 strikeouts in 11 innings, the Red Sox gave Hill a chance that September to try it at a prorated portion of the Major League minimum salary. He continued that remarkable and sudden stretch with four more starts, winning two of them and striking out 36 more batters in 29 innings. It happened just like that.
This season, Hill will earn $12.66 million. In his previous seasons combined, he earned $8 million, $6 million coming last year when he signed with the A's and was traded to the Dodgers at the non-waiver Trade Deadline.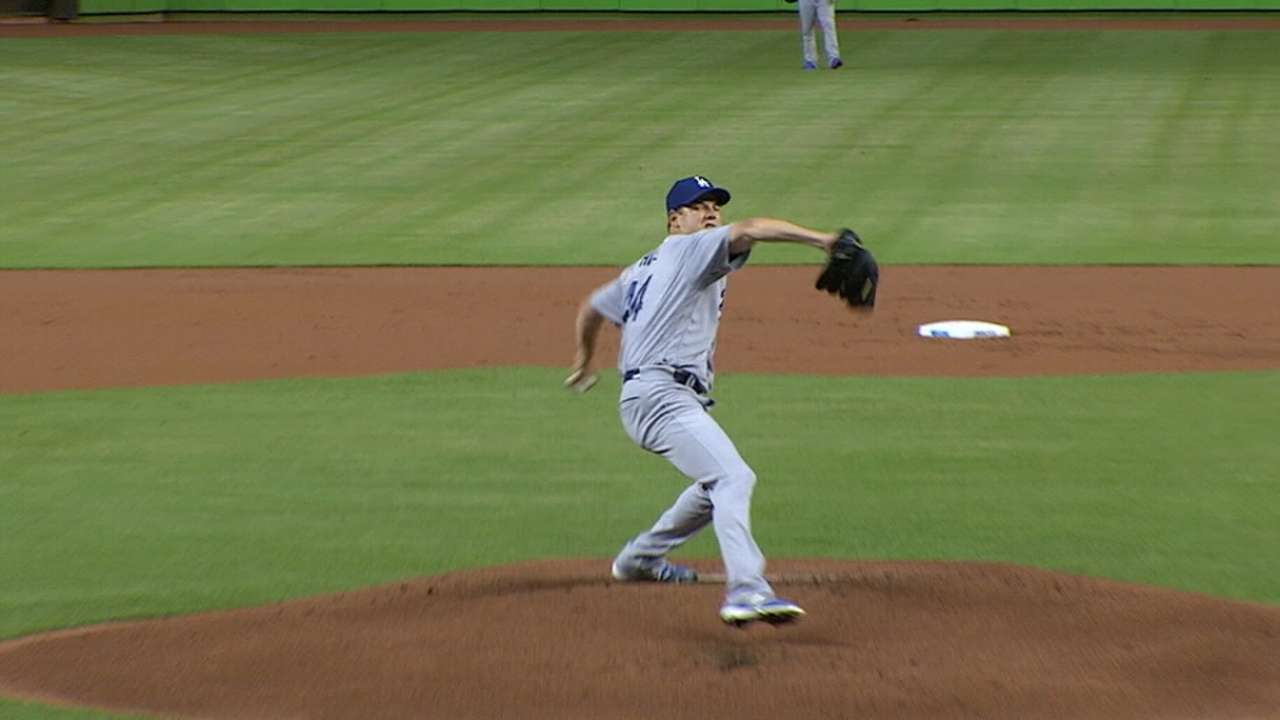 Hill is one of the top feel-good stories in Major League Baseball. If he can put together a healthy season with the Dodgers, it will be even better.
Despite it all, this is Hill's state of mind: "I've been extremely fortunate. I'm one of these guys out here like anyone in this world who's doing what he loves to do. I've been very lucky from a young age to see this journey through. Our time is limited here, so we have to take advantage of that time as much as possible."
Hill's first outing on Sunday was a good omen. He worked effortlessly to set up his fastball with sharp breaking pitches. Hill faced the minimum six batters, striking out two, walking one and picking that one off first base. He threw 25 pitches.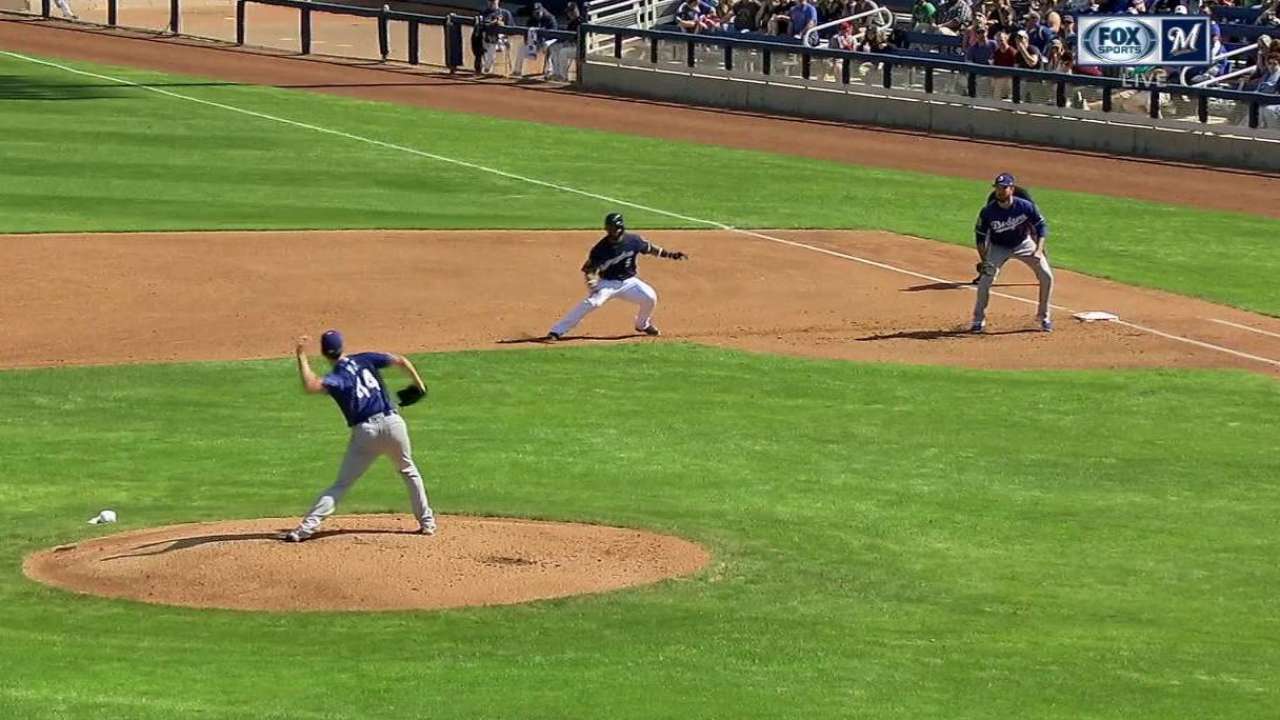 It was in stark contrast to last year with the A's when Hill couldn't find the plate during Cactus League play. In four spring starts, he had an 11.25 ERA.
"Oh yeah, it was one of the best Spring Trainings anyone has ever had," Hill deadpanned.
But that occurred with one month behind Hill in his return as a starter. Now he's experienced a 20-start season with a combined 12-5 record, a 2.12 ERA and 129 strikeouts in 110 1/3 innings.
So here Hill is. The product of all this limited success mixed with heartache and numerous setbacks, facing perhaps the best three years of his career. Hill doesn't know, of course, what lies ahead of him. No one does. But he knows what it took to get here.
"I talk to a lot of players having problems, they're not sure they can overcome it," Hill said. "I tell them, 'If you feel good, if you feel healthy, keep playing. Because you never know. You never know.' Dig deep, and everybody has to find that true passion inside of them.
"I think everybody has that inside of them. It's just finding out what that is."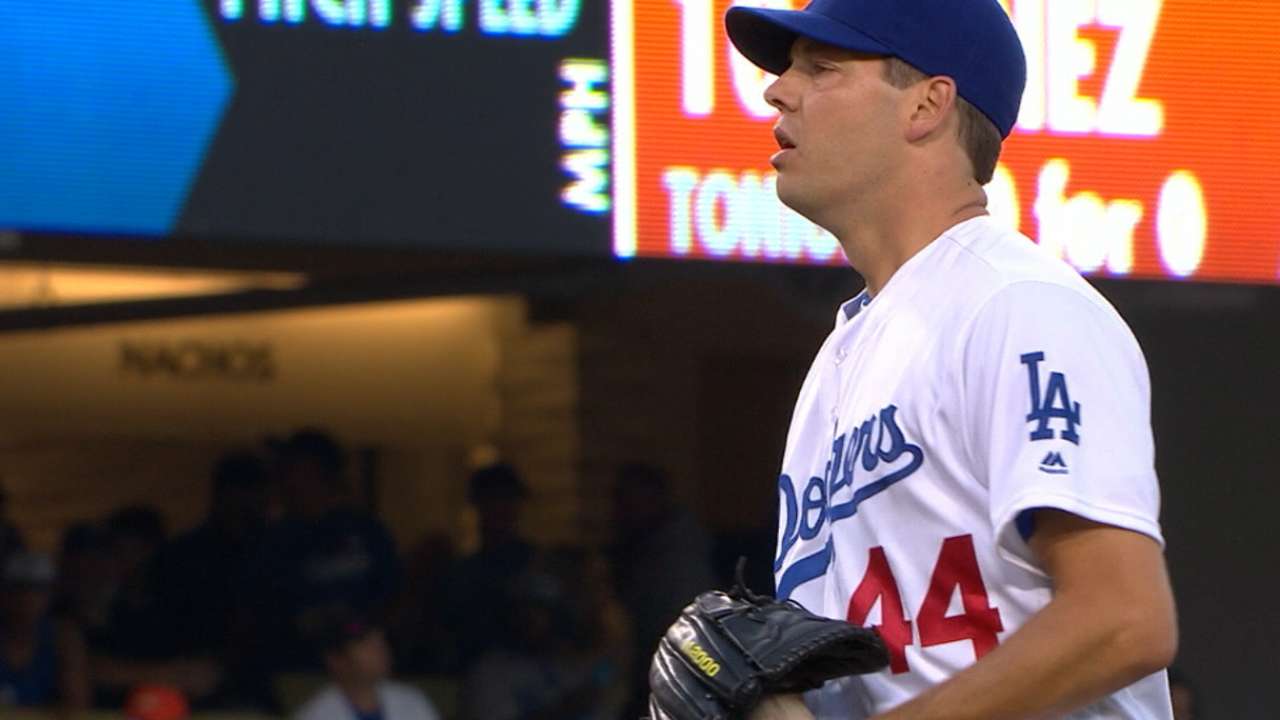 Barry M. Bloom is a national reporter for MLB.com and writes an MLBlog, Boomskie on Baseball. Follow @boomskie on Twitter. This story was not subject to the approval of Major League Baseball or its clubs.