White Sox motivated to emulate Cubs' success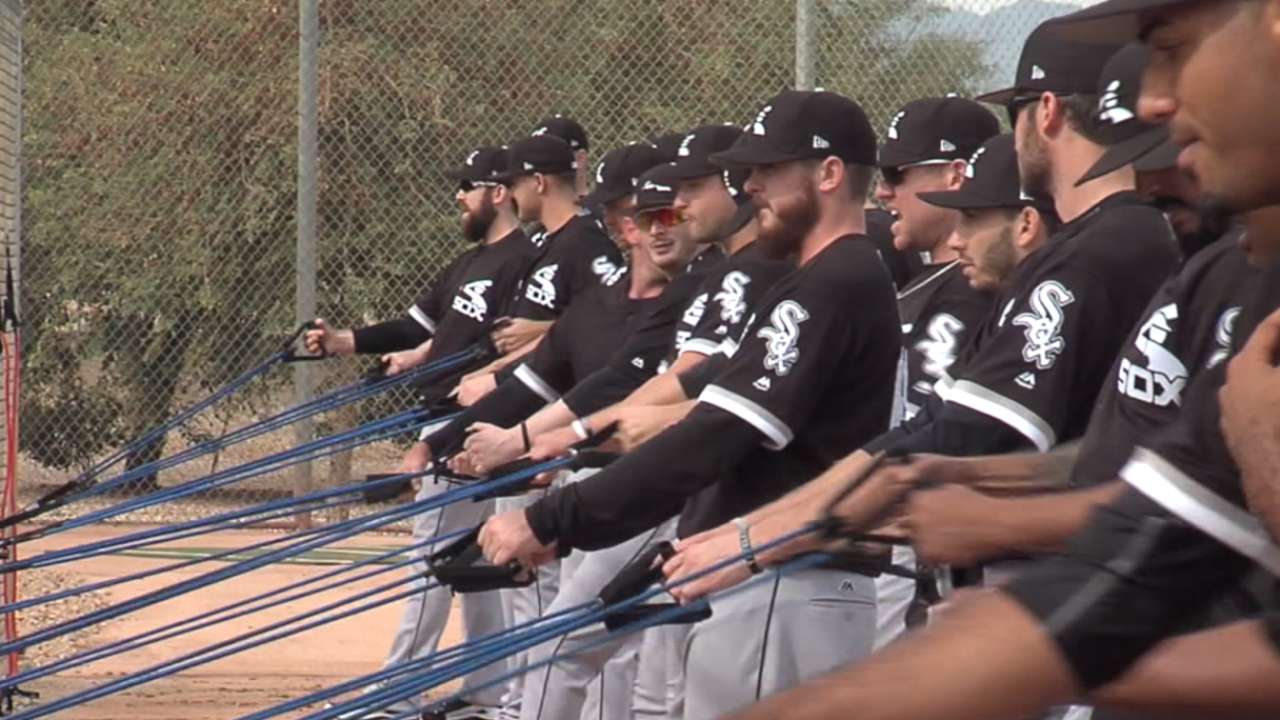 GLENDALE, Ariz. -- The White Sox want to be where the Cubs currently reside.
No, not Mesa, the locale of Monday afternoon's Cactus League contest between Chicago's two baseball teams. Nor do they want to move Guaranteed Rate Field over to 1060 W. Addison.
It's the Cubs' location atop the baseball world, completing their first World Series championship since 1908, garnering the attention of the White Sox as they undergo their rebuild.
"Having pretty deep roots in the town, I get it," White Sox general manager Rick Hahn said. "It's our duty to get this organization where the Cubs are at right now so our fans can enjoy what their fans had the privilege of enjoying last year."
"From the outside looking in, you are just, 'Man, we wish that was us,' obviously," said White Sox reliever Nate Jones, who has the longest White Sox tenure of any player on their active roster. "That's what our goal is and that's what we are working toward. So when they win, you just got to tip your cap to them and work even harder the next year to try to make it us."
Hahn got away to Arizona for instructional league and Fall League action during the early part of the postseason. He eventually watched postseason baseball primarily because his two sons were interested. He quipped about not wanting to "sour their world by telling them they can't watch the World Series because Daddy is just bitter."
But that self-proclaimed bitterness centers on the White Sox coming up short in the regular season as opposed to the Cubs' success. Hahn doesn't believe a true, deep rivalry exists between the two organizations.
"There's certainly no issue between our two clubs given how little we play each other," Hahn said. "I do think and I completely understand, especially given where I live, the fan bases feel it, and when I remove my executive hat, I get it and feel it.
"Look, they are where we want to be. Just as we were at one point -- I enjoyed that better. But anything they do doesn't really influence what we do and their success doesn't really affect our ability to succeed at all. I don't view it as a rivalry but I get the emotion that's attached to it from the fan level."
Jones respectfully disagrees with his boss. The hard-throwing but low-key right-hander produced humorous incredulousness when asked if there was a rivalry between the two sides, pointing out playing the Cubs means a little more because both teams want to be the best in the city. The excitement level certainly rises in those contests.
In '16, the Cubs were the best in baseball. But when that last out was recorded by Mike Montgomery, it didn't resonate with the White Sox any deeper than work needed to be done.
"It was: The offseason has officially begun," said Hahn of his reaction.
"That was absolutely great for the city of Chicago," Jones said. "Obviously from the outside looking in, we want it to be our turn. We don't want to be watching it. We want to be playing in it. We are working on building that success and sustaining that success."
Scott Merkin has covered the White Sox for MLB.com since 2003. Read his blog, Merk's Works, follow him on Twitter @scottmerkin, on Facebook and listen to his podcast. This story was not subject to the approval of Major League Baseball or its clubs.