Gamboa, Gonzalez crafting their own styles
Rangers pitchers in competition for roster spots this spring
SURPRISE, Ariz. -- Rangers right-hander Eddie Gamboa has one main pitch. If Gamboa can gain mastery of the pitch, he'll join a select group of pitchers who've had success as a knuckleballer.
Right-hander Chi Chi Gonzalez has five different pitches: two fastballs, two breaking balls and a changeup. Gonzalez needs to figure out which ones are the best and stick with it.
They're two pitchers with different styles, but they represent the essence of Spring Training on the back fields. Gamboa and Gonzalez are trying to decide what works best for them and turn it into Major League success.
• Hamilton may face another knee surgery
For Gamboa, it's the knuckleball. He started throwing it in 2013 and has stuck with it. Last year was his ninth in professional baseball, but Gamboa finally made it to the big leagues in September with the Rays and had a 1.35 ERA in seven relief appearances. The Rangers acquired him on Feb. 14, and he will start on Monday against the Brewers in Surprise at 2:05 p.m. CT.
"I'd like to think the knuckleball is there," Gamboa said. "I ask a lot of questions and I judge by the reactions of the hitters and catchers. I feel a lot better about it this year."
Gamboa, like others, switched to the knuckleball because his career was stalled in the Minor Leagues. He also received the warning that the knuckleball takes years to learn and command. R.A. Dickey started throwing his knuckleball in 2006 and he slowly developed into the 2012 National League Cy Young Award winner.
Gamboa has talked to many knuckleballers, but Dickey, Charlie Hough and Hall of Famer Phil Niekro are his main mentors.
"Everybody has a different way," Gamboa said. "You just pick up different things that work for you and just try to throw the knuckleball consistently. Everybody can throw a knuckleball, but can you throw it with 20-30,000 people in the stands?"
The knuckleball may be the only pitch Gonzalez hasn't tried. He was the Rangers' No. 1 pick in the 2013 Draft, and he was rushed to the big leagues less than two years later. Gonzalez went 2-1 with a 0.90 ERA in his first four Major League starts because he was able to pound his sinker down and inside on hitters. But they adjusted, and he hasn't been able to duplicate the success.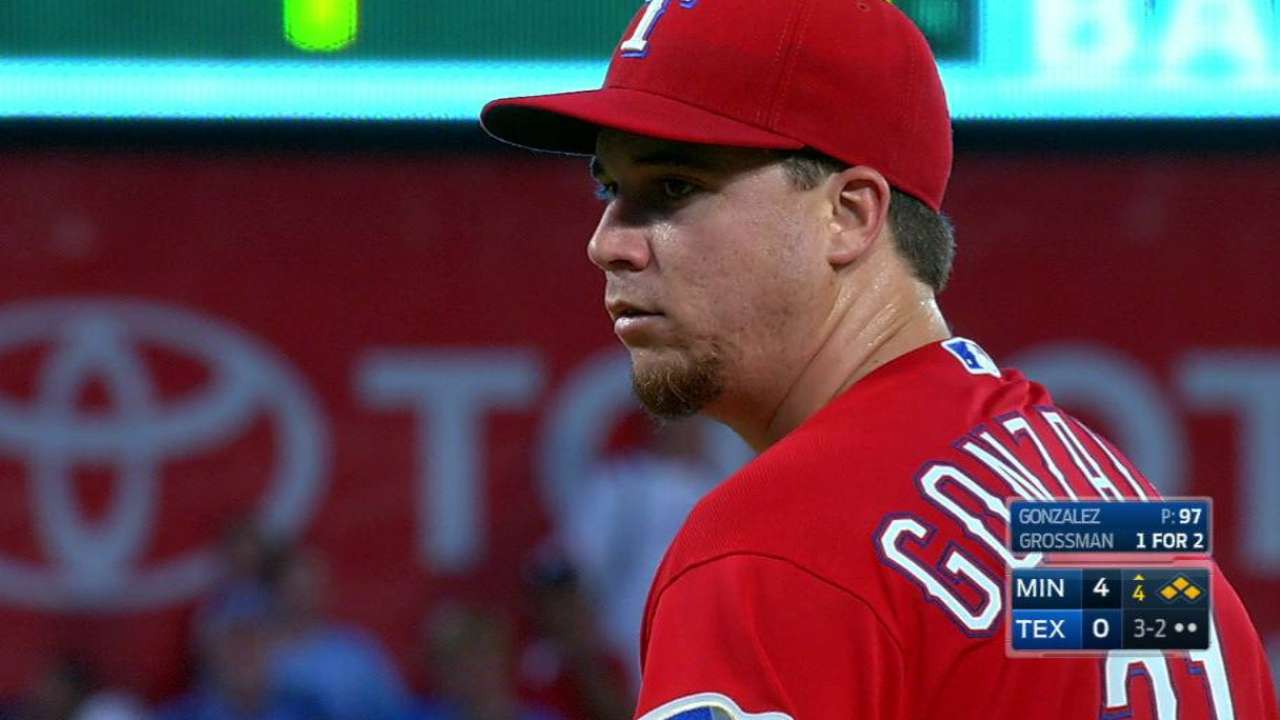 "The hitters started cheating inside and I didn't adjust," Gonzalez said.
Gonzalez is a ground-ball pitcher who must rely on fastball command. But in 77 1/3 Major League innings, he has walked 41 and struck out 37. He can't rely solely on a fastball and hope they hit at somebody.
"He needs to identify his out pitch and make swing-and-miss a part of his game," manager Jeff Banister said.
Gonzalez can throw a curve, slider and changeup. At times they have all been effective but not consistent. He needs to establish a set repertoire and stick with it. The Rangers have a substantial investment in this. Since 2006, the Rangers have selected 14 pitchers in the first and supplemental round of the MLB Draft. Only four are still with the organization: Gonzalez, Tanner Scheppers and Minor Leaguers Cole Ragans and Collin Wiles.
"Yeah, it's a big year," Gonzalez said. "I want to come in here, compete well and win a job."
T.R. Sullivan has covered the Rangers since 1989, and for MLB.com since 2006. Follow him on Twitter @Sullivan_Ranger and listen to his podcast. This story was not subject to the approval of Major League Baseball or its clubs.